Most of the time, cooking and baking in the kitchen is my happy place. I find it relaxing and therapeutic. But sometimes a busy, tired day gets the best of me and I feel like I have no energy for cooking. That's when I especially love one pan meals like this one….. that is, if I don't have any freezer meals on hand! You can't beat the convenience of a freezer meal.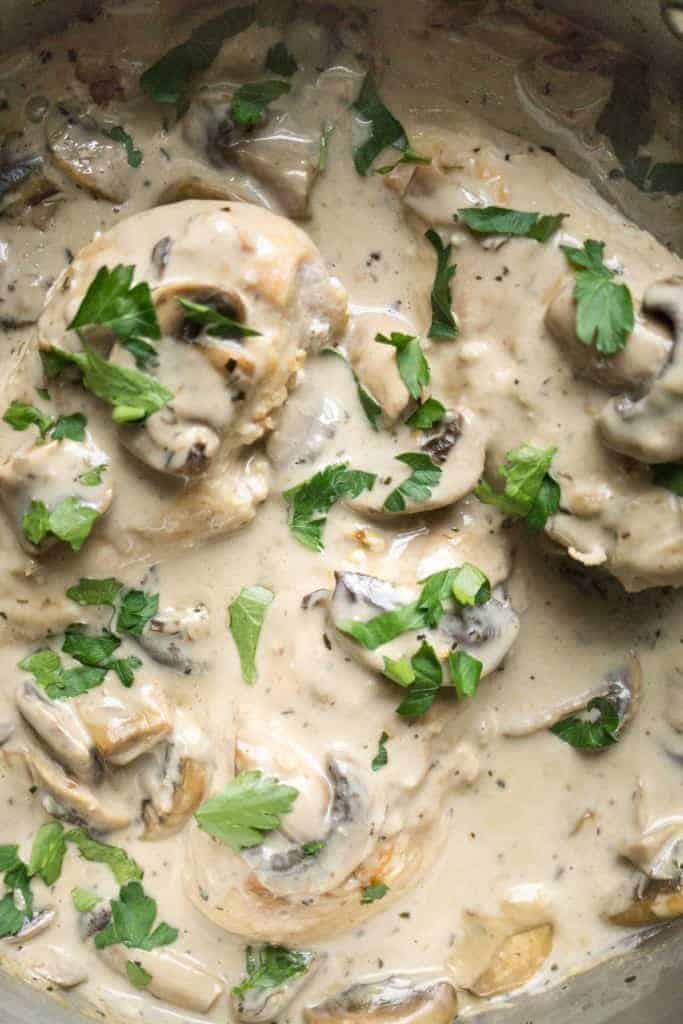 This dish is full of creamy mushroom flavour. It has all the comfort of a bowl of cream of mushroom soup but in a high protein chicken recipe. Serve on a bed of brown rice or pasta with a side of green peas. Presto! Dinner in a jiffy.
Why It's A Smart Choice
Mushrooms! These little fungi are packed with nutrition. They're a great source of…
If you give this recipe a go, let me know! Leave a comment, rate it, or snap a photo and tag it with #smartnutritionrecipes on Instagram! I'd love to see your creations! Knowing someone has enjoyed one of my recipes always makes my day brighter.
One Pan Creamy Chicken and Mushrooms
2016-02-06 07:11:25
Serves 8
A healthy and easy one pan dish!
Ingredients
2 tbsp butter
1.5 lbs chicken breasts or chicken thighs
1.5 lbs mushrooms, sliced
4 cloves garlic, minced
1 tsp basil
½ tsp thyme
¼ tsp salt
⅛ tsp chili flakes
1 cup chicken broth (or 1 cup water and 1 tsp bouillon paste)
1 can (340 ml or 11.5 oz) evaporated milk
2 tbsp cornstarch
Instructions
In a large skillet pan, heat 1 tbsp butter over medium high.
When the butter starts to sizzle, add the chicken.
Cook, undisturbed, for 5 minutes. Flip over and cook another 5 or so minutes or until the internal temperature reaches 180 degrees Fahrenheit.
Remove chicken to a plate.
Add the other tbsp of butter to the same skillet.
Once butter is melted, add the mushrooms. Saute until softened and dark brown.
Add in the garlic, basil, thyme, salt, and chili flakes. Saute another minute.
Meanwhile, whisk together the chicken broth, evaporated milk, and cornstarch.
Add the liquid to the skillet. Using a wooden spoon, stir intermittently. Allow to come to a boil and thicken.
Return chicken to pan.
Serve over cooked rice, quinoa, or pasta. (and don't forget a side of veggies!)
Smart Nutrition http://smartnutrition.ca/
Calories: 220 | Fat: 8.5g | Carbs: 10g | Fibre: 1g | Sugar: 6.5g | Protein: 27g
Like what you've read? Click here to subscribe to this blog!