One Dish Balsamic Chicken – dinner in an hour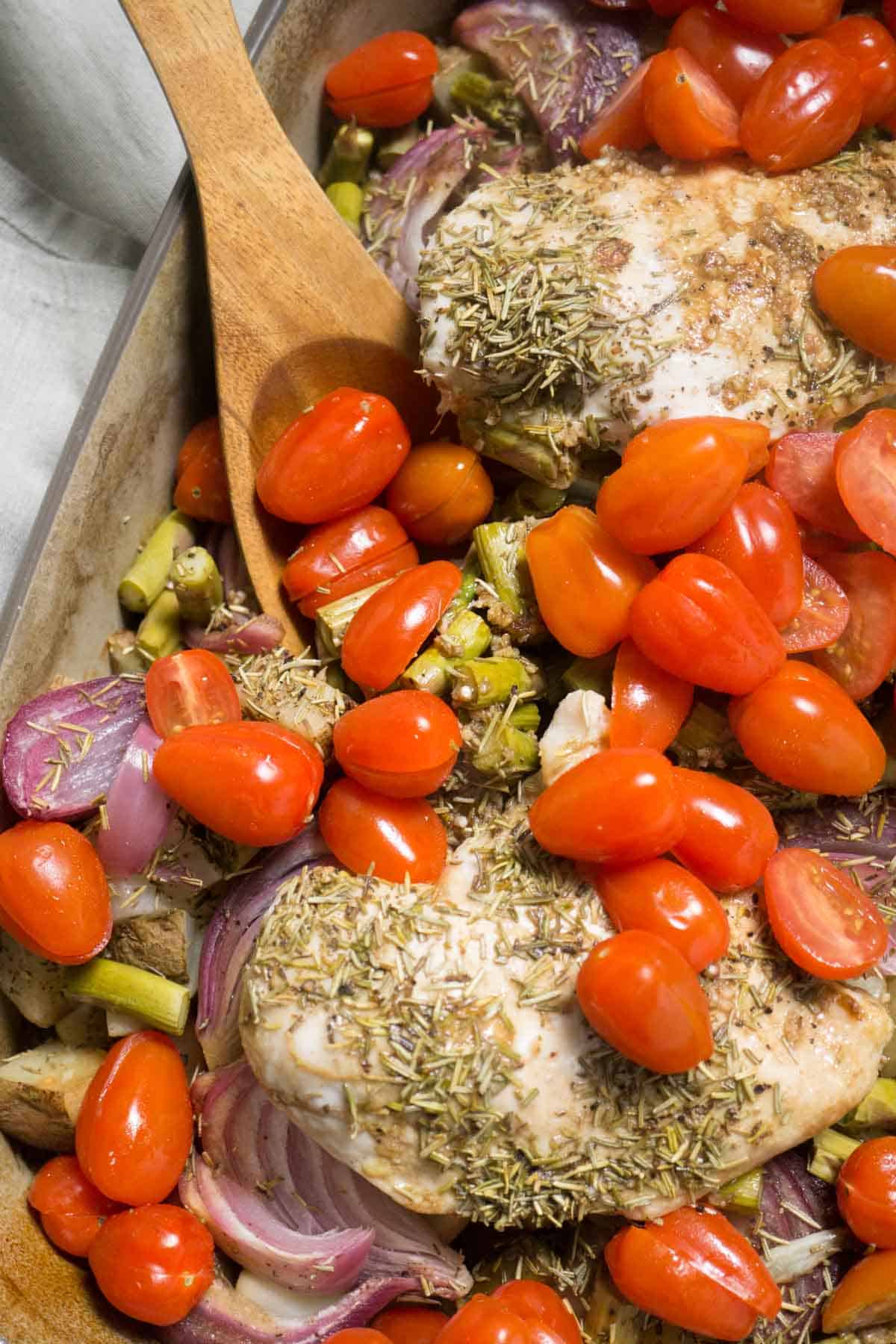 An easy one dish meal featuring sweet balsamic chicken, baby potatoes, and plenty of veggies! Dinner ready in an hour -with hardly any cleanup!
I was one of those kids that hated almost all vegetables, all meat, and all starches except bread and noodles. As I grew older and especially as I started to travel the world, I wanted to be able to enjoy a wider variety of foods. Once I made this decision, my palate didn't get a complete overhaul overnight. It was (and still is!) a slow process of learning to like new foods. With some foods, my preference did seemingly change in an instant. In the summer of 2007 I suddenly craved blueberries. I had always hated blueberries and anything blueberry flavoured. I went out, bought some, devoured them, and discovered the deliciousness that is blueberry. I've been in love ever since. Other foods, like cantaloupe, has been much slower. I decided that whenever I was presented with a fruit platter that contained cantaloupe, I would try it. After many years, I regret to report that…. I'm still not a big fan. Maybe one day?
Balsamic vinegar is another flavour that has always repulsed me. It's a tough dislike to keep on the down low. If you don't take cantaloupe from a fruit platter, no one notices. If you don't eat an entire course at a wedding (i.e.: the salad drenched in balsamic vinaigrette), everyone notices.
So when my sweet, thoughtful friend brought over a balsamic chicken dish shortly after our baby was born, my heart sank. She had done such a wonderful thing for me yet I knew I wouldn't be able to take more than one bite without gagging.
But I had to try.
I had to honour her thoughtfulness by taking at least one bite.
And……(drum roll please) to my great surprise, it tasted amazing! Not only could I tolerate it, I couldn't get enough of it! This is the conversion dish. I am now converted to balsamic vinegar. I can prove it to you. I even have my very own bottle sitting in my pantry.
So, if you're on the fence about balsamic vinegar, just do it. Go out, buy it, and make this dish. You won't regret it.
why this one dish balsamic chicken bake is a smart choice:
High in protein.
Good source of fibre.
1 1/2 servings of veggies.
This meal has it all!
Not only that, the balsamic vinegar has specific health benefits. In several studies, vinegar taken before a meal has been shown to lower the glucose response by 20-30%!
What is this 'glucose response?' The glucose response is how quickly the carbs you eat get digested into individual sugar units, enter the bloodstream, and raise blood sugar levels. A high response would mean that your blood sugar spikes quickly, causing your body to produce higher levels of insulin. A lowered response would mean that your blood sugar rises more gradually, doesn't peak as high, and the body is able to manage the influx of sugar with less insulin produced.
While this is a more pronounced benefit for people with diabetes, it's also good for everyone in maintaining a healthy body! Higher levels of insulin have an energy sparing effect. This means that your body is working to store away excess energy (calories) instead of burn them off.
If you give this recipe a go, let me know! Leave a comment, rate it, or snap a photo and tag it with #smartnutritionrecipes on Instagram! I'd love to see your creations! Knowing someone has enjoyed one of my recipes always makes my day brighter.
One Dish Balsamic Chicken
Print Recipe
An easy one dish meal featuring sweet balsamic chicken, baby potatoes, and plenty of veggies! Dinner ready in an hour -with hardly any cleanup!
Ingredients
1.5

lbs

baby

new potatoes, quartered

12

large stalks asparagus

sliced into 1" pieces

1

large red onion

sliced into wedges

2

large chicken breasts

cut into 3-4 pieces each

salt and pepper

½

cup

balsamic vinegar

¼

cup

olive oil

6

large cloves of garlic

minced

4

tsp

brown sugar

1

tablespoon

of dried rosemary

1 1/2

cups

cherry or grape tomatoes

cut in half
Instructions
Preheat oven to 395 degrees F

Sprinkle a 9×12 baking dish with the potatoes, asparagus, onion, and top with chicken

Combine the vinegar, oil, garlic, and sugar in a measuring cup

Pour sauce over the chicken and vegetables

Sprinkle with rosemary. Lightly salt and pepper

Bake in heated oven for 40 minutes

Remove and sprinkle with tomatoes

Return to oven and bake a further 10 minutes

Allow to cool 5 minutes before serving
Nutrition
Calories:
397
kcal
|
Carbohydrates:
48
g
|
Protein:
18
g
|
Fat:
15
g
|
Saturated Fat:
2
g
|
Trans Fat:
1
g
|
Cholesterol:
36
mg
|
Sodium:
94
mg
|
Potassium:
1248
mg
|
Fiber:
6
g
|
Sugar:
13
g
|
Vitamin A:
673
IU
|
Vitamin C:
53
mg
|
Calcium:
74
mg
|
Iron:
4
mg
Each serving will provide you with 1.5 servings of veggies.