5 Reasons Meal Subscription Services Fail
It happens occasionally. I get relieved when people fail.
For example, I'm not a huge fan of meal subscription services… the diet programs that send you pre-portioned meals. It seems like a good idea initially: someone plans healthy meals, pre-portions them, and sends them to you. All you have to do is heat them up and eat them. Foolproof way to lead a healthy lifestyle, right?
Wrong.
Meal services that send you healthy food can be a great way for busy people with money to eat healthy. But when I see them used as a weight-loss technique, I die a little inside, because…
They don't know how much energy you need. Meal services set you up for failure, if you're committed to eating eating what they send you. If you exercise on one day, you're going to need to eat more than what they gave you. Once you've cheated on the diet, you're more likely to binge, go overboard, and eat a lot more than you need, which can send you spiralling into self-blame and self-doubt. Meanwhile, on days when you've done very little, the pre-portioned food could also be more than you need.
They're expensive. For most people these plans are not affordable for very long. If you can't do it for long, then it won't result in a long-term healthy lifestyle.
They don't teach you anything. A good technique is something you can learn from and use forever. A meal service is a band-aid solution to a long-term problem. If you're fed meals from a packaged box that comes in the mail, you won't learn anything about how to get your body the food it needs, in the amounts that it needs.
They're a restriction. Strict restrictions of diets require willpower. Willpower is a limited resource, and fails everybody at some point or another. When you have an event with lots of tempting foods, or go through an extended period of stress, your willpower can be easily depleted. If you bounce back easily from failures in your willpower, then maybe this isn't a problem for you. But many people get discouraged by their regular failures and give up trying to improve their diets.
They contribute to yo-yo dieting. Yo-yo dieting is worse for your health than being overweight. You can definitely lose weight on meal service programs, but once you go off the program, the weight comes back. Sooner or later. You'll probably think that you're the problem, and you just need to go back on the meal service plan. So the cycle gets repeated.
You're not the problem. The meal service is the problem.
That's why, when I heard that a friend was taking one of these programs, I was kind of glad to hear that he was cheating on it with McDonalds. I felt bad for internally celebrating that failure, but I tried to emphasize with him that it wasn't HIS failure. The failure is in the technique itself. Meal subscriptions just don't set people up for long term success.
In my last post I talked about the importance of technique in weight management.
Realizing that you need to find a technique to use is an important first step.
Wading through the techniques out there and selecting a good technique is just as important. Over the next little while I'm going to continue warning you about the bad techniques out there, and get you onto some of the GOOD STUFF!
Jessica Penner, RD
p.s. Have you used a meal service? What was your experience? Let me know in the comments!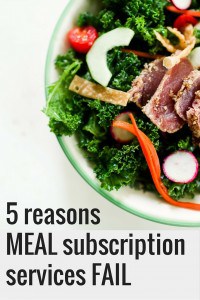 [share title="Share This Article" facebook="true" twitter="true" google_plus="true" linkedin="true" pinterest="true" reddit="true" email="true"]