3 Salad Dressings With Less Than 6 Ingredients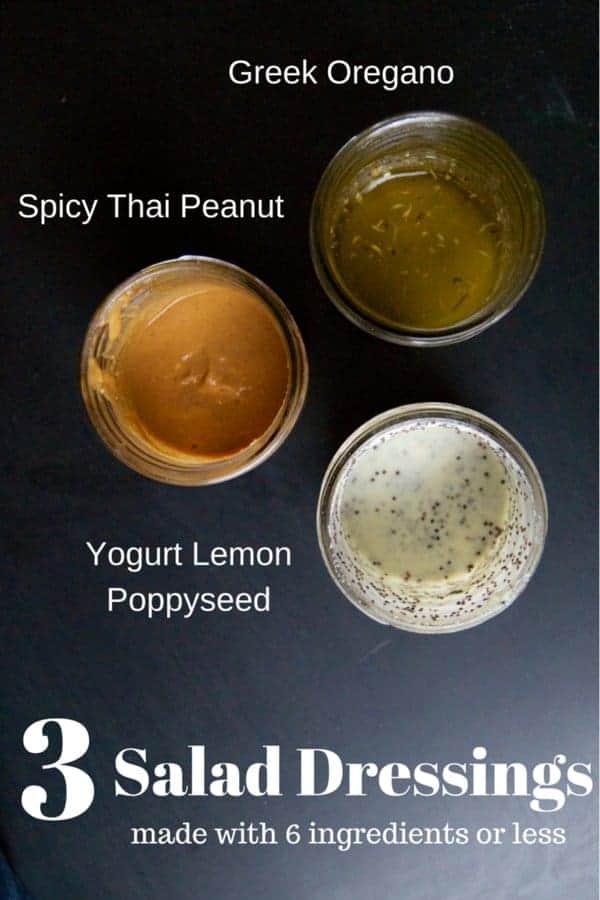 My mom always made a lot of food from scratch. She made her own versions of Kraft Dinner, granola bars, and pizza. She always had bottles of pre-bought salad dressing lining the door of the fridge, though.
I figured that meant salad dressing was impossible to make. She knew how to make basically anything from scratch, after all. I've been out of my parents' house for nearly a decade now but it wasn't until recently that I figured out that it was, in fact, NOT impossible to make my own salad dressings!
It's actually pretty easy, and so much tastier too! Mind = blown.
What do you regularly purchase at the grocery store that you could probably make at home?
If you give this recipe a go, let me know! Leave a comment, rate it, or snap a photo and tag it with #smartnutritionrecipes on Instagram! I'd love to see your creations! Knowing someone has enjoyed one of my recipes always makes my day brighter.
Yogurt Lemon Poppyseed (serves 6-8)
1/4 cup plain yogurt
1 tablespoon olive oil
1 tablespoon lemon juice
2 tablespoons poppyseeds
2 tsp sugar
1/4 tsp salt
Greek Oregano (serves 3-4)
1/4 cup olive oil
4 tsp lemon juice
2 tsp oregano
1 tsp garlic powder
1/4 tsp salt
Spicy Thai Peanut (serves 5-6)
2 tablespoons natural peanut butter
2 tablespoons water
1 tablespoon soy sauce
1 tablespoon lime juice
1 tsp brown sugar
1 tsp red curry paste
Why It's A Smart Choice
When you make your own dressings from scratch, you have full control over the ingredients. Most store-bought salad dressings have between 150-200mg of sodium per tablespoon. The Yogurt Lemon Poppyseed has only 75 mg per tablespoon!
[share title="Share This Article" facebook="true" twitter="true" google_plus="true" linkedin="true" pinterest="true" reddit="true" email="true"]