Borscht With Chicken (and whether we should eat like our grandparents did)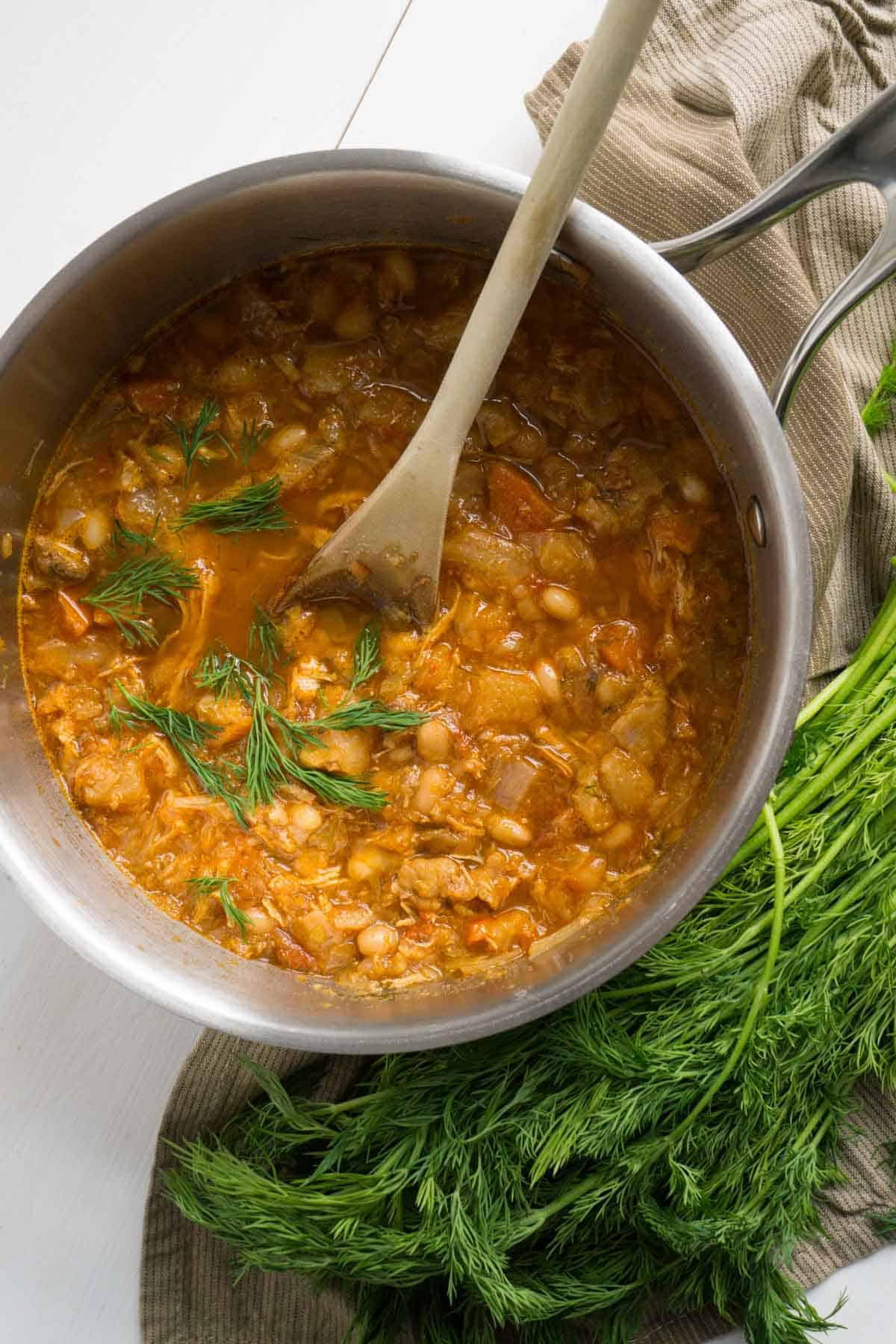 There's a Maclean's article claiming that the healthiest diet consists of the foods that our grandparents ate. While it's certainly a quaint idea and aspects of it have merit, the journalist's article is largely based on observations made by a second generation Canadian anthropologist whose mother's lifespan was 28 years shorter than his grandmother's.
This is hardly the randomized, clinically-controlled trials we hold out for in the research realm.
But my two year old son seems to know this ancestral wisdom intuitively. His favourite foods are the Mennonite soups of his heritage: green bean soup and cabbage borscht. And this isn't because he's exposed to these foods more often; they don't get put on replay any more often than other meals in our house. But each time I or his grandmother make these dishes, he devours them without any hesitation whatsoever.
Should we all be eating like our grandparents did? There is some merit to this idea, for a couple of reasons.
#1) Nutrigenetics
Food affects different people differently, depending on our genetic makeup. Some gene variants will help you tolerate a diet higher in fat, while other genes will predispose you to weight gain on a high fat diet. Since genetics are obviously passed down from one generation to the next, you probably share a lot of genes with your ancestors. Your ancestors probably, over time, developed their food traditions according to how well they responded to different foods.
An alternate probable explanation for this genetic link between our food and the food of our ancestors has to do with regionally available food. If your ancestors lived in a region where corn was readily available, but not wheat, this would encourage your family genes to develop variants that better tolerate corn. So, corn would indeed be better for you because it was eaten by your ancestors.
Of course, few of us have access to the meal plans of our great-grandparents. We have an idea from some of the foods passed down, but there's much more involved. How much did they eat of each food? Which foods haven't stood the test of time? For example, in my heritage, the Mennonite foods that have stuck around are the ones that are absolutely delicious. There are plenty of staples from years past that have been abandoned, because they just weren't that good. Lard on bread, anyone?
If you want to learn more about how to eat best for your body and your genetics, I offer a 45 gene test that will tell you which foods and nutrients your body responds best to, as well as which foods are more likely to harm your body.
#2) Processed foods
Our grandparents most likely ate a diet based on minimally processed foods. Cheetos and Pop-Tarts would have never crossed their paths. Returning to a diet based on whole foods from any ethnic background would most likely do anyone a world of good.
So this is one potential fad craze that I'm not actually against, as long as it's part of a balanced diet.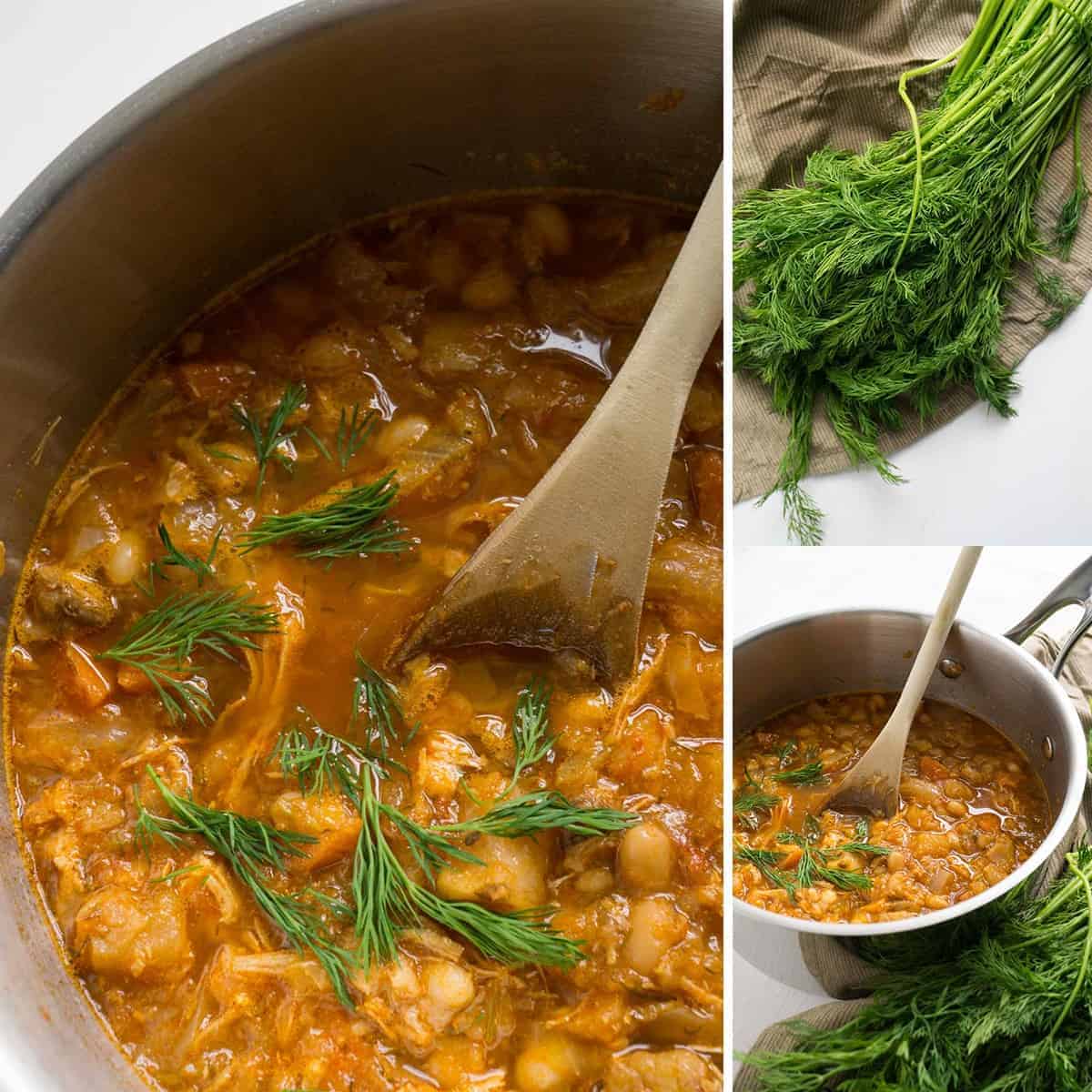 As for this recipe, whether you're Mennonite, Ukrainian, Japanese, or Nicaraguan, you're going to love this soup! I'm just learning to like beets so this recipe is not beet-heavy. You can probably tell by the colour of the soup! On the other hand, I do love dill, so this recipe has a LOT!
Beans aren't a traditional borscht ingredient, but I throw them into everything, so of course there are beans in this recipe! I almost feel as though I can't make a soup without putting at least some type of legume in it.
Why It's A Smart Choice
Each hearty bowl of this soup gives you 3 servings of veggies, 7.5g of fibre, and 15.5g of protein! Comfort food and nourishing food all in one bowl.
Cabbage has a cholesterol lowering effect. It's believed that compounds in cabbage bind to bile acid (which contains cholesterol) in the digestive tract and promote its expulsion.
If you give this recipe a go, let me know! Leave a comment, rate it, or snap a photo and tag it with #smartnutritionrecipes on Instagram! I'd love to see your creations! Knowing someone has enjoyed one of my recipes always makes my day brighter.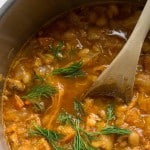 Borscht with Chicken
Print Recipe
A hearty, soul-warming soup with chicken, cabbage, and a little bit of beet.
Ingredients
¼

cup

canola oil

3

chicken breasts

with bone and skin OR boneless/skinless

1

large onion

chopped

3

stalks of celery

chopped

3

large carrots

chopped

10

cloves

garlic

minced

1

tsp

fennel seeds

12

whole black peppercorns

2

bay leaves

⅓

cup

Beef Better Than Bouillon

or other bouillon

1

can tomato sauce

1

798 ml can diced tomatoes

4

litres water

⅓

cup

dill pickle brine

or vinegar

2

tbsp

sugar

4

potatoes

diced

1

head of cabbage

chopped into fine strips

1

small beet

peeled and diced

2

cups

cooked navy beans

or 1-2 cans, drained and rinsed

1

bunch of fresh dill

chopped
Instructions
Heat the oil in a stock pot over medium. Add the chicken breasts. Cook for 1-2 minutes until browned.

Flip the chicken breasts over and cook another minute.

Add the onion and sautee until golden.

Add the celery, carrots, garlic, fennel seeds, and black peppercorns. Cook 1 more minute.

Add the rest of the ingredients.

Heat to boiling then turn down to a simmer. Simmer until potatoes are cooked.

Remove the bay leaves.

Transfer the chicken breasts to a cutting board. Shred the chicken and remove the bones (if using bone-in chicken). Return shredded chicken to soup.

Enjoy!
Nutrition
Calories: 257 | 6g fat | 38g carbs | 7.5g fibre | 10g sugar | 15.5g protein
Better Than Bouillon not available in your area? Try Amazon
!
Disclaimer: this article contains affiliate links
[share title="Share This Article" facebook="true" twitter="true" google_plus="true" linkedin="true" pinterest="true" reddit="true" email="true"]