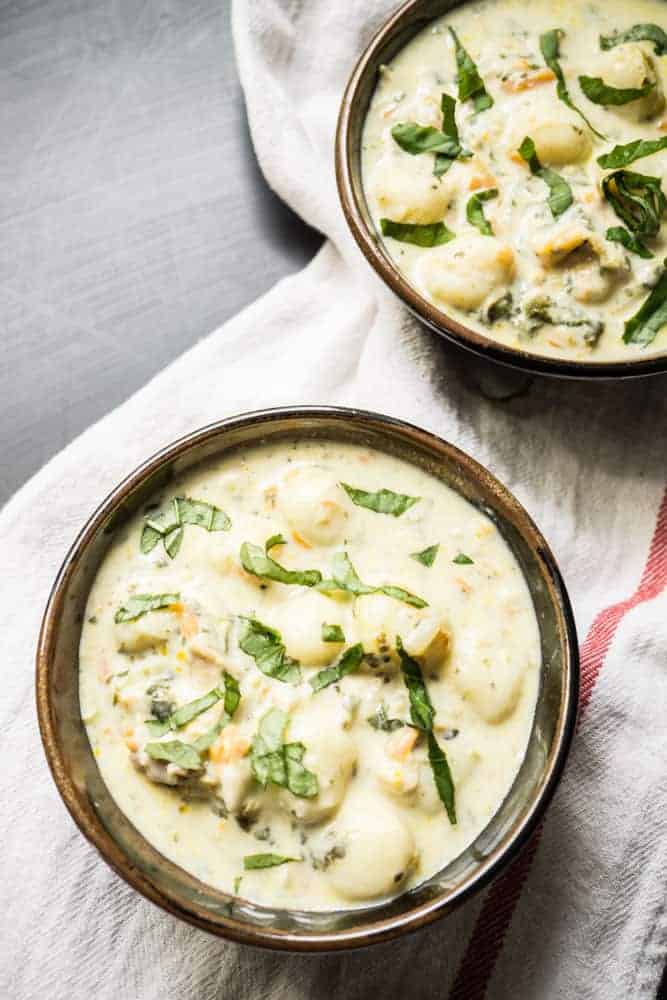 Save money and eat healthier by making a copycat version of the Olive Garden creamy chicken gnocchi soup!
Over the past month our family has taken a couple mini-vacays that have involved sleeping at hotels. In August we went with my parents and my sister's family to Fargo, ND and stayed at a hotel with a great waterpark. The next little trip was a work trip! I signed up to Pinch of Yum's food photography workshop in Minneapolis, MN. As a side note, I highly recommend Pinch of Yum's photography and blogging resources!
On our last night there, our toddler slept wonderfully. We put him to bed and he didn't wake up until the morning. This NEVER happens at in his crib at home, or when camping, or at a cabin. Just in a hotel. Let me clarify that further. Just in a hotel where he has his own queen size bed. The first couple of nights in Minneapolis we were in a hotel room with just one queen sized bed. No one slept well those nights! The 2 year old was actually evicted at one point, and spent part of the night sleeping on a pillow on the floor! But on our last night, we splurged for a nicer hotel with a really cool waterpark, and two queen beds. We all slept wonderfully.
We're now seriously debating whether to fill his tiny bedroom with a queen-sized bed. The things you do to get sleep as a parent.
But to the recipe! Soup season is OFFICIALLY here! If I had to choose one type of food to eat for the rest of my life, it would be soup. I just can't get enough of the stuff.
why this olive garden creamy chicken gnocchi soup is a smart choice
This recipe uses evaporated milk to add creaminess…. Full fat evaporated milk has a 7.8% milk fat content. Compare that to half and half, which is 10%. Full on whipping cream (heavy cream) has 35%. Therefore, fat content wise, the evaporated milk is similar to half and half. But since evaporated milk is literally milk that has about half of the water content removed, it retains all the other components of milk such as protein.
| | | | | |
| --- | --- | --- | --- | --- |
| ½ cup | Whipping Cream | Half and Half | Evaporated Milk | 2% Evaporated Milk |
| Cal | 413 | 151 | 178 | 122 |
| Fat | 44 | 13 | 10 | 2.5 |
| Carbs | 7 | 5.5 | 13 | 15 |
| Sugar | 0.5 | 0.2 | 13 | 13 |
| Protein | 5 | 4 | 9 | 10 |
If you give this recipe a go, let me know! Leave a comment, rate it, or snap a photo and tag it with #smartnutritionrecipes on Instagram!  I'd love to see your creations! Knowing someone has enjoyed one of my recipes always makes my day brighter.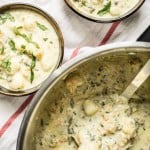 Creamy Chicken and Gnocchi Soup
Print Recipe
Save money and eat healthier by making your favourite restaurant creamy chicken and gnocchi soup at home!
Ingredients
4

slices

bacon

cut into bite size pieces

1

large onion

diced

1

large carrot

shredded

2

stalks celery

diced

4

cloves

garlic

minced

1

tbsp

chicken bouillon *see note

1

tsp

basil

1

tsp

oregano

1/2

tsp

thyme

1

can

354g chicken, drained (I recommend Kirkland brand from Costco) or 1 cup leftover cooked chicken, chopped

1/2

package frozen spinach

150g

2

cans

370 ml each evaporated milk

2

tbsp

cornstarch

1

750g package gnocchi

1/2

tsp

salt *see note
Instructions
In a large soup pot heat the bacon, onion, carrot, and celery over medium low heat until onion is soft.

Add in the garlic, bouillon, basil, oregano, and thyme. Cook one minute.

Add in the chicken and spinach. Stir occasionally until spinach is defrosted.

Add in the evaporated milk. Refill each can two times with water and add to pot. That's an additional 4 cans of water (or approximate 1400 ml).

Mix the cornstarch with a few tablespoons of water in a small bowl (or one of the empty cans to save on dishes!). Stir cornstarch/water mixture into the soup.

Turn heat up to medium high and heat to boiling. Stir occasionally.

Once the soup is boiling, add the gnocchi and cook one minute.
Notes
NOTE ABOUT BOUILLON: 4 cups of chicken broth can be substituted for the bouillon and water used in step 4.
NOTE ABOUT SALT: taste the soup at this point for level of saltiness. I found that the soup needed a bit of salt so I added 1/2 a tsp. But when I ate the soup the next day I found it too salty. I think the salt from the gnocchi had leached out. Therefore, if you know you'll have leftovers, don't add the salt in. Serve in bowls and allow each person to salt their bowl to taste. The leftovers will probably be salty enough.
Nutrition Info: 245 cals/ 6.5g fat/ 35g carbs/ 2g fibre/ 15.5g sugar/ 10.5g protein