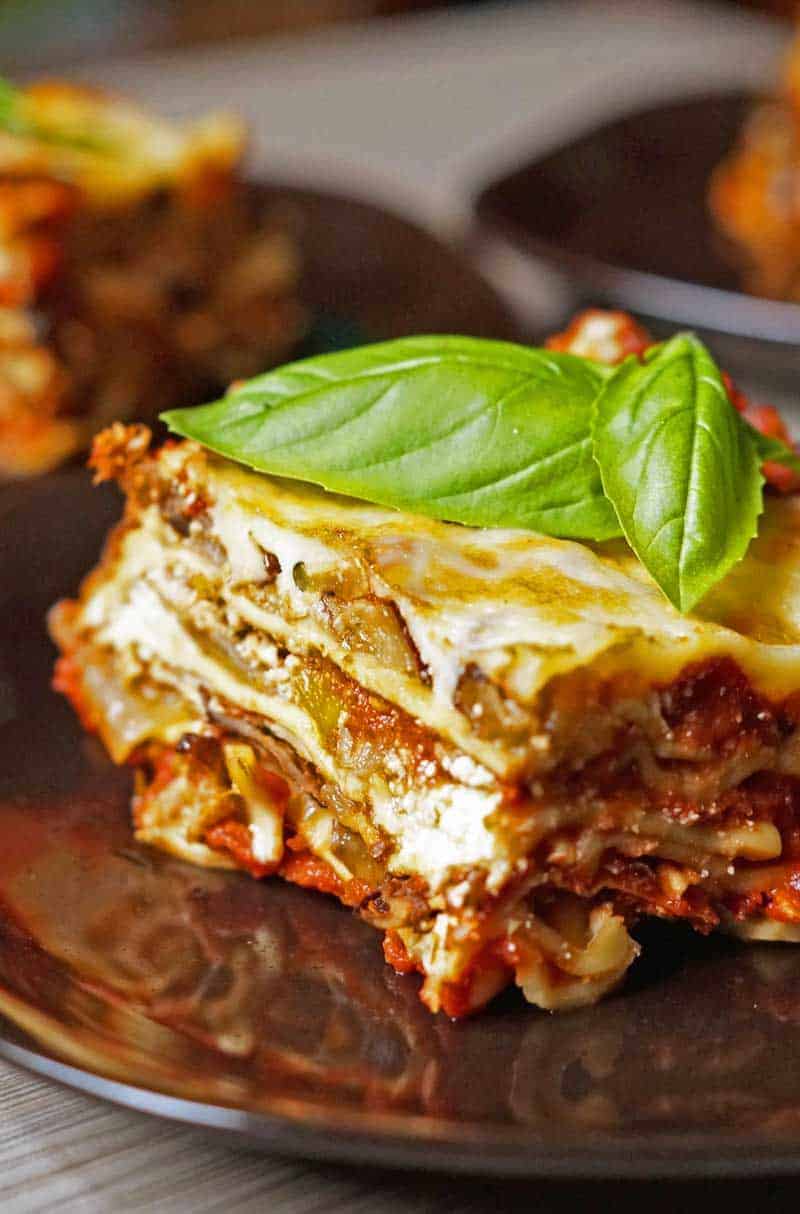 This hearty vegetarian lasagna will have you eating 4 servings of veggies in every slice! Roasted veggies + cheese + noodles… does it get any better than this?
Is it lame for a couple to have a dish? I guess that's what my husband signed up for when he married me: a Dietitian with a sappy heart. Some couples have "their" song. We have lasagna.
I like to do things slightly out of the ordinary. I've always loved my middle name, for instance, because it's a little unusual. Elyse. So much more unique than Jessica, the #1 name of the 80s and 90s!
Anyways, when it came time to choosing our wedding meal, I wanted something a little out of the ordinary and something that screamed "Jeremy and Jessica." So we chose lasagna. I also liked the idea of lasagna because you can easily customize it for different dietary needs. Carnivore lasagna. Herbavore lasagna. Gluten-free lasagna. Variations on a theme.
When you do slight variations on a theme, no one has to suffer from meal envy, which is a significant problem I have. I've started to order the same thing as Jeremy when we go out for dinner because I often end up wanting what he chose.
why it's a smart choice
One slice of this lasagna provides you with nearly 4 servings of veggies! Roasting the veggies removes a lot of the water content so you're left with a concentrated amount of vegetables.
Even with all the cheese (which can be high in salt), since there are a lot of vegetables, the sodium and potassium ratio is about equal. High sodium diets have gotten the reputation of raising blood pressure. However, researchers are now finding out that the problem might be more to do with an imbalanced intake of potassium to sodium.
Lastly, one slice of this lasagna will give you about half of the daily recommended amount of folate!
If you give this recipe a go, let me know! Leave a comment, rate it, or snap a photo and tag it with #smartnutritionrecipes on Instagram! I'd love to see your creations! Knowing someone has enjoyed one of my recipes always makes my day brighter.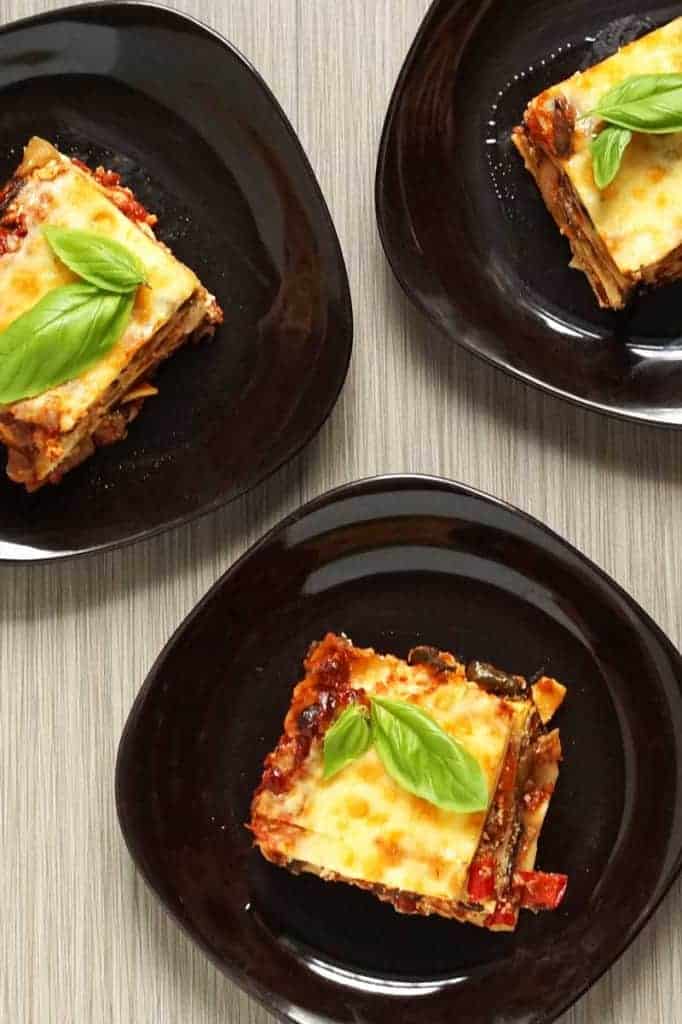 Fall Harvest Roasted Veggie Lasagna
Print Recipe
This hearty vegetarian lasagna will have you eating 4 servings of veggies in every slice! Roasted veggies + cheese + noodles... does it get any better than this?
Ingredients
15

sheets of lasagna noodles

1

large jar of pasta sauce

1

lb

mushrooms

1

each of red

orange, and yellow peppers

2

medium zucchinis

1

medium eggplant

1

head garlic

2

medium sized onions

500

ml

2 cups cottage cheese

2

eggs

1/4

cup

parmesan cheese

400

g

14 oz mozzarella cheese

large handful of fresh basil leaves

sliced into ribbons

olive oil

for brushing
Instructions
Preheat the oven to 400 degrees Fahrenheit.

If you have an oil mister, mist two baking sheets with olive oil. If not, pour a little olive oil into a small bowl and brush onto the sheets.

Roughly chop the mushrooms, zucchinis, peppers, and eggplant into bite-size pieces. Place (as much as possible) in a single layer on the two baking sheets.

Chop the top off the bulb of garlic (see photo). Place on a sheet of aluminum foil. Drizzle oil on the exposed garlic and wrap the garlic with the tinfoil. Place on the baking sheets with the veggies.

Bake veggies in preheated oven for 15 minutes. Stir and bake again for 10 minutes. If the edges are starting to brown and most of the moisture has evaporated from the veggies, they are done. If not, place back in oven, checking for doneness every 5 minutes. Remove from oven and turn the oven temperature down to 350 degrees Fahrenheit.

While the veggies are baking, chop the onions into bite size pieces, place about a tablespoon of oil in a frying pan, and sauté on low. They should be soft and slightly caramelized by the time the veggies are done in the oven.

Place the veggies and onions in a bowl. Squeeze the roasted garlic out of its papery peels into the bowl. Stir to combine.

In another bowl, stir together the cottage cheese, eggs, and parmesan cheese.

Time to layer the lasagna! Place about a 1/4 cup of pasta sauce in the bottom of a 9x13 pan. Arrange 5 lasagna noodles on top. You can buy the fast-cooking noodles and use as-is. If you buy the regular kind, you'll need to boil the noodles first. Next come 1/3 of the veggies, 1/3 of the cottage cheese mix, 1/3 of the chopped basil, 1/3 of the pasta sauce, and a small sprinkling of mozza, saving most of the mozza for the top layer. Repeat two more times.

Bake in the oven for 40 minutes.

Remove and sprinkle the top with the remaining mozza cheese. Set the oven to broil and place the lasagna back in for 4-5 minutes. Watch carefully! You want the cheese to melt and start to turn brown. But take the lasagna out before the cheese starts to burn.

Allow the lasagna to rest for 10 minutes before cutting. This step is key for serving a lasagna that doesn't fall apart when you try to lift it out!
Nutrition
Serving:
12
|
Calories:
312
kcal
|
Carbohydrates:
32
g
|
Protein:
20
g
|
Fat:
12
g
|
Saturated Fat:
6
g
|
Trans Fat:
1
g
|
Cholesterol:
62
mg
|
Sodium:
412
mg
|
Potassium:
456
mg
|
Fiber:
4
g
|
Sugar:
6
g
|
Vitamin A:
725
IU
|
Vitamin C:
22
mg
|
Calcium:
252
mg
|
Iron:
2
mg