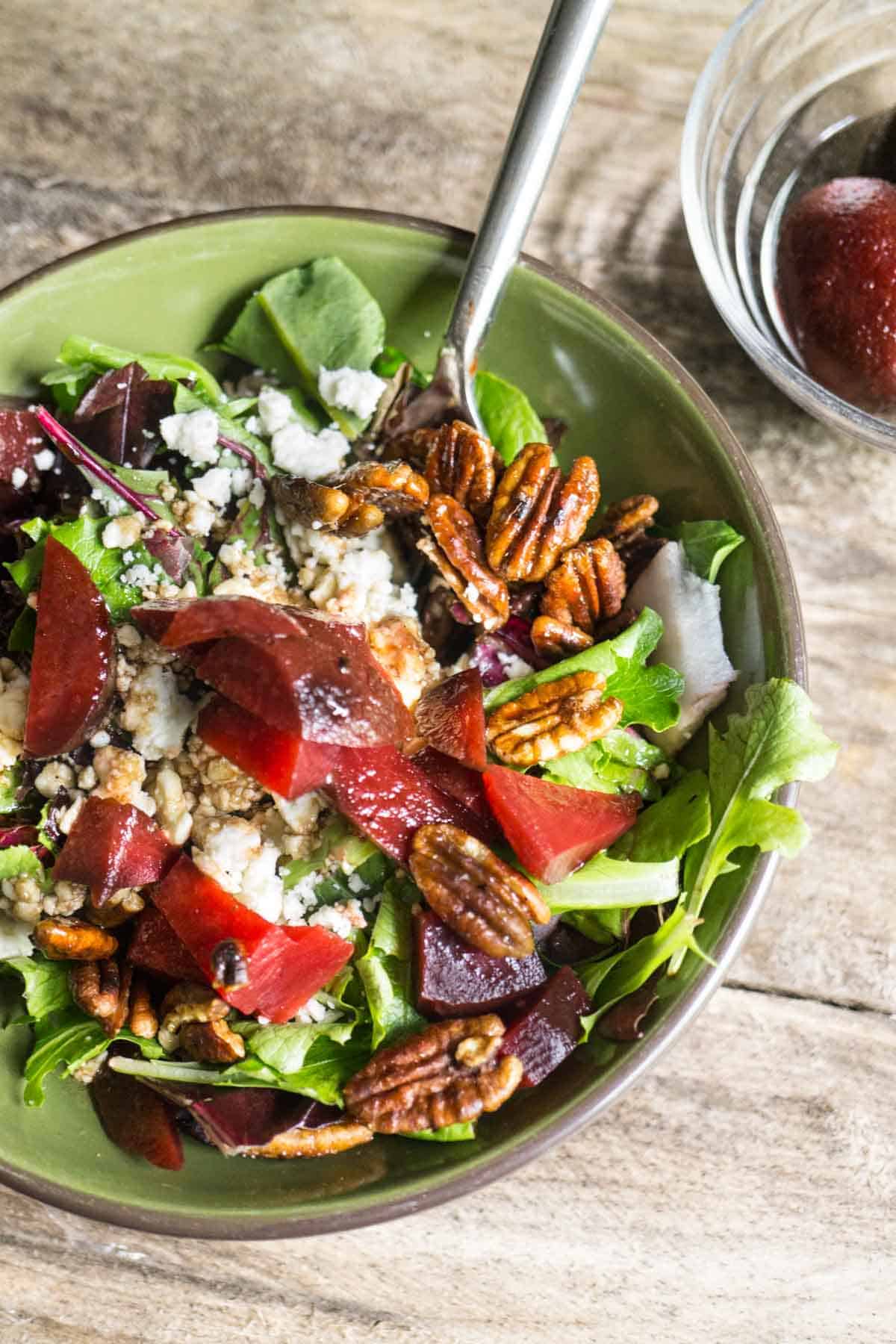 Feta beet salad – a filling, earthy, salad with a sweet side: Candied nuts, salty feta, roasted beets, quinoa, and salad greens all get drizzled with the most scrumptious sweet balsamic dressing!
I'm pretty excited to share with you my latest favourite thing ever: sweet balsamic vinaigrette. This is a pretty big statement coming from someone who previously despised anything and everything balsamic. Let's just say miracles happen. Or rather, I smartened up and realized that I could overcome my fear of certain foods. Since I started to do that, life has gotten infinitely more delicious.
This balsamic dressing goes with pretty much any garden salad but it goes especially well with the candied nuts, salty feta, earthy beets, nutty quinoa, and bitter field greens in this recipe.
All credit for this salad goes to my toddler. I wasn't really the biggest fan of beets so I never cooked them at home. My mother-in-law always grows a lot in her garden though so he had the opportunity to eat them at her place. It was love at first bite for him. When I realized how much he loved them I figured I should learn to like them too!
And voila! This salad was born. I should probably learn other uses for beets but why mess with a good thing? This recipe is the bomb diggity bomb! (things become cool again after 20 years have passed, right? so that means I can reclaim the use of diggity!)
why this feta beet salad is a smart choice
How are you healthy oh beets? Let me count the ways…
Potassisum: the underdog nutrient of hypertension. Most of the emphasis for a hypertensive diet is on the need to lower sodium. While a diet high in processed foods can certainly be loaded with sodium, the flipside of the coin is that it's low in potassium. The balance between potassium and sodium is a key factor in keeping a healthy blood pressure. Potassium is found primarily in whole foods including produce, whole grains, legumes, and dairy products. 1/2 cup of beets contains 275 mg.
Iron: while the iron found in beets doesn't have the same bioavailability (meaning the ability of your body to absorb a nutrient) as the iron found in animal products, it's a good source of iron for vegetarian and vegan diets.
Folate and Betaine: found in good quantities in beets, these two nutrients work hand in hand to maintain a healthy cardiovascular system. Folate and betaine work to keep homocysteine levels low. When homocysteine is high, it can contribute to high blood pressure, high cholesterol, and chronic inflammation.
Betacyanin: this is the compound the gives beets their deep purple hue. But it does more than just make the beet look pretty. Betacyanin is an anti-oxidant shown in both test tubes and in animal studies to protect against oxidative damage.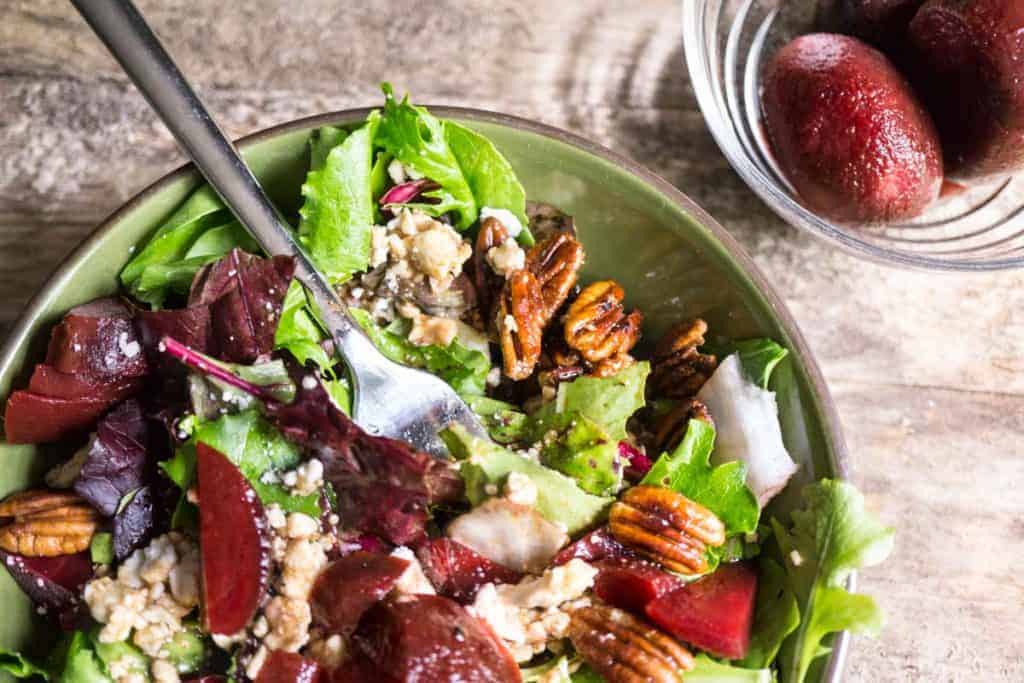 If you give this recipe a go, let me know! Leave a comment, rate it, or snap a photo and tag it with #smartnutritionrecipes on Instagram! I'd love to see your creations! Knowing someone has enjoyed one of my recipes always makes my day brighter.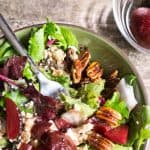 Feta Beet Salad
Print Recipe
A filling, earthy salad with a sweet side.
Ingredients
1

cup

quinoa

uncooked (or 2 cups cooked)

1 1/2

tsp

butter or oil

coconut, olive, or canola

1

cup

walnuts

almonds, or pecans

1 1/2

tsp

syrup

simple, maple, agave, etc

dash of salt

8

cups

field greens

5-6

small-medium beets

roasted *see note

1/2

cup

crumbled feta
Dressing
1/4

cup

balsamic vinegar

1/4

cup

syrup

simple, maple, or agave

6

tbsp

olive or canola oil

3/4

tsp

salt
Instructions
Cook the quinoa according to the package's directions.

Meanwhile, melt the butter (or oil) over medium heat in a frying pan.

Add the nuts to the pan. Stirring occasionally, heat the nuts until fragrant and lightly toasted. Add the syrup to the pan and stir to coat. Cook until the moisture sizzles away. Sprinkle with a pinch of salt and remove from heat.

Slice beets.

Once the quinoa and nuts have cooled, combine the salad ingredients in one large bowl or layer in 6 individual bowls. (see note)

Stir together the dressing ingredients and drizzle over the salad.
Notes
This could also be a make-ahead mason jar salad. Layer in this order: quinoa, dressing, beets, cheese, walnuts, and top with field greens.
*about the beets: I use roasted, peeled, and cooled beets. But I've been told by beet experts that you could also grate raw beets or use pickled beets.
Calories: 432 | Fat: 27g | Carbs: 41g | Fibre: 6g | Sugar: 15g | Protein: 11g

[share title="Share This Article" facebook="true" twitter="true" google_plus="true" linkedin="true" pinterest="true" reddit="true" email="true"]