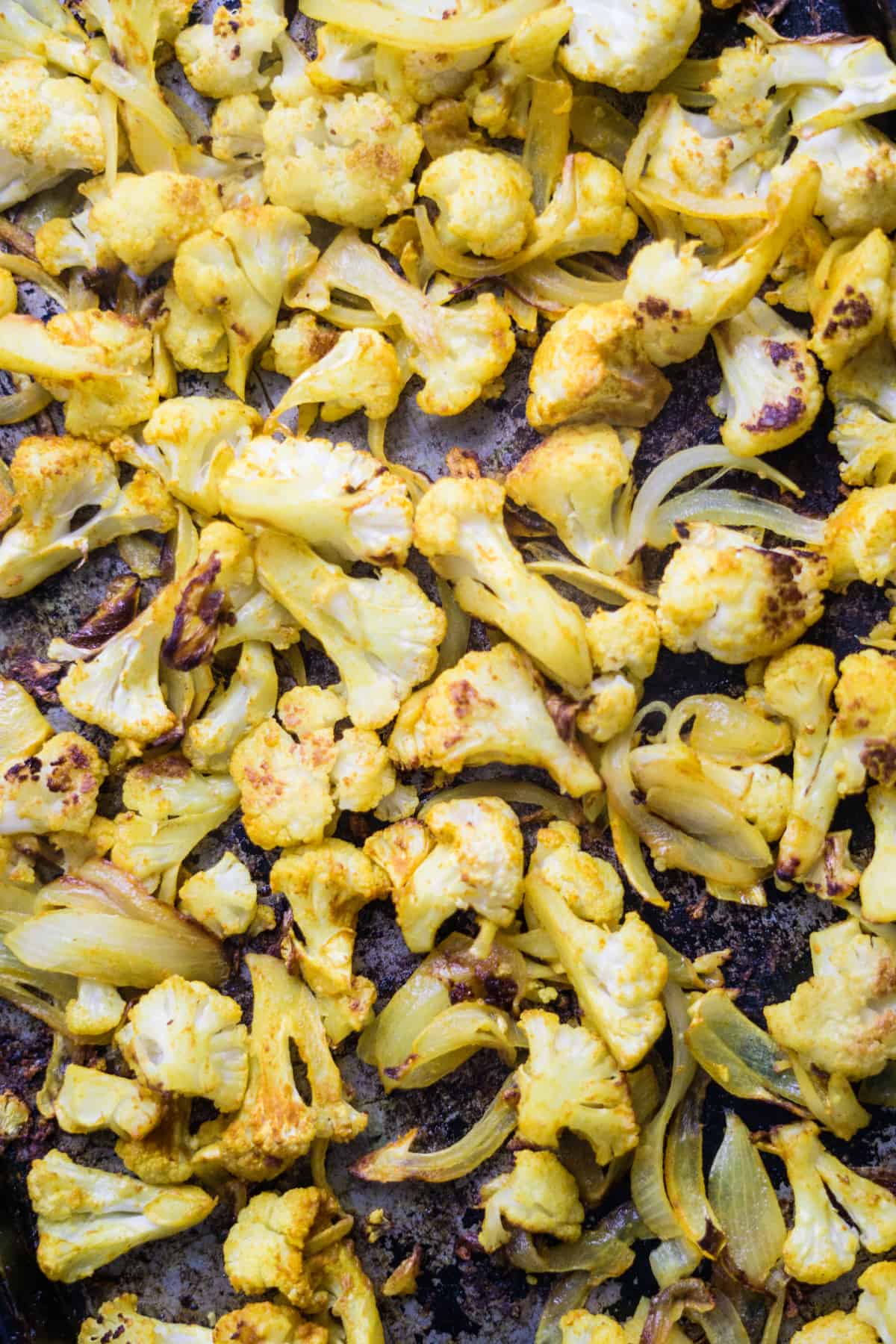 Something magical happens when veggies are roasted… this golden cauliflower represents a turmeric roasted transformation into sweet, crispy morsels of goodness that melt in your mouth!
This is how delicious veggies can be. I'll roast a whole head of golden cauliflower and a large onion, and it will be devoured in two meals by our family of three! Golden cauliflower is easily the best part of any meal I've added it to.
Roasting in the oven really does do magic to veggies. Suddenly all the bitterness disappears and the veggies are transformed into these sweet, crispy morsels of goodness that just melt in your mouth! The science of it involves very complex Maillard/caramelization reactions. I had to memorize them in university, but all I remember now was that it was complicated!
All we need to know here is that these reactions make food delicious!
When making golden cauliflower, don't be afraid to let the edges get nice and crispy. I'd say you should err on the side of slightly burnt. When it's only a little burnt, there isn't a burnt taste… but you get a ton of that wonderful caramelized flavour!
You REALLY don't want to miss out on that!
why this golden cauliflower is a smart choice
Cauliflower and onions have suffered at the hands of the "eat the rainbow" push. The good intention behind that campaign was to get people to eat a variety of fruits and veggies, since each colour is indicative of different plant nutrients. But white isn't a colour of the rainbow, so these white veggies have been lumped together with other white foods such as refined grains.
This is a shame, because they have a lot going for them nutritionally!
Cauliflower: Observational studies have noted a decreased risk of cancer in people who eat a high amount of cruciferous veggies, which includes cauliflower. It is believed that one type of phytochemical called glucobrassicin may be partly responsible for this health benefit, by acting in various ways. Aside from this, cauliflower is a good source of folate, Vitamin C, selenium, and fibre.
Onions: Anti-inflammatory, anti-bacterial, anti-viral, anti-oxidant, anti-hypertensive… is there any evil that onions can't fight? While no single food is a cure all, onions are really good for your health! You don't have to travel to the Andes or the Amazon to find a superfood… they can be grown in your own backyard! Onions contain a flavanoid called quercetin, which is thought to be responsible for many of its health benefits.
Each serving of this dish will give you 3 servings of veggies to add to your daily total! 
If you make this recipe, please let me know! Leave a comment, rate it, or snap a photo and tag it with #smartnutritionrecipes on Instagram!  I'd love to see your creations!
turmeric roasted cauliflower
Print Recipe
Something magical happens when veggies are roasted... this golden cauliflower represents a turmeric roasted transformation into sweet, crispy morsels of goodness that melt in your mouth!
Ingredients
1

head cauliflower

1

onion

2

tbsp

canola or olive oil

1

tsp

garlic powder

½

tsp

turmeric

½

tsp

salt

Fresh black pepper
Instructions
Preheat oven to 450 degrees Fahrenheit.

Chop the cauliflower into bite-sized pieces.

Slice the onions into thin strips.

Place the cauliflower, onion, oil, garlic powder, turmeric, and salt in a bowl.

Stir to coat well.

Arrange in a single layer on a baking sheet.

Crack a touch of freshly ground black pepper over top.

Bake in pre-heated oven for 20 minutes.

Stir and back another 10 minutes.

The cauliflower is ready when the pan-side starts to turn brown and the edges get a little crispy.
Nutrition
Sugar:
4
g
|
Fiber:
3
g
|
Calories:
88
kcal
|
Fat:
5
g
|
Protein:
3
g
|
Carbohydrates:
10
g
[share title="Share This Article" facebook="true" twitter="true" google_plus="true" linkedin="true" pinterest="true" reddit="true" email="true"]