Roasted Hazelnut Brussels Sprouts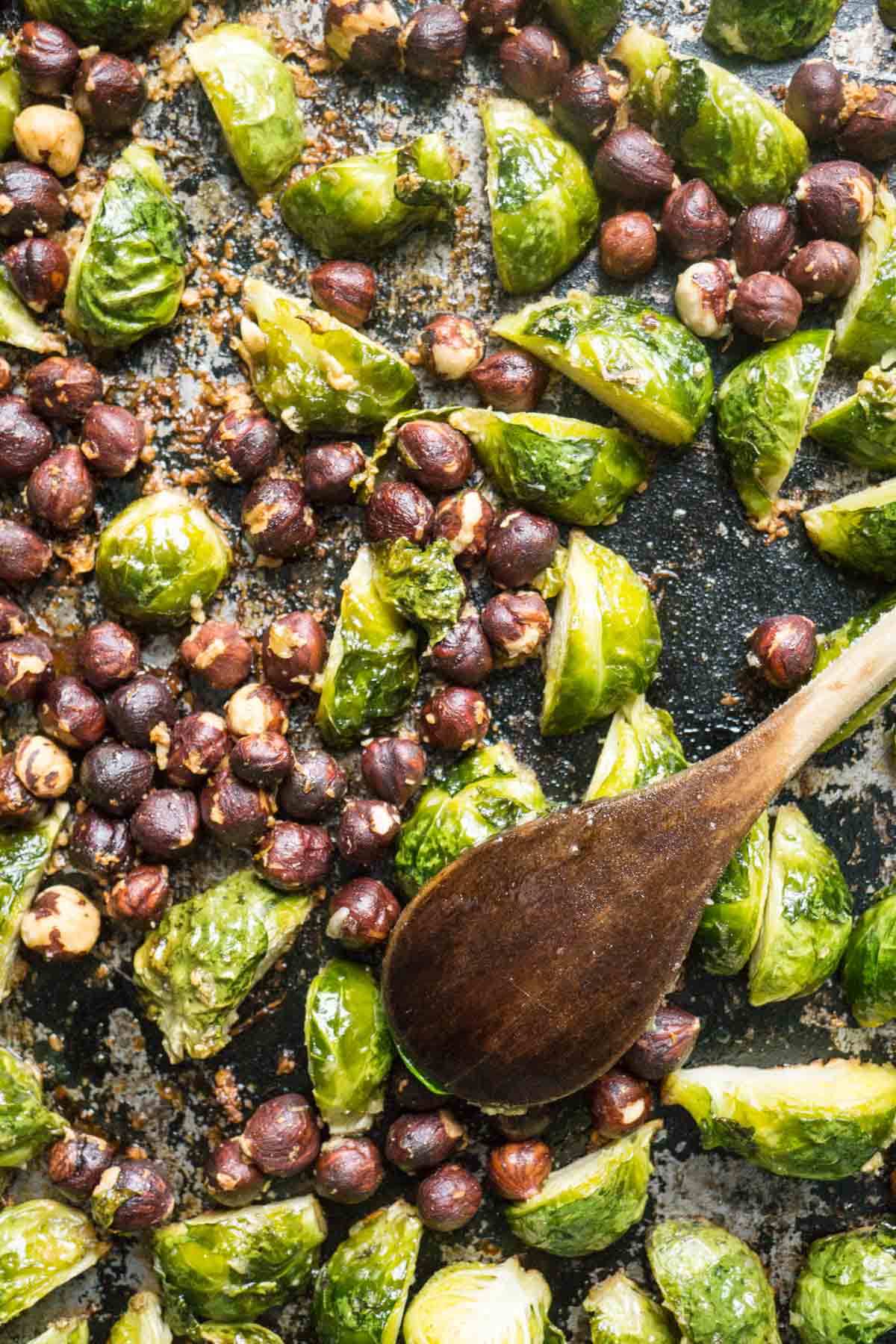 Crispy brussels sprouts carmelized with maple syrup and studded with hazelnuts.
These ain't your mama's brussels sprouts!
No offence to your mother's cooking. I'm sure she's a fantastic chef. But even the most fantastic chef is limited by the ingredients available to them. I don't know about you, but as a kid, the only type of brussels sprouts I ever laid eyes on were found in the frozen aisle of the grocery store. When those things were heated up they just turned into a mushy pile of bitter sadness.
Enter fresh brussels sprouts. These are a whole different ballpark. They ought not to even be permitted to share the same name as the frozen stuff! When these are roasted the edges get delightfully crispy. The centers soak up the flavouring sauce. It's an explosion of flavour in your mouth with no hint of bitterness whatsoever! They're truly heaven on earth in food form.
I never thought I'd find myself saying this but now I just want to shout it out from the rooftops:
"I LOVE BRUSSELS SPROUTS!"
thank you, dear sister-in-law
When we were visiting in New York this past fall, Jeremy's sister made some incredible brusselS sprouts and hazelnuts. Until this point I had been adding pecans to my brussels sprouts like a complete fool. Sure, pecans and brusselS sprouts taste good together but hazelnuts and brussels sprouts were simply made for each other!
So what did I do when we got home? I copied her, of course! And this recipe was born.
side dish or main dish? you decide.
This recipe makes a fantastic side dish. It also make a mean supper.
When I created this recipe I intended on the brussels sprouts being eaten as a side dish. However they were so delicious I wanted nothing to do with the main dish I had also prepared that day. I found some leftover brown rice in the fridge, tossed the brussels sprouts on, sprinkled with some dried cranberries and this has now become our new favourite meal!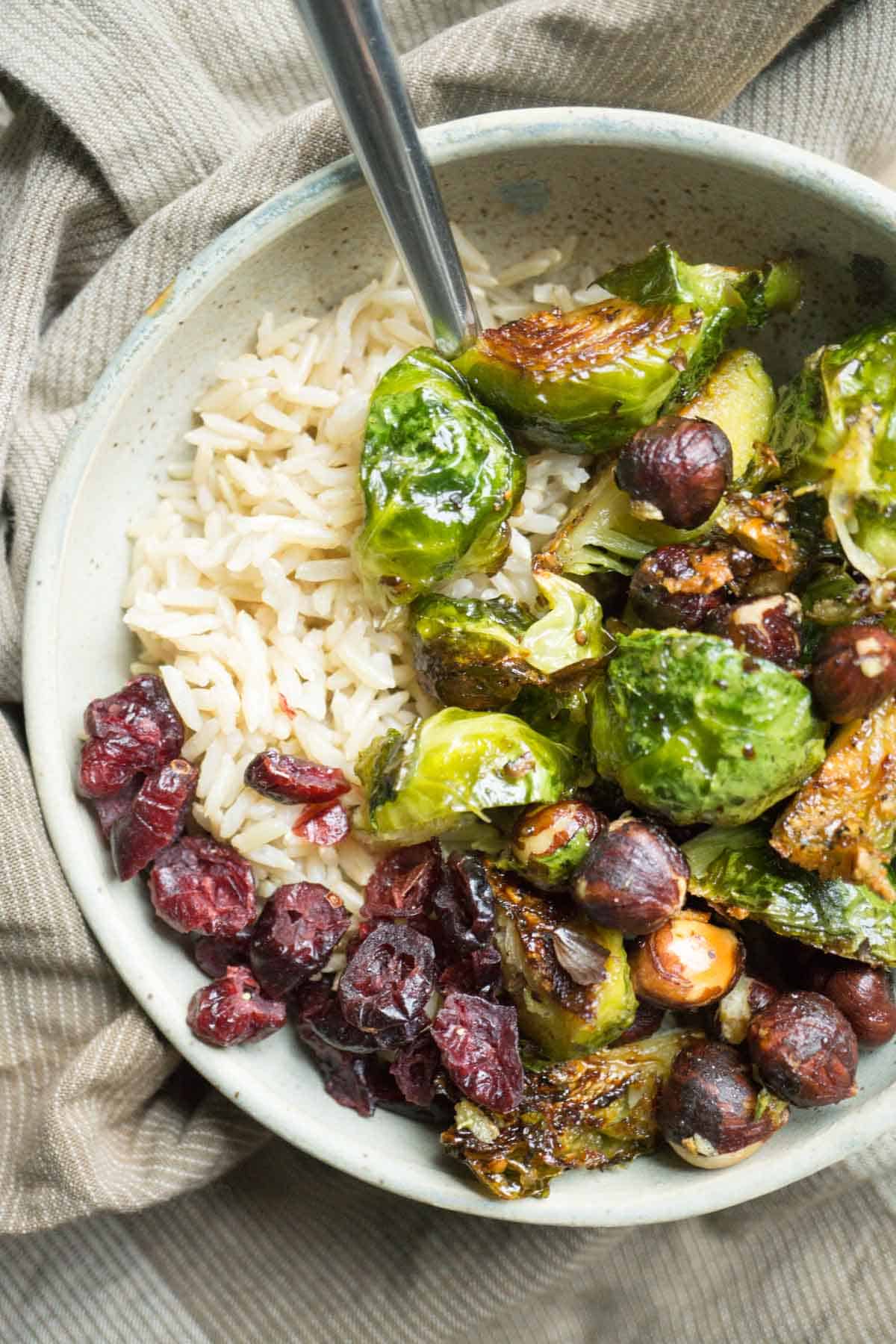 why it's a smart choice
Let's see… 1 cup of brussels sprouts (raw) will give you:
4g of fibre  (similar to 2 slices of bread)
39 mg calcium (similar to 2 tbsp of milk)
1.3 mg iron (similar to 30 almonds)
362 mg potassium (similar to 1 small banana)
57 ug folate (similar to 1 cup of orange juice)
79 mg vitamin C (nearly 100% of the daily recommendation for most people)
165 ug Vitamin K (more than 100% of the daily recommendation)
1478 ug lutein and zeaxanthin…. phytonutrients that have been shown to keep the eyes functioning properly!
All in all, brussels sprouts give you a well-rounded amount of SEVERAL key nutrients!
The hazelnuts compliment the brussels sprouts nutritionally and provide a good amount of healthy fats, magnesium, zinc, iron, and Vitamin E.
If you give this recipe a go, let me know! Leave a comment, rate it, or snap a photo and tag it with #smartnutritionrecipes on Instagram! I'd love to see your creations!
roasted hazelnut brussels sprouts
Print Recipe
Crispy brussels sprouts carmelized with maple syrup and studded with hazelnuts.
Ingredients
1

lb

brussel sprouts

cut in half lengthwise (or cut into quarters if the sprouts are particularly large)

1

cup

hazelnuts

3

tbsp

olive oil

3

tbsp

maple syrup

2

tsp

apple cider vinegar

5

cloves

garlic

crushed

½

tsp

salt
Instructions
Preheat oven to 425 degrees Fahrenheit.

Measure all ingredients into a medium sized bowl.

Stir thoroughly to coat.

Spread in a single layer on a rimmed sheet pan.

Flip the brussel sprouts over so that they are all cut side down on the pan.

Bake for 15-20 minutes. They will be ready when the bottoms turn a golden brown. Watch carefully towards the end because there is a fine line between done and burnt!
Notes
They taste best fresh out of the oven while the edges are still crispy. But, they're still good later on too.
Nutrition
Calories:
272
kcal
|
Carbohydrates:
18
g
|
Protein:
6
g
|
Fat:
21.5
g
|
Fiber:
5.5
g
|
Sugar:
8
g
[share title="Share This Article" facebook="true" twitter="true" google_plus="true" linkedin="true" pinterest="true" reddit="true" email="true"]