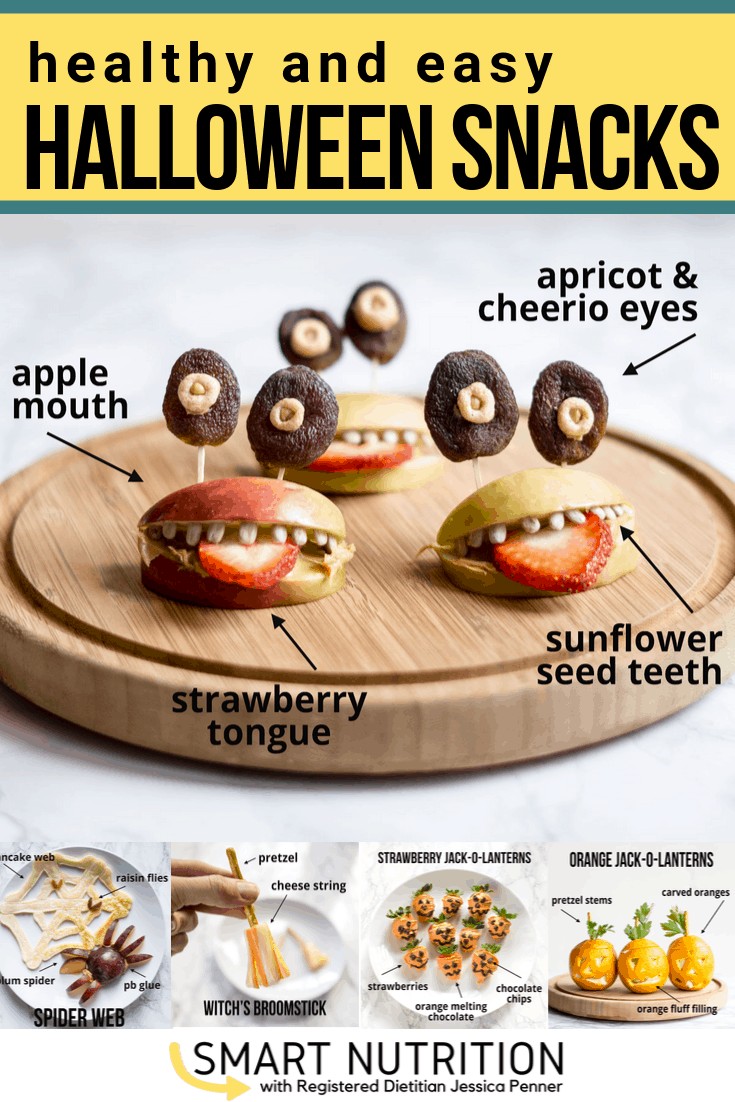 Delight your little goblins with fun & healthy halloween snacks that are also super easy to make! We've got pancake spider webs, apple monsters, and more!
Healthy Halloween Snack #1: Pancake Spider Web
It's so easy and fun to make pancakes in different shapes! To make this web, first make your favourite pancake batter. If you keep a sourdough starter, try my sourdough pancake recipe! I bet it will become your new favourite. Next put the pancake batter in a squeeze bottle. You could buy one (like this one from Amazon) or you could reuse a condiment bottle (like ketchup or mustard). Then squeeze out a large X. Cross that X with another line to make a 6 point star. Connect the lines two times to complete the web.
Cut raisins in half to make flies.
Take a plum. Cut it in half and remove the pit. Place one half on the plate. Cut the remaining half in 8 wedges. "Glue" the wedges as legs to the body of the spider. I cut little bit off of each wedge so that there was a flat edge to butt up against the body.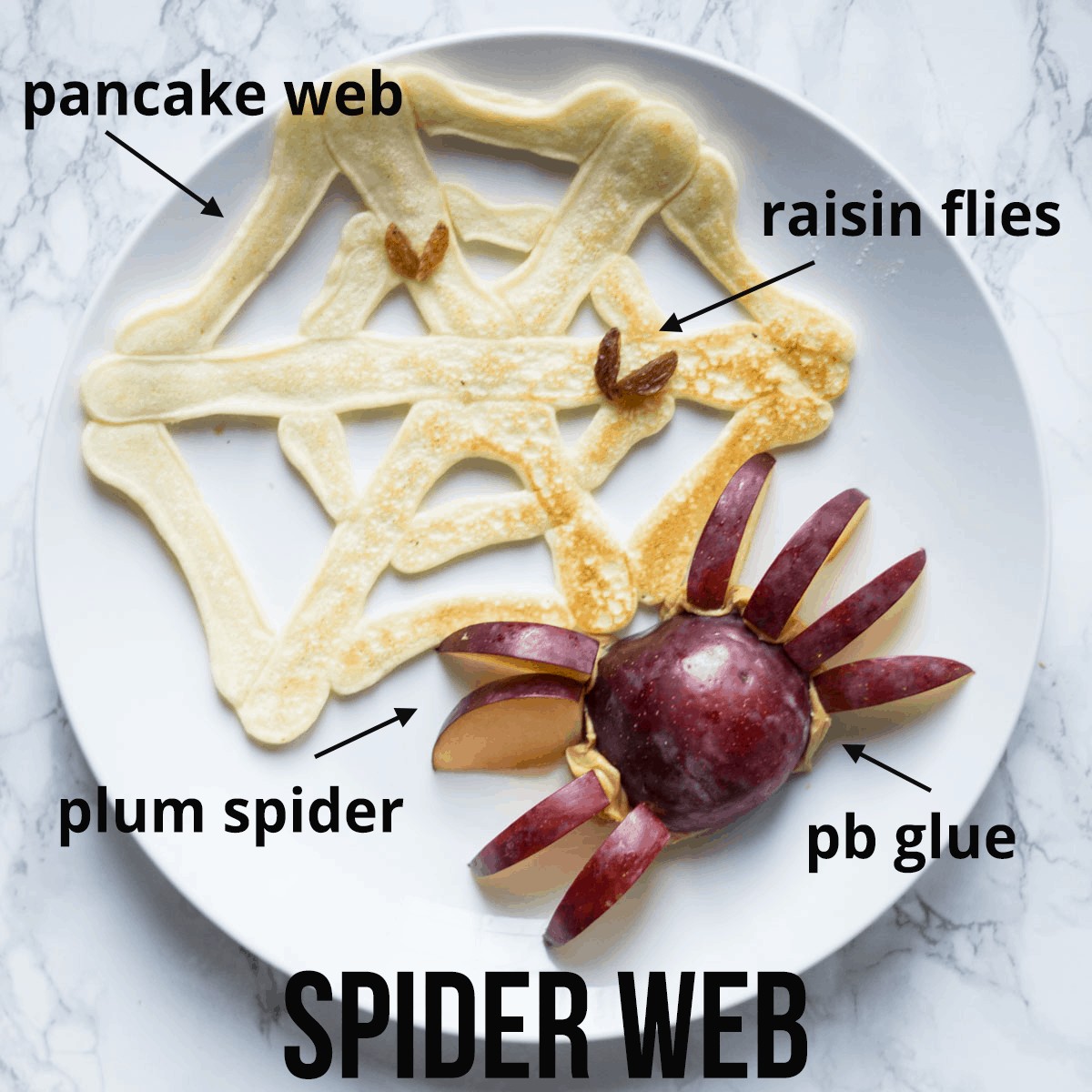 Healthy Halloween Snack #2: Apple Monsters
These monsters are so cute they couldn't possibly scare anyone!
Take an apple, slice it in half and remove the core. Slice the halves into four slices each (so you'll end up with 8 slices total).
Spread peanut butter on one side of each slice. Slice a strawberry into four slices and place as tongues on four of the apple slices. On the remaining slices, stick some sunflower seeds in for teeth. Place the slices with sunflower seeds on top of the ones with strawberries to form the mouth.
For each of 8 dried apricots, stick a toothpick in lengthwise. "Glue" cheerios on for eyes then stick two each into the apple mouths.
Healthy Halloween Snack #3: Strawberry Jack-O-Lanterns
These cuties need only three ingredients: fresh strawberries and two kinds of chocolate! Melt orange chocolate wafers and dip the strawberries in to coat. Once the chocolate has hardened, place chocolate chips in a ziplock bag and melt on low heat in the microwave. Cut a tiny hole in one corner and use that to pipe the faces!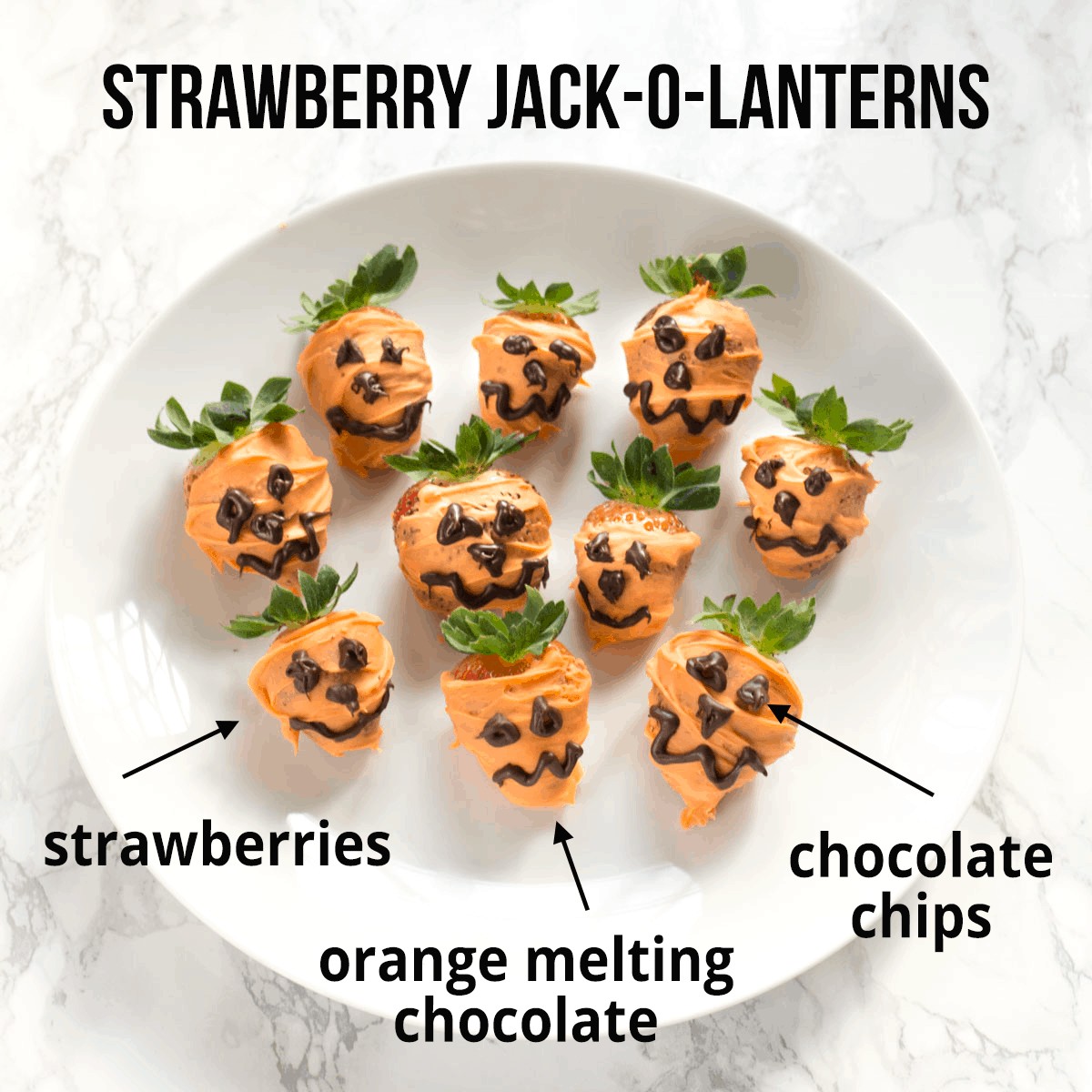 Healthy Halloween Snack #4: Cheese String Witch's Broomstick
It really doesn't get more simpler than this! Just cut a cheese string in half and pull it apart at the bottom to make the "straw" part of the broom. Then stick in a pretzel stick on the other side! Boom! Your kids will be so impressed with you.
Healthy Halloween Snack #5: Orange Jack-O-Lanterns
They're cute but the best part about this snack is that there is no refined sugar! These jack-o-lanterns are naturally sweetened by the oranges and a few dates. See below photo for the recipe.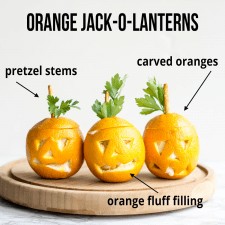 Orange Jack-O-Lanterns
Print Recipe
Ingredients
3

naval oranges

1

packet of gelatin powder

500

ml

2 cups cottage cheese

1/2

brick

4 oz or 120g cream cheese

5

dates

1

tsp

vanilla extract
Instructions
Cut off the tops of the oranges and scoop out the flesh. Place the flesh and packet of gelatin in a blender and blend until smooth-ish.

Pour into a microwave safe dish and microwave on high until bubbling (or heat on stove).

Return to blender with the remaining ingredients. Blend until smooth then pour into a lidded container and place in fridge.

Meanwhile, carve faces into your oranges using a sharp paring knife.

Once the fluff has set a bit... like a marshmallow salad (this will take a few hours), scoop and fill the oranges. You will have extra fluff 🙂