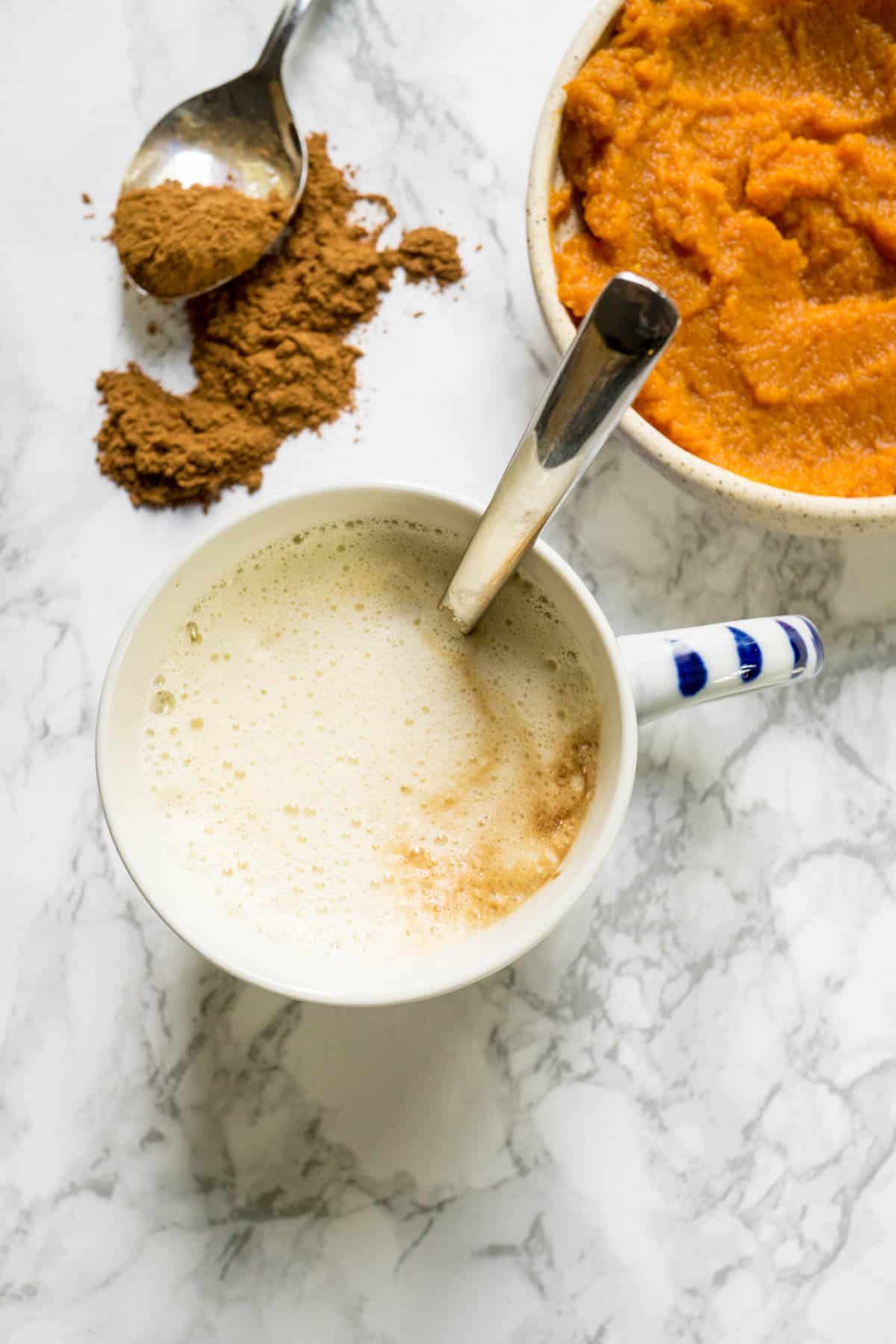 Enjoy this easy Pumpkin Spice Latte all year long. It's much cheaper than Starbucks! No fancy equipment needed. Vegan version listed too.
When does pumpkin spice latte season start?
Starbucks' pumpkin spice latte usually makes its first appearance the last week of August or the first week of September. In my opinion, that's much too early! At that time I'm still desperately holding on to the last shreds of summer I can. Remember, I live in glorious Winnipeg, Canada where we only get a solid two months of hot summer weather!
But maybe you're the opposite and are already itching for a PSL in July. Or it's April and you're wondering if the pumpkin spice latte is still available (not, it's not!) I got your back though. With this copycat recipe you can enjoy a nice cozy pumpkin spice latte any time of year you want.
This isn't one of those alternative recipes that tastes nothing like the food you're craving. This is the real deal, in more than one way.
Not only does it taste very similar to what you get at Starbucks, it comes without all the colourants and preservatives. This is REAL food.
How much is a pumpkin spice latte?
The price varies by location but a grande pumpkin spice latte will set you back at least $5-6.
Once upon a time I worked at Starbucks. It's true. For a grand total of three weeks, I donned the green apron and became a barista.
I loved crafting beverages. It was a lot of fun. But I realized pretty quickly that I had to quit.
One reason was that I found it very difficult to see the same people come in daily, if not more often, to spend a ridiculous amount of money on a beverage. I felt like I was betraying my thrifty values by taking part in this! But, obviously, resigning didn't actually change anything for anybody but me… until now!
I've donned my math hat and calculated that a grande size of this homemade pumpkin spice latte will only cost you $1! That's like 85% off!
Is your frugal soul doing a happy dance right now?
What's in the Pumpkin Spice Latte?
According to the Starbucks website, this is the list of ingredients found in their latte:
Milk, Pumpkin Spice Sauce [Sugar, Condensed Skim Milk, Pumpkin Puree, Contains 2 Or Less Of Fruit And Vegetable Juice For Color, Natural Flavors, Annatto, Salt, Potassium Sorbate], Brewed Espresso, Whipped Cream [Cream (Cream, Mono And Diglycerides, Carageenan), Vanilla Syrup (Sugar, Water, Natural Flavors, Potassium Sorbate, Citric Acid)], Pumpkin Spice Topping [Cinnamon, Ginger, Nutmeg, Clove, Sulfiting Agents]
If you make my DIY pumpkin spice latte, the list of ingredients is:
Milk, White Chocolate Chips [sugar, cocoa butter, whole milk powder, skim milk powder, butter oil, soy lecithin, vanilla extract], Evaporated Milk, Pumpkin Puree, Espresso, Spices
Why this pumpkin spice latte is a smart choice
It's affordable, it's incredibly easy to make, and tastes delicious, but my favourite part is that you can add as little or as much of the pumpkin spice latte base as you want! You have full control over the ingredients!
Can you make this a vegan pumpkin spice latte?
At Starbucks since their pumpkin spice sauce has condensed milk in it, you can't order a vegan or dairy free version but you can veganize this recipe!
Just sub out the evaporated milk for canned coconut milk and choose dairy free white chocolate chips. Then make the latte with your favourite vegan milk alternative! (ps If you're having trouble figuring out which is the best milk alternative to suit your nutritional needs, I've got you covered with this ultimate guide to choosing a milk or milk alternative).
Applause for this pumpkin spice latte recipe
Since I created this recipe in 2014 people have been raving about it!
One fan recently told me:
" I've been making this recipe every autumn for several years now! It's awesome 🙂 thank you!"
Another person wrote this comment after I posted about this on Facebook:
" I was just telling my coworker about this yesterday!! I need to make a batch."
Recommended Tools for Milk Frothing:
Under $15
While you're not going to get the same silky foam that you would at a coffee shop, this milk frother tool does a pretty decent job! Just heat your milk then use the handheld frother to whisk in some air. Make sure to place the frother just below the surface of the milk and lift it up just enough to hear a throat clearing type sound. You'll know what I mean when you try it out!
Under $50
For a little more money you can get a machine that will both heat and froth your milk. These machines only froth about 200 ml (3/4 cup) of milk at once. So you'd have to repeat the process if there's more than one person having a latte. I have the Verismo milk steamer from Starbucks and it works quite well! The quality of foam is slightly better than the handheld frother but not as good as a coffee shop. The reviews on Amazon for this model are quite good.
Recommended Methods for Making Espresso:
If you have an espresso machine, then by all means, use it! But you can still make a good espresso without breaking the bank on an expensive machine.
Under $5
I know coffee connoisseurs (aka coffee snobs!) will scoff at me with this one but I actually really enjoy my lattes made with Nescafe's Instant Espresso. All you do is place a teaspoon in a mug, pour in a little water off the boil, and voila! Espresso! If you were drinking it on its own, you would probably want a better quality method of making espresso but if it's for a Pumpkin Spice Latte, you honestly won't notice the difference!
Under $15
The original way and how (I believe) most Italians still make their espresso at home is using a stovetop espresso maker. Again, it's quite simple. Fill the bottom chamber with water, place the funnel on top and fill with fine ground espresso. Screw on the top and heat on the stove. You'll start to hear the coffee brewing into the top chamber. You'll know it's done when you no longer hear any sputtering sounds.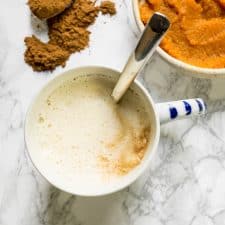 Homemade Pumpkin Spice Latte
Print Recipe
Ingredients
For the pumpkin spice sauce:
6

oz

185 ml evaporated milk

1

cup

white chocolate

chips, or broken into small chunks

1/2

cup

pumpkin puree

1

tbsp

cinnamon

½

tsp

ginger

½

tsp

nutmeg

¼

tsp

ground cloves

1

tbsp

vanilla
For the latte
14

oz

2% milk

2

shots of espresso
Instructions
For the pumpkin spice sauce (stovetop):
In a small pot combine the evaporated milk and the white chocolate.

Over low heat, stir until the chocolate has melted.

Remove from heat and stir in the remaining ingredients. Blend with an immersion blender to combine fully or transfer to a stand blender.

Allow to cool slightly then pour into a container to store in the fridge.
For the pumpkin spice sauce (high powered blender):
Using a high powered blender (such as the Vitamix or Blendtec), place all the sauce ingredients in the blender container.

Run a soup cycle.

Allow to cool slightly and then transfer to container to store in the fridge.
For the latte
Heat the milk either with a milk steamer, in a pot on the stove, or in the microwave.

Stir in 2 tablespoons of concentrate.

Make your espresso shots (with either an espresso machine or a stovetop espresso) and pour a mug.

Pour the steamed/flavoured milk over top.

If you like frothed milk, feel free to make some and pour on top.
Notes
Adjust the amount of concentrate to your preferred sweetness level. The amount listed here is approximately the sweetness of the default at Starbucks.
Nutrition Info is for 14 oz of 2% milk and 2 tbsp of sauce.
Nutrition
Serving:
1
grande latte
|
Calories:
295
kcal
|
Carbohydrates:
29.5
g
|
Protein:
15.5
g
|
Fat:
13
g
|
Fiber:
0.5
g
|
Sugar:
29.5
g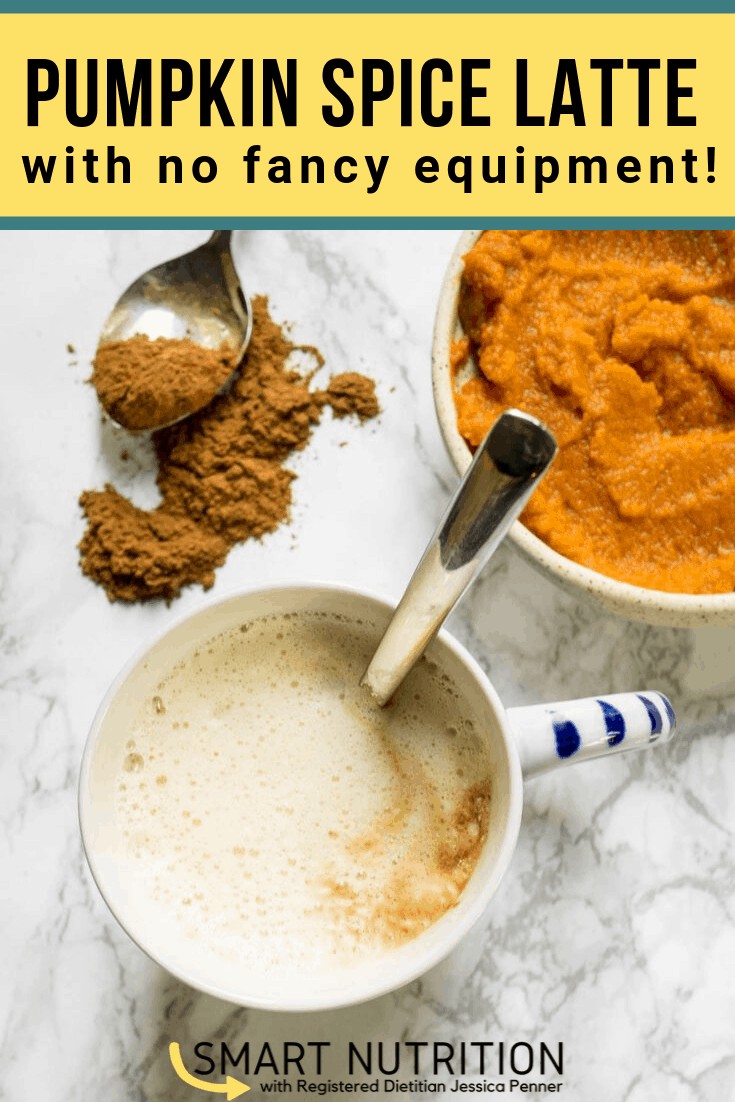 [share title="Share This Article" facebook="true" twitter="true" google_plus="true" linkedin="true" pinterest="true" reddit="true" email="true"]