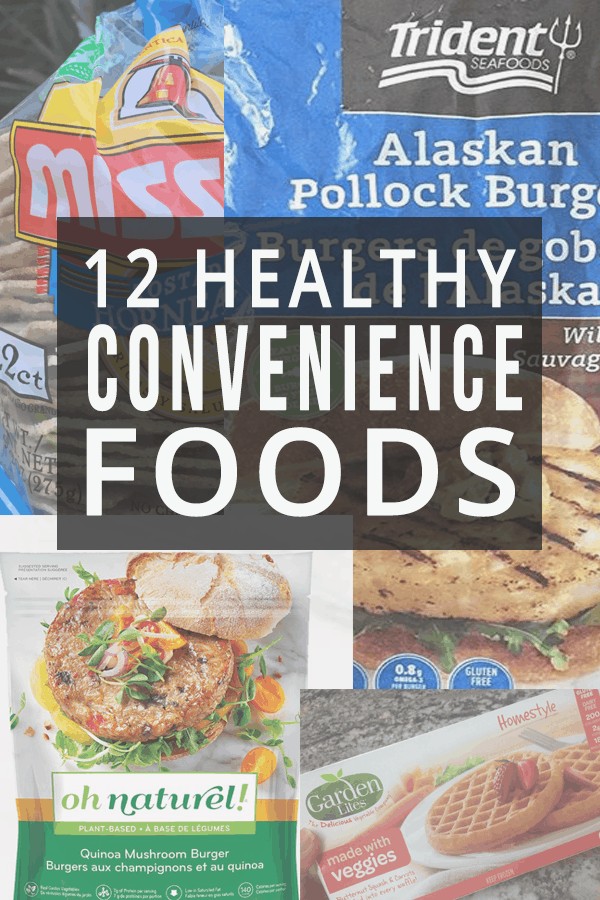 In an ideal world, we'd all have time to prepare and cook three meals a day, seven days a week, eating happily and healthfully ever after. But in reality, sometimes life is busy. We need healthy convenience foods!
Convenience often means that sacrificing something else. You pay extra for convenience. But the good news is that just because you want convenient food, doesn't mean you necessarily have to sacrifice nutrition! There are several healthy gems that can be easily picked up at your local grocery store!
I asked my Dietitian friends what they personally keep on hand for quick and convenient meals! Here are their answers, so check out the list, and then stock up on some of these healthy convenience foods, so you have something easy on hand for those days when you #justcanteven.
12 healthy convenience foods to try
1) Garden Lites Frozen Waffles
"My favorite thing about these waffles (other than the taste and convenience)  is that the first ingredient is a vegetable blend of butternut squash and carrots.  I buy them at my local Publix, and they are perfect for busy mornings. I like to top mine with a thick smear of no added sugar peanut butter to add some extra protein and fat to help keep me feeling full, and a light drizzle of honey."
Caryn Fasko, MPH RD LDN at www.deliciousandnutritiouseating.com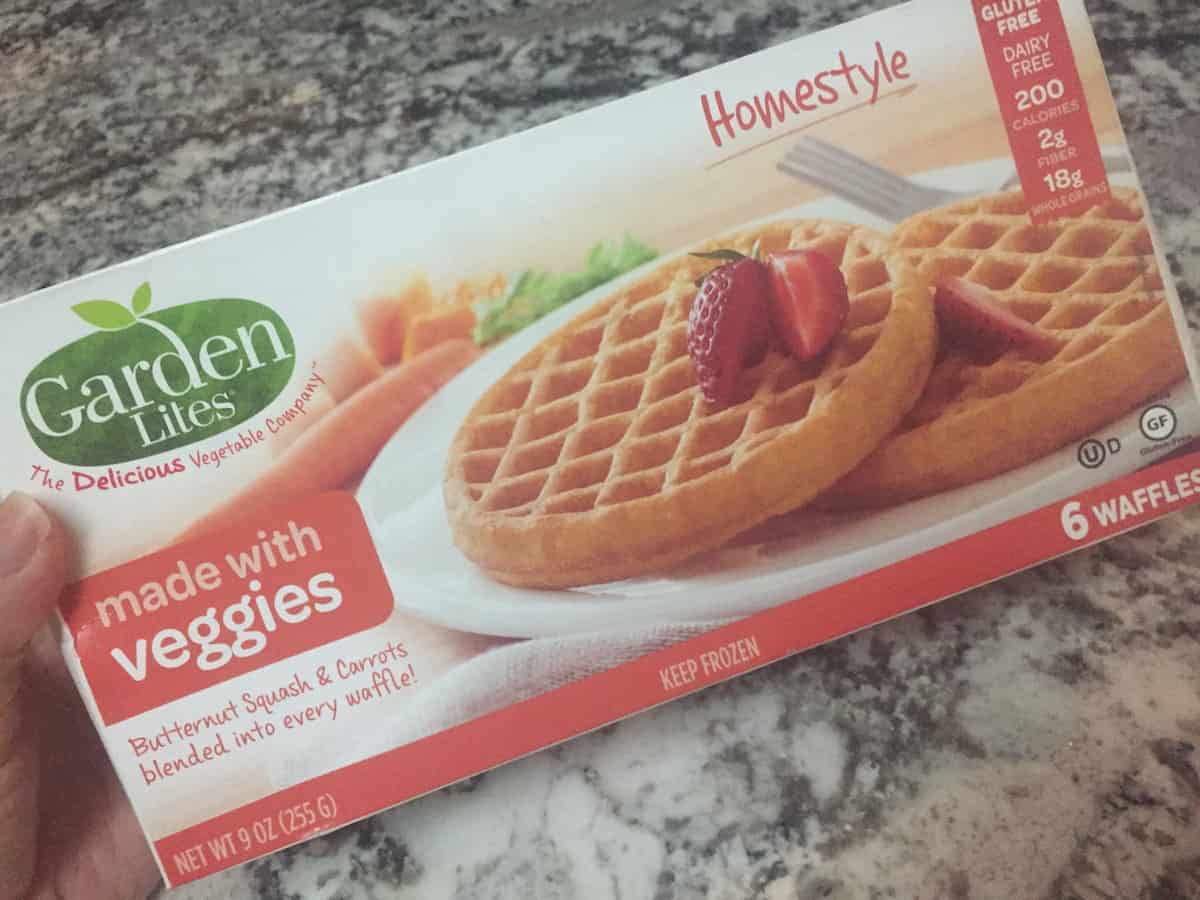 2) Qrunch Organics Quinoa Burgers
"I always keep an emergency stash of these quinoa burgers in my freezer. They are made of whole grains and veggies and are vegetarian, gluten free, soy free and nut free, so almost anyone can enjoy them! Instead of using them as a traditional burger, I like to top them with marinara sauce and reduced fat Italian cheese and pop them in the oven. It's super quick, easy, and it reminds me of a vegetarian, gluten free chicken parmesan. Add a bagged salad and dinner is ready!"
Caryn Fasko, MPH RD LDN at www.deliciousandnutritiouseating.com
3) Oh Naturel! Quinoa Mushroom Burgers
"I like them because A) it's a simple ingredient list B) They are low in saturated fat, have 7 g of plant protein and are not too high in sodium compared to many other frozen entrees C) They're probably the tastiest frozen veggie burger I've ever eaten lol.
I like them on a flatbread with some mashed avocado 🙂
Where to buy: Save-On-Foods" 
Jessica Maclean, RD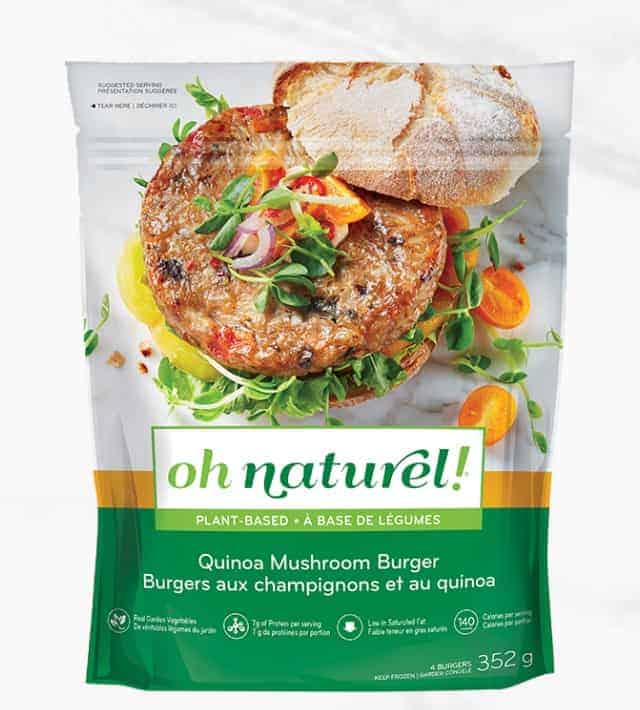 4) President's Choice whole roasted chickens & Eat Smart Sweet Kale salad kit
"Pair it with the Eat Smart Sweet Kale ready to eat salad kit. To make it more substantial  add croutons to the salad or wrap some salad with chicken in a whole wheat tortilla. Meal is loaded with protein, iron, fibre, vitamins, tastes great, doesn't make a lot of dishes, is more nutritious and less expensive than picking up take out.  Super convenient and fast supper with leftovers for the next day."
Where to buy: Superstore
Dawne Lachapelle, RD CDE at www.mindfuldietitian.ca
5) peanut sauce + brown rice + veggies
"This recipe is a dinner winner. Ready in less than 10 minutes, I would have still been waiting for the rice water to boil. Instead, I was putting the dishes in the dishwasher. That was after I ate a plant-based Asian Rice Bowl filled with veggies, brown rice and peanut sauce!"  
Read Judy's easy instructions for assembly!
Registered Dietitian Judy Barbe, author of Your 6-Week Guide to LiveBest. www.LiveBest.info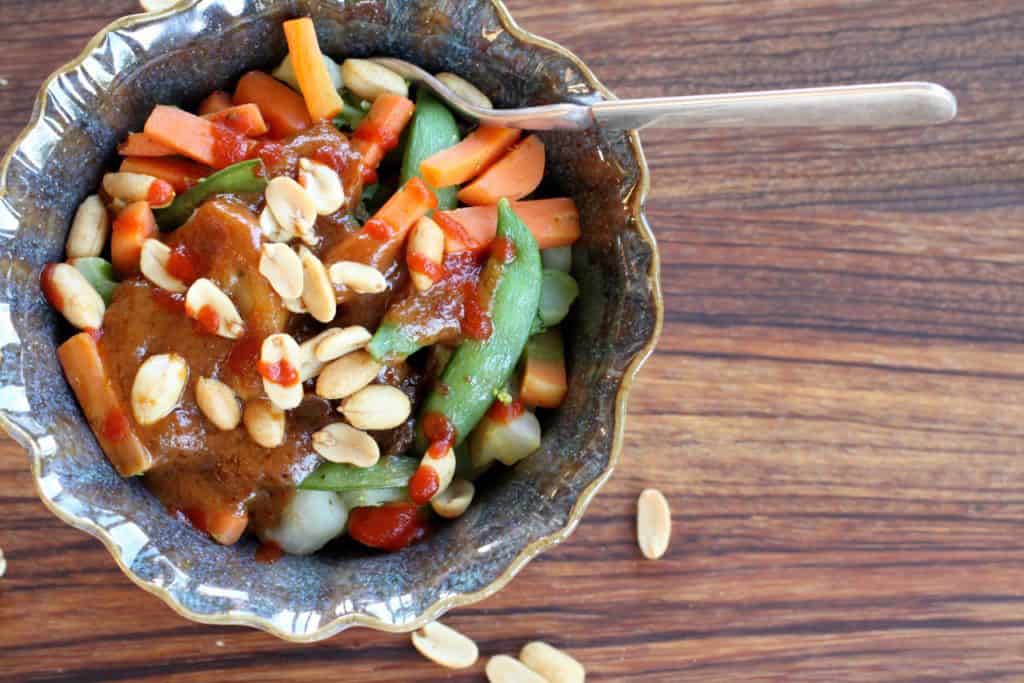 6) Frozen vegetable burritos
"We will do the frozen Trader Joe vegetable burritos and cook their brown rice medley in the rice cooker. It does take about an hour but you can do chores around the house as it all cooks! Top with black beans, raw onion, avocado and Valentina sauce!! The second burrito with rice and beans make the perfect lunch for the next day."
Available at: Trader Joe's
Caitlin Jindrich RDN
7) Falafels
"We will also do Trader Joe's frozen falafel (heated in the microwave!) Topped with red onion, bell peppers sautéed and tzatziki with a piece of mini naan. Another meal whose leftovers are great for lunch. I'll take frozen falafel out of the freezer in the morning and put it in the Tupperware with the veg, and by the lunch time it all heats up perfectly!"
Available at: Trader Joe's
Caitlin Jindrich RDN
"I like the yves falafel balls! Wrap them in pita or romaine lettuce with feta & tzatziki!"
Available at:  Sobeys
8) Quesadillas
"Quesadillas using canned black beans, cheese (we use dairy-free) and corn tortillas are convenient dinners that are also delicious!"
Available at: any grocery store
Jessica Spiro, RD of Jessica Spiro Nutrition www.jessicaspirord.com
9) Tostadas
"My go-to convenience food is Mission Baked Tostadas.  It's healthier than others because it's baked, just 150 calories and 1.5 grams fat and 3 grams of fiber for 3, and a great platform to put other healthy convenience foods on like canned refried beans and avocado. (It has clean ingredient label–no preservatives–just some added gums.) I often put chopped egg and avocado on one for breakfast too."
Available at: Kroger, Target, and Walmart
Bridget Swinney MS, RD from www.eatrightmama.com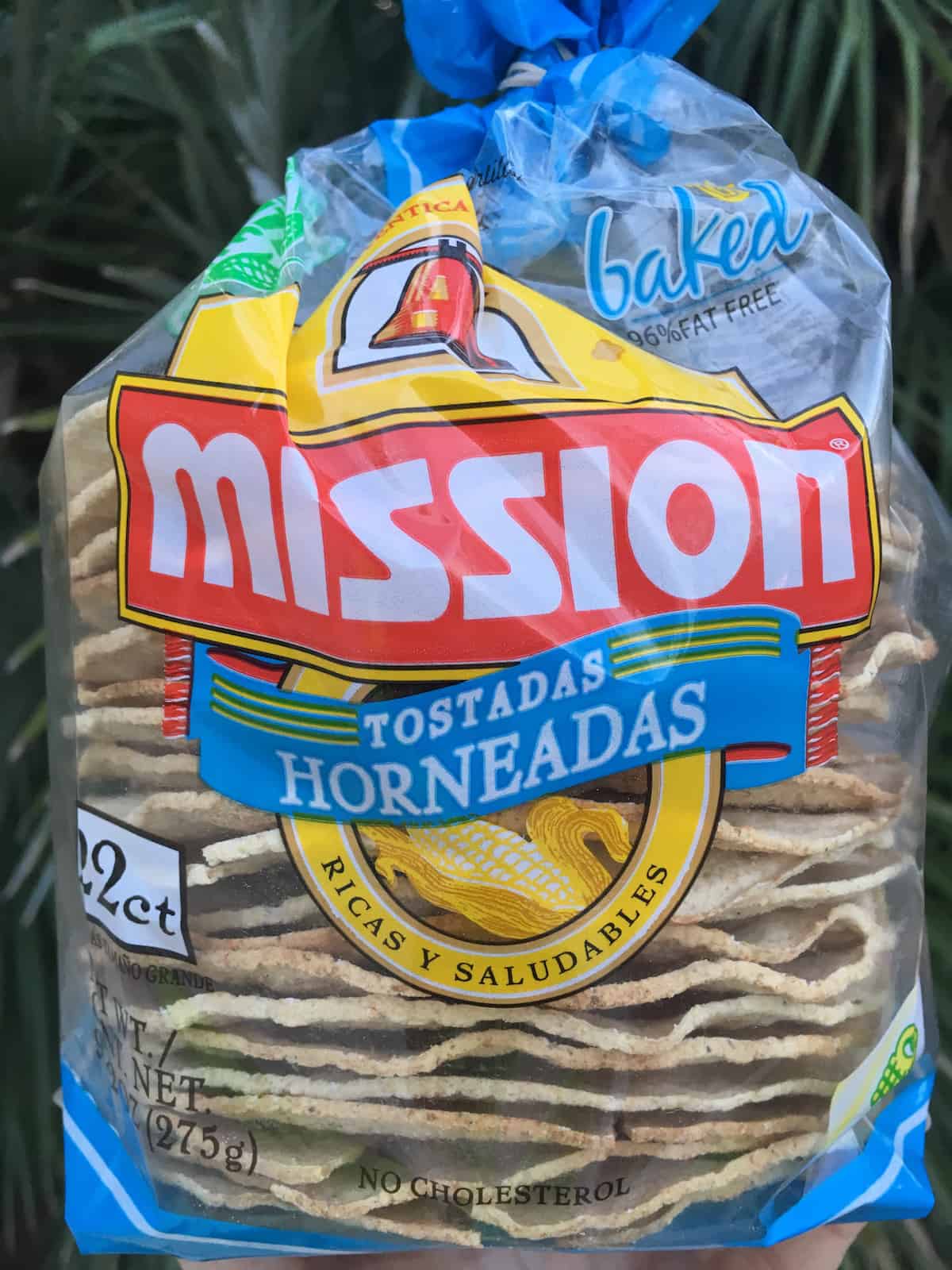 10) Egg mix
"Burnbrae farms makes an egg mix with vegetables and/or cheese. It's a no mess, super convenient, ready to make meal. Pereg's quinoa mixes are also great, because they come with spices and flavours, making quinoa more accessible and available for people who think they don't like quinoa, but may just not know how to prepare it tastily."
Available at: many grocery stores including Metro.
Bracha Kopstick RD beekaynutrition.com
11) Frozen Fish Burgers
These Wild Alaskan pollock burgers have very minimal added ingredients (just oil and spices!) and are super tasty! They're great on a burger or even on their own. I love having these on hand for gluten free and pescatarian guests.  Buy a bag of pre-shredded coleslaw and voila: you have an easy, convenient, healthy dinner.
Available at: Costco
Jessica Penner, RD smartnutrition.ca
12) Healthy Snacking
"My favorite convenience food has to be for snacking – Seapoint Farms Dry Roasted Edamame. I always have a bag of their individual packs in my bag because they're full of protein and fiber to keep me full when I need a snack in a pinch. I could make my own crispy roasted edamame (and even have a recipe on my blog), but it's SO much easier to buy theirs pre-made!
I also buy pre-made sunflower seed butter from SunButter Sunflower Butter. I could make my own (and again have recipes where I have), but I'd rather save my time and buy their no added sugar variety to add to breakfasts, lunches, snacks or desserts!"
Available at: Amazon
Chelsey Amer, MS, RDN, creator of CitNutritionally.com
Conclusion
Having some healthy convenience foods on hand is an important strategy for getting through those hectic days without turning to sources of quick energy that are high in sugar and low in nutrition. I highly encourage you to try out a few of these healthy convenience foods, and let me know which is your favourite! Do you have some ideas that weren't listed here?
[share title="Share This Article" facebook="true" twitter="true" google_plus="true" linkedin="true" pinterest="true" reddit="true" email="true"]