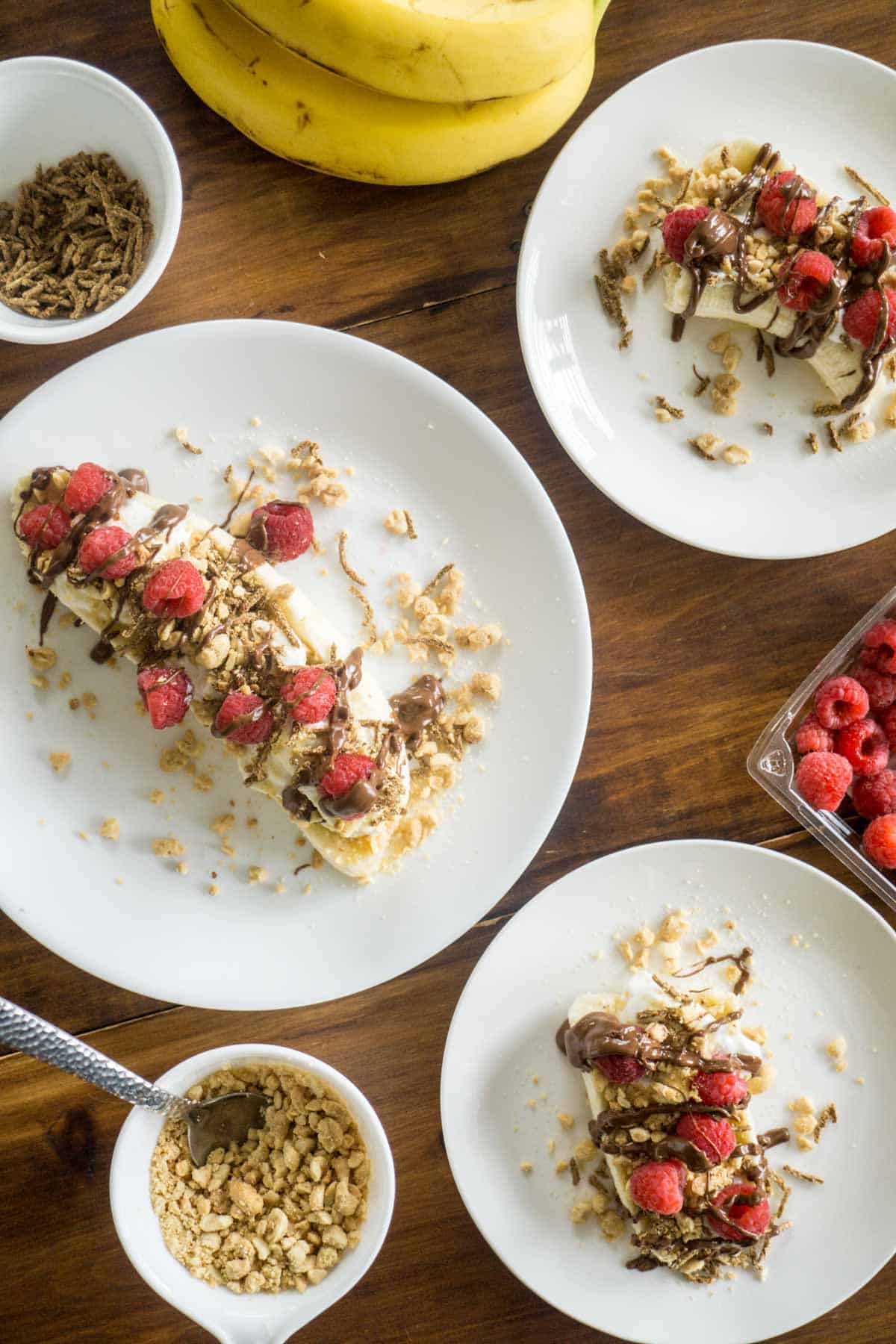 Take 5 minutes to wow your guests (or family) with a special breakfast banana split! They're so easy to make, and yet… they feel so fancy to eat!
My husband is definitely a creature of habit when it comes to food. When I met him his grocery shopping routine was fairly mindless… simply because he bought the same foods every single time!
It's been a bit of a stretch for him to marry me, the food blogger and kitchen experimenter, who's always making new dishes and recipes!
His food habits run deepest at breakfast time. Whenever I make something new for breakfast and I excitedly ask him whether he likes it, the response is usually the same: "It's good….." I can feel the lingering, unsaid BUT…. "but what?" I ask.
"But it's not my favourite, usual breakfast."
His favourite has been the muesli I make… at least it was until I made these breakfast banana splits! They were a HUGE hit for both my boys and have become the new breakfast favourite!
LEARN HOW TO MAKE THESE BREAKFAST BANANA SPLITS (30 sec):
why these breakfast banana splits are a smart choice
These breakfast banana splits hit all the marks of a complete, balanced meal!
Protein: Greek yogurt and peanuts
Fibre: bananas, berries, and high fibre cereal
Healthy fat: Peanuts
Complex carbs: high fibre cereal
And then there's that Nutella drizzle for a little something special. Contrary to what the company's ads may have you believe, it's not a nutrient packed spread! If you're curious, the Nutella in this recipe accounts for 7g of added sugar. For context, the World Health Organization recommends a limit of 25-50g of added sugar each day for the average adult. Depending on how much other added sugar you consume throughout the day, you can modify this recipe by adding more or less Nutella.
speaking of breakfast….
Have you tried any of these other breakfast ideas?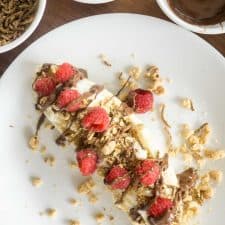 breakfast banana split – healthy & easy!
Print Recipe
They're so easy to make and yet… they feel so fancy to eat! Take 5 minutes to wow your guests (or family) with these special breakfast banana splits!
Ingredients
4

bananas

1 1/3

cup

plain Greek yogurt or Skyr

1/2

cup

high fibre cereal like Bran Buds or Fibre 1

or granola

1/2

cup

chopped peanuts

1

cup

raspberries

fresh or defrosted from frozen

8

tsp

chocolate hazlenut spread

aka Nutella
Instructions
Peel a banana and cut lengthwise into two. Arrange beside each other on a plate (see video).

Dollop 1/3 yogurt on the banana slices.

Sprinkle with 2 tbsp high fibre cereal and 2 tbsp chopped peanuts.

Arrange 1/4 cup raspberries on top.

Drizzle with 2 tsp chocolate hazelnut spread.

Repeat for remaining 3 bananas.
Nutrition
Calories:
365
kcal
|
Carbohydrates:
52
g
|
Protein:
18
g
|
Fat:
13.5
g
|
Fiber:
10
g
|
Sugar:
27
g
[share title="Share This Article" facebook="true" twitter="true" google_plus="true" linkedin="true" pinterest="true" reddit="true" email="true"]