Homemade Instant Oatmeal: an easy, healthy recipe!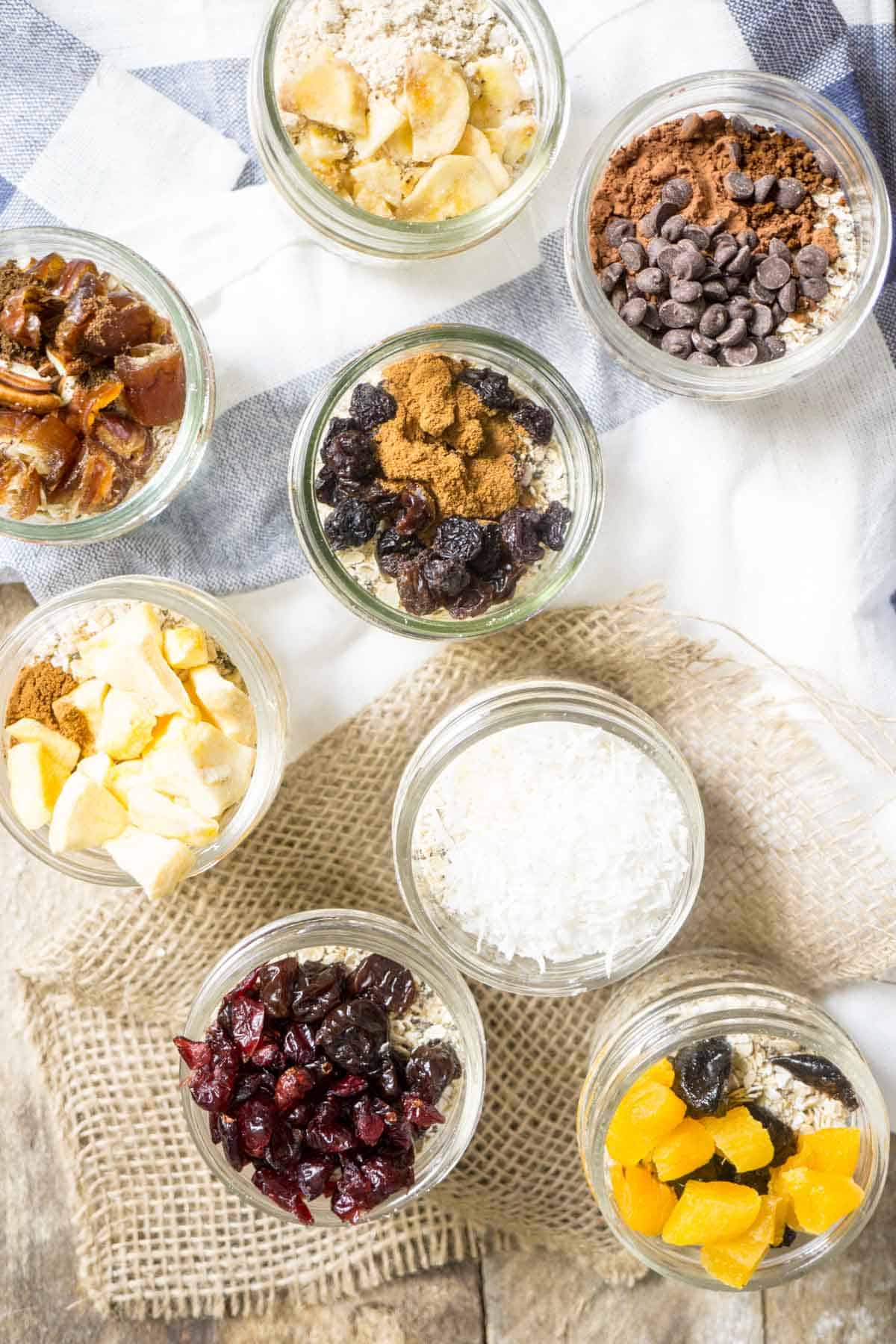 This homemade instant oatmeal recipe makes convenient packets that are lower in sugar, carbs, and sodium than store-bought oatmeal, but higher in protein and fibre! A quick and easy way to make healthier choices on the go!
If life were perfect you'd always have time for breakfast. You'd always pack a well-balanced, nourishing lunch.
But life happens and sometimes you sleep in. I get it.
That's why my goal is to give you easy ideas for eating healthier. Are instant oatmeal packets the absolute healthiest food on the planet? No… but this homemade instant oatmeal is healthier than the boxed stuff and certainly healthier than whatever you might find in the vending machine!
These packets are a great snack to keep as a backup at work. Sometimes my husband is late for work and flies out of the house without eating a lunch. His dietitian (that's me) is happy knowing that he has my healthy, homemade instant oatmeal sitting in his desk, rather than a high-sugar snack.
This also works on days when you're just feeling hungrier than usual. Instead of visiting the vending machine, watch your homemade instant oatmeal packet come to the rescue! If you followed my tips for packing a lunch strategically, then you started small but planned for those times when you have a larger appetite.
At that point, making this oatmeal is as easy as the vending machine too. You only need hot water! No cooking or microwave required!
LEARN HOW TO MAKE THESE HOMEMADE INSTANT OATMEAL PACKETS (2 MIN):
do you eat a gluten free diet?
This recipe is a great cost savings idea for those on a gluten free diet. I did a quick search online and the only gf instant oatmeal I could find came in little cups at a gouging $2-3 for each serving! Meanwhile, this whole recipe, which makes 12 servings, probably costs less than $5 TOTAL! That's a savings of about $55 for a measly 10 minutes of your time. So unless you typically make more than $330/hour, the prep for this recipe is most definitely worth your time!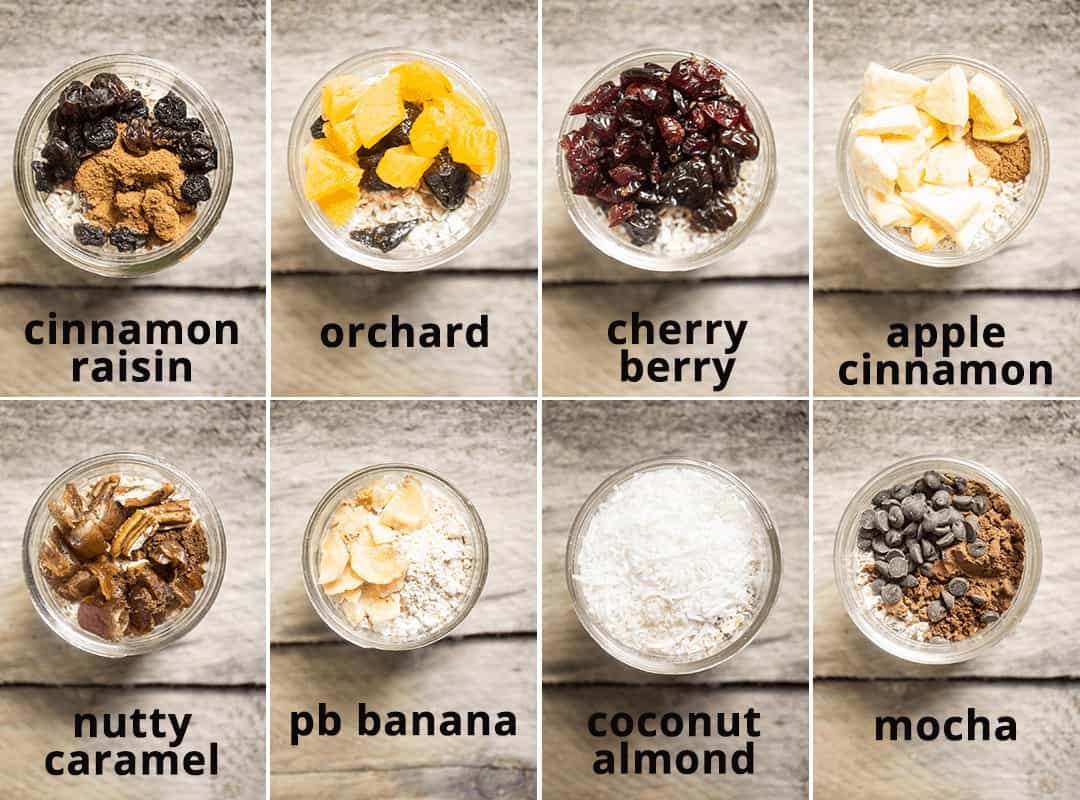 why these homemade instant oatmeal packs are a smart choice:
Let's take a closer look at the pre-packaged stuff: 28% of the weight is from added sugar!
That actually translates to 30% of the calories! Yikes! The World Health Organization recommends to keep your added sugars between 5-10% of calories, which means pre-packaged oatmeal is going to need to replace your brownie for the day. I recommend aiming to keep your core foods low in sugar, so that you can still enjoy some actual desserts.
(PS. if you feel like cutting down your sugar intake, I've created a guide to help you do just that!)
Not only does the instant skim milk powder in this recipe add some creaminess to the oats, it also adds protein! If you want to bump up the protein even more, try swapping the skim milk powder for whey protein isolate. You'll add about 4g of protein per packet.
I don't eat enough fish, so one reason I like to make homemade instant oatmeal is that I use chia and flax seeds, which add essential omega 3 fatty acids. They're important for brain, nerve, and heart health. For the vanity in you, they're also needed for healthy skin, hair, and nails!
If you found this helpful and want more DO-ABLE, relatable ideas for eating healthier, then subscribe to my newsletter! My newsletter peeps are always the first to find out about new posts and are the recipients of exclusive offers not found anywhere else!
| | | |
| --- | --- | --- |
| | Homemade Instant Oatmeal (43g) | Store-bought Instant Oatmeal (43g) |
| Calories | 160 | 160 |
| Fat | 4g | 2g |
| Sodium | 49mg | 260mg |
| Carbs | 26g | 32g |
| Fibre | 5g | 3g |
| Sugar | 5g | 12g |
| Protein | 6g | 4g |
If you make this recipe, please let me know! Leave a comment, rate it, or snap a photo and tag it with #smartnutritionrecipes on Instagram! I'd love to see your creations!
instant oatmeal packets
Print Recipe
This homemade instant oatmeal recipe makes convenient packets that are lower in sugar, carbs, and sodium than store-bought oatmeal, but higher in protein and fibre! A quick and easy way to make healthier choices on the go!
Ingredients
Master Mix:
3

cups

of quick cooking oats

1/2

cup

instant skim milk powder

1/3

cup

chia seeds

1/4

cup

ground flax seeds

3

tbsp

brown sugar

1/8

tsp

salt
Instructions
Take one cup of the oats and pulse in a food processor or blender until the flakes are broken up. You'll have a mixture of powder and flake pieces.

Stir together the rest of the master mix.

Scoop out 1/3 cup into 12 containers that have a 1 cup capacity. Think mason jar, Tupperware, etc. Alternatively, use plastic zip bags and dump into a bowl when it's time to eat.

Add in your favourite mix-ins! See notes for ideas.

When you want to enjoy some oatmeal, boil water and add 1/3 cup water to each serving. Stir and allow to sit for 15-30 seconds before eating.
Choose the flavours you want to make and then add the following to each serving:
Cinnamon Raisin
2 tbsp raisins

1/4 tsp cinnamon
Peanut Butter Banana
1 tbsp powdered peanut butter

4 dried banana slices, broken into pieces
Caramel Nut
2 dates, cut into quarters

4 pecans, broken into pieces

1/4 tsp vanilla powder
Apple Cinnamon
2 dried apple rings, cut into pieces

1/4 tsp cinnamon
Cherry Berry
1 tbsp dried cherries

1 tbsp dried cranberries
Mocha
1 tsp instant coffee

2 tsp cocoa

1 tsp chocolate chips
Coconut Almond
1 tbsp desiccated coconut (unsweetened)

1 tbsp almond flour
Orchard
1 prune, cut into 6 pieces

2 dried apricots, cut into 6 pieces each
Nutrition
Serving:
1
/3 cup dry mix
|
Calories:
160
kcal
|
Carbohydrates:
26
g
|
Protein:
6
g
|
Fat:
4
g
|
Sodium:
49
mg
|
Fiber:
5
g
|
Sugar:
5
g
For more oat recipes check out these tasty ideas:

[share title="Share This Article" facebook="true" twitter="true" google_plus="true" linkedin="true" pinterest="true" reddit="true" email="true"]