How to Eat Muesli (easy recipe + VIDEO)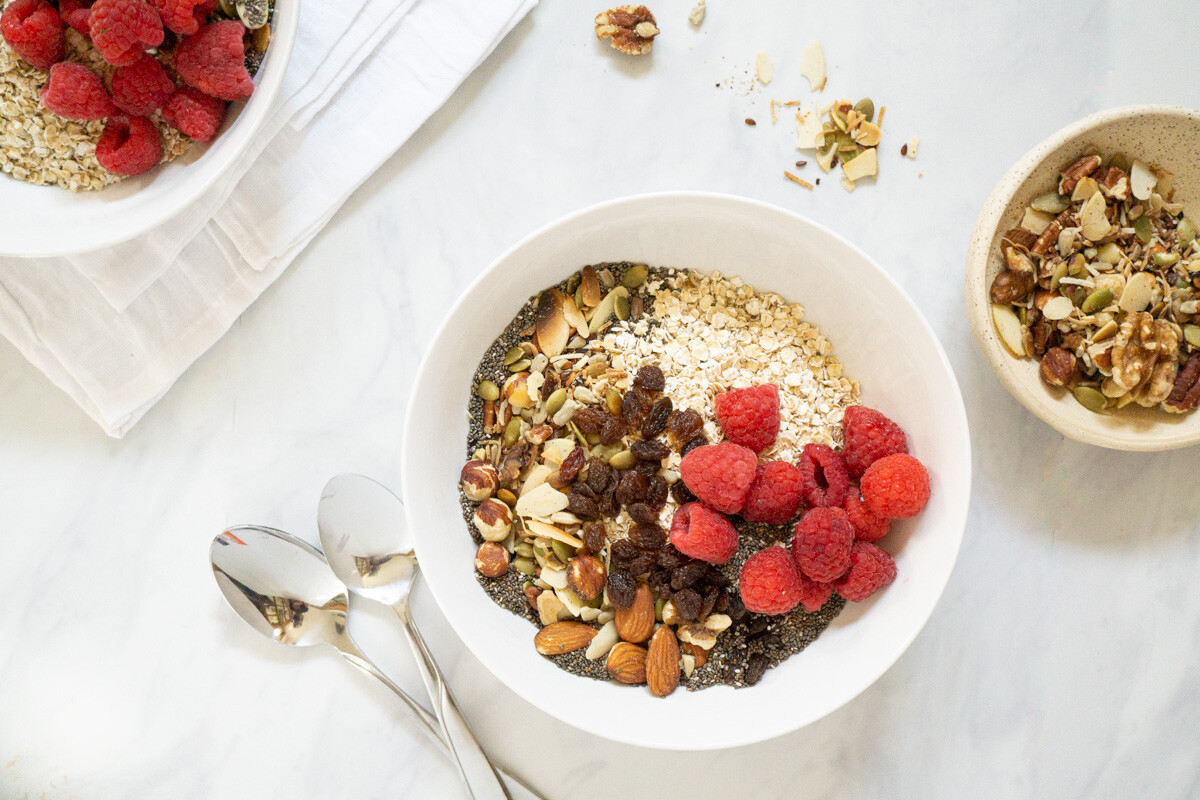 Muesli is a fast, healthy, and delicious breakfast. Learn how to eat and make a big batch of muesli + different ways to use it!
It all started around ten years ago when I witnessed my roommate at the time pour oats, blueberries, and chocolate chips in a bowl, proceeded to pour milk on top and then….
…eat it!
I don't think I could hold back my surprise.
"You're eating those oats RAW!" I exclaimed.
Yet she somehow convinced me it was the best thing since sliced bread and I decided to give it a go. It took me a minute but then I realized that it was basically muesli that she was eating, which wasn't so strange! Muesli had been one of my favourite breakfast cereals as a kid.
And now this concept of raw oats + fruit + add-ins + milk has revolutionized our breakfasts!
We eat this muesli recipe for at least 50% of our breakfasts. My husband is a major habit of creature and he'd be perfectly happy to eat this for 100% of his breakfasts.
In fact, before he met me he ate Raisin Bran for 100% of his breakfasts. That's a story for another day but I actually helped him wean himself away from that habit and this muesli played a pivotal role in that transition!
I often post photos of my morning muesli bowls on Instagram and every time someone asks for for the recipe.
So why has it taken me six years of blogging to finally share this with you guys?
I think it's felt more like a "non-recipe type of recipe"… as in I just throw a little of this and a little of that in our bowls and call it breakfast. But since I love you guys, I did the *hard work* of measuring ingredients out and figuring out what ratio I/we like best in our house!
What is Muesli?
Muesli is a raw foods-based cereal consisting of oats, nuts, and fruit.
The invention of muesli has been accredited to Swiss physician Maximilian Bircher-Benner. While he held some unfounded beliefs that a fully raw diet was superior to eating anything cooked, he did help to increase whole grain, nuts, and fruit consumption in the Swiss population when his recipe for muesli gained popularity.
Bircher-Benner's original recipe was more of the overnight oats style of Bircher muesli that we know of today. It consisted of oats, apples, lemon juice, and hazelnuts soaked in condensed milk.
The more "instant" style muesli where you simply pour out your cereal and add milk became more popular when muesli became mass-produced in 1959 by the Swiss company Somalon AG.
Let's compare muesli with some other oat-based dishes.
Difference between muesli & granola
Muesli is always raw. Granola is essentially muesli that has been coated with a fat/sweet sauce and then baked until crunchy.
Difference between muesli & oatmeal or porridge
Again, muesli is always raw. At its most basic, oatmeal refers to oats that have been cooked in a liquid to expansion. Porridge refers to any grain that has been cooked in a liquid and eaten as a hot breakfast cereal.
Muesli Nutrition: why is it a smart choice?
You might be wondering if muesli is good for you. Answer: affirmative! Muesli really checks off all the boxes for planning a power breakfast, which is when you choose foods that are going to nourish you and keep you full for hours!
Fibre? Check! In fact all the base ingredients in this recipe contain fibre. 2/3 cup of the mix will give you 7g of fibre. Add in half a cup of raspberries and you're up to 11g. That's pretty substantial for the first meal of the day considering women should be aiming to get a minimum 25g of fibre each day.
Protein? Check! A 2/3 cup of the mix has nearly 9g of protein. Fill your bowl with a cup of milk and you've got a solid 18g of high quality protein.
Fat? Check! Yummy, healthy plant-based fats in the nuts and seeds keep you feeling fuller for longer. And the chia seeds contain ALA, an omega 3 fatty acid important for heart health.
Minimally processed? Check! I cover this in great detail in this article but the TL:DR version is that the more processed a food becomes, the less work your body has to do to digest it, which means a roller coaster of blood glucose and energy levels.
Want to Make This a High Protein Muesli?
You could eat this muesli with greek yogurt or add a scoop of whey protein isolate.
Muesli Benefits: What Can You Make With This Muesli Recipe?
Let's begin by counting the benefit of this muesli:
Convenient
Healthy
Tasty
Versatile
Suits a variety of dietary choices/requirements. This muesli is vegan and gluten free (if you use gluten free certified oats)
…. there are so many benefits to this muesli!
Keeping this homemade muesli recipe mix around is so handy! It can make a quick breakfast plus it's so versatile and can be used as a base for other oat dishes.
Option 1: Use in place of boxed breakfast cereal
Just scoop, add milk, and eat! Okay.. I also always love to add fresh fruit. Blueberries and raspberries are super convenient because there's no cutting involved. #winning
Option 2: Bircher Muesli (aka: overnight oats)
The night before breakfast (sounds like I'm starting a good story with that opening line…) mix together 1 can evaporated milk, 1 can water (refill empty milk can), 2 cups muesli mix, 1 tbsp lemon juice, and 2 tbsp honey. In the morning grate two apples and add to the bircher muesli.
Option 3: Hot Oatmeal
Simply use a 1:1:1 ratio of muesli mix, water, and milk.
Heat over medium heat in a pot on the stove, stirring occasionally.
Once the oats are cooked, add in brown sugar to taste and any toppings you like! We love apples, cinnamon, and almond butter.
Option 4: Muesli Yogurt
Easy peasy: just add a scoop of this muesli + fresh fruit to a bowl of yogurt!
This would be a high protein muesli!
Try These Muesli Mix Flavour Combos
Blueberry Hazelnut: Use hazelnuts and add fresh blueberries when eating.
Chocolate Covered Almond: Use whole or sliced almonds and replace raisins with chocolate chips. Make sure the nuts have cooled completely before stirring into the mix or you'll melt the chocolate.
Autumn Pear: Add fresh, diced pear and a sprinkle of cinnamon when eating.
Strawberry Sunflower: Use hulled sunflower seeds and add fresh sliced strawberries when eating.
Tropical: Use cashews and unsweetened coconut flakes for the nuts. Add fresh diced mango when eating.
Cranberry Pistachio: Use pistachios for the nuts and substitute dried cranberries for the raisins.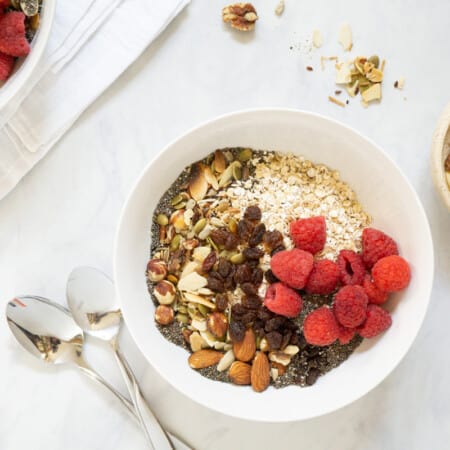 Easy Muesli Mix
Print Recipe
Ingredients
1

tbsp

coconut oil or butter

2

cups

nuts or seeds

1/4

tsp

salt

(use only if your nuts/seeds are unsalted)

8

cups

quick or regular oats

1

cup

raisins

2/3

cup

chia seeds
Instructions
Melt the coconut oil or butter over low heat in a frying pan.

Add the nuts/seeds and stir occasionally until fragrant and just starting to turn brown.

While the nuts/seeds are toasting, stir together the oats, raisins, and chia seeds.

Once the nuts/seeds are done, mix those in as well.

Store in a sealed container in the cupboard.