Cook your Swedish meatball sauce and meatballs all in one pan! Then serve over rice to soak up all that yumminess
Google tells me that Swedish meatballs are very popular. Scratch that: they're extremely popular!
I blame/thank IKEA.
We live in a small-ish city so it wasn't too long ago where we got our very own IKEA. It was an exciting day for our modest city, let me tell you. My sister even got up at an ungodly hour to wait in line on opening day in hopes of scoring a gift card.
Anyhow, before then it was a real treat to visit IKEA on road trips. I remember one of my first times taking the iconic trip up the escalator and discovered….
… a cafeteria?
Wait? Where did I end up? I thought I came to a FURNITURE store!
When the horsemeat meatball drama went down at IKEA, I loved my husband's reaction: "I guess that's what you get when you buy your meatballs at the furniture store!"
Touche.
But, actually, now that we have a local IKEA (and a child who's old enough for Smaland, woo hoo: free babysitting!), we find ourselves making a good old day trip of going to IKEA and, of course, enjoying their meatballs 🙂
Why These Swedish Meatballs are a Smart Choice
Because they're yummy.
Of course you can buy frozen meatballs, but my homemade freezer meatballs are SO tasty; give them a try sometime when you have an hour set aside for meal prep!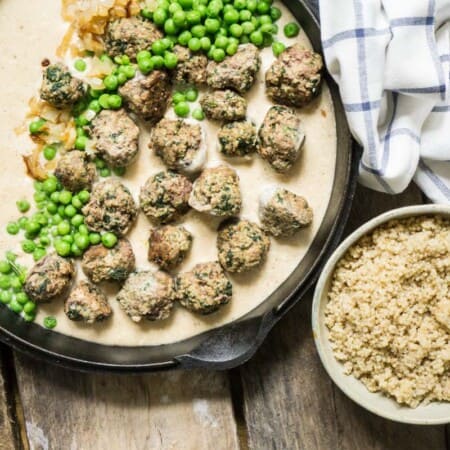 Easy Swedish Meatballs
Print Recipe
Ingredients
1/3

cup

cream cheese

1 1/4

cup

water, divided

1

tbsp

bouillon paste

*I like the Better Than Bouillon Brand

1

tbsp

cornstarch

1/8

tsp

nutmeg

1/8

tsp

fresh ground pepper

24

frozen meatballs
Instructions
Place the cream cheese in a large pan and heat over medium until melted.

Meanwhile, boil 1 cup of water.

Stir the bouillon paste into the boiled cup of water.

Stir the cornstarch into the remaining COLD 1/4 cup of water.

Once the cream cheese has melted, add a little bit of the bouillon water to the pan and whisk. Keep adding the bouillon slowly, whisking well after each addition.

Which in the cornstarch water and whisk for 30 seconds.

Add the frozen meatballs to the pan. Turn heat down to medium low and cover with a lid.

Heat until the meatballs are reheated thoroughly.

The meatballs are terrific served over a grain that soaks up the sauce, like quinoa, rice, or barley.

For a complete balanced meal, we like to enjoy them with green peas and sauteed onions.