Freezer Meatballs Recipe for Meal Prep
Having these freezer meatballs on hand mean you can quickly and easily prepare a meal in under 15 minutes! 5 Sauce options included in recipe.
If you've already downloaded my Top 10 Meal Planning Hacks freebie then you know that I'm a big believer in prepping double what your family will eat and freezing the second half for a quick meal at a later date.
Prepping for double the food isn't double the work!
In this case, you'll prep once and eat quadruple!
What Sauce Goes Well With These Meatballs?
This freezer meatball recipe is super flavourful but also quite versatile. They are sooo good on their own that I always snag a few of them fresh out of the oven. But they don't have any distinctly strong flavour so they still go with everything. I mean garlic goes with every cuisine, doesn't it?? I literally cannot think of a savoury dish that I wouldn't add garlic to.
Here are the recipes I've used to sauce these meatballs:
How to Freeze Meatballs
Once the meatballs are cooked, allow them to cool enough to handle. You can then either freezer them right on the baking sheet for an hour and transfer to one container. This will prevent the meatballs from sticking together when frozen. This method is a good idea if the number of meatballs you want to prepare varies.
But if you know you are going to reheat them in meal size portions, you can freezer directly into medium sized ziplock bags and then simply reheat the contents of one full bag.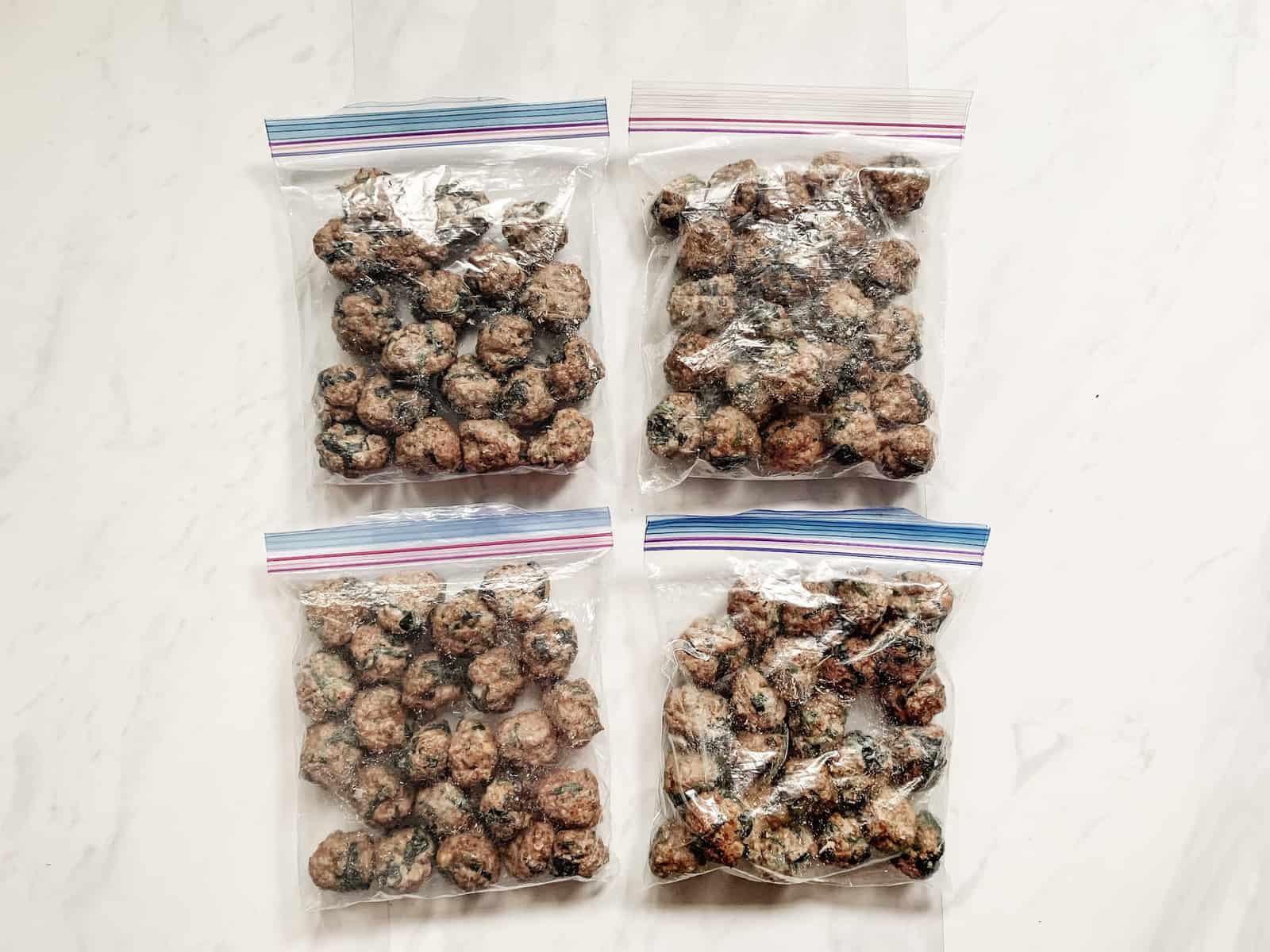 Should You Freeze Meatballs Raw or Cooked?
I prefer to cook all my meatballs and then simply reheat them. I do this for two reasons:
It's much faster to simply reheat in a sauce on "cook night."
You don't have to worry about making sure your meatballs are fully cooked on the inside because you're only reheating!
How to Reheat Frozen Meatballs in Sauce
Since the meatballs are pre-cooked you don't have to worry about heating the meatballs to the right temperature to thoroughly cook them. You just need to reheat them enough so they're hot and tasty.
In a pot or large frying pan, heat up the sauce you plan on serving the meatballs with. Then add in some meatballs straight from the freezer. Cover, stirring occasionally, and heat until hot.
Why These Freezer Meatballs are a Smart Choice
I like to serve beef recipes to my family a couple times a month because beef is such a terrific source of iron! Not only that but the spinach, eggs, and wheat germ (if using) also have iron. Make sure to pair with veggies, like bell peppers or peas, that contain Vitamin C so that you body will absorb more of that iron!
Freezer Meatballs for Meal Prep
Print Recipe
Ingredients
300

g

frozen chopped spinach

3

lbs

lean ground beef

1 1/3

cups

bread crumbs *see note

3

eggs

2

tbsp

beef bouillon paste

I use the Better Than Bouillon brand

1

tbsp

basil

9

cloves

garlic

minced

1

tsp

salt
Instructions
Preheat oven to 400 degrees Fahrenheit.

Prep two baking sheets by lining with tin foil and (if available), top with an oven safe cooling rack.

Defrost the chopped frozen spinach in a large bowl. Drain away most of the resulting moisture.

Add the remaining ingredients. Mix well. I recommend taking off those rings and getting in there with your hands!

Shape into balls, about 1 inch in diameter. Place on the prepared baking sheets.

Bake for 15 minutes. Rotate pans and bake another 5 minutes. If you made larger meatballs, they will likely need to bake longer.

Allow to cool on the pans then transfer to medium sized freezer ziplock bags. I like to freezer by the two dozen (yes, that means you'll have 4 leftover... don't worry... you're going to want to taste a few when they come out of the oven anyway!)

If you want to keep all the meatballs in one large bag (or other freezer safe container), then freeze on the sheetpan so that they don't stick together, then transfer to the bag/container for freezer storage.
Notes
* You can substitute 1/3 of the bread crumbs for wheat germ for a nutritional boost
Nutrition
Serving:
4
meatballs
|
Calories:
136
kcal
|
Carbohydrates:
5.5
g
|
Protein:
17.2
g
|
Fat:
4.8
g
|
Saturated Fat:
1.8
g
|
Sodium:
310
mg
|
Fiber:
0.6
g
|
Sugar:
0.5
g
More Freezer Meal Prep Recipes!