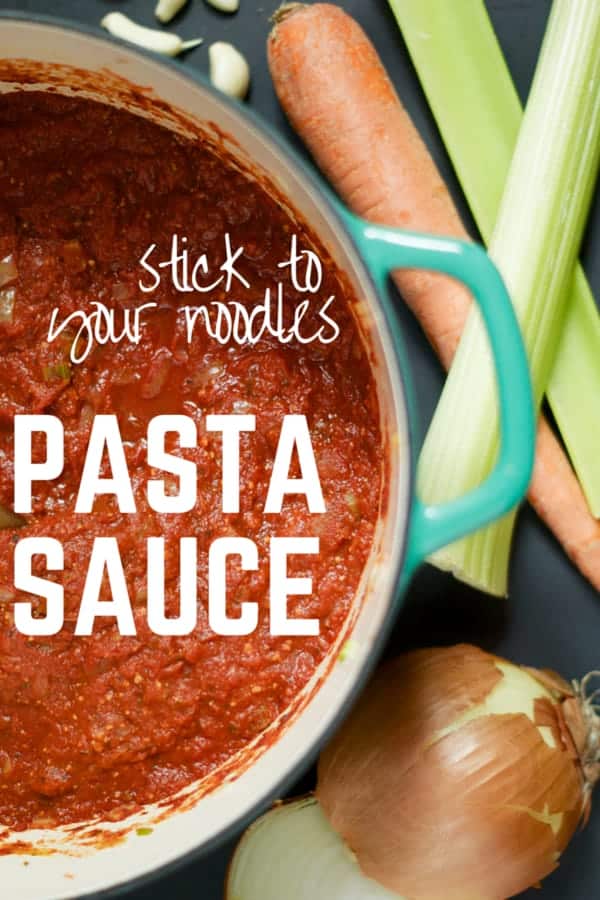 This month's Recipe Redux challenge was to make a homemade version of a pantry staple. I asked for your suggestions on the Smart Nutrition Facebook page. I received such wonderful ideas:
BBQ sauce
Mayo
Yogurt
Corn tortillas
Soy milk
Almond milk
Pizza sauce
Ranch dressing
Relish
Aged cheese
Olive oil
That last one was a joke but it actually had me thinking for a while… is it possible to make your own olive oil? The answer is no. Unless you have an olive tree growing in your backyard, which is impossible for me living in Canada.
I ended up deciding to post this pasta sauce recipe for this month's challenge but I was so inspired by all your ideas that I'm definitely going to be experimenting with DIY versions of these suggestions in the next little while!
The reader who requested pasta sauce was specifically looking for a recipe that wasn't soupy. While I have posted a really tasty recipe for a rather soupy-type spaghetti dish in the past, I understood what she meant. Sometimes you just want a sauce similar to the kind you buy in the jars!
why it's a smart choice
No Added Sugar: some jarred pasta sauces contain added sugar. It's rather unnecessary when you can flavour it nicely with aromatics such as onions and garlic, and herbs and spices.
Controlled Sodium: when you make your own food, you gain full control over the ingredients. Most convenience foods have more sodium than you really need.
Added Veggies: we could all use more veggies in our lives. This recipe adds in finely chopped and shredded veggies to the sauce.
Iron Powerhouse: the recipe is fantastic for anyone at risk of iron deficiency. Who's that, you might ask? Pretty much anyone other than adult males have the tendency to become low in iron. One serving of this dish (flexitarian version) gives you 6.3g of iron.
Hypertensive Healthy: there's increasing evidence that the potassium to sodium ratio in the diet is more important than the total amount of sodium one consumes. This recipe has 30% more potassium than sodium.
If you give this recipe a go, let me know! Leave a comment, rate it, or snap a photo and tag it with #smartnutritionrecipes on Instagram! I'd love to see your creations! Knowing someone has enjoyed one of my recipes always makes my day brighter.
Stick to Your Noodles Pasta Sauce
Print Recipe
A hearty pasta sauce filled with veggies.
Ingredients
2

tbsp

canola or olive oil

1

lb

ground beef

for flexitarian and meatatarian option

1

large onion

finely diced

3

stalks of celery

finely diced

1

large carrot

finely grated

1/4

tsp

chili flakes

1/2

tsp

whole or crushed fennel

1

tsp

oregano

1

tsp

basil

6

cloves

of garlic

minced

1

tbsp

beef or vegetarian bouillon paste

I like the Better Than Bouillon brand

1

can

tomato paste

(156 ml or 5 oz)

2

cans

tomato sauce (pureed tomatoes)

(398ml or 13.5 oz) each

1

can

540 ml lentils, drained and rinsed

1/4

cup

grated parmesan cheese
Instructions
From the notes below, choose which option you want to make.
In a medium to large sized pot, heat the oil over medium low. If you're using ground beef, then skip the oil and start frying the beef with the veggies in the next step.

Add in the onions, celery, and carrot. Saute until the onions are soft.

Add in the chili flakes, fennel, oregano, basil, and garlic. Saute 2 minutes.

Add in the bouillon paste, tomato paste, tomato sauce, and stir to combine.

Add in the lentils and parmesan cheese.

Stir until heated through. Remove from heat.

Can be served immediately but tastes best if made a day in advance and the flavours are allowed to develop in the fridge. Alternatively, it could be frozen and heated when needed!

Read below for serving ideas for different styles of eating.
Notes
Vegan: Omit parmesan cheese. May replace with nutritional yeast. Vegetarian: Make the recipe as is! Flexitarian: Add in 1 lb of pan-fried lean ground beef. Meatatarian:  Omit lentils and add 1 lb of pan-fried lean ground beef. Gluten-Free: Use gluten-free pasta.