Easy Summer Spaghetti Recipe [+ VIDEO]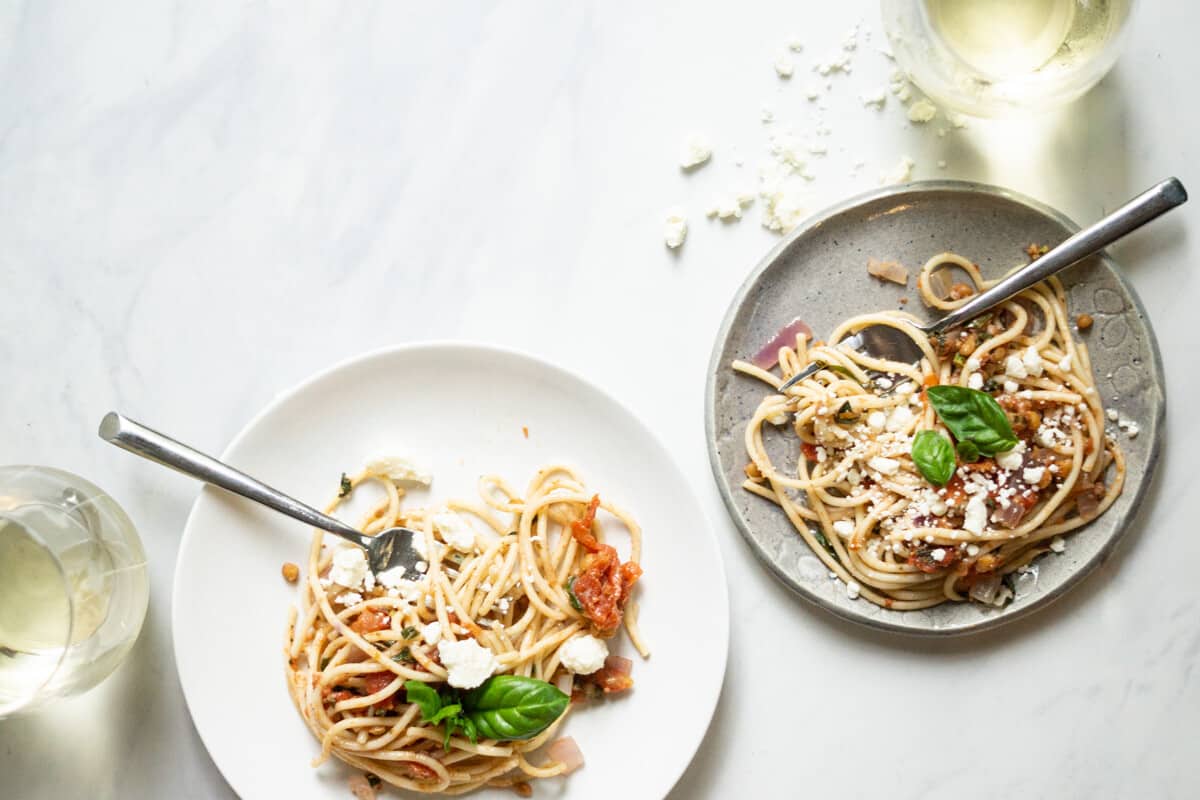 A minimalist spaghetti sauce you can make in under 20 minutes using summer fresh ingredients!
If you're used to making pasta by cooking up some spaghetti and pouring over a jar of pasta sauce, you might be intimidated by the prospect of making your own sauce.  The good news is that your spaghetti has a lot of room for improvement!  Continue reading for your directions to Flavour Country. Population: spaghetti.
If you're doing silly things like using jarred pasta sauce, allow me to introduce you to Jamie Oliver. Jamie seems to have a genuine passion for helping people cook for themselves. He's well known for beginner recipes that make it easy for newbies to navigate the kitchen.
As a dietitian, I love his dedication to the art of the home-cooked meal. When you learn to cook your own meals, you gain control of your nutrition.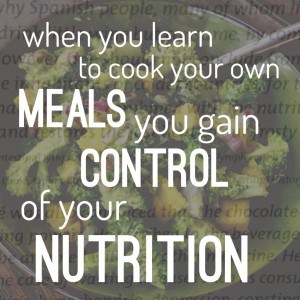 From "Non-Cook," to Cook
Jamie's recipe books have turned many non-cooks into cooks. It's like magic.
Jamie's Food Revolution has become a legend in my circle of friends for turning our husbands into cooks. It started with one wife buying it for her husband. He was skeptical, but gave it a try.
He became a home chef.
Another wife thought she'd do the same and bought the cookbook for her husband.
He also became a home chef.
So, with that in mind I bought "Jamie's Food Revolution" for my husband last Christmas. I'm not entirely sure he was happy with the gift, but 7 months later, I'm happy to report that…..
He has made one meal. He's not a home chef (yet!) but that meal was amazing! (Chicken and Leek Strogonoff on page 34).
So is this one. This recipe is based on Jamie's Classic Tomato Spaghetti. Every time I make it, I'm amazed at how easy it is, and how few ingredients it takes to make such a flavourful meal!
Why This Summer Spaghetti is a Smart Choice
This dish uses fresh herbs to add a lot of flavour. Contrast this to jarred sauces that rely on sodium and sugar for taste.
To make it a complete meal that hits all four food groups, add grilled chicken, shrimp, or tofu. If not, do what I do and balance your days instead of your meals. If you make this for dinner make sure you have adequate portions of the Meat and Alternatives category for breakfast and lunch.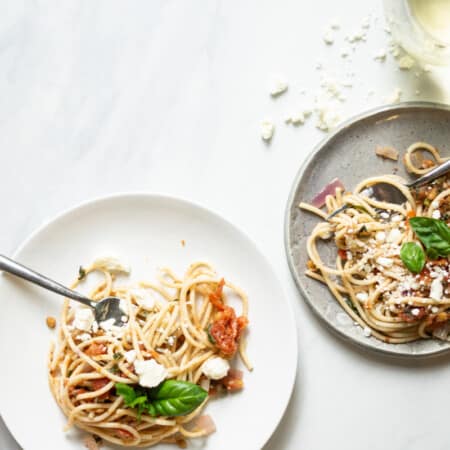 Easy Summer Spaghetti
Print Recipe
A minimalist spaghetti dish you can make in under 30 minutes using summer fresh ingredients!
Ingredients
8

oz

box of spaghetti

2

tbsp

canola or olive oil

½

red onion

chopped

1

small

zucchini

¼

tsp

chili flakes

3

large cloves of garlic

minced

1

small handful of fresh basil leaves

chopped

3/4

cup

canned lentils, drained and rinsed

1

can 796 ml diced tomatoes

salt and pepper to taste

½

cup

feta or parmesan cheese *see note
Instructions
Fill a large pot halfway with water. Place on stove and heat to boiling. Once water is at a rapid boil, slide the spaghetti in. Drain the water once the noodles are cooked al dente.

Meanwhile…. place a large frying pan on the stove. Add the oil and heat to medium low.

Saute the onions and chili flakes until onions start to soften.

Add the garlic and zucchini. Cook until garlic starts to brown.

Then add the basil, diced tomatoes, lentils, and salt and pepper to taste.

Once the sauce is heated through, turn off the heat.

Add in the cooked spaghetti. Sprinkle each bowl with cheese or nutritional yeast.
Notes
use a sprinkle of nutritional yeast to make this recipe vegan
Nutrition
Calories:
379
kcal
|
Carbohydrates:
54
g
|
Protein:
14
g
|
Fat:
12
g
|
Saturated Fat:
4
g
|
Cholesterol:
17
mg
|
Sodium:
219
mg
|
Potassium:
385
mg
|
Fiber:
5
g
|
Sugar:
4
g
|
Vitamin A:
184
IU
|
Vitamin C:
8
mg
|
Calcium:
124
mg
|
Iron:
2
mg
Recipe adapted from Jamie Oliver
Disclosure: This post contains affiliate links. If you make a purchase through these links, the price will not be any higher but I will receive a portion of the sale.