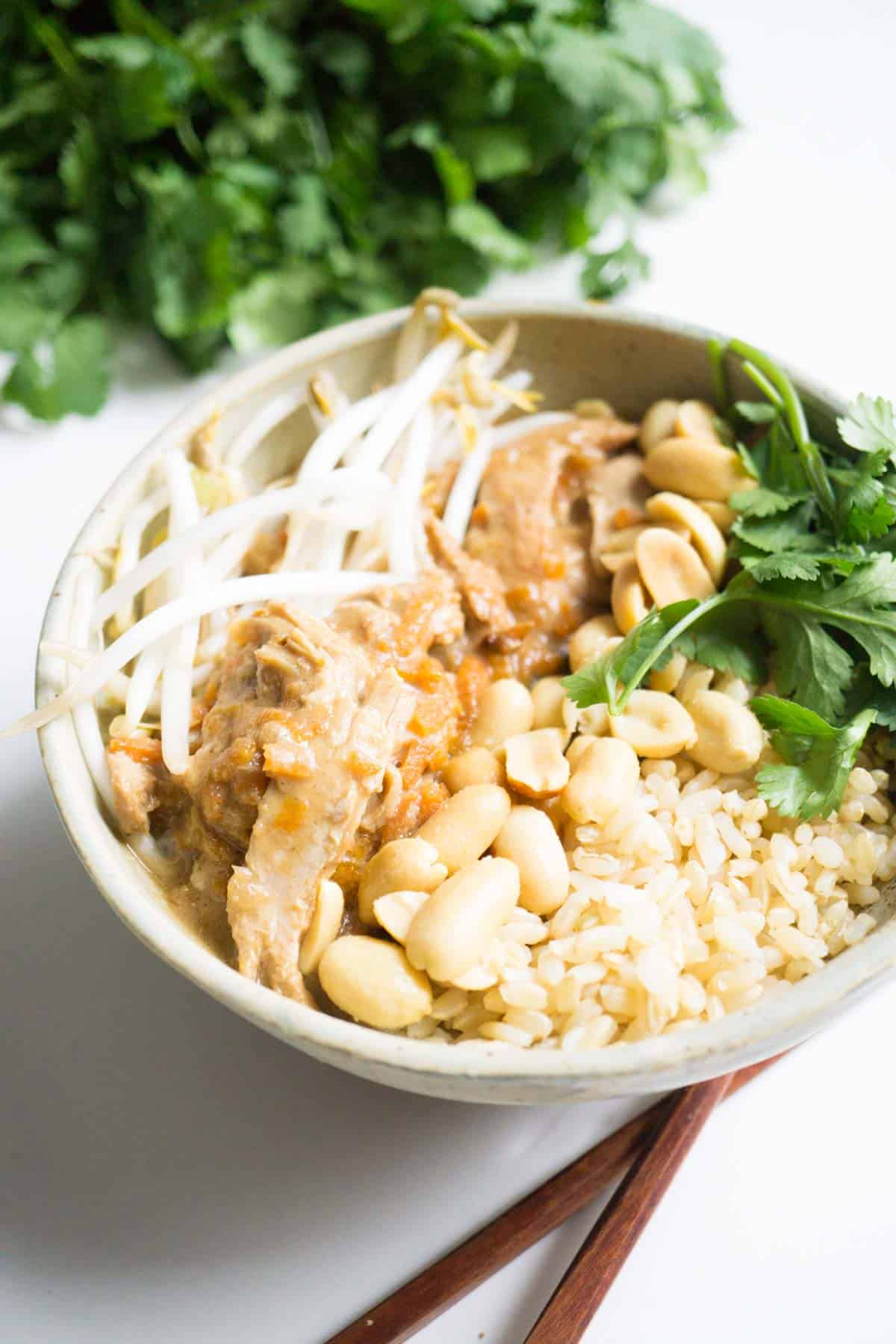 Prep 4 Thai Peanut Chicken dinners all at once and have them ready to go in the freezer for those busy weekday evenings!
(affiliate links abound in this post!)
Hey there! I'm actually doing this. With this blog post I'm FINALLY doing two things that I've been promising, eluding to, teasing you with for some time now:
This is a freezer meal!
This is an Instant Pot meal!
If you don't have an Instant Pot, there's absolutely no need to run away. I've included instructions for both the Instant Pot AND the slow cooker. While I can't recommend the Instant Pot highly enough, the slow cooker works too. Since the Instant Pot uses increased heat through pressure to cook the meal, it only takes about 30 minutes, it doesn't turn the food to mush, and the flavour is just brighter.
"The flavour is just brighter."
Does that even make sense to anyone but me?  When I used the slow cooker to make this dish, the flavour was just a bit more dull and everything was a bit softer. I think the high heat of the Instant Pot brings out more of the spices and flavours.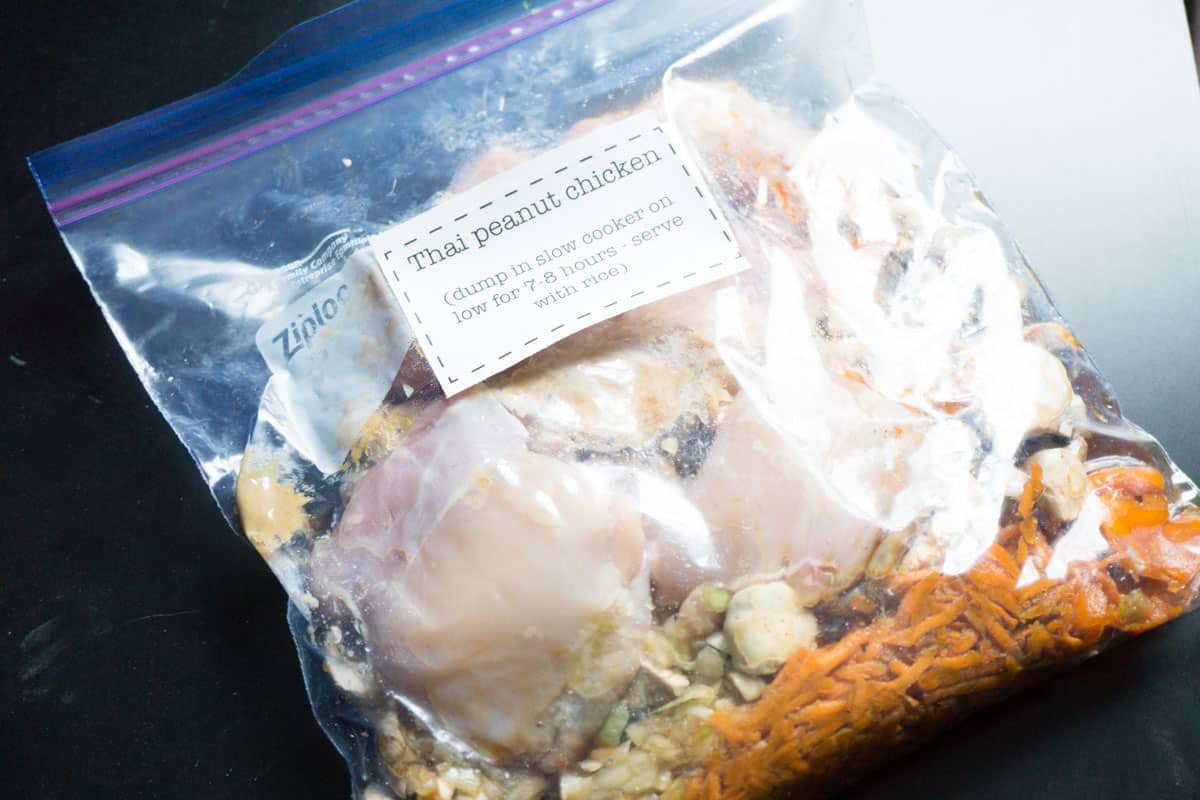 I feel as though I need to apologize for how long it took me to finally get a freezer meal post out to you! I was very ambitious when I started my foray into freezer cooking.
I got everything ready for 8 recipes and made 3-4 of them each! I ended up with nearly 30 meals that I had to then test out to make sure they were tasty in both the slow cooker and Instant Pot.
Some of them needed a bit of re-working. One of them was a complete and utter disaster. The curried chickpeas and sweet potatoes recipe was so horrible that I ended up just throwing out the other three bags that were still in the freezer! I thought about adding other ingredients to try and salvage them but it was just so bad that I decided to cut my losses and move on. I probably would have just had to throw it all out anyway and then there'd be even more waste.
That was over a month ago and today my three year old suddenly said "Mama, remember that horrible meal you made?"
Thank you, little one.
I guess our reactions made a lasting impression on him; I'm never going to live that meal down!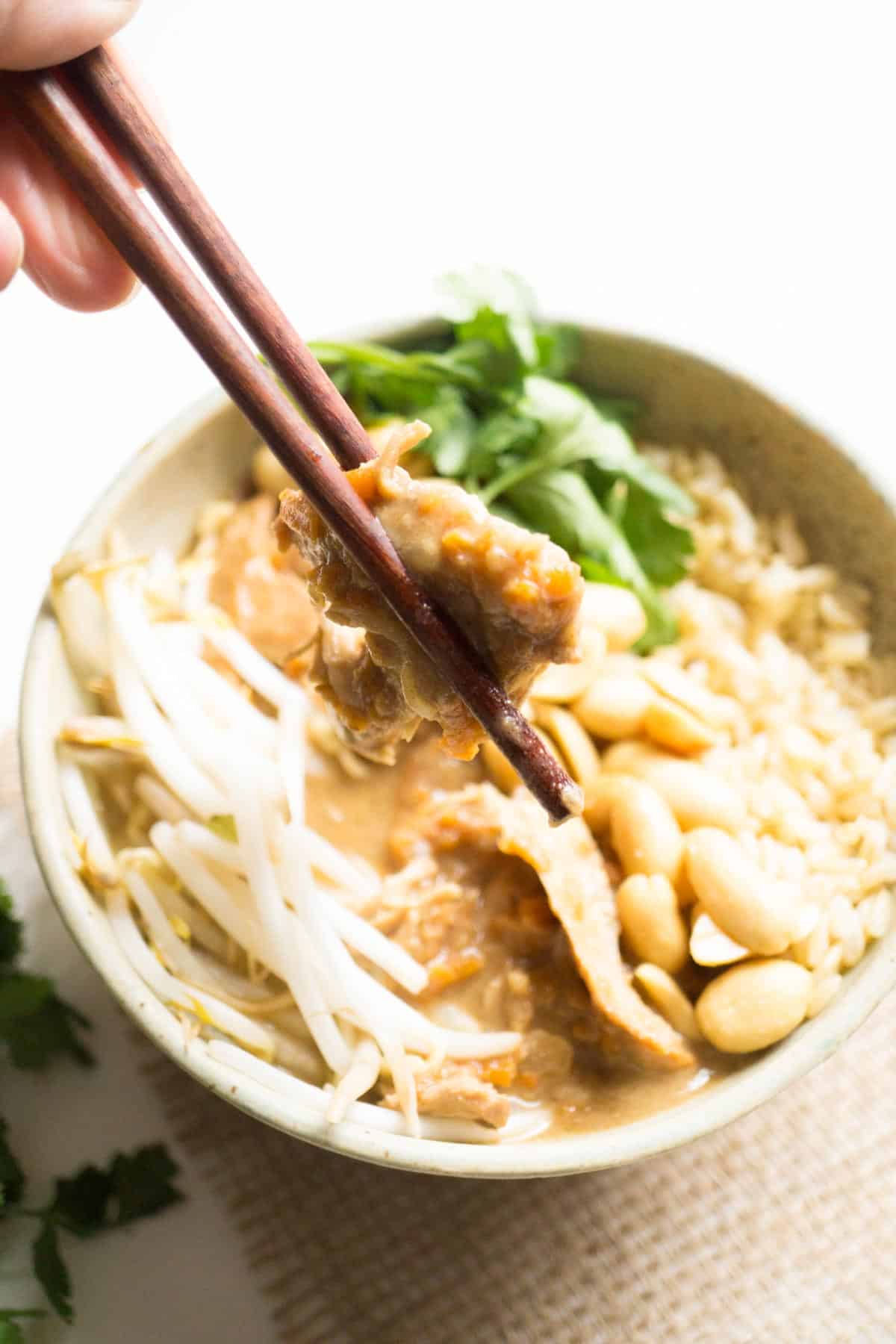 thai peanut chicken
I remember the first time I had seen peanuts used in a main dish. My teenage mind was completely blown away (and probably disgusted) at the idea that peanut butter could be used for anything other than a pb & honey sandwich.
Now? Peanuts are my FAVOURITE main dish ingredient. Funny how life works, isn't it?
This dish hits all the bases: sweet, salty, crunchy, fresh, and most of all: soul satisfying. Whether it's authentic is a whole other question. Eons ago I traveled with a friend to Thailand where we took a cooking class. Being me, it definitely made it into the top 10 highlights of the trip (and we did crazy amazing things like ride elephants and lounge on gorgeous beaches and explore jungle waterfalls!). The cooking class was fantastic and would have been extremely useful…. if I had continued to live in Thailand. Unfortunately I knew that it would be next to impossible to find all the key ingredients necessary to make these dishes back home. Except the Pad Thai! I posted my North American version of the recipe we learned at the cooking school and I have to tell you: it's a pretty close replica to what we would eat in Thailand!
So while the Pad Thai is authentic, this Thai Peanut Chicken is just plain tasty. And sometimes that's good enough for me!
why this thai peanut chicken is a smart choice
My main mission with Smart Nutrition is to help you bring back the JOY in eating. If prepping and cooking homemade meals is too much of a chore then it's going to be really hard to really enjoy your food! With freezer meals, there's barely any work to be done on Eating Day. You just take a bag of food, dump it into your appliance of choice, and let the machine do its job. Voila! Dinner is served!
For more batch cooking plans, check out this gallery of ideas, including a plan to prep 21 breakfasts at once!
And here's another amazing freezer meal: batch cooked meatballs!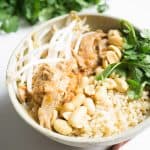 freezer meal: thai peanut chicken
Print Recipe
Prep 4 meals then slip into the slow cooker or instantpot for a no-fuss meal!
Ingredients
2

tbsp

oil

4

onions

8

cloves

garlic

4

carrots

2

lbs

sliced mushrooms

2

cups

peanut butter

1

cup

soy sauce

4

limes

1/4

cup

brown sugar

1/2

tsp

cayenne

4

lbs

boneless chicken thighs

rice

at time of serving

peanuts

at time of serving

2

lbs

bean sprouts

optional at time of serving

fresh cilantro

optional at time of serving
Instructions
Prepare 4 large freezer plastic zip bags by writing the recipe name on the bag with a permanent marker.

Heat the oil over medium in a large frying pan.

Dice the onions and add to the pan. Cook until soft and fragrant.

Mince the garlic and add to the pan. Cook for 1 minute. Remove from heat and set aside.

Grate the carrots one at a time and add 1 grated carrot to each bag.

Add 1/2 lb sliced mushrooms to each bag.

Add the following to each bag: 1/4 of the sauteed onion/garlic mix,  ½ cup peanut butter, ¼ cup soy sauce, juice of 1 lime, 1 tbsp brown sugar, 1/8 tsp cayenne, and 1 lb boneless chicken thighs.

Seal the bags up tightly, removing as much air as possible.

Stack and place in freezer.

When it comes time to serve, remove one bag and place it in the fridge one day before eating. If you forget, you can also defrost it in the microwave enough so that you can remove it from the bag.

For the slow cooker method: cook for 6-8 hours on low or 2-3 hours on high.

For the instant pot method: choose 8 minutes on the manual setting (it will take about 30 minutes total time).

You can either keep the chicken thighs whole or shred into smaller pieces using a fork.

Add in the bean sprouts and stir.

Serve over cooked rice. Top with peanuts and cilantro.
Servings:
4
meals of 4 servings each
Calories: 285 | Fat: 16.5g | Carbs: 12g | Fibre: 2.5g | Sugar: 6g | Protein: 24g
(caloric information is for 1/6 of one bag and does not include rice, peanuts, bean sprouts, or cilantro)
[share title="Share This Article" facebook="true" twitter="true" google_plus="true" linkedin="true" pinterest="true" reddit="true" email="true"]