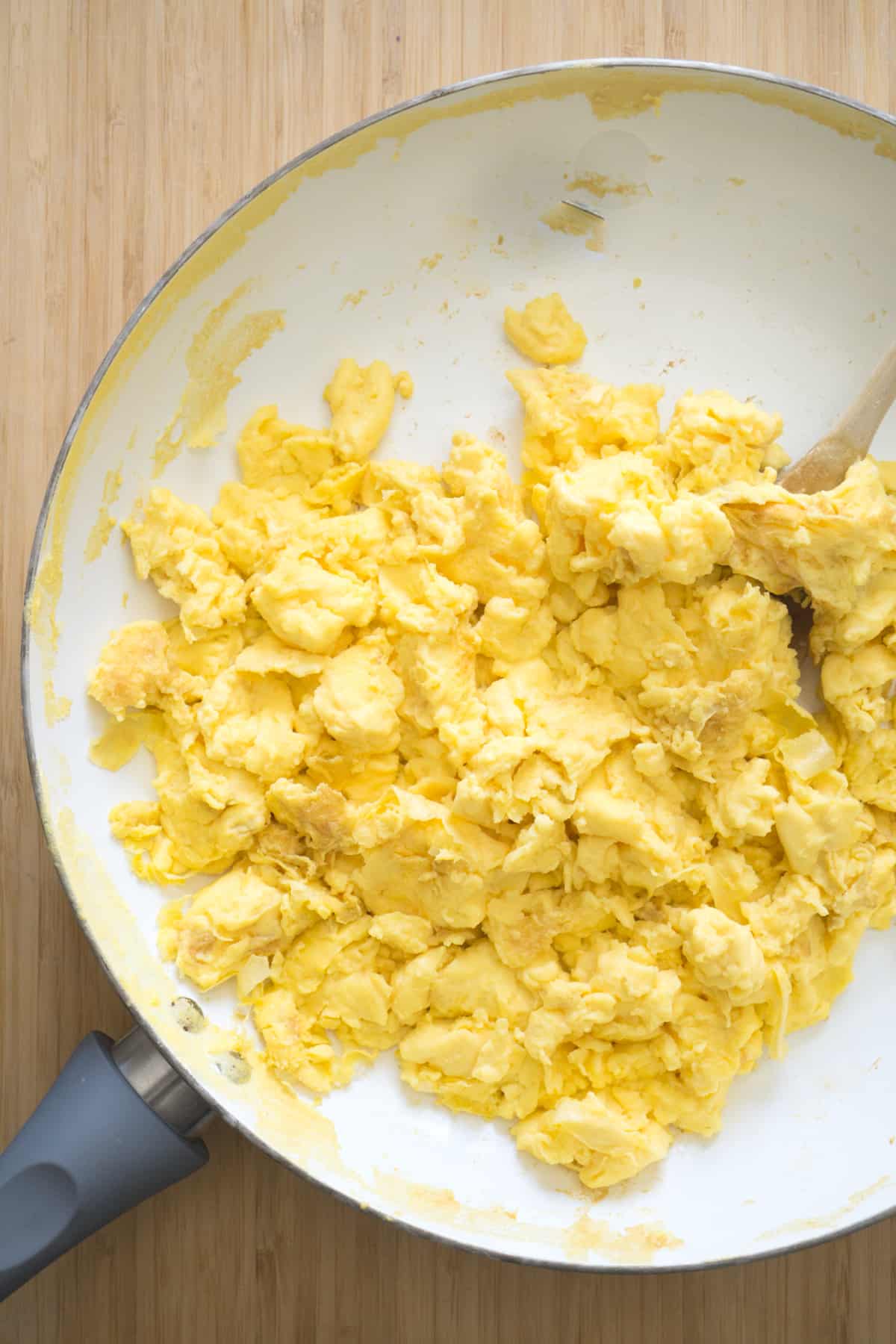 I know what you're thinking:
Aren't scrambled eggs just scrambled eggs? How can you make them better or worse than what they are.
I know the second thing you're thinking too:
Do I really need a recipe? Again, aren't scrambled eggs simply that: eggs that are scrambled?
Yup, I used to think those things too. I would have laughed at someone if they had tried to post a recipe for scrambled eggs, let alone make the audacious claim that they were the best in the world.
Until a little thing called serendipity came my way.
I like to add a touch of milk to my scrambled eggs. To do this, you can't really add it in the pan; you need to whisk it all together first and then pour it into the pan. One day I decided to just let my blender do the job for me. I wasn't expecting superior results from the blender; my motive was pure laziness!
But then magic happened and I ended up making the best batch of scrambled eggs ever!
While this was good news for our family and for you, dear reader, who now knows the secret to making the world's best scrambled eggs, this was not good news for my husband. You see, prior to this serendipitous event Jeremy was the primary scrambled eggs maker in our house. It was his thing. He had two things that he made better than me: eggs and popcorn. Then I just swooped in and took eggs away from him.
Sorry, not sorry (sheepish look up to the left!).
what makes these the world's best scrambled eggs?
So far I've just told you they're the best, and I've told you how I make them, but I haven't provided you with any evidence as to why they're the best! And as a Dietitian, I'm all about the evidence!
And for the evidence I'm going to leave you with one single word: fluffy
Can you think of any better descriptor for scrambled eggs? In the past my eggs have always been so heavy and dense. They just sat there on my plate like little bumps on a log. Just kind of meh.
But these are heavenly! They are so light and FLUFFY!
I use a combo of whole eggs and egg whites in this recipe. My purpose with this is to balance getting the flavour and nutrients only found in the yolks while boosting the protein content with the whites. If you don't have a carton of egg whites on hand, you can also substitute in 4 extra eggs in place of the egg whites.
If you make this recipe, please let me know! Leave a comment, rate it, or snap a photo and tag it with #smartnutritionrecipes on Instagram! I'd love to see your creations!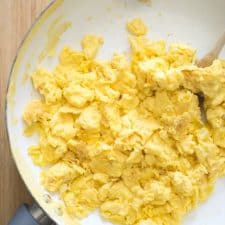 world's best scrambled eggs
Print Recipe
Light and fluffy perfected scrambled eggs.
Ingredients
6

eggs

1/2

cup

egg whites

2

tbsp

milk

1/4

tsp

salt
Instructions
Heat a frying pan over medium low heat.

Place all ingredients in a blender. Start on low then turn up to high speed.

Blend for 30 seconds.

Pour into preheated pan. Stir with a wooden spoon, scraping the bottom as you go, until all the eggs are cooked. If you like browned bottom eggs, fry a little longer.
Notes
We really like cheese on our eggs so once they are cooked I will often grate some cheese on top and let it melt before serving!
Nutrition
Calories: 247 | Fat: 15g | Carbs: 4.5g | Fibre: 0g | Sugar: 2.5g | Protein: 24.5g
[share title="Share This Article" facebook="true" twitter="true" google_plus="true" linkedin="true" pinterest="true" reddit="true" email="true"]