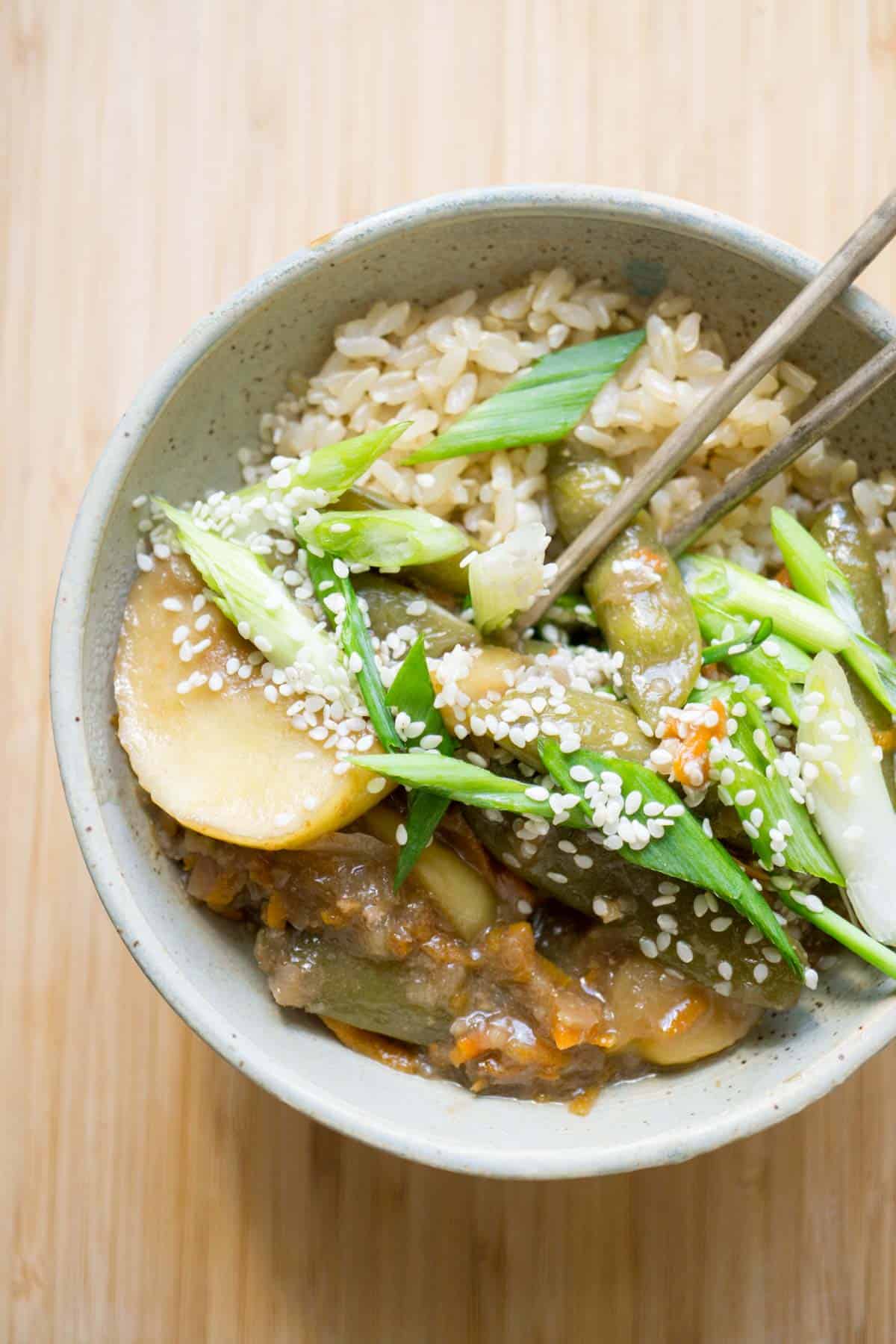 Make the healthier version of Korean Beef faster than you can order takeout! As a bonus, each bowl has nearly 3 servings of veggies!
I know this will probably sound strange to many of you but I've got to be upfront and honest:
This recipe was my first time cooking with a cut of beef!
As self-proposed flexitarians, we primarily eat vegetarian dishes, with chicken about once or twice a week, shrimp, pork, or beef about once a month, and random attempts sprinkled in to learn to like fish! I'd love to get up to eating fish twice a week but I'm not there yet….#lifegoals
So up until now my beef repertoire has consisted solely of ground beef recipes but I suddenly had a desire to make a Korean beef dish! I adapted this from a few sources and they all used flank steak but when I did my grocery shopping the store was out of flank steak so I bought stewing beef instead.
Rookie mistake!
One can not be exchanged for the other. The sauce in this recipe was delicious but the meat was a bit tough to swallow. I'm not really a stew kind of person so I just had to choke down the beef. But I decided not to give up on the recipe altogether and I made it again once I found the right cut: flank steak!
And voila: a fantastic beef dish! This Korean beef is super flavourful without a ton of sugar or sodium. In contrast to the high sodium from takeout places, this recipe only has about 500 mg of sodium per serving.
You also can't go wrong with the SPEED of this recipe. With the Instant Pot, it only takes 8-10 minutes of cooking time!
why it's a smart choice
I often hear from clients that it's hard to eat the recommended number of servings of veggies a day. All y'all know how important they are! High fruit and vegetable consumption is consistently shown in research to increase health prevent chronic disease and early death. To boost my family's intake I always include lots of veggies in with my meats, stews, etc. This is such an easy way to boost your produce consumption! In this Korean Beef recipe, each serving has nearly 3 servings of veggies.
If you make this recipe, please let me know! Leave a comment, rate it, or snap a photo and tag it with #smartnutritionrecipes on Instagram! I'd love to see your creations!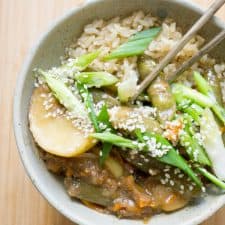 Instant Pot: Korean Beef
Print Recipe
A homemade takeout meal that takes less time than ordering in!
Ingredients
1

tbsp

canola oil

1

onion

chopped

6

cloves

garlic

minced

1

lb

flank steak

thinly sliced

1

tbsp

beef bouillon

2

tbsp

soy sauce

2

tbsp

brown sugar

1

tbsp

sesame oil

½

tsp

ginger

1

tsp

lemon juice

2

tbsp

corn starch

3/4

cup

water

2

carrots

shredded

½

lb

snap peas

1

apple

sliced

cooked brown rice

for serving

sliced green onions

for serving

sesame seeds

optional for serving
Instructions
SAUTE: Pour the oil into the Instant Pot. Add the onions and press SAUTE.

Stir and cook until the onions are soft and fragrant.

Add the garlic and saute one more minute.

TOSS: In a bowl stir together the flank steak, bouillon, soy sauce, brown sugar, sesame oil, ginger, and lemon juice.

Sprinkle in the corn starch and toss to combine.

COOK: Add the beef mixture to the pot. Then layer with the water, carrots, snap peas, and apple. Do NOT stir.

Press MANUAL and choose 8-10 minutes (depending on how thick you cut your meat!)

SERVE: Open the pot using the quick release option. Serve over brown rice, top with green onions, and sprinkle with sesame seeds.
Makes 4 servings.
Calories: 320 | Fat: 12.5g | Carbs: 23g | Fibre: 3.5g | Sugar: 9.5g | Protein: 29g | 3 servings of veggies