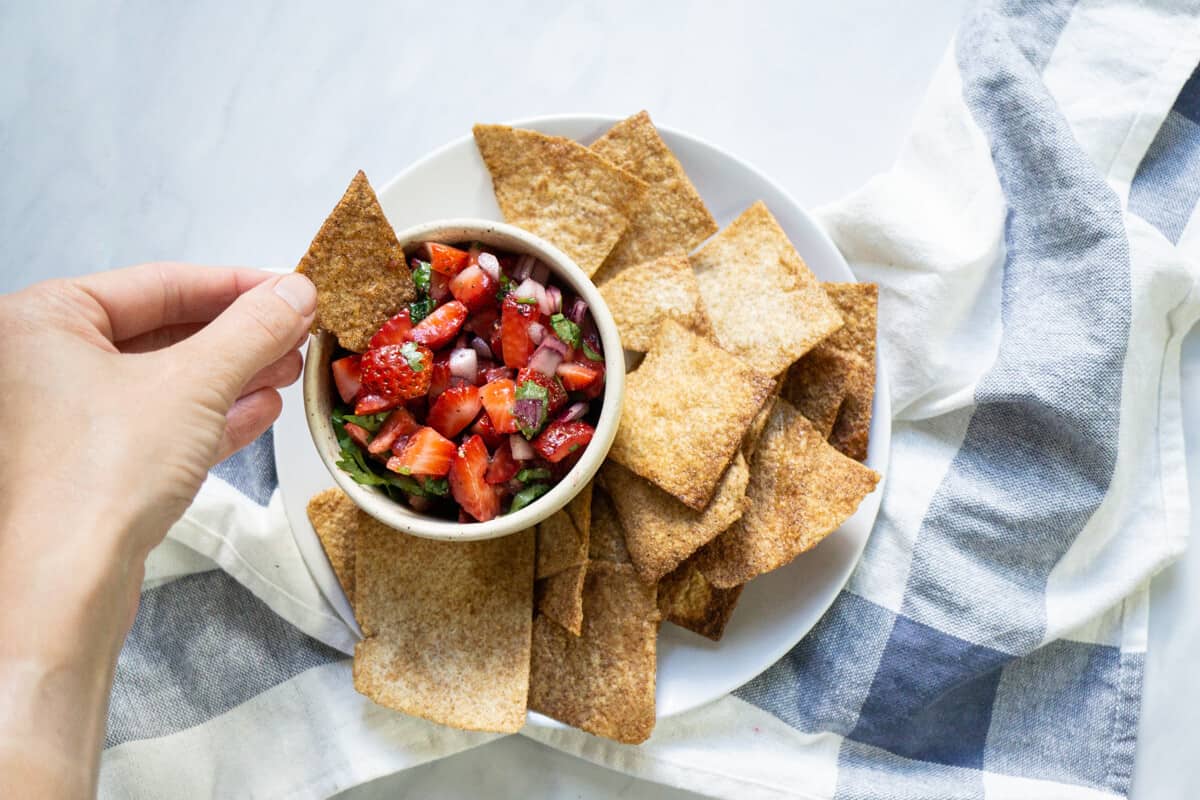 Are you a cilantro fan? I used to think there were only two camps of people when it comes to cilantro:
Those that LOVE it
Those that HATE it
There's a genetic variation that causes cilantro to taste like soap to some people. So I guess I can't blame those that hate it. I wouldn't exactly want to munch down on a bar of soap myself.
But I recently discovered a distinct third group:
3. Those that can take it or leave it and don't understand why cilantro can be so polarizing for the first two groups!
I'm staunchly in the first group. Cilantro, in my humble opinion, makes everything better; even strawberries!
Previously, both of my kids had never wanted anything to do with my cilantro dishes. I was starting to think I had given birth to TWO people in camp number two (aka the haters).
But then I threw cilantro into strawberries and they gobbled it up! So maybe they just needed a familiar and beloved fruit to help make the jump to actually wanting to taste cilantro.
Why Strawberry Salsa and Cinnamon Chips are a Smart Choice
Did you know? Strawberries are a great source of Vitamin C! In fact, they're on par with oranges, which have hogged the Vitamin C limelight for far too long 😉
A cup of this salsa will give you a full serving of strawberries and nearly a full day's needs for Vitamin C, a few grams of fibre, and plenty of other phytonutrients!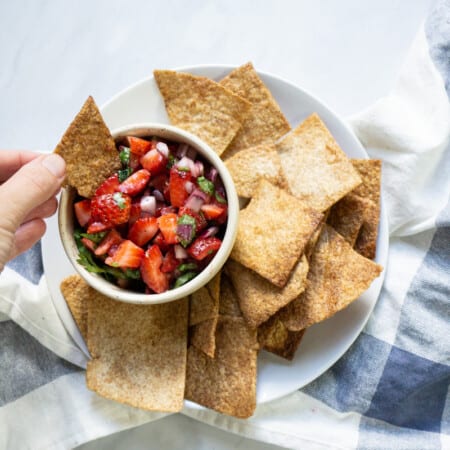 Strawberry Salsa and Cinnamon Chips
Print Recipe
A fresh, fruit-forward salsa with crispy, lightly sweetened cinnamon flavoured tortilla chips to dip!
Ingredients
Strawberry Salsa
2

cups

finely diced strawberries

1/4

cup

finely chopped red onion

1/4

cup

finely chopped fresh cilantro

1/4

tsp

salt

A few

turns

fresh ground black pepper
Cinnamon Chips
4

whole wheat (or regular) tortillas

2

tbsp

butter, melted

2

tbsp

brown sugar

1

tsp

cinnamon

1/4

tsp

salt
Instructions
Preheat oven to 350 degrees Fahrenheit.

Cut the tortillas into chip sized shapes and place in a bowl that has a tight lid

Melt the butter and drizzle it on the chips. Close the lid tightly and shake to coat the chips.

Stir together the sugar and cinnamon.

Open the lid of the bowl and sprinkle in about 1/3 of the sugar/cinnamon. Close the lid tightly and shake to coat the chips.

Open lid and peel apart any chips that are stuck together. Again, sprinkle in about 1/3 of the sugar/cinnamon. Close the lid tightly and shake to coat the chips.

Repeat the step above with remaining sugar/cinnamon.

If you have an oven proof cooling rack, place it on top of a baking sheet. Arrange the chips on the sheet and back for 20-25 minutes, checking every 10 minutes to rotate pans and re-arrange the chips to move the outside chips to the middle of the pan and vice versa.

Chips are done when they JUST start to turn brown. They will crisp up a bit more as they cool.

While the chips are baking, stir together the salsa ingredients.
Try These Other Tasty Snacks!