Barley Salad with a Garlic Lemon Dressing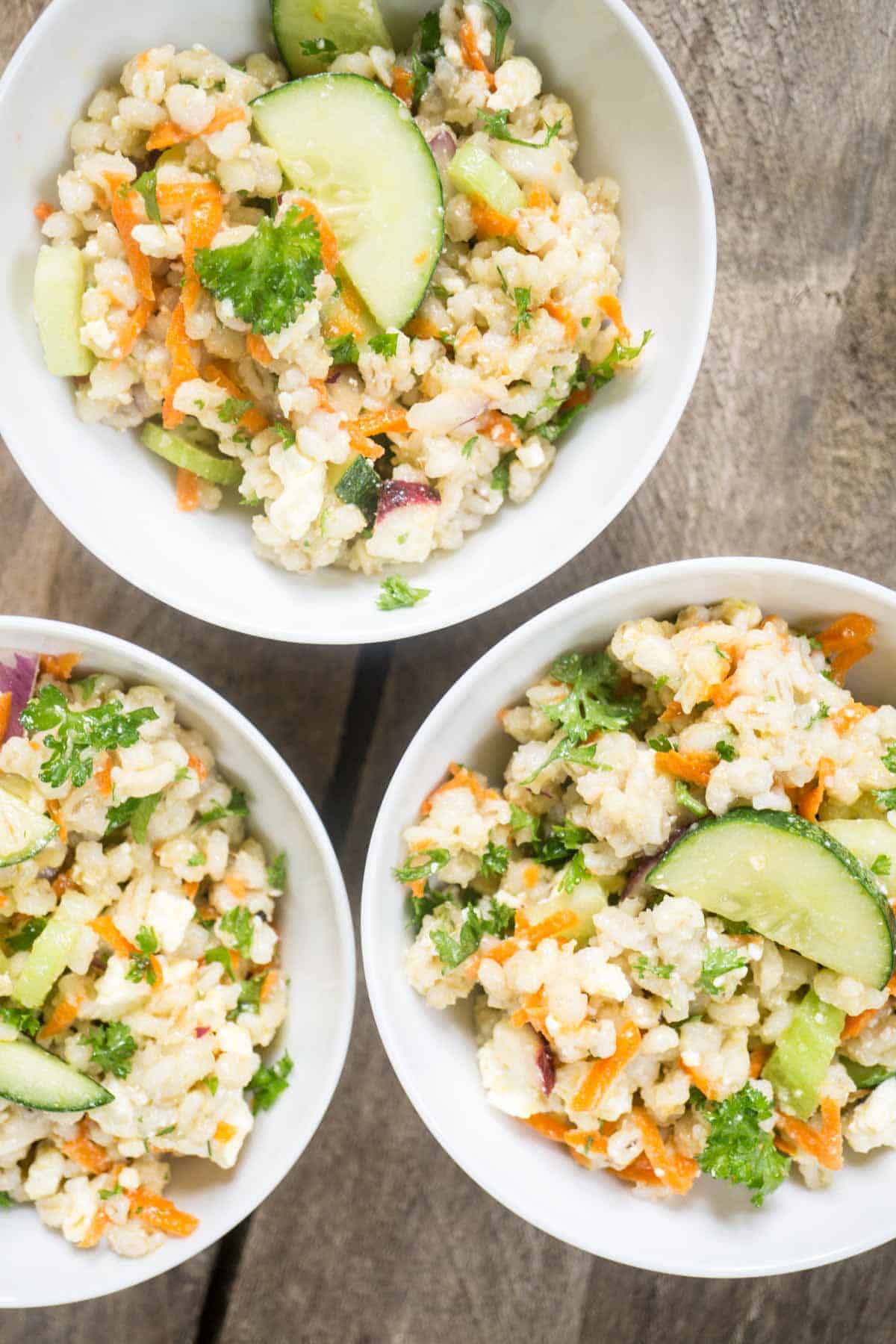 This barley salad has a delightfully unique texture, and when drizzled with its garlic lemon dressing, snaps you into spring with a fresh finish of crispy veggies.
What makes the best chocolate chips cookies?
You might think of having high quality ingredients or the right mix of ingredients, but the real answer is…
Texture!
A crisp, overbaked crumbly cookie is worthless, in my opinion.
A soft and chew chocolate chip cookie? Divine!
So… what do cookies and salads have in common?
Texture!
I used to make this salad with couscous, but I realized I could make it even better by using barley instead!
Have you ever cooked barley? It has the most incredible texture! It's soft, yet chewy at the same time… just like chocolate chip cookies! (I know you came here for a salad recipe, but in case I have you craving cookies by now, I do have a recipe for the BEST chocolate chip cookies I've ever tasted! They're gluten free to boot!)
LEARN HOW TO MAKE THIS BARLEY SALAD:
more about this barley salad
This barley salad SCREAMS spring time! At least that's what anything with radishes is telling me! And with all the fresh veggies, herbs, and the light zippy dressing, it has me dancing around the room, all excited about the snow melting and the thermometer rising… such a wonderful prelude to the real fun when summer begins!
why this barley salad is a smart choice
Barley is one of my favourite high fibre swaps. It has 2.6 times the fibre of couscous (pasta)! That extra fibre is important. Many people do not eat enough fibre. Fibre helps to slowdown the speed at which your body breaks down and absorbs carbs. The slower the speed of digestion, the longer lasting the energy and satiety of a meal!
Compounding this effect, the dressing has vinegar! Vinegar also helps to slowdown the breakdown and absorption of carbs.
Then, of course, there are all the veggies! Each serving of this salad will give you nearly one serving of vegetables.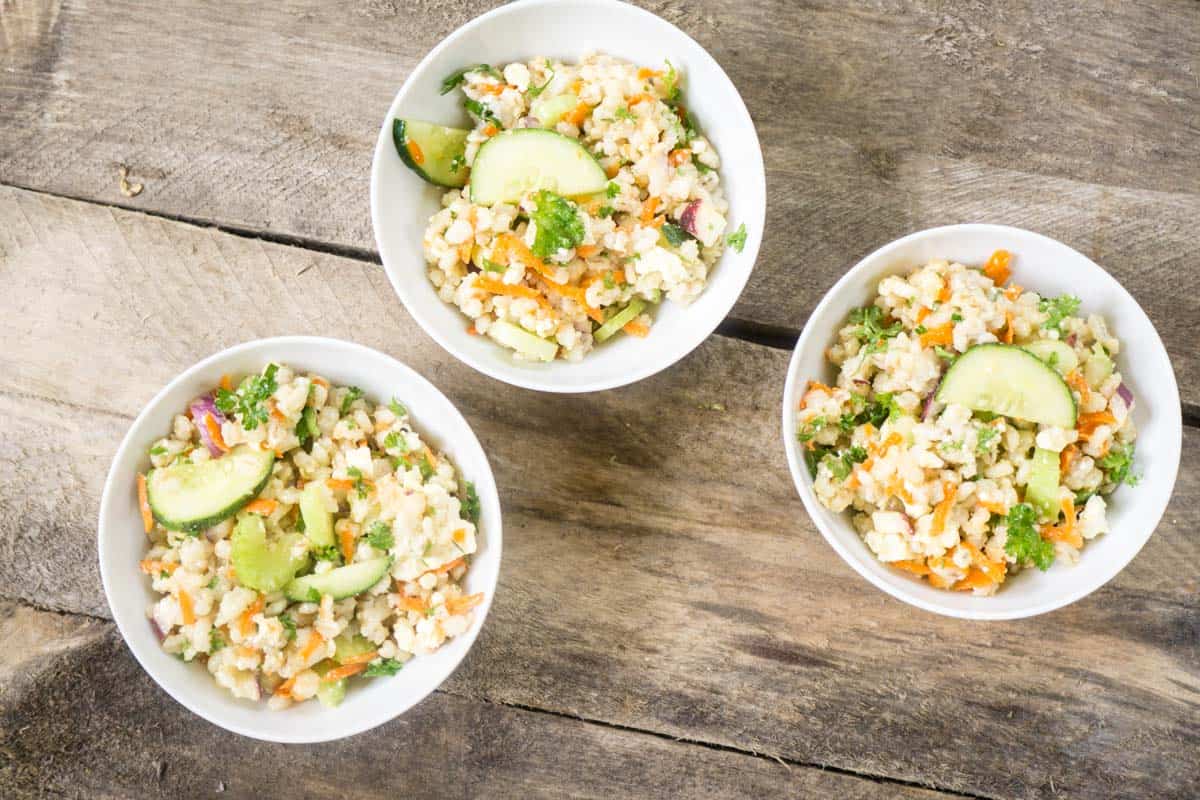 If you give this recipe a go, let me know! Leave a comment, rate it, or snap a photo and tag it with #smartnutritionrecipes on Instagram! I'd love to see your creations! Knowing someone has enjoyed one of my recipes always makes my day brighter.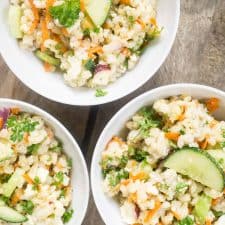 barley salad with a garlic lemon dressing
Print Recipe
An easy summer salad using fresh garden veggies and herbs
Ingredients
Salad
2

cups

uncooked pot barley

2

carrots

shredded

½

cucumber

chopped

3

stalks celery

chopped

3

large radishes

chopped

½

cup

chopped red onion

1

bunch of parsley

chopped

½

cup

feta

crumbled
Dressing
3/4

cup

canola oil

1/3

cup

lemon juice

2

tbsp

vinegar

4

large cloves garlic

crushed or minced

1 1/2

tsp

salt

1 1/2

tsp

sugar
Instructions
Cook the barley according to your package's directions.

Meanwhile, whisk together the dressing ingredients.

Pour the dressing over the barley once it has finished cooking. Stir to combine.

Place in fridge to cool.

Prepare the rest of the salad ingredients and add to the barley once it has cooled.
Calories: 271| Fat: 16g | Carbs: 28g | Fibre: 6.5g | Sugar: 2g | Protein: 5.5g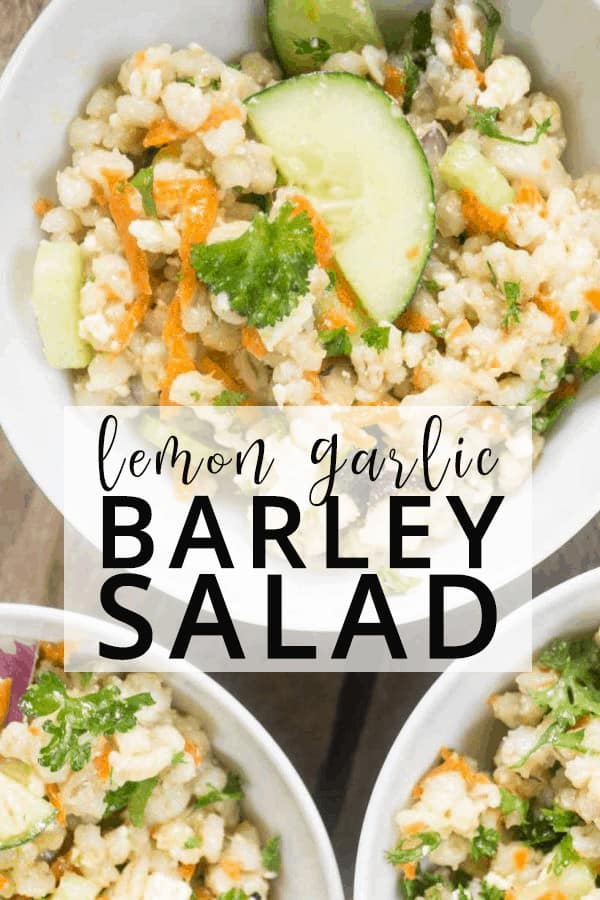 [share title="Share This Article" facebook="true" twitter="true" google_plus="true" linkedin="true" pinterest="true" reddit="true" email="true"]