The Best Chocolate Chips Cookies You Will Ever Eat (and they're gluten free)!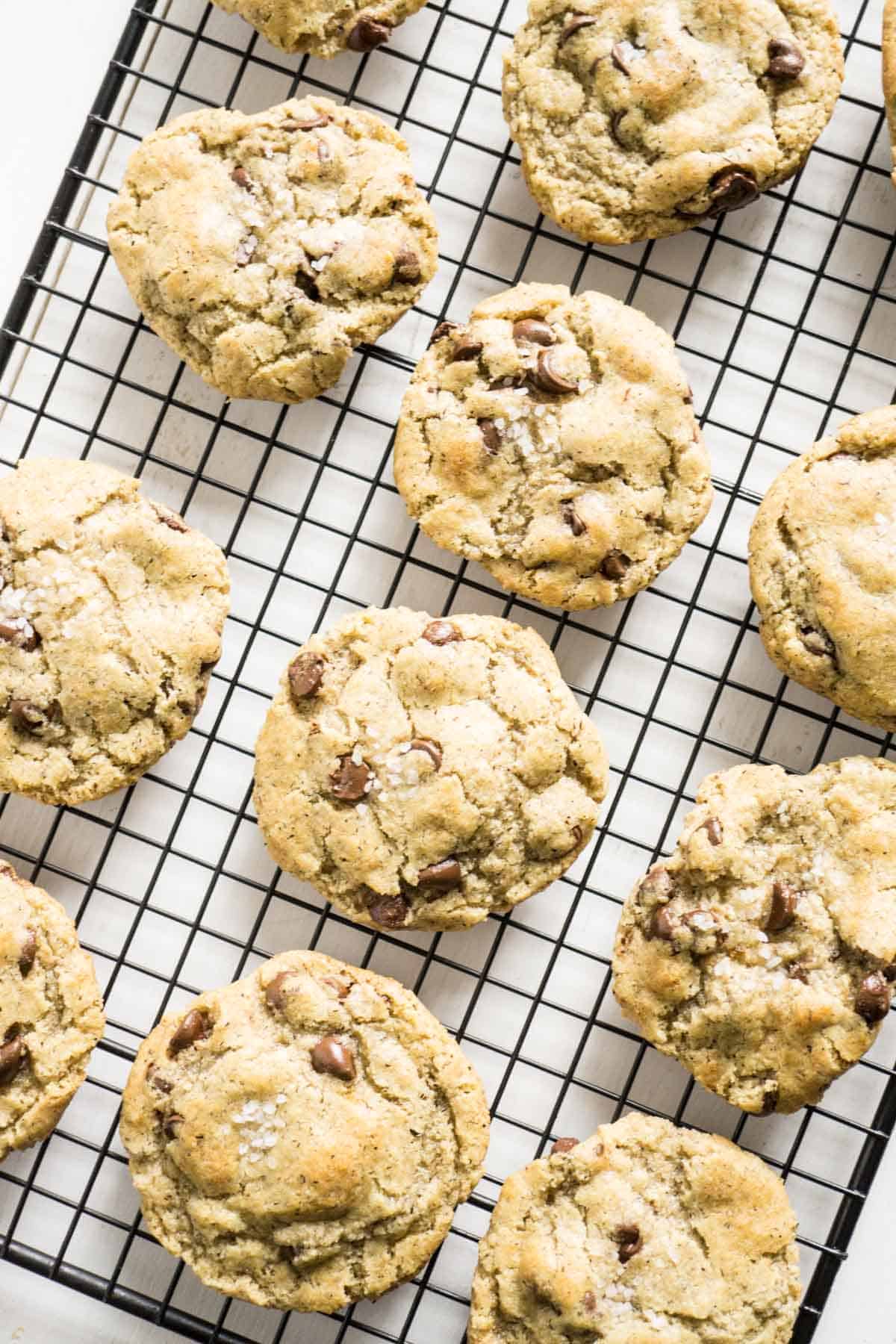 Say hello to the. best. chocolate chip. cookies. EVER.
I've made my fair share of chocolate chip cookies. I know what I like and especially what I don't like.
This is what I don't like in a chocolate chip cookie:
dry and crumbly
crunchy all the way through
soft and fluffy
hardly any chocolate chips
This is what I do like in a chocolate chip cookie:
chewy centre
crispy edges
simultaneous tastes of sweet and salty
enough chocolate chips without being overly chocolate-y
And this recipe has all those boxes check-marked!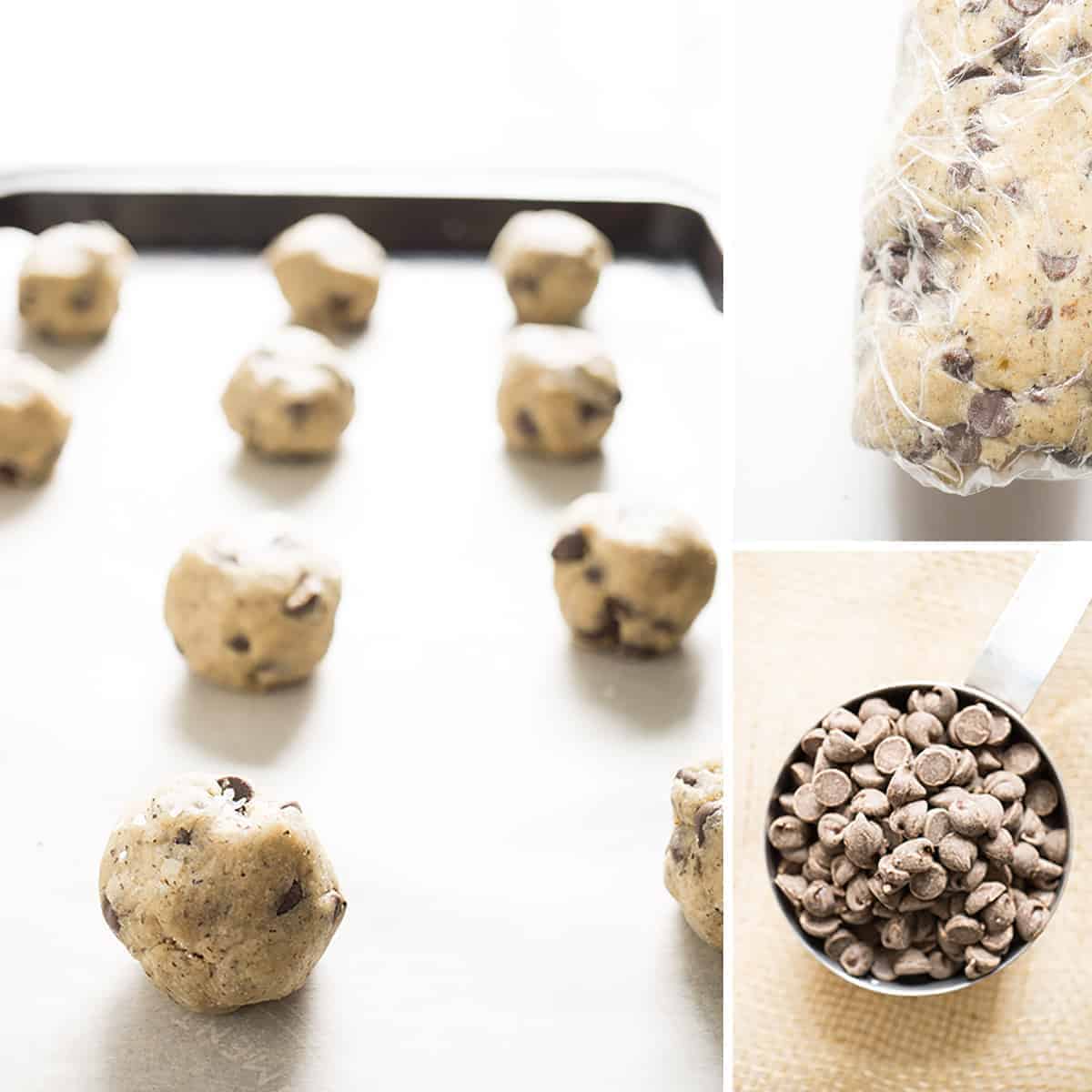 But the most incredibly part of this recipe is that it's…. (drum roll please) GLUTEN FREE!
I have now mastered the gluten free chocolate chip cookie. When I decided to go gluten free, I was sad. I had just started to master some recipes in their glutenous forms: pizza dough, artisan bread, muffins. Now I had to start from scratch with all my recipe testing (pun intended!).
So this was a huge victory for me. I felt pretty on top of the world with this victory. So on top of the world, in fact that I decided to take another shot at gluten free pizza dough. I've tried about half a dozen or so recipes and they were all failures. Well, I reached an all-time low with this last one! Let's just say that some of the techniques that help make these cookie so delicious do NOT work with pizza dough. I wish I had a picture to show you just how horrible that pizza was! I absolutely hate wasting food but it was barely edible and just had to go.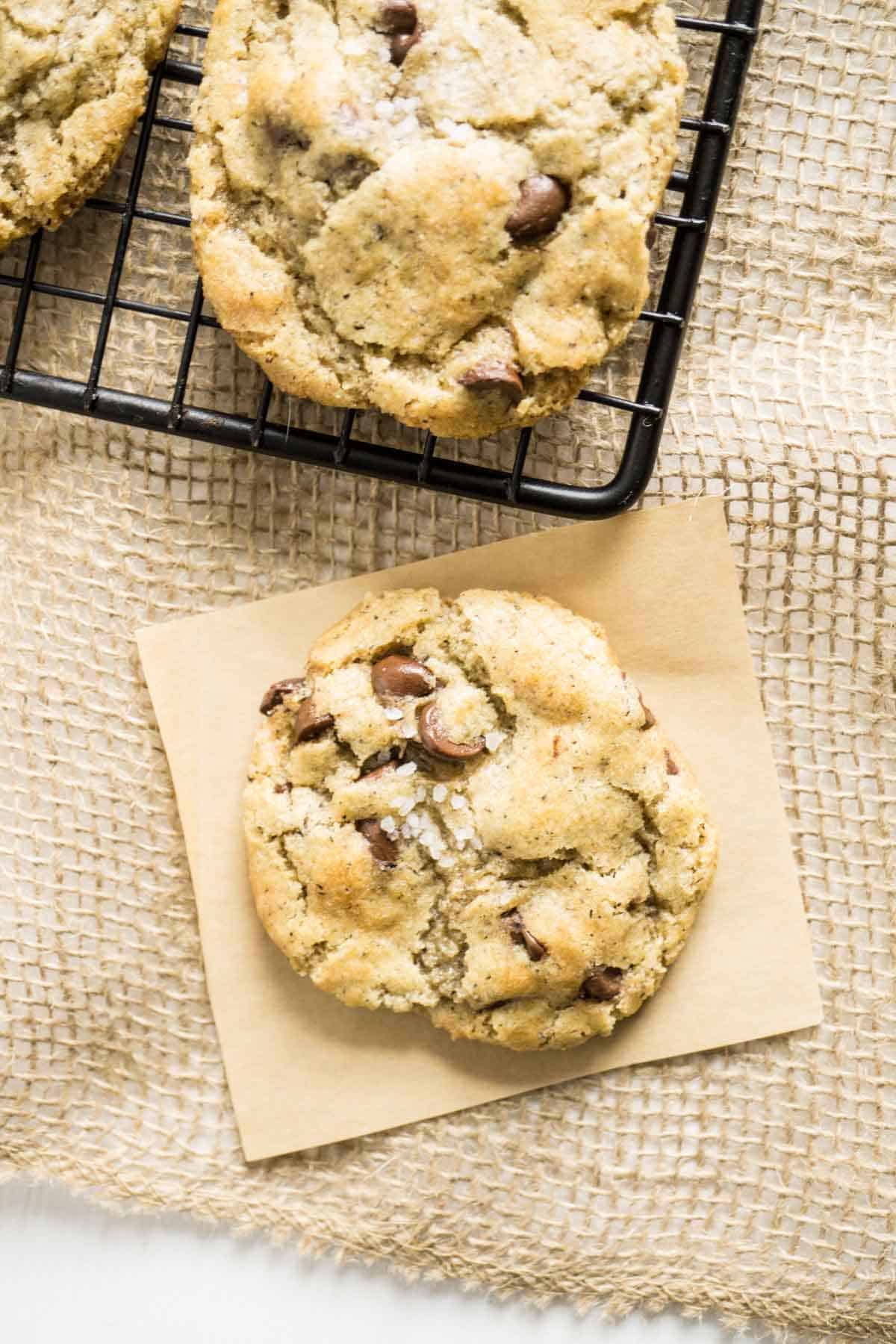 This recipe contains whey protein isolate. What I like about whey protein isolate is that it's simply whey protein leftover from making cheese that has been dried into a powder. Since I eat quite a bit of cheese I feel as though I'm balancing out my dairy by buying the whey too. If you put them together, they make a whole food, right? 🙂
So whey protein isolate is just that: cow's milk protein. There aren't any added flavours, sweeteners, or other ingredients. If you're not sure where to buy it, order some on Amazon!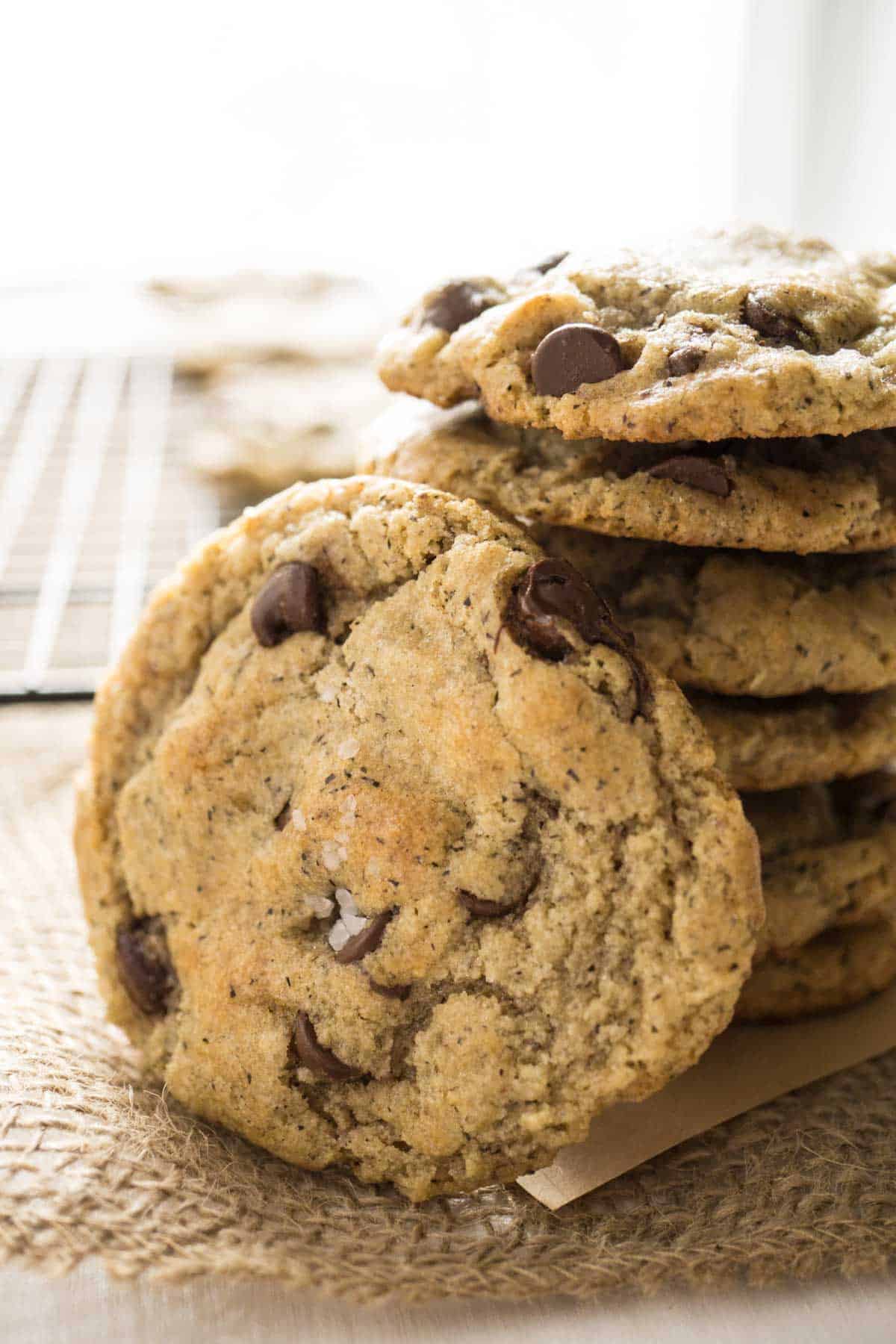 The perfect cookies need perfect measuring. For perfect measuring you'll need a kitchen scale. Even though the idea of a kitchen scale may sound like more work, it actually makes everything easier! You don't need to fiddle around with finding different measuring cups and spoons. It just gets weighed. And then you get perfect cookies every single time!
Take a look at this kitchen scale on Amazon. It comes in a bunch of colours. So I guess you could match your scale to your Kitchen-Aid?!

If you give this recipe a go, let me know! Leave a comment, rate it, or snap a photo and tag it with #smartnutritionrecipes on Instagram! I'd love to see your creations! Knowing someone has enjoyed one of my recipes always makes my day brighter.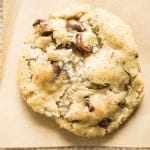 The Best Chocolate Chip Cookies You'll Ever Eat
Print Recipe
A chewy centered, crispy edged chocolate chip cookie!
Ingredients
Dry Ingredients
1 ½

cups

210 g all purpose gluten free flour mix (I used Cloud 9 All Purpose Baking Mix)

1/4

teaspoon

xanthan gum

omit if your flour blend already has it

1 1/2

tablespoons

14 g cornstarch

22

g

whey protein isolate

13

g

vanilla instant pudding dry mix

1/2

teaspoon

baking soda

3/4

teaspoon

baking powder

3/4

teaspoon

salt

1/2

cup

+ 2 tablespoons

120 g white sugar

10

tablespoons

140 g packed brown sugar
Wet Ingredients
10

tablespoons

140 g softened butter

1

egg

1

teaspoon

vanilla extract
Other ingredient
8

ounces

chocolate chips

Optional: course salt

such as pickling salt
Instructions
Place the dry ingredients in the bowl of a stand mixer (or a large bowl if you are using a hand mixer).

Stir to combine, making sure there are no lumps of brown sugar.

Add in the wet ingredients and mix until combined. This will take a couple of minutes. The dough will look crumbly but don't fear! It will come together.

Add in the chocolate chips and mix until evenly distributed.

Place a long, long sheet of plastic wrap on the counter. Or use 2-3 baking pan size sheets.

Scoop the cookie dough onto the plastic wrap. Wrap tightly (see how the dough comes together now?)

Refrigerate for 24 hours for best results. If you really want to try the cookies sooner, refrigerate at minimum 1 hour.

When it comes time to bake, preheat oven to 325 degrees Fahrenheit.

Roll the dough into 24 balls. Place these on a baking sheet lined with parchment paper. Do not flatten the balls! If desired, press a few grains of course salt on the tops.

Bake for 8-10 minutes or until the tops start to turn brown but the centre is still soft.
Disclosure: this post contains affiliate links.
[share title="Share This Article" facebook="true" twitter="true" google_plus="true" linkedin="true" pinterest="true" reddit="true" email="true"]