Spinach and Artichoke Quinoa Bake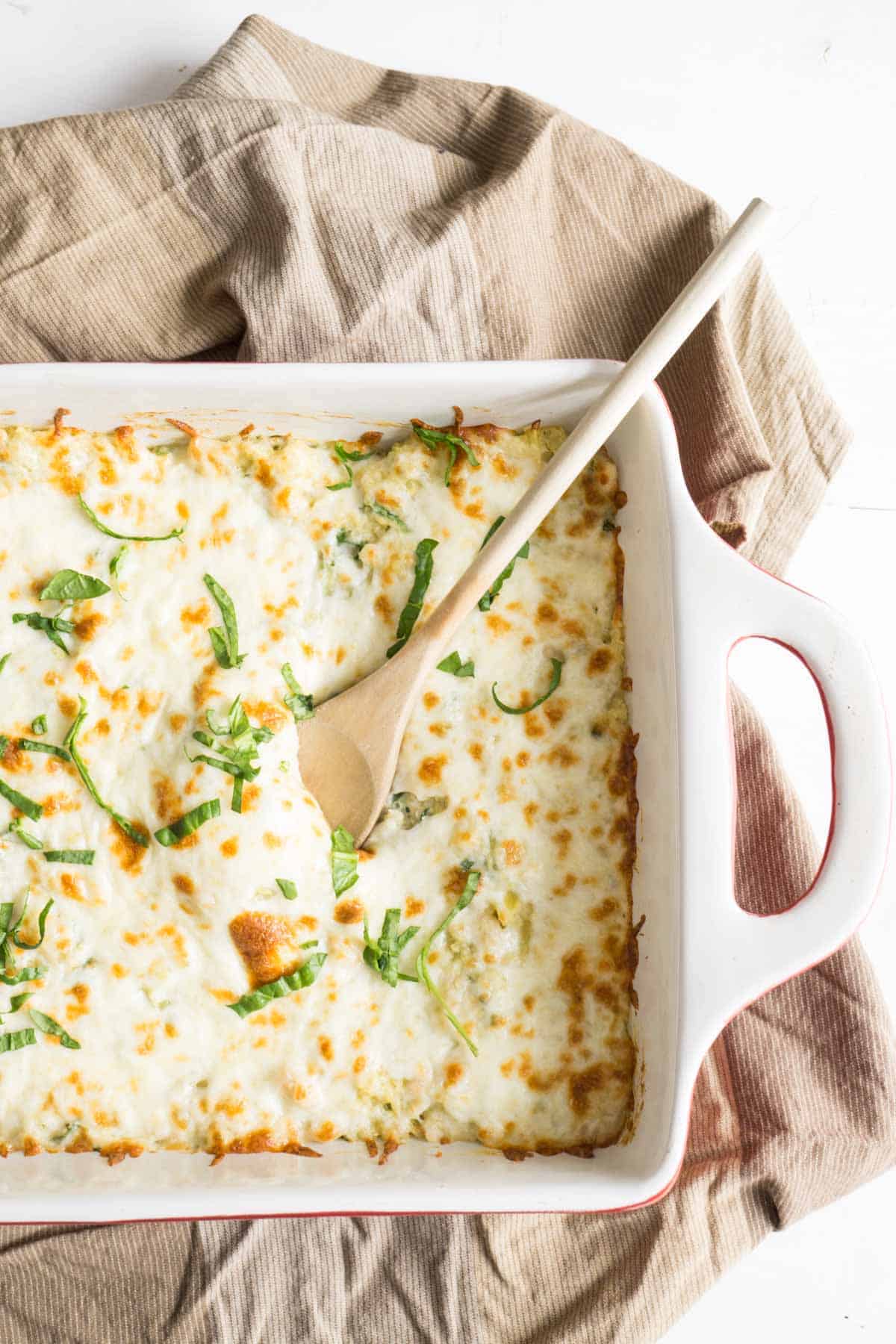 Remember that time you had a baby and some loving soul brought you food? I remember each and every dish that people brought to our house when we welcomed our little guy home. Maybe it's because food tastes better when other people cook it, or maybe it was the added hunger from breastfeeding, or maybe it was the crazy hormones, or maybe it's just that all my friends and family are great cooks, but ALL of the food was crazy delicious!
And so, so appreciated.
Now, whenever a friend has a baby, I try to make it over to their place with some dinner. I'd like to say I'm just a nice person but let's be real. Food is my ticket to see the baby! And I've got a bad case of baby fever.
Before I had my own baby I thought if a week or so after baby was born had gone by and I hadn't brought some food over, I missed the window of opportunity. That it would be weird if I showed up a month later with a lasagna. After I had my baby, I KNOW that such a window does NOT exist! Really, you can bring food to a mom for the first 18 years and it will be greatly appreciated.
Good friends of ours had a baby this past week. For the past month or so I've been anxiously waiting to hear the news that the baby had been born. At nearly 42 weeks and a week of labour (no joke, this mama is one tough cookie!), their little boy arrived!
What does all this rambling about babies have to do with spinach and artichoke quinoa bake? This is the dish I brought to our dear friends! I highly recommend it for yourself and all your friends who have just had babies. Not only is it incredibly delicious, but it
transports well
re-heats well
has a wee bit of wine. After a 9 month hiatus, that mama is going to especially love the subtle wine undertones!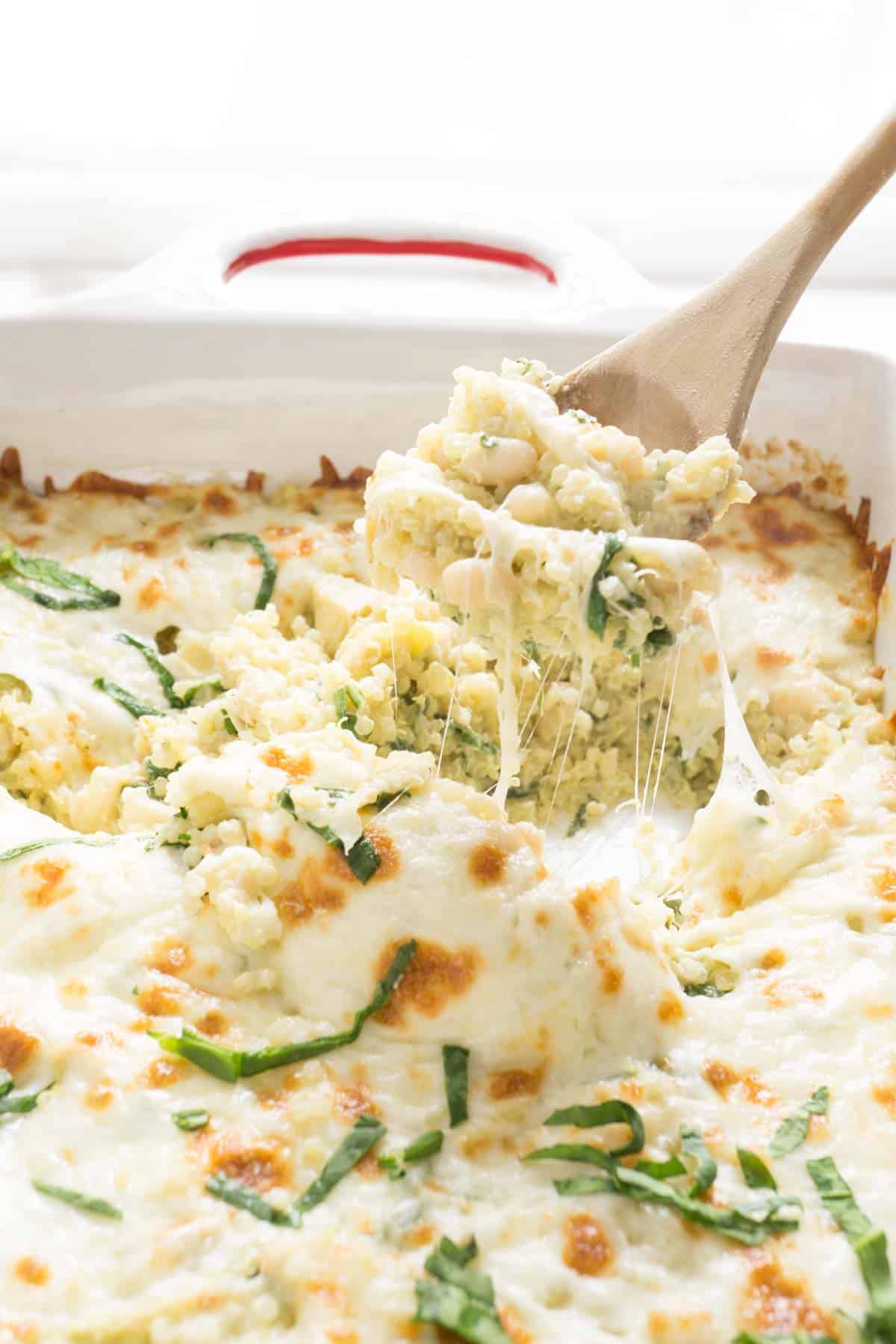 Why It's A Smart Choice
Quinoa is often touted as a high protein food. While its protein content is high-er than most grains, it's not exactly a high protein food. A 1/2 cup serving has 4g of protein while brown rice has 2.5g. Compare that to a 3 oz serving of chicken breast, which has 26g of protein!
So scratch protein off the list of reasons to eat quinoa. But there are many other excellent reasons to choose this grain alternative! Quinoa is high in magnesium, fibre, and B vitamins. It also has a slightly nutty flavour and a light, pleasant mouthfeel.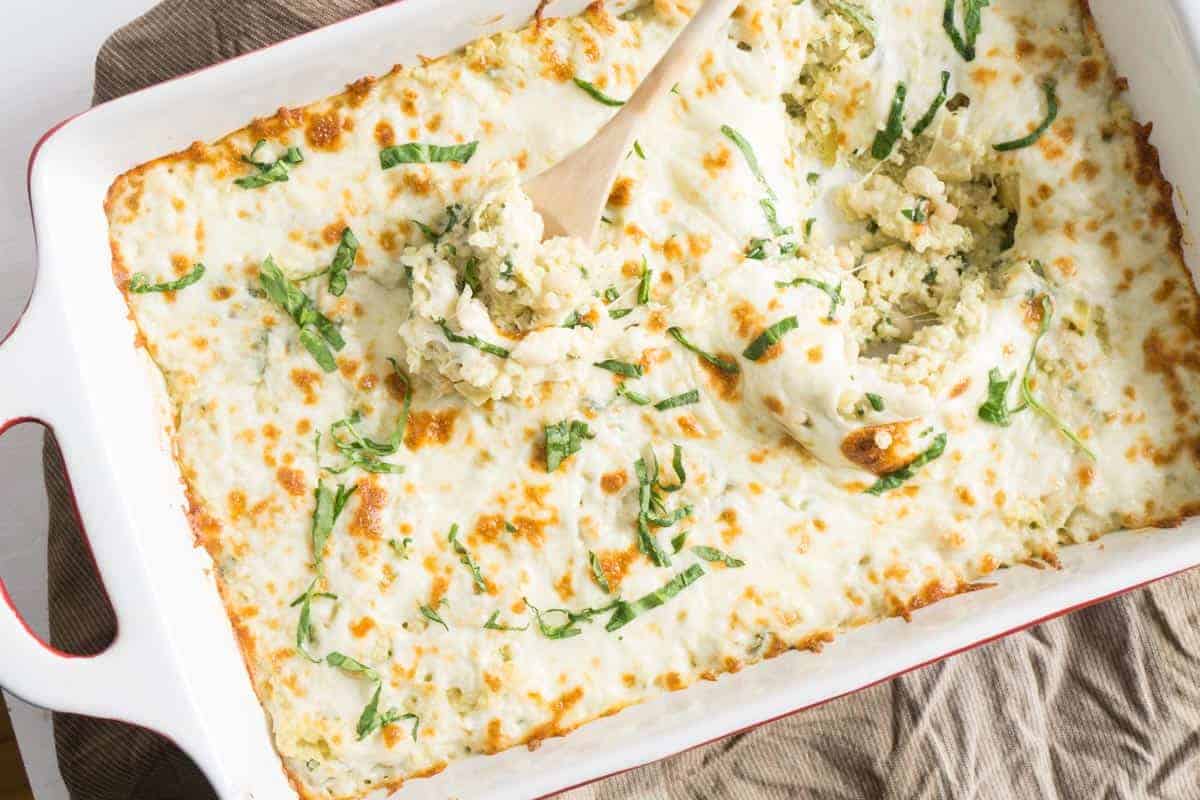 If you give this recipe a go, let me know! Leave a comment, rate it, or snap a photo and tag it with #smartnutritionrecipes on Instagram! I'd love to see your creations! Knowing someone has enjoyed one of my recipes always makes my day brighter.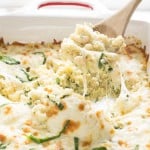 Spinach and Artichoke Quinoa Bake
Print Recipe
Your favourite dip… now featured in a healthy dinner dish!
Ingredients
1 ¼

cups

dry quinoa

1

cup

feta cheese

½

cup

milk

1

egg

4 ½

tsp

lemon juice

4

cloves

garlic

1

tsp

oregano

¾

tsp

salt

½

tsp

onion powder

1 ½

cups

fresh spinach

ribbonned

1

cup

marinated artichokes

diced

1 ½

cups

navy beans

or 1 can, drained and rinsed OR 1 1/2 cups cooked and diced chicken breasts

¼

cup

white wine

optional, but highly recommended

1

cup

mozzarella cheese

shredded
Instructions
Cook the quinoa according to the package direction. I combined 1 ¼ cups dry quinoa with 2 ½ cups water in a pot. Brought it to a boil, covered it, and then let it simmer until cook. (same method as rice).

Preheat oven to 400 degrees Fahrenheit.

Meanwhile, place the feta, milk, egg, lemon juice, garlic, oregano, salt, and onion powder in a blender or food processor. Blend or process until sauce is smooth. Set aside.

Prepare the veggies and place in a mixing bowl with the chickpeas or navy beans.

Once the quinoa is cooked, add it to the bowl, along with the sauce. Stir in the wine.

Press into a 9×12 baking dish. Top with shredded cheese.

Bake for 15 minutes. Then turn oven to broil and broil the cheese until it bubbles and starts to turn brown.

Remove from oven.

Allow to cool a few minutes before serving.
Nutrition
Calories:
391
kcal
|
Carbohydrates:
41
g
|
Protein:
19
g
|
Fat:
16
g
|
Saturated Fat:
7
g
|
Trans Fat:
1
g
|
Cholesterol:
66
mg
|
Sodium:
841
mg
|
Potassium:
510
mg
|
Fiber:
8
g
|
Sugar:
3
g
|
Vitamin A:
1352
IU
|
Vitamin C:
12
mg
|
Calcium:
318
mg
|
Iron:
4
mg