Sprouted Bread Recipe – herbed lentil sourdough bread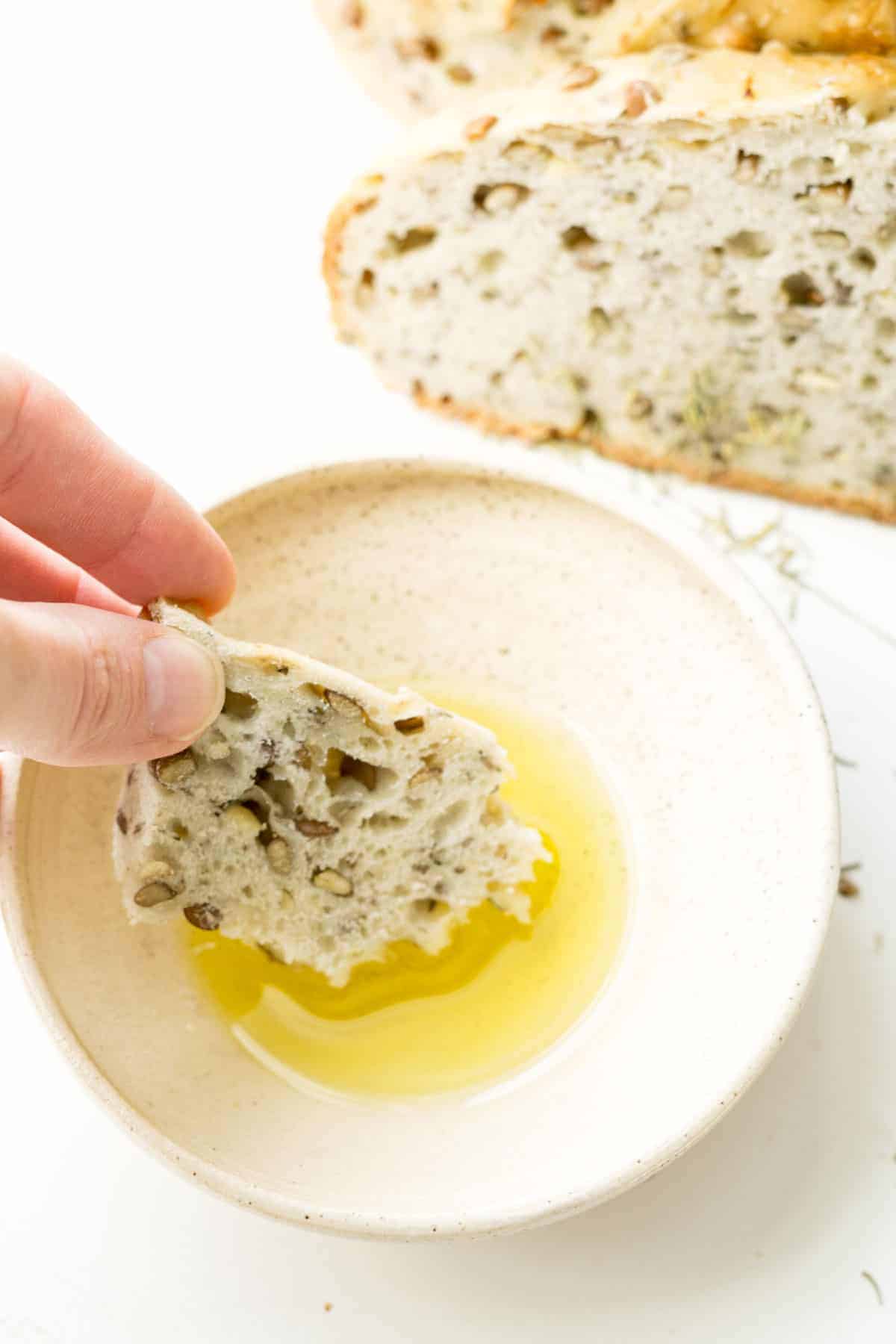 This sprouted bread recipe makes a naturally-leavened, low-gluten bread. Nutritionally it packs a powerful punch from the sprouted lentils, packaged in the superb flavour of garlic, rosemary, and thyme. 
Sometimes, some really good things can come out of a mistake…. like this sprouted bread recipe!
But people hate making mistakes.
I run an online program that teaches healthy mindsets  and eating habits, bringing people to a terrific relationship with food that nourishes their mind, body, and soul. One thing I've learned through coaching people along in their journey is this: people hate making eating mistakes.
By eating mistake, I mean any decision relating to eating something that later inspires regret.
When people make eating mistakes they tend to follow a 3 step plan:
get really down on themselves
get stuck where they are in their plans to make healthy changes
throw their hands in the air and give up
I remind people that mistakes are just learning opportunities! There is so much learning material to be found in a mistake! When you remove all the guilt and regret, and instead look at the situation objectively, you can figure out what you want to do differently next time!
That's what happened with this sprouted bread recipe.
I had decided to try sprouting some lentils. It's really easy. You can quickly learn how in this tutorial. Essentially it just needs about 30 seconds of TLC, twice a day, for a few days.
Unfortunately, when day two came around, I totally forgot about my lentil sprout babies!
So when day three came along, I wasn't sure if I should throw them out or keep going. So I did what every person does nowadays, and used the Google. Apparently no one else has ever been a neglectful lentil sprout parent, because I could find nothing on the internet about what to do.
Since I know that lentil sprouts are a risky food in terms of food safety, I didn't want to take my chances. But I didn't want to waste them either! I hate food waste! So I decided to do what the Lean Green Bean did, and throw them into some bread dough!
The result was one of THE BEST LOAVES OF BREAD I've ever eaten!
The texture inside is chewy and medium in density. But then you get hit with a delightful crunch from the lentils. The flavour of the herbs and garlic is subtle but still noticeable.
A smear of butter on top, a piping hot bowl of soup, and you'll just want to cozy yourself up inside to hibernate. This is the type of bread that makes you think you could happily live off of bread and butter for the rest of your days.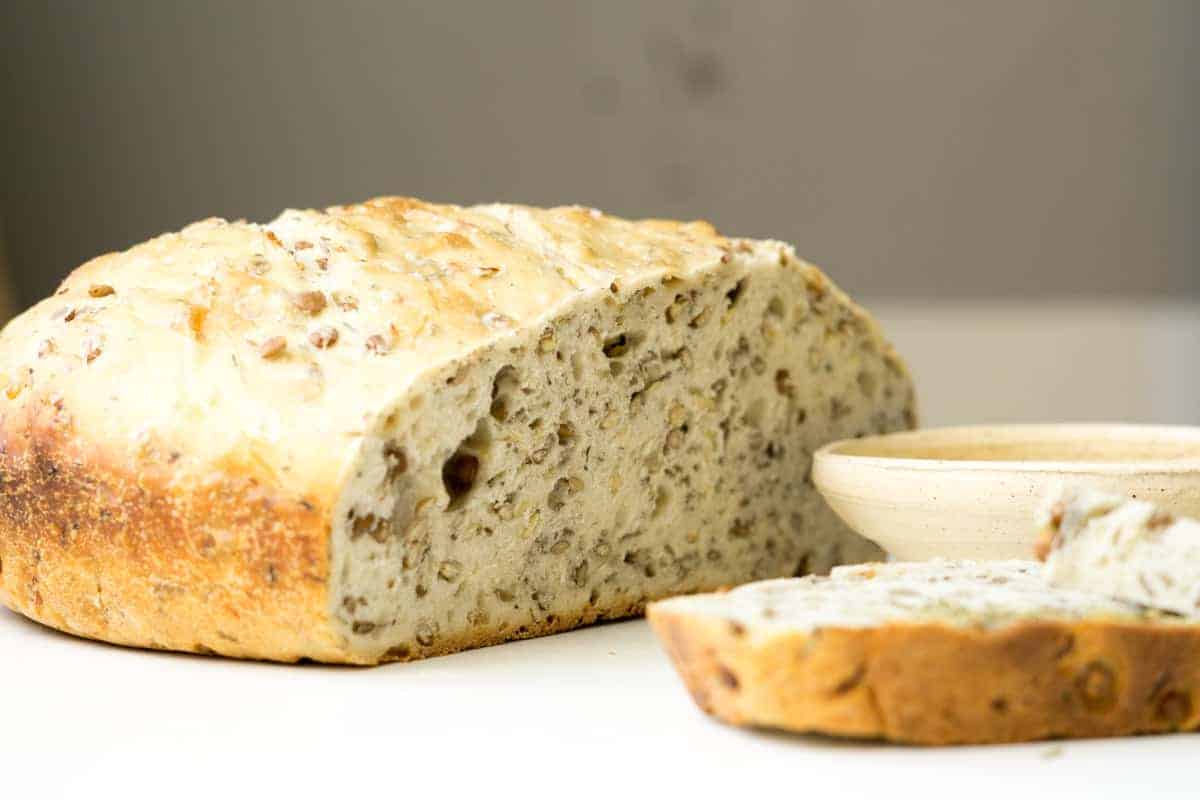 why this sprouted bread recipe is a
smart

choice

This sprouted bread recipe combines two of my culinary favourites: lentils and sourdough!

I wasn't able to find any studies that specifically analyzed lentil sprouts, but other legumes have been researched for their nutritional quality after being sprouted. In this study, sprouting of cowpeas resulted in:
9-12% more protein
4-38 TIMES more Vitamin C
4-16 TIMES less phytic acid
decreased trypsin inhibitor activity by 28-55%
Phytic acid is known as an anti-nutrient that binds to minerals such as iron and zinc, rendering them unavailable for the body to absorb. Lentils are a good source of total iron, but some of it gets lost to the phytic acid…. so reducing this compound is a huge bonus!
For more on why I think sourdough is the healthiest bread around, check out my tutorial on how to get started with a sourdough starter!
Want more sourdough bread recipes? Check out my sourdough seed bread, cinnamon raisin sourdough bread,  omega 3 sourdough bread, or sourdough naan bread.
If you want to keep updated with future Smart Nutrition recipes and articles sign up at the bottom of this post for me e-newsletter! I'll send you a little something special for signing up 🙂
If you make this recipe, please let me know! Leave a comment, rate it, or snap a photo and tag it with #smartnutritionrecipes on Instagram!  I'd love to see your creations!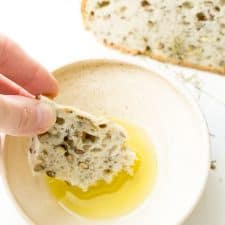 herbed sprouted lentil sourdough bread
Print Recipe
This sprouted bread recipe makes a naturally-leavened, low-gluten bread... with the nutritional boost of sprouted lentils and the superb flavour of garlic, rosemary, and thyme. 
Instructions
Heat the olive oil, garlic, rosemary, and thyme in a small frying pan over medium heat until the garlic is fragrant. Avoid browning the garlic.

Weigh the remaining ingredients into a stand mixer and add the olive oil mixture.

Using a bread hook, mix until combined. If the dough is quite tacky, add a bit more flour until you can pick the dough up without it sticking too much to your hand.

Lift the dough up and grease the bottom of the bowl. Return the dough to the bowl. Cover with a damp cloth and place in a warm spot. Allow to rise until 1 ½ times its original size. Depending on your starter this could take 3-12 hours.

Grease a dutch oven. Shape the dough into a boule and place inside. Allow to rise until puffy. This will take 1-2 hours.

Heat the oven to 450 degrees Fahrenheit.

Slash the top of the boule 1-3 times.

Place the dutch oven inside the oven with the lid on. Turn the heat down to 400 degrees Fahrenheit and bake for 20 minutes.

Remove the lid of the dutch oven and bake for a further 20-30 minutes or until the top begins to turn a golden brown and the internal temperature reaches 205 degrees Fahrenheit.

Place on a cooling rack and slice when cooled.  
Notes
This bread will be most successful using a mature sourdough starter. If your starter is less than a couple of weeks old, add 1/2 tsp instant yeast.
Adapted from The Clever Carrot.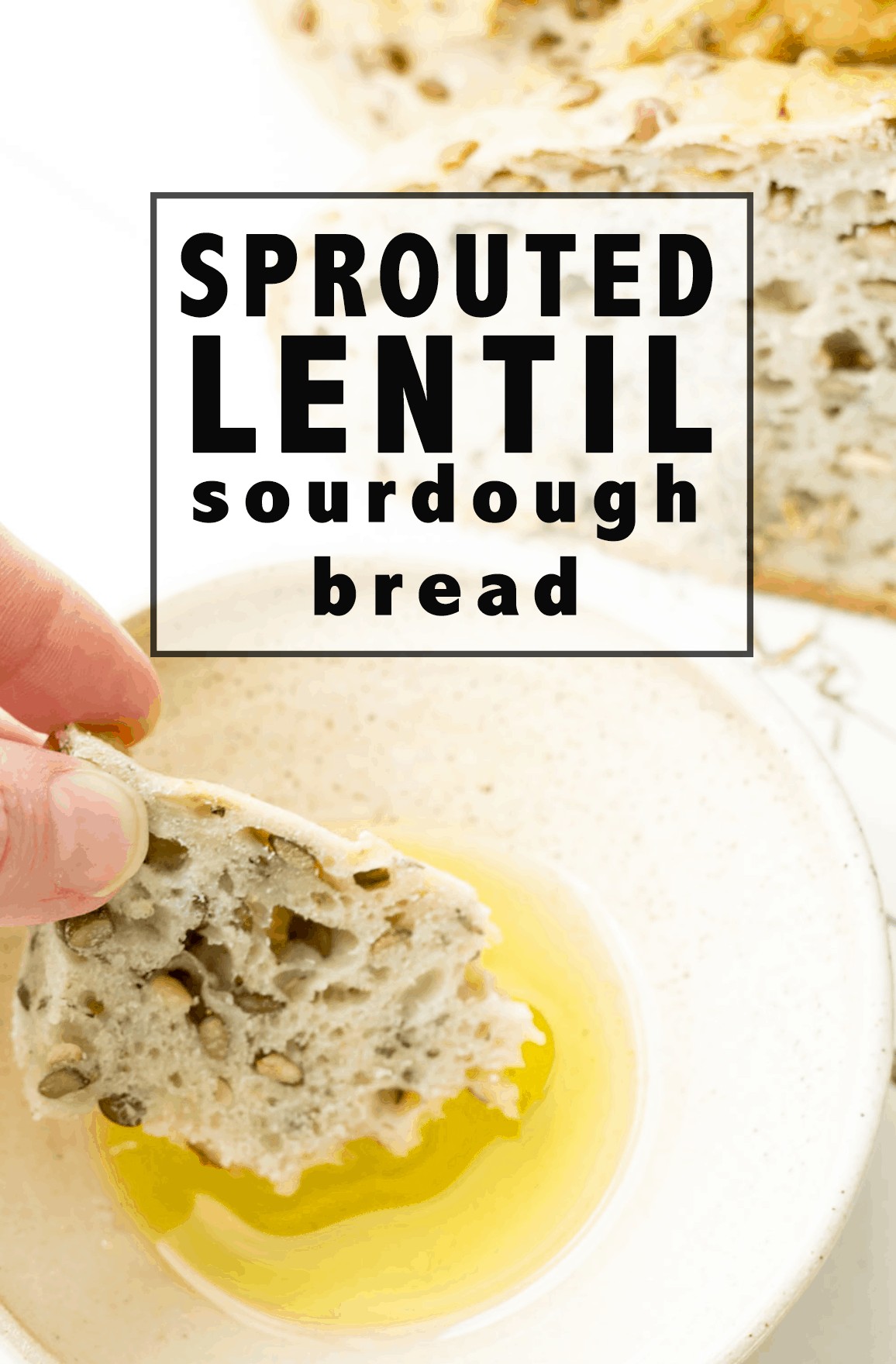 [share title="Share This Article" facebook="true" twitter="true" google_plus="true" linkedin="true" pinterest="true" reddit="true" email="true"]