8 Salad in a Jar Recipes to Fill You Up (+ VIDEO)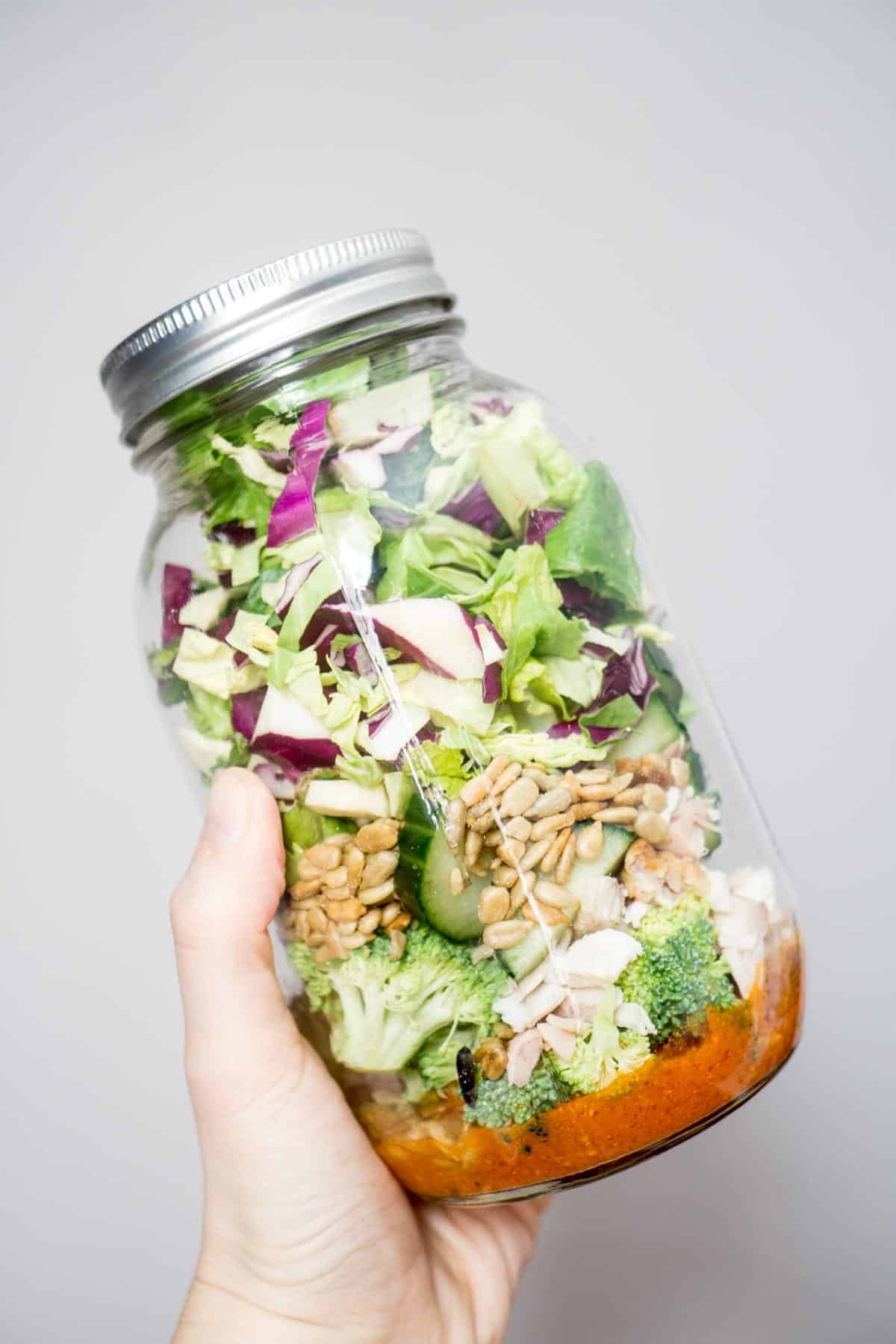 Learn how and WHY you need to start preparing salad in a jar! Your health and budget will thank you. Get started with these 8 filling recipe ideas.
why salad in a jar is a
smart

choice

Two compelling reasons to start prepping your salad in a jar:
They'll help you eat more veggies. Everyone wants to eat healthier, but convenience wins every single time. The solution? Make the healthy choice the easy choice! When your fridge is stocked with pre-made salads, it's super easy to grab one and go.
Save money and reduce food waste. How many times have you resolved to eat more salads, only to stock your fridge with veggies and watch them wilt and rot (since you haven't ever felt like making a salad)? Having prepped mason jar salads in the fridge ensures you don't waste food or money!
how to properly prep a salad in a jar
First of all, you gotta choose your ingredients. I've included several recipe ideas below but you can freestyle and make your own! Check out this article for 10 salad dressings ANYONE can make! Really, they're so easy you gotta give making your own salad dressings a try.
Greens: romaine, spinach, kale, arugula, brussels sprouts, broccoli stems. Try making your own salad mix for a nice variety of greens!
Colours: peppers, onions, cucumbers, shredded carrots, corn, beets, mushrooms, etc.
Protein: chicken breast, shrimp, hard-boiled egg, tofu, chickpeas, beans, lentils, etc.
Fibre: sweet potato, beets, chickpeas, beans, lentils, quinoa, brown rice, farro, etc.
Crunch: nuts, seeds, toasted chickpeas or lentils (vegan bacon bits)
Dressing: try one of these for starters!
Jars: the one litre jar is generally a good fit for a meal-sized salad. Choose a 1.5 litre if you have a larger appetite. I love how these jars (affiliate link) have a sealable lid that stays attached to the jar. No more looking for rings and seals that match!
Step two: fill the jars. Does it sound easy? Packing salad in a jar is a wonderfully simple art form… it will look beautiful as long as you layer the ingredients. But there's a science to it as well. In order for the salad to stay fresh for days, you have to layer the ingredients in the right order. You want your greens to stay crisp, your fruit not to brown, your crunchy bits to stay crunchy, and… your protein to stay proteiny?
Here's my recommended order:
1. Salad Dressing
2. Hard veggies (carrots, peppers, onions, etc) or fruit that browns (sliced apples, pears, avocado)
3. Beans/grains/pasta
4. Chicken, eggs, tuna, cheese, etc
5. Soft veggies & fruit (cucumbers, mushrooms, tomatoes, orange slices, etc)
6. Nuts & seeds
7. Leafy greens
If you use ingredients that will turn brown quickly (apple slices, avocados, etc) make sure to coat them in the dressing first. This will prevent oxygen from reaching the fruit, which is what causes them to go brown.
When transporting your jar, try to keep it upright! Otherwise all your careful layering is all for nothing.
HOW TO MAKE A SALAD IN A JAR (4 MINUTES):
how to eat a mason jar salad!
How do you eat a salad in a jar? One fork at a time….
Okay, lame mom jokes aside…. it may seem silly to have a "how to" on this but it wasn't obvious to me when I first started seeing this concept pop up. I was wondering how I was going to mix the salad together in the jar and how I would reach the bottom with a fork. The simple answer? You don't. The mason jar is just the storage and transport vessel.
When it comes time to eat the salad, dump it out into a bowl or onto a plate. Then mix the dressing and ingredients to your satisfaction.
8 filling salad in a jar recipes
Without further ado, here are some amazing recipes to get you started on the salad in a jar train!
Watch how to expertly pack a mason jar salad here: