DIY Healthy Salad Mix (costco copycat)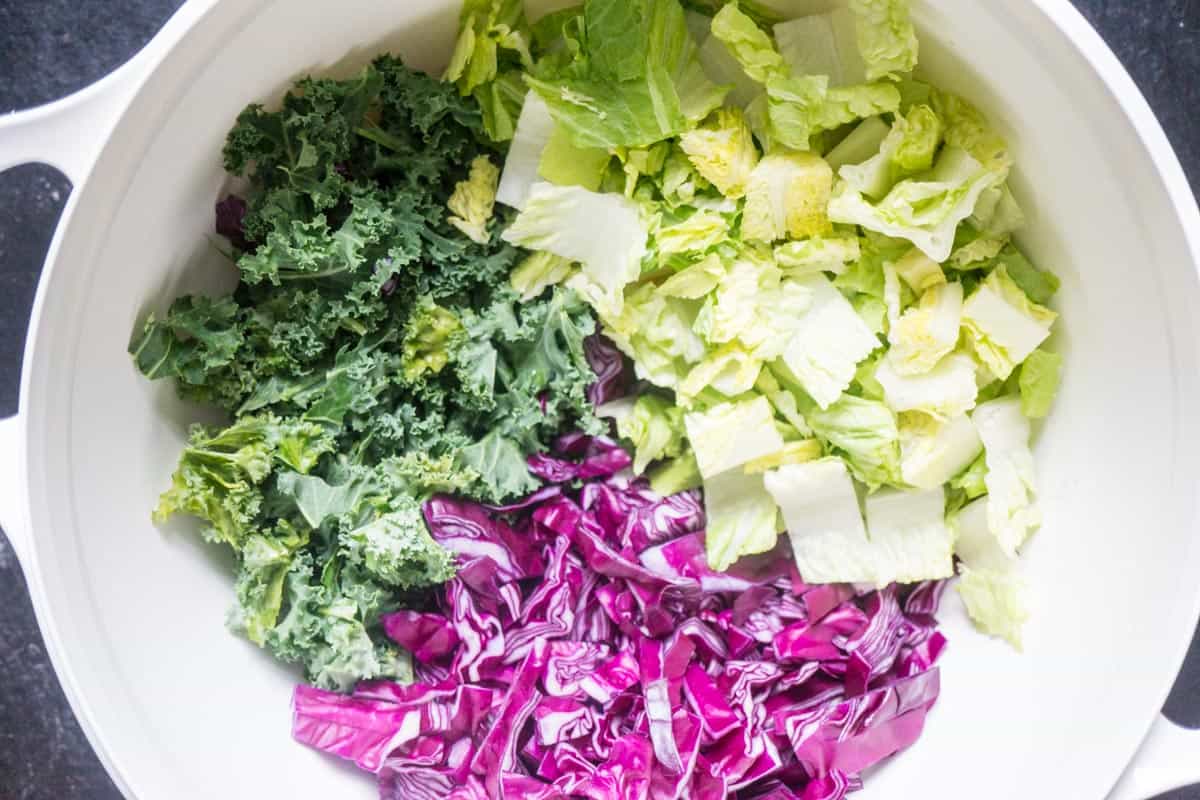 Four reasons to make your own DIY healthy salad mix: save time, save money, reduce food waste, and eat more veggies!
I was super inspired by Susan from A Little Nutrition when she posted on Instagram about making her own salad mix and how it lasts longer than either pre-bagged mix or even whole heads of lettuce or bunches of greens. She said it lasts 10 days in the fridge! Could this really be true?
I was a little sceptical but also really hoped it was true so I had to try it out for myself.
Why did I doubt? Susan is a meal planning pro! If you want to get organized and save money, check out her ecourse. (affiliate link). Use my promo code (SMART977) for a 25% discount.
Make your own salad mix and save 50% off the Costco price!
The ingredients for this recipe cost $6 for 48 oz. (romaine: $2, kale: $2, brussels: $1, cabbage: $1). At Costco for the same mix, it's $7 for 28 oz! Essentially it's half the price!
Make your own salad mix to save time
Whenever I ask people what their biggest challenge is in getting healthy homemade food on the table, a lack of time is the number one answer. Instead of ripping lettuce each time you make a salad, all you have to do it open the bag and pour some mix into a bowl!
Make these mason jar salad recipes as another time saving way to eat more veggies!
Make your own salad mix to reduce food waste
When a fruit or veggie is cut open, its shelf life starts to tick down. Cutting produce will release enzymes found in the cell walls. These enzymes start to break down the plant. Pre-cut salad mix from the store was cut at the producer, bagged, then shipped to the grocery store where it waits some more for someone to buy it. So, by the time you bring it home, much of its freshness has already been expended.
When you buy the intake greens and cut them yourself at home, it will last much longer!
Susan, my meal planning mentor (affiliate link) has been making her own salad mix for years. In her experience it lasts for 10 days in her fridge! That's incredible! Prep once and have salad on hand for 10 days? Sign me up.
For more on the truth about best before dates, read this article!
Make your own salad mix to eat more veggies
People tend to eat more of a) what they see and b) what is convenient. So if you prep this salad mix and place it in an obvious spot in the fridge, you're more likely to eat more salads!
Additionally, I don't know about you, but when I'm making a salad on the fly, I tend to just rip up some lettuce as the "base." I'm unlikely to take the time to also chop some kale, cabbage, and brussels sprouts. Making this salad mix diversifies your veggie intake. Romaine is a great choice, but each one of these veggies contains different nutrients and health benefits!
Want more ideas for how to eat more veggies? These 6 tips will turn you into a bonafide veggie lover!
What to put in your DIY healthy salad mix
I based my salad mix recipe on the "superfoods salad" mix that you can get at Costco. The one with kale, cranberries, and seeds.
You can choose to put your own favourite greens in! Some other ideas include:
arugula
chicory root
iceberg lettuce
green or napa cabbage
broccoli stems
Try making this for yourself and see how long it lasts! Then come back and tell me in the comments. Maybe this will help you eat so many salads that it won't even have time to sit in the fridge and go bad 🙂
If you make this recipe, please let me know! Leave a comment, rate it, or snap a photo and tag it with #smartnutritionrecipes on Instagram!  I'd love to see your creations!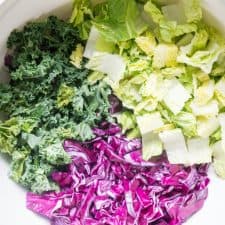 DIY healthy salad mix
Print Recipe
Ingredients
2

heads romaine lettuce

1

bunch of kale

1/2

head of red cabbage

1

lb

brussels sprouts
Instructions
Chop or rip the lettuce into bite size pieces. Place in large bowl.

Strip the kale of the tough middle stem. Then rip into bite size pieces and place in large bowl.

Slice the cabbage into thin strips, about 1 1/2 inches long and place in large bowl.

Slice the brussels sprouts into strips and place in large bowl.

Toss to mix the salad.

Transfer salad mix to a large plastic zip bag and place a piece of paper towel inside to absorb the excess moisture.

Keep in fridge. Will last up to 10 days or more!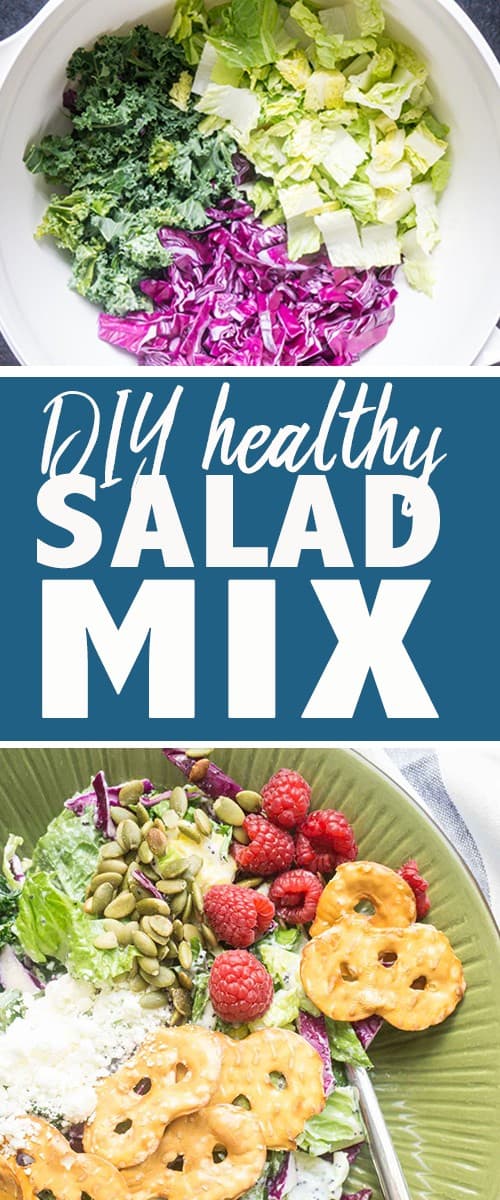 [share title="Share This Article" facebook="true" twitter="true" google_plus="true" linkedin="true" pinterest="true" reddit="true" email="true"]