Recipe creation is a lot like song writing. Just like songs, some recipes begin with a simple thought that shows up one day. This thought or song is mulled over and refined several times. A grocery list is developed to buy the necessary ingredients. The song or recipe is tested, adjusted, and re-tested again and again, to perfection.
Or maybe the recipe starts with leftover ingredients in the fridge. Like a songwriter who has been hired to write about a specific topic, the artist is given very specific material from which to create something beautiful. These are often some of my favourite recipes, as I feel so resourceful making something tasty out of nearly discarded food.
That's what happened yesterday when I threw together leftover rice, lentils, tomatoes, lettuce and topped with with pesto and feta. This resulted in the above dish, and it was the most magical lunch I've had in months!
At other times, like some songs which seemingly come together in a moment's inspiration, I will wake up and an entire recipe pops into my head. This is the story of today's breakfast. Perhaps I'll call it today's Divine Intervention. I woke up and this turmeric smoothie popped into my head. When a thought like that comes along, I don't question it; I follow its lead.
anti-inflammatory turmeric smoothie
This smoothie is cool and refreshing, yet warm and spicy at the same time. Weird, but true, and oh-so delicious!
I made one batch with a full tablespoon each of turmeric and cinnamon. My toddler gobbled it down and asked for more, while my husband found the level of spice overwhelming. I made a second batch and halved the spices. This appeased The Food Critic and my toddler still happily sipped it down.
So, I would recommend starting with the half dose and adding more if you think you would enjoy it. These spices are so amazing!
why this turmeric smoothie is a smart choice
Every single ingredient in this recipe was chosen for its anti-inflammatory properties. You may be wondering why I'm talking about inflammation. This isn't a recipe for people who have recently sprained an ankle and are experiencing acute, sudden swelling of their limb.
The type of inflammation I'm talking about is more insidious. Instead of a whole limb becoming inflamed from a sprained ankle, an injury can occur at the cellular level and draw an inflammatory response. As Registered Dietitian Nita Sharda from Carrots and Cake put it: it's "like little fists that can punch the cells and tissues, causing inflammation."
This low-grade inflammation is also referred to as chronic inflammation. It's those small daily stressors that can cause the body to be under attack. Factors such as air pollution, excess weight, smoking, lack of exercise, and an unbalanced diet can contribute to chronic inflammation.
The good news is that we can fight back by eating anti-inflammatory foods!
If you give this recipe a go, let me know! Leave a comment, rate it, or snap a photo and tag it with #smartnutritionrecipes on Instagram!  I'd love to see your creations! Knowing someone has enjoyed one of my recipes always makes my day brighter.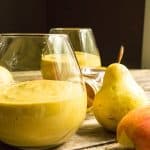 Anti-inflammatory Turmeric Smoothie
Print Recipe
A spicy yellow smoothie made with foods known for their anti-inflammatory properties
Ingredients
1

apple

cored

1

pear

cored

1

banana

cut into chunks and frozen

1

cup

plain Greek yogurt

¼

cup

canned or pre-cooked lentils *see notes

¼

cup

raisins

¼

cup

chopped walnuts

½-1

tbsp

turmeric *see notes

½-1

tbsp

cinnamon *see notes

A pinch of black pepper
Instructions
Place all ingredients in blender.

Start on low then turn up to high.

Blend until smooth.
Notes
If you don't have any kicking around or you're weirded out by putting them in your smoothie, the lentils can be omitted!
Start with the half measure of spices then taste. If you think you can handle more spice, add the rest in! My toddler liked the full spice smoothie but my husband didn't....
Nutrition
Calories: 414 | Fat: 11g | Carbs: 70g | Fibre: 11g | Sugar: 42g | Protein: 20g
[share title="Share This Article" facebook="true" twitter="true" google_plus="true" linkedin="true" pinterest="true" reddit="true" email="true"]