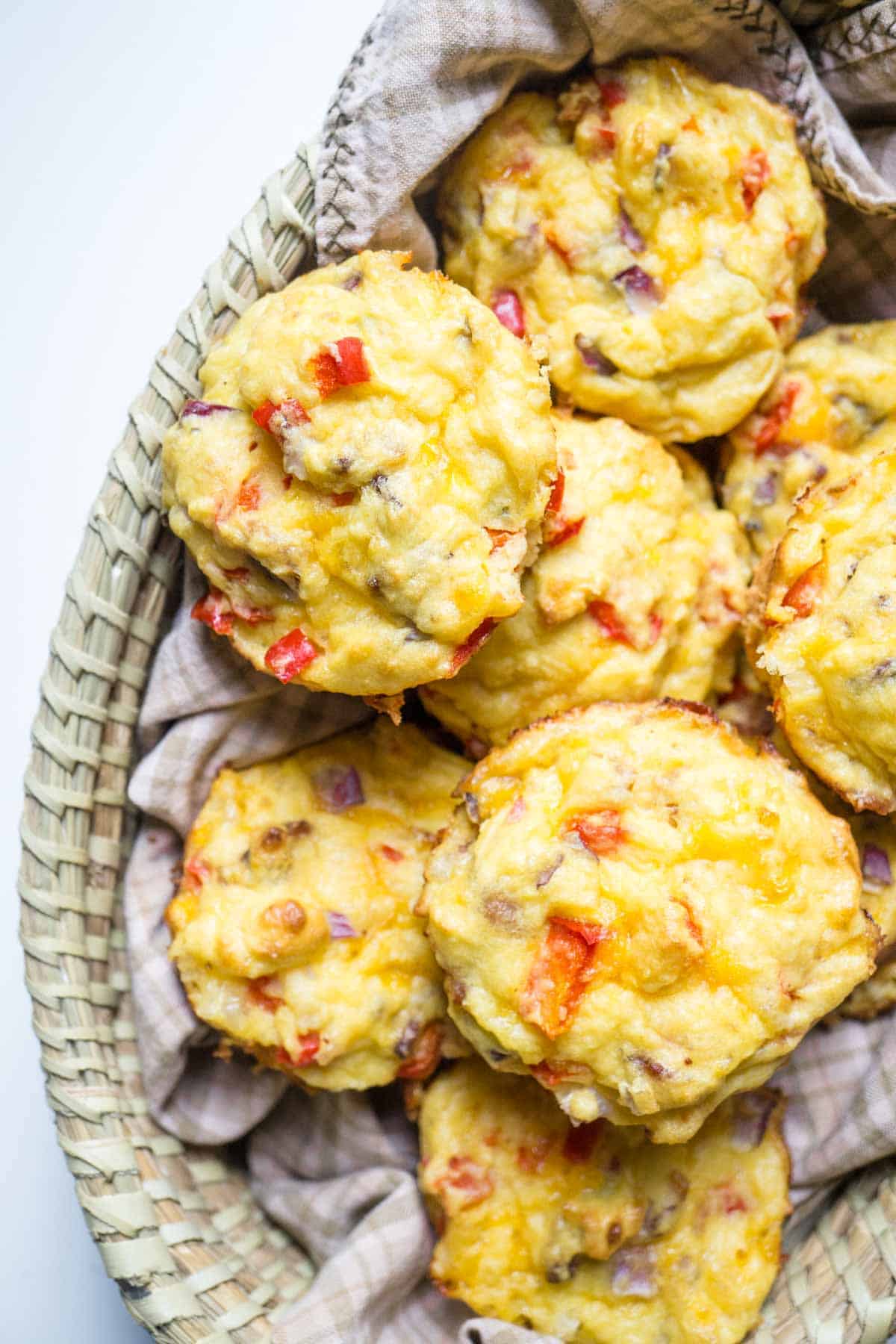 I eat a mostly vegetarian diet for my own health and the health of the planet. But there's this little thing getting in my way of going all in:
BACON!
Oh wonderful, salty, smoky, sweet, melt-in-your-mouth bacon! The top choice at breakfast buffets. The star of the BLT. The one and only meat I would eat as a child. What is life without bacon?
It's true that I have made a rather good vegan bacon bit substitute.  My vegetarian and vegan friends tell me emphatically that it's a really good stand in. It's salty, smoky, sweet, melt-in-your-mouth good. But, alas, it's still not bacon.
So while I firmly believe that most people in developed nations eat far too much meat for the health of the human race or the health of the planet, meat is still an insanely delicious food that can be enjoyed in small amounts. Especially bacon.
Which is where this recipe comes in. Instead of eating a big plate of hashbrowns, eggs, bacon, and toast, you can enjoy ALL those flavours packaged into a neat little muffin. It's like a portable mini breakfast casserole. Or like that gum in Charlie and the Chocolate Factory. Remember the meal replacement gum that turned Violet Beauregard into a blueberry? It had all the flavour of a full meal in a tiny little package.
This recipe is a good compromise. I can reduce my meat intake, which is good for my health and for reducing meat industry emissions, while still enjoying my bacon!
why it's a smart choice
While incredibly delicious, bacon has very little to redeem it nutritionally. Bacon is rather high in fat and low in most nutrients. It's a great flavouring agent though! With this recipe you can enjoy the flavour of bacon without eating a whole plate of it!
If you give this recipe a go, let me know! Leave a comment, rate it, or snap a photo and tag it with #smartnutritionrecipes on Instagram! I'd love to see your creations! Knowing someone has enjoyed one of my recipes always makes my day brighter.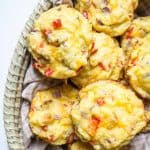 bacon cheese and egger muffins
Print Recipe
A savoury muffin filled with your favourite breakfast ingredients.
Ingredients
3-4

slices

bacon

1

red pepper

finely diced

1

⁄4 cup chopped red or white onion

6

large eggs

1

cup

milk

1

tsp

garlic powder

1

⁄2 tsp onion powder

1

⁄4 tsp salt

2/3

cup

instant mashed potato flakes

1

⁄2 cup whole wheat flour or GF flour blend

1 1

⁄2 tsp baking powder

1

cup

3 oz shredded cheddar cheese
Instructions
Preheat oven to 350 degrees Fahrenheit.

Slice the bacon into small pieces and crumble fry in a frying pan until crispy.

Meanwhile, chop the onion and red pepper, and grate the cheese. Set aside.

In a mixing bowl whisk together the eggs. And milk, garlic powder, onion powder, and salt. Stir in potato flakes, flour and baking powder.

Drain the excess bacon fat. Add bacon to the batter along with the chopped pepper, onion, and cheese.

Grease and flour a 12 muffin cup tin. If you have a silicone muffin tin, use this as the eggs tend to stick to metal pans. Spoon in the batter to fill the 12 cups.

Bake for 22 minutes.
Nutrition
[share title="Share This Article" facebook="true" twitter="true" google_plus="true" linkedin="true" pinterest="true" reddit="true" email="true"]