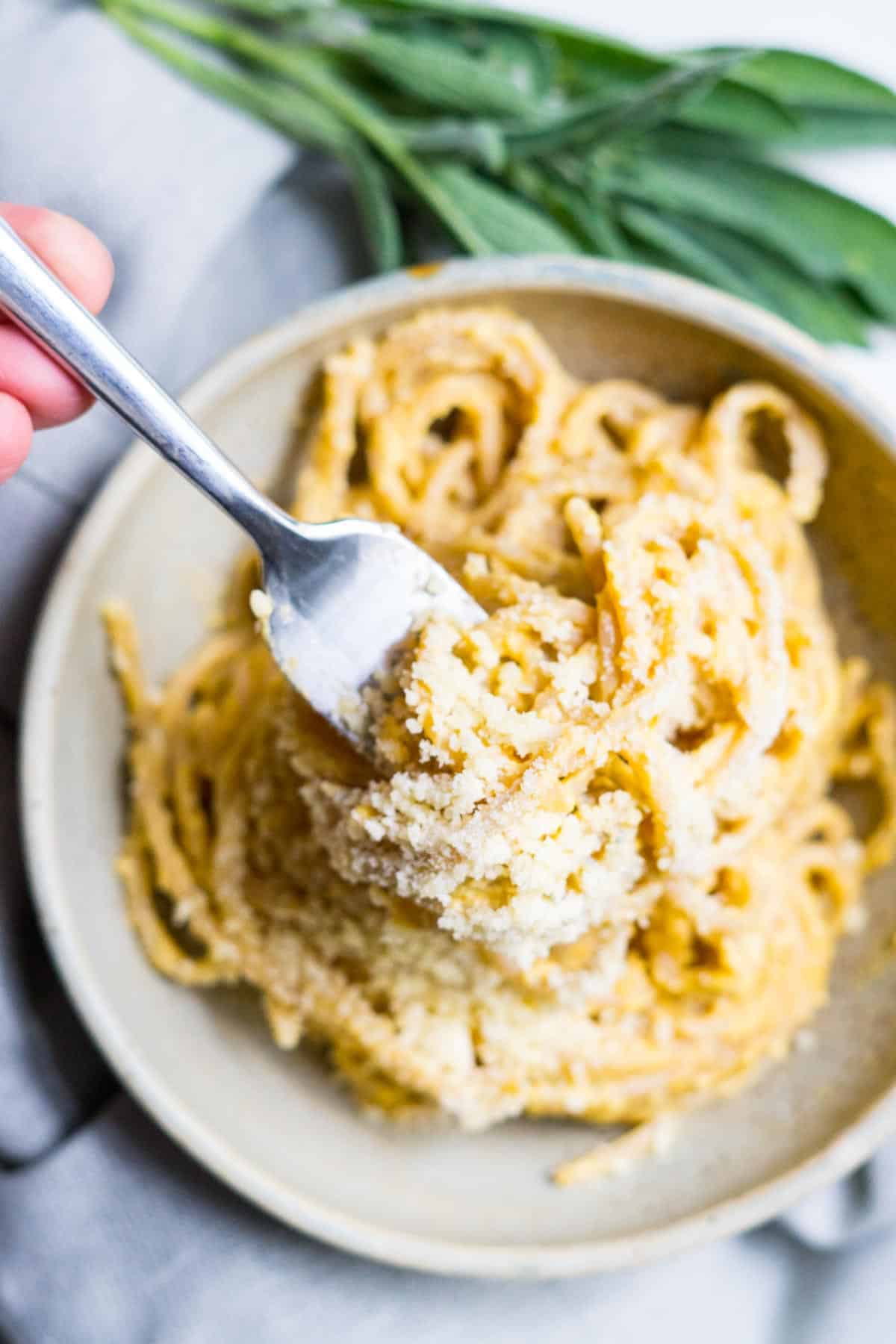 I feel like I'm winning at life in a way I've never felt before.
Some people might feel this way when they land a dream job, but I feel like I've already got that with Smart Nutrition!
Some people might feel this way when they meet the man of their dreams, but I feel like I've already got that too!
So what could possibly trump all those things? Drum roll please….
My big accomplishment is that I just washed and dried a load of laundry in the same morning!
I'm a domestic mess. I am horrible at cleaning. If you don't think it's a skill, then it must be a natural talent, because I don't possess it after years and years of practice. I also have a horrible memory. This is a losing combination of characteristics when it comes to keeping a neat and tidy house.
So I say celebrate the victories! No matter how big or small.
This pumpkin spaghetti represents a victory for me. I managed to make it creamy without using cream. The ricotta I used instead represents a higher protein, lower fat option!
why it's a smart choice
With a pumpkin herb influence this spaghetti dish is very similar to a fettuccine alfredo… but without all the heavy cream! Except it still tastes very creamy because I subbed in ricotta! Ricotta cheese is a high protein swap. The fat content is up to you: full fat or low fat!
Nutritionally, cheese is a good source of Vitamin A. This Vitamin is needed to keep your eyes, reproductive system, and immune system healthy. It's also needed for growth, which is one reason why dairy products are such a good choice for children!
Pumpkin is also a good source of Vitamin A……. but a different kind!
Here's a quick nutrition lesson for you. There are two types of Vitamin A: a preformed version in animal products (such as dairy) and a precursor version found in plants via carotenoids such as beta-carotene. It's possible to overdose on the Vitamin A found in animal products but you can't overconsume from plants! So go ahead: load yourself up on extra pumpkin!
Studies show many people fail to get enough Vitamin A. One serving of this dish provides nearly half the recommended daily amount!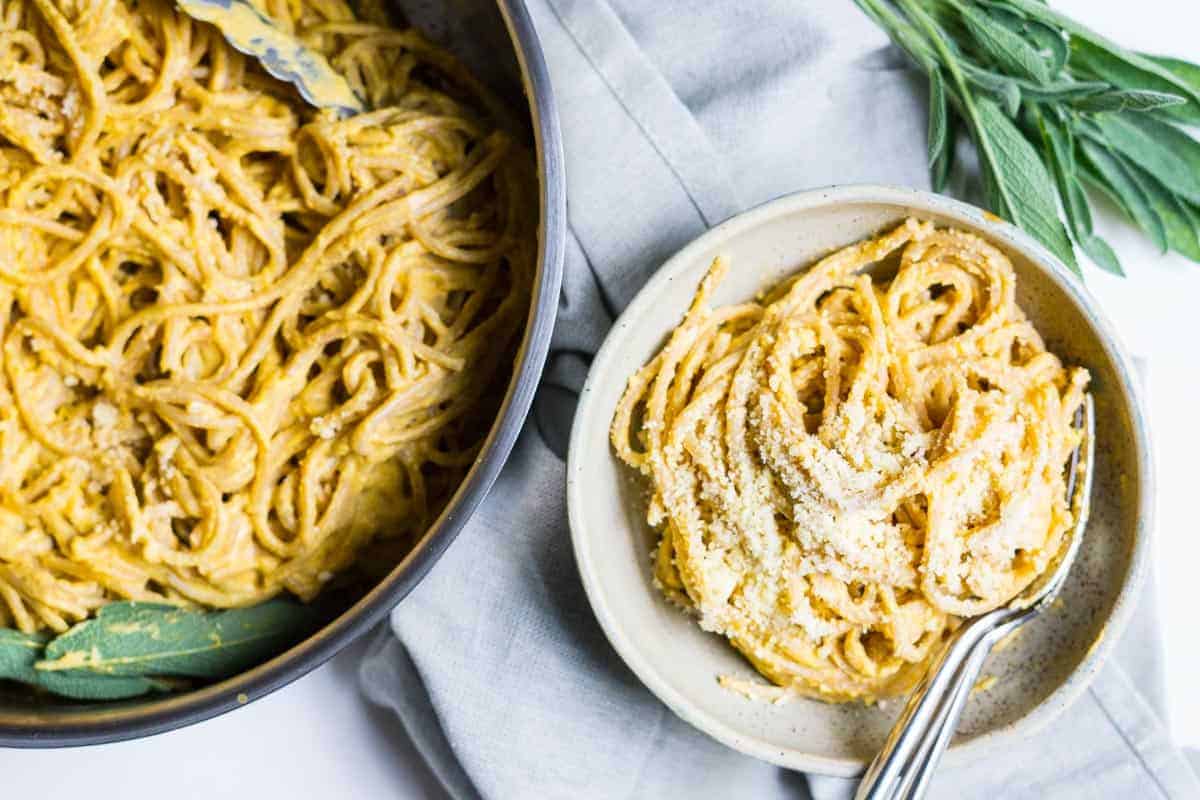 Making your own ricotta is a snap! Check out the tutorial here: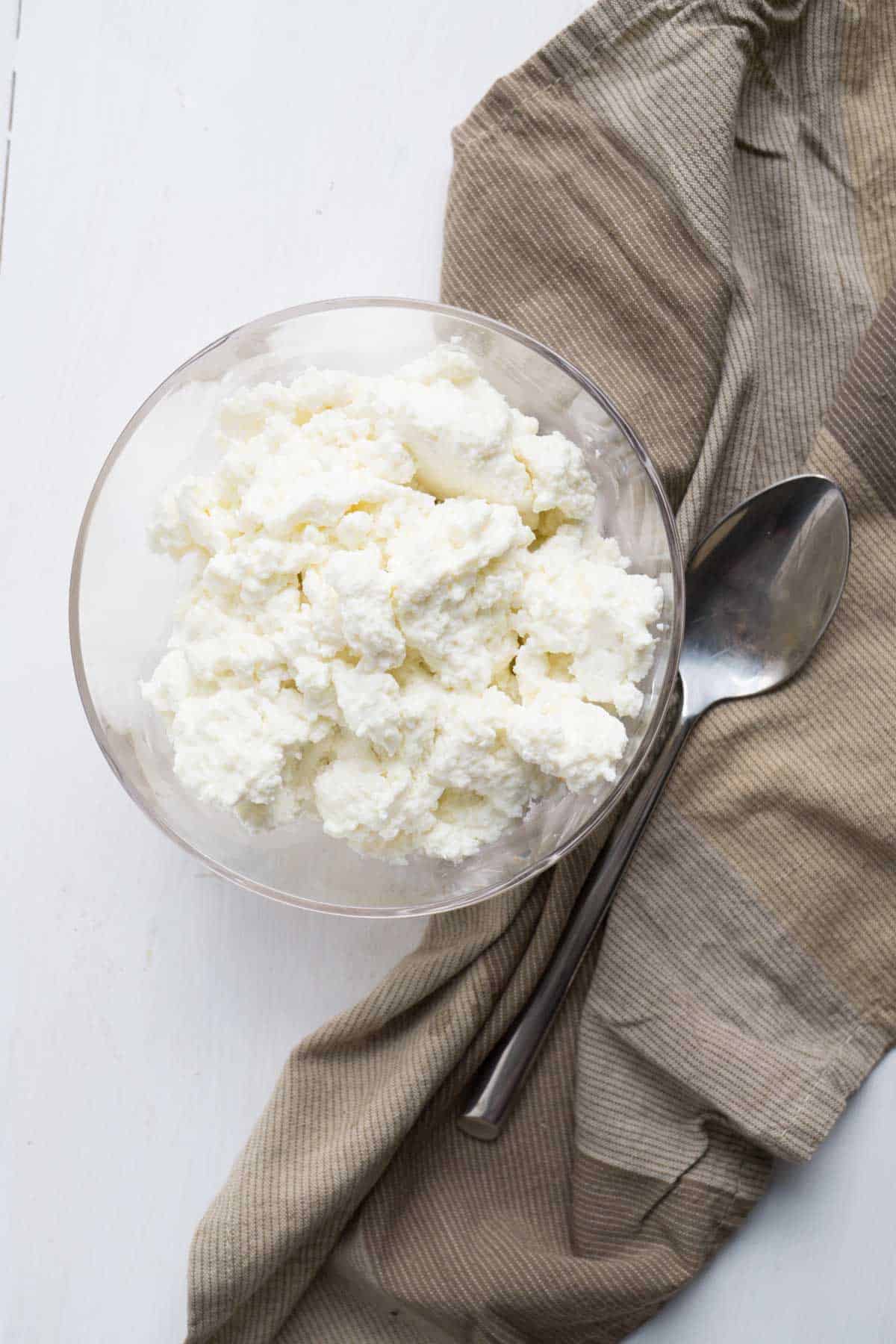 If you give this recipe a go, let me know! Leave a comment, rate it, or snap a photo and tag it with #smartnutritionrecipes on Instagram! I'd love to see your creations! Knowing someone has enjoyed one of my recipes always makes my day brighter.
healthy creamy pumpkin spaghetti
Print Recipe
A lightened up creamy pumpkin pasta sauce with just the right blend of spices.
Ingredients
1

tbsp

canola oil

1

onion

chopped

4

cloves

garlic

minced

6

leaves

fresh sage

or ½ tsp dried

⅛

tsp

nutmeg

1

cup

pumpkin puree

1 ½

cups

ricotta cheese

½

cup

chicken stock

½

cup

parmesan cheese

12

oz

whole wheat spaghetti
Instructions
In a medium-sized pot, heat the oil over medium heat.

Fill a large pot with water, cover, and turn on high.

Saute the onions in the oil until soft.

Add in the garlic, sage, and nutmeg. Cook for one minute. Turn off heat.

In a blender, combine the onion mixture, pumpkin, ricotta, and chicken stock. Blend until smooth.

Pour back into the pot. Turn on low and cover with a lid.

Once the water has boiled in the pot, add the pasta and cook until al dente. Drain and return to the pot. Pour the sauce on the noodles and stir to combine.

After serving, sprinkle parmesan cheese on top of each person's bowl.
Nutrition
Calories:
380
kcal
|
Carbohydrates:
53
g
|
Protein:
8
g
|
Fat:
11
g
|
Fiber:
6
g
|
Sugar:
23
g