Bún Thịt Nướng (Vietnamese Grilled Pork with Vermicelli)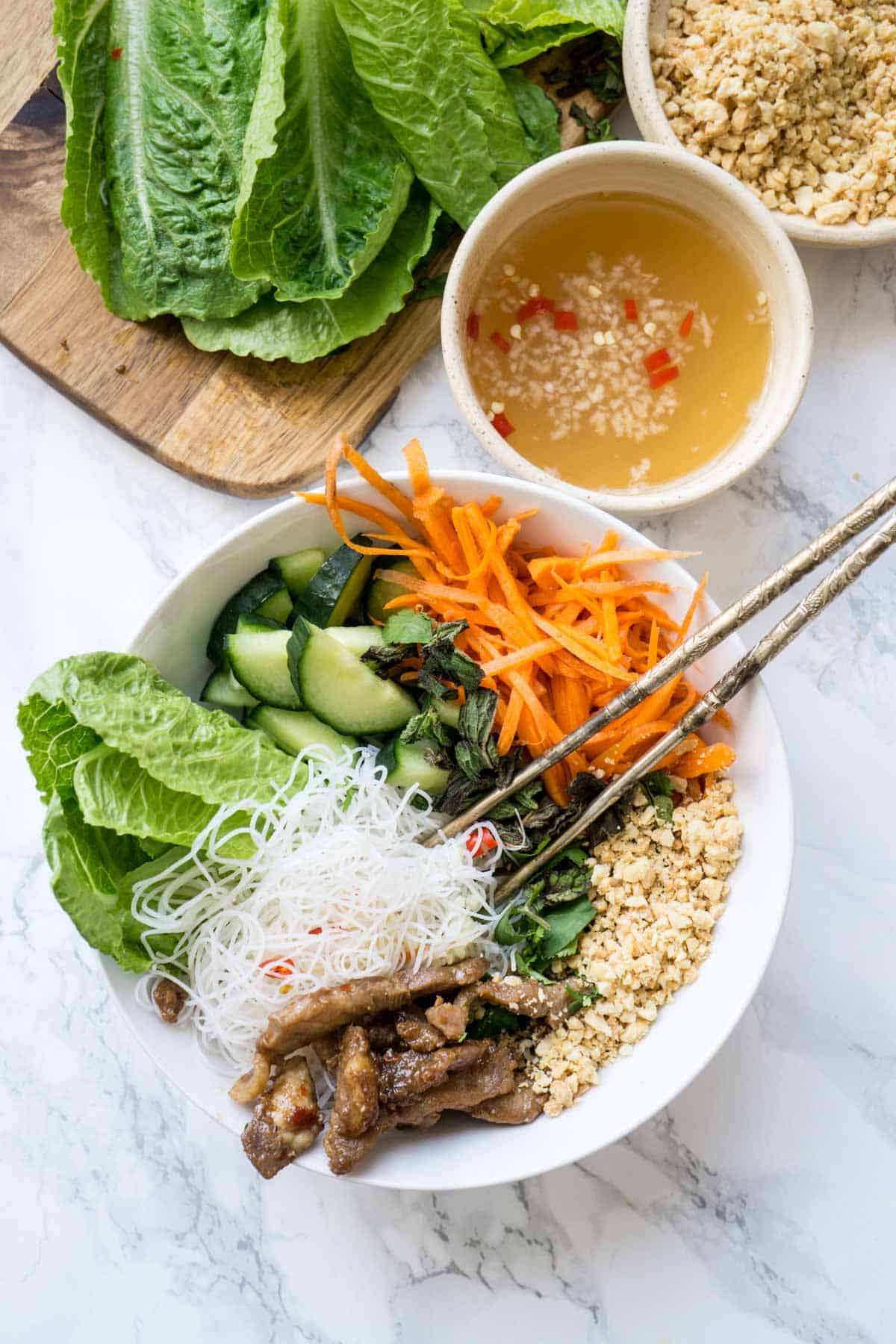 Bun Thit Nuong… carmelized pork, pickled carrots, fresh herbs, crunchy veggies, salty peanuts, & my Vietnamese Special Sauce = an explosion of flavour!
I recently posted in my Instagram stories that I was making this Bun Thit Nuong recipe and my friend responded and said:
"Literally one of my favourite recipes ever!"​
It's one of my favourites, too! And my husband's! It's what he orders EVERY single time we're at a Vietnamese restaurant! Sometimes a dish is so good there's no point in gambling on trying something different.
What is Bun Thit Nuong?
The Vietnamese name for this dish we call Grilled Pork Vermicelli is Bun Thit Nuong…..
Bun = noodles
Thit = meat
Nuong = grilled
So technically, it doesn't specifically refer to pork…. so be careful if you're in Vietnam because there are different types of "Thits" and Thit Cho is referring to your beloved Benji!
I like to post simple, healthful recipes, but sometimes a recipe is so good you have to break the rules. This is one such recipe. Healthy it is, simple it is not. I wouldn't classify it as difficult, per se, but it does have several steps. It may look intimidating, but it really isn't!
This Bun Thit Nuong recipe is a whole meal in a bowl.
It's a glammed up salad.
It's fresh.
It's amazing.
It's totally worth your time and effort!
First let's take a look at the ingredients in Bun Thit Nuong
Lotsa fresh veggies: add nutrients and CRUNCH
Quick pickled carrots: add a sweet and sour punch
Vermicelli: neutral base and fun to slurp!
Fresh herbs: add health boosting phytonutrients and tons of flavour
Carmelized grilled pork: add protein, iron, and that gotta-have-it umami flavour
Peanuts: add protein, more crunch, and salt
Vietnamese Special Sauce: adds more flavour and either a little or a lot of spice…. depending on your pepper! I call it a special sauce for a reason: you just never know how spicy it will be! I always add one pepper but sometimes the sauce is super spicy or just mild. I really have no idea how to pick a pepper for its spice level! Anyone have any tips? Anyway, start with a small amount of sauce and taste before dousing your bowl in it because it might make you feel like your mouth is on fire!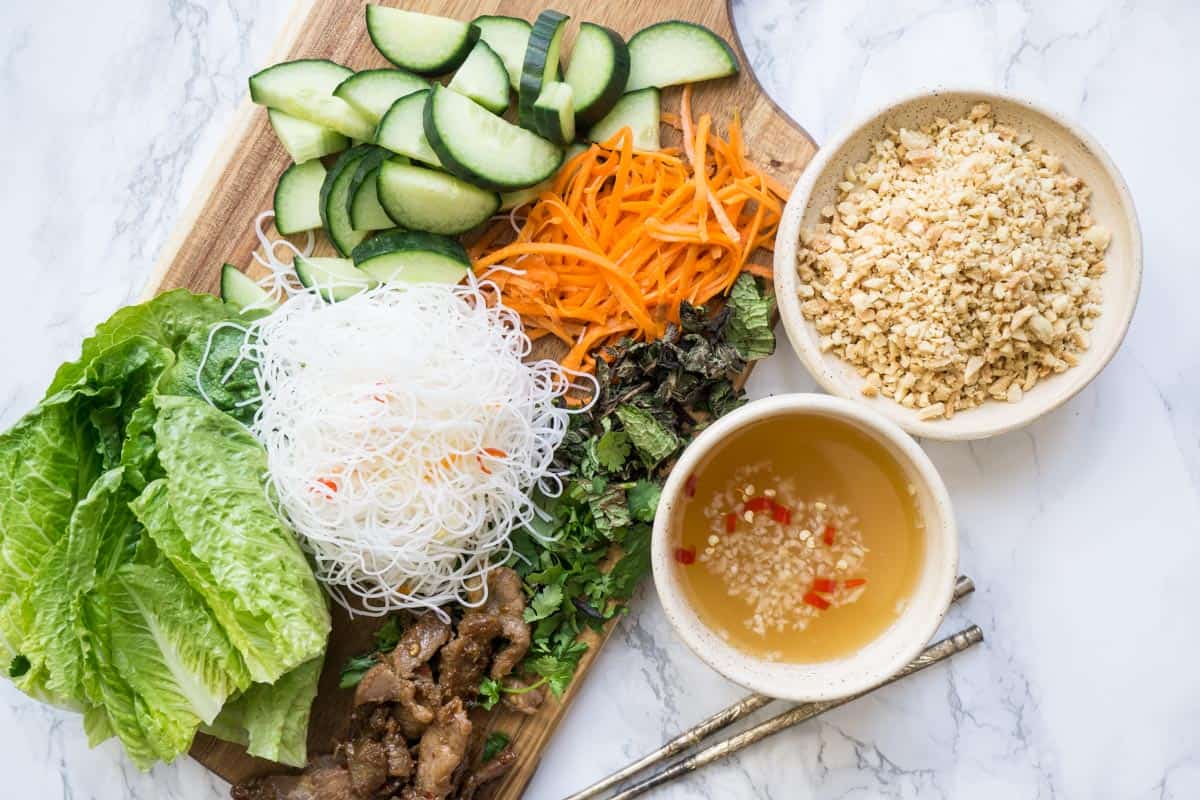 Then let's see how and when to make this Bun Thit Nuong recipe
While the list of ingredients may appear intimidating, this recipe really isn't overly involved or complicated! Especially if you break it up into two prep sessions:
Session One:
Can be done one day ahead or a few hours ahead. Best if spaced at least 30 minutes before cooking the meat.
Prep the quick pickled carrots so they have a chance to absorb the brine. Use a julienne grater to get the carrots into nice match stick slices! I have this one from OXO good grips (affiliate link) and I love it!
Prepare the pork by slicing it as thin as you can and then adding the marinade.
Prep the Vietnamese special sauce.
Store all prepped items in the fridge until session two.
Session Two:
Chop the veggies and fresh herbs.
Chop the peanuts (or keep them whole if you want to make things easier!)
Cook the noodles.
Fry up the pork.
Assemble the Bun Thit Nuong bowls!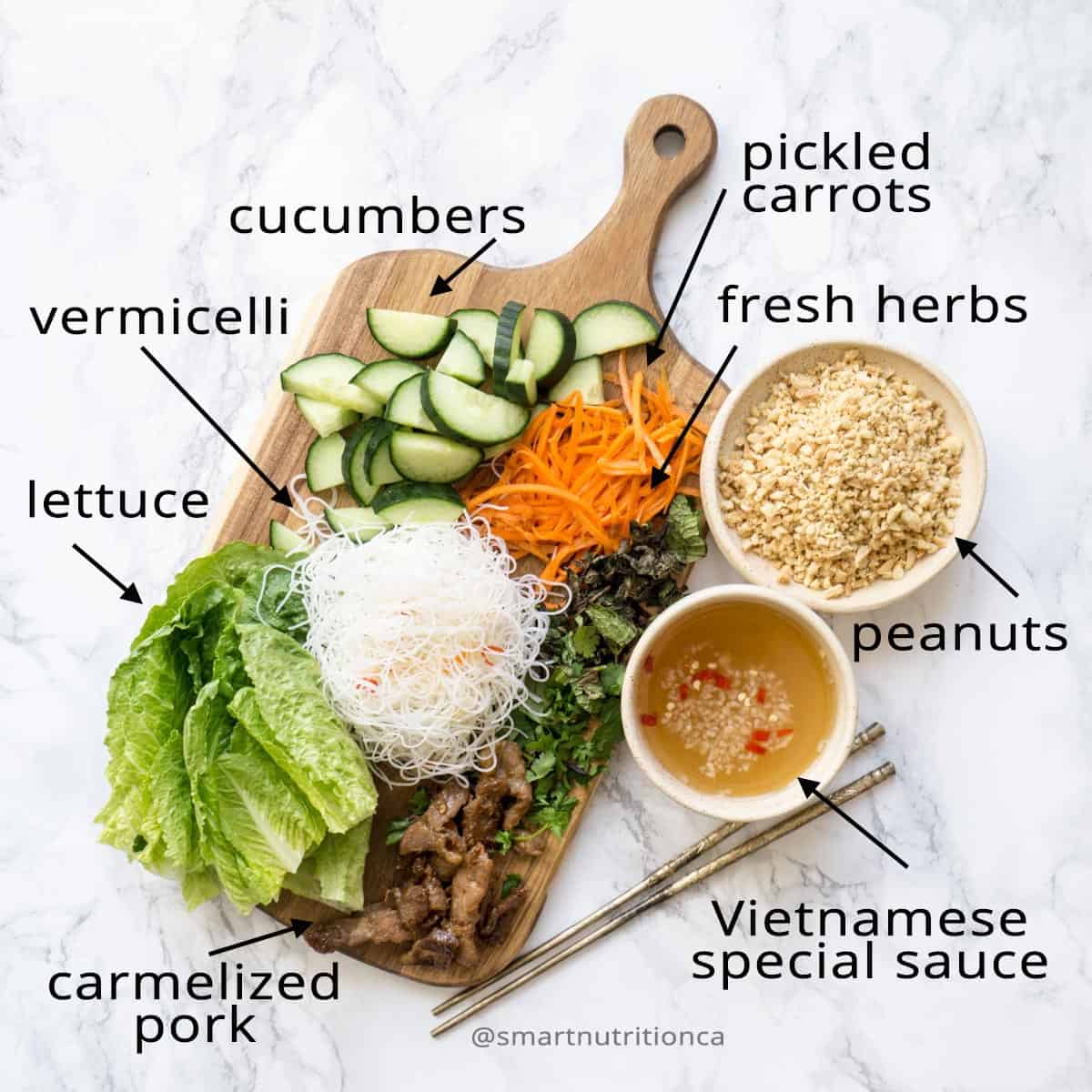 Why this Bun Thit Nuong is the Smart Choice
I recently met up with a friend for lunch at a local Vietnamese restaurant. I was shocked at how salty the food was! I make most of my meals from scratch and don't eat out very often, so my salt intake is relatively low. Since our tastebuds get "acclimatized" to the amount of salt (and sugar) we consume, I'm not used to such a salty meal, and it didn't impress me. Making Bun Thit Nuong at home instead of in a restaurant allows you to control the amount of sodium and control what your tastebuds grow acclimatized to. The fresh herbs add a bunch of flavour so that you don't need to use that salt shaker!
If you make this recipe, please let me know! Leave a comment, rate it, or snap a photo and tag it with #smartnutritionrecipes on Instagram! I'd love to see your creations!
bún thịt nướng (Vietnamese Grilled Pork with Vermicelli)
Print Recipe
Bun Thit Nuong… carmelized pork, pickled carrots, fresh herbs, crunchy veggies, salty peanuts, & my Vietnamese Special Sauce = an explosion of flavour!
Ingredients
For the Pork
0.75

lbs

pork loin or pork tenderloin

2

tablespoons

brown sugar

1

tablespoon

fish sauce

1

tablespoons

soy sauce

1

tablespoons

sesame oil

3

cloves

garlic

minced

1

tsp

lemongrass paste

1

tsp

Sriracha chili sauce

½

tsp

ginger
For the Quick Pickled Carrots:
1

large carrot

1/4

cup

vinegar

¼

cup

water

2

tbsp

sugar

pinch

of salt
For the Special Vietnamese Sauce
¼

cup

water

3

tbsp

fish sauce

3

tbsp

sugar

2

tbsp

vinegar

2

tbsp

lime juice

3

cloves

garlic

minced

1

red chili

chopped
For Assembling the Meal!
sliced

cucumbers

fresh

cilantro

fresh

mint

cooked

vermicelli noodles

crushed

peanuts
Instructions
To make the pork:
Thinly slice the pork into strips. The skinnier the better.

Combine the rest of the ingredients in a medium sized bowl. Stir to combine.

Add in the pork and marinate in the fridge for at least 30 minutes. Several hours is best.

When ready to cook, heat a frying pan on high with a little bit of oil.

Add in the pork and stirfry until all the pieces are cooked through.
To make the quick pickled carrots:
Slice the carrots into matchsticks.

In a microwave safe bowl, combine the rest and microwave on high for 1 minute. Stir to dissolve sugar.

Place the carrots in the brine and place in fridge for a minimum of 30 minutes. Several hours is best.
To make the Vietnamese Special Sauce:
Combine and stir to dissolve sugar
To make the Vermicelli Bowls:
Layer the following in your bowl:
Romaine lettuce, chopped

Cooked vermicelli noodles (follow package directions)

Quick pickled carrots (see recipe above)

Fresh cilantro and mint, chopped

Slices of cucumber

Crushed peanuts

Grilled Vietnamese pork (see recipe above)

Drizzle with special sauce (see recipe above)

 Eat with chopsticks and feel authentic.