Why Can't Anyone Tell Me When to Start Baby on Solids?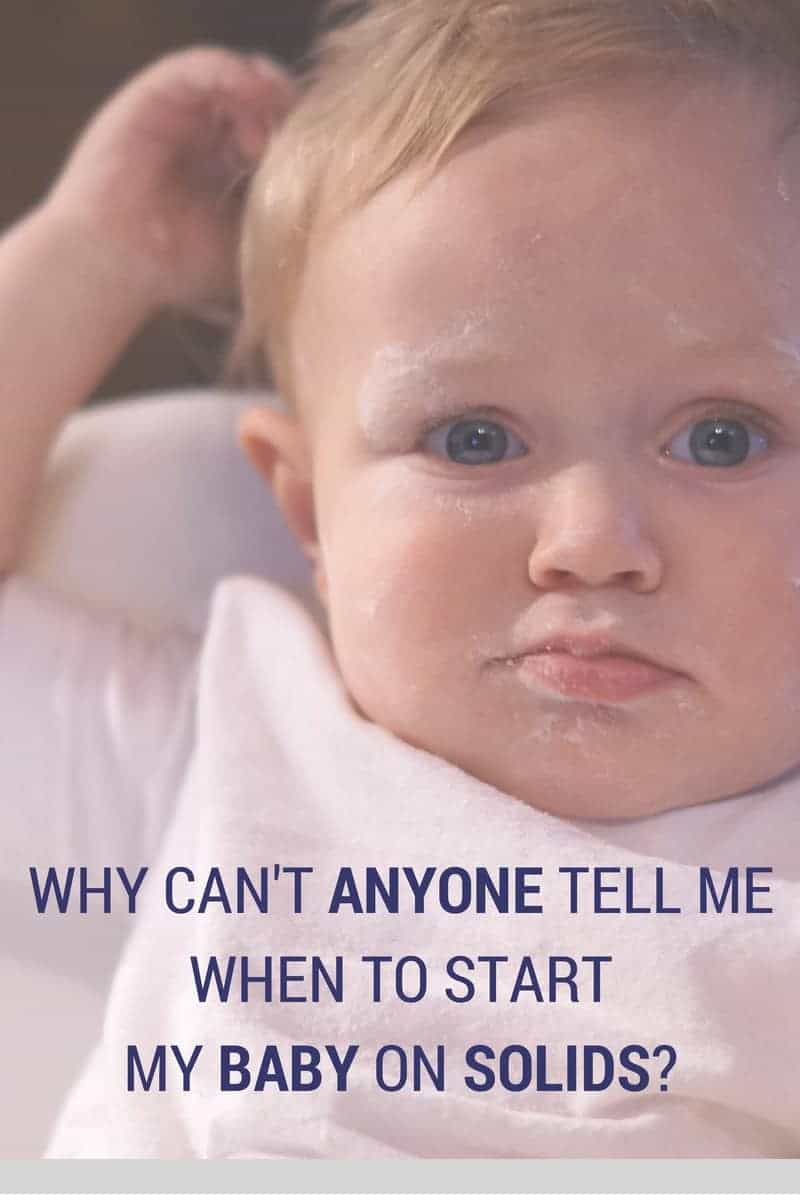 Having trouble figuring out when to start your baby on solids? It's no wonder you're confused, the recommended age to introduce solids to infants over the past century has ranged from 2 weeks to 12 months!
Currently, the major health organizations such as the World Health Organization, American Academy of Pediatrics, and Health Canada recommend waiting until 6 months. Yet a lot of people (including many pediatricians) believe this is too late.
So who's right? Why don't the experts agree? It can be confusing and frustrating to be told different recommendations.
The Limitations of Targeting Everybody
The recommendation to start at 6 months is aimed at nearly all babies. This is how recommendations for the public work, they have to be generalized. For example, the Recommended Daily Allowances (RDA) for vitamins and minerals established by the Institute of Medicine are statistically designed to be adequate for 97.5% of the stated population. So, an adult aged 19-50 is supposed to get 1000 mg of calcium per day, which sounds fine until you consider these two gentlemen, aged 19-50:
Do they need the same amount of calcium? Probably not. Generalized recommendation can't account for variables like gender, weight, height, activity level, etc. What's acceptable for all isn't ideal for all.
Reasons for the 6 Month Recommendation
Introducing solids at six months works for most babies because at that point most babies:
pass the safety checklist
have a diminished or extinguished extrusion reflex
are interested in eating solids
have lowered iron stores and need to eat iron-rich foods
On the other hand, recommending earlier than six months wouldn't be wise for all babies, because in some countries, the food supply carries a higher risk of food-borne pathogens. Babies are born with immature immune systems. Waiting longer to introduce solids will reduce the risk of contracting food poisoning from unsafe food.
The Benefits of Starting Earlier
For those of us in food-safe countries, however, there are reasons to consider starting your baby earlier than six months old.
Evidence is emerging that the introduction of gluten between 4-6 months may help protect against the development of Celiac Disease. If this disease (that requires avoiding food containing wheat, rye, and barley) runs in your family, this might be an important factor to consider.
For many infants, the risk of harm in introducing solids before 6 months may be minimal. They might be developmentally ready, eager to imitate their parents, and live somewhere with a fairly safe food supply. Why wait? Especially if there are other benefits for the family. Formula is expensive. Replacing some of the infants' caloric needs with other foods can result in a significant saving for a family with little disposable income.
So while it is important for the major health organizations to establish recommendations that benefit the majority of babies, each baby's individual situation can be taken into account. Take a look at this decision tree and then discuss with your doctor what might be the best approach to take with your child.
[share title="Share This Article" facebook="true" twitter="true" google_plus="true" linkedin="true" pinterest="true" reddit="true" email="true"]