Choco Banano (chocolate-covered frozen banana)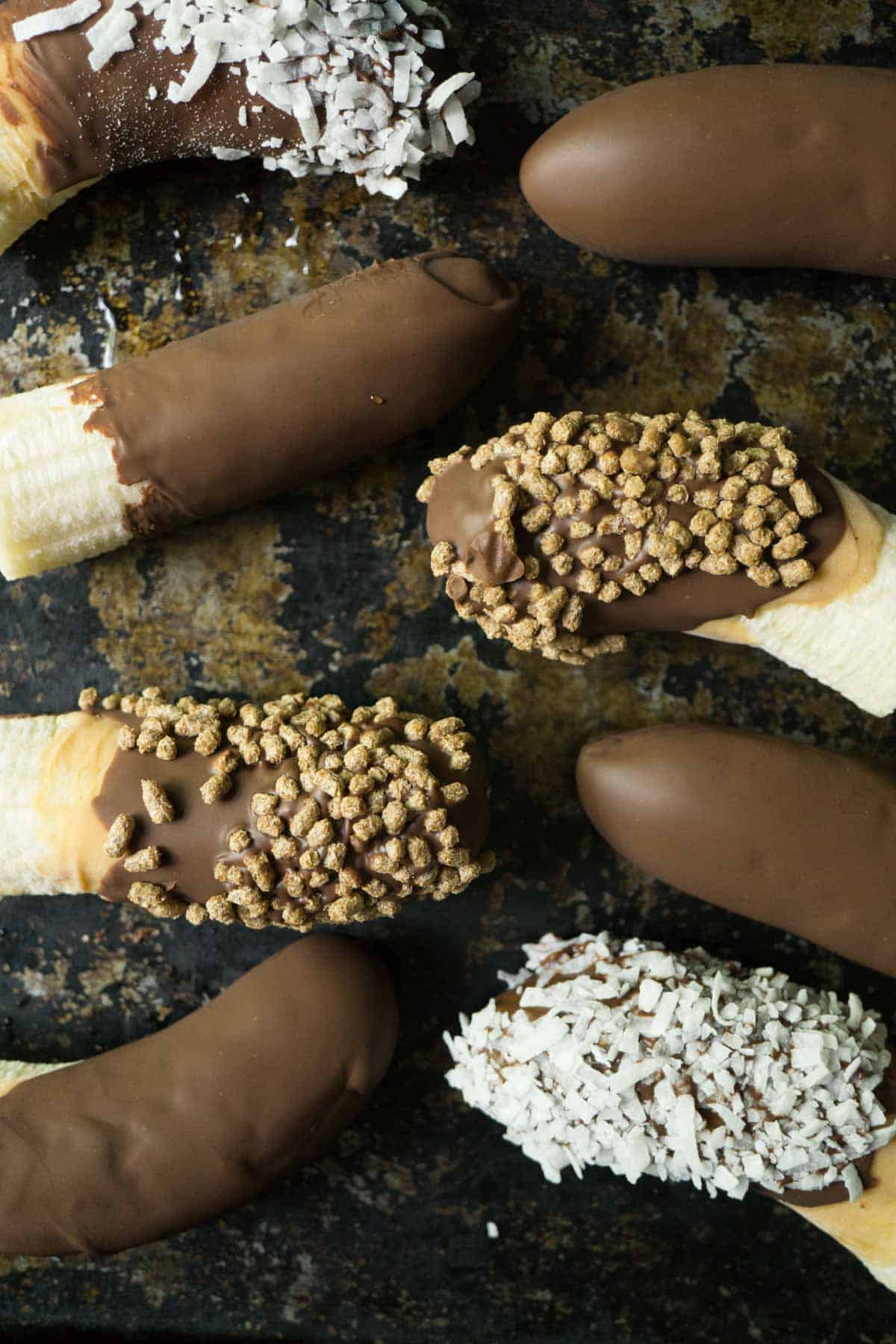 A super easy choco banano recipe that makes a healthy summertime treat! Chocolate, peanut butter, and bananas are a match made in heaven!
I've been meaning to post this recipe for weeks… but we keep eating these choco bananos before I can photograph them. Oops! Definitely wasn't on purpose. I definitely didn't do it so that I'd be forced to make more of them….
You might be wondering about my spelling. "Banana is spelled with an "A" at the end, Jessica!"
I've gone a little Spanish-loco on you. The first time I discovered the wonders of chocolate-covered frozen bananas was when I spent three months in Guatemala as part of a university program at the ripe age of 18. The first thing our group did when we landed in Guate (as we affectionately started to call it), was to take off for a remote mountain village to help build with Habitat for Humanity.
After a long day of laying concrete bricks our leader, who had been to this town a year before, left for a few minutes and came back with one choco banano for each of us. Sitting in the sun, eating a choco banana after a day's work… doesn't get better than that! Especially since they literally cost the equivalent of 5 cents each!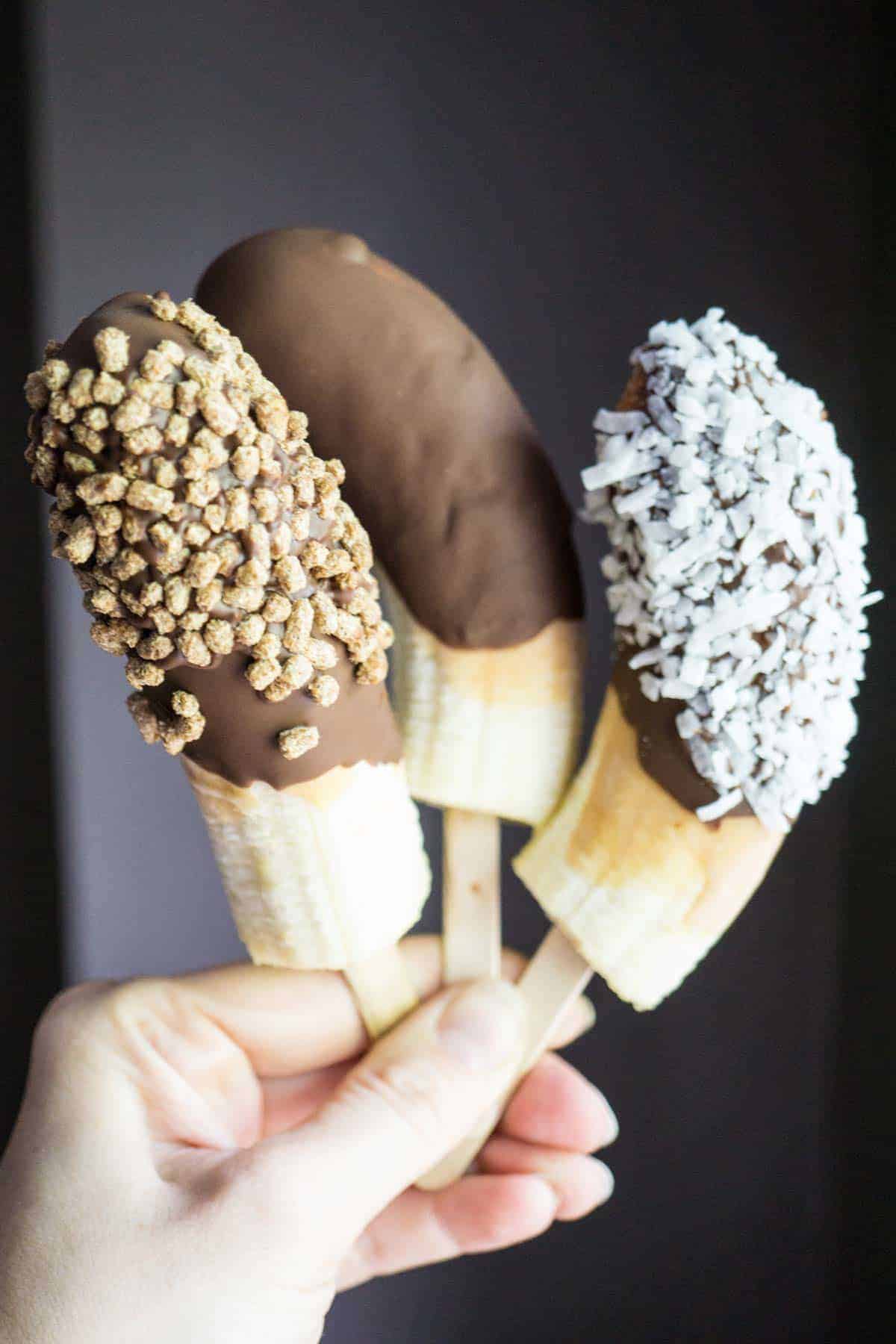 Have you seen all those "nice cream" recipes floating around? Basically it involves taken frozen bananas and blending or processing until it turns into a thick ice cream-like texture.
This choco banano recipe is basically the lazy girl's version. Or maybe I should call it a nicecream revel!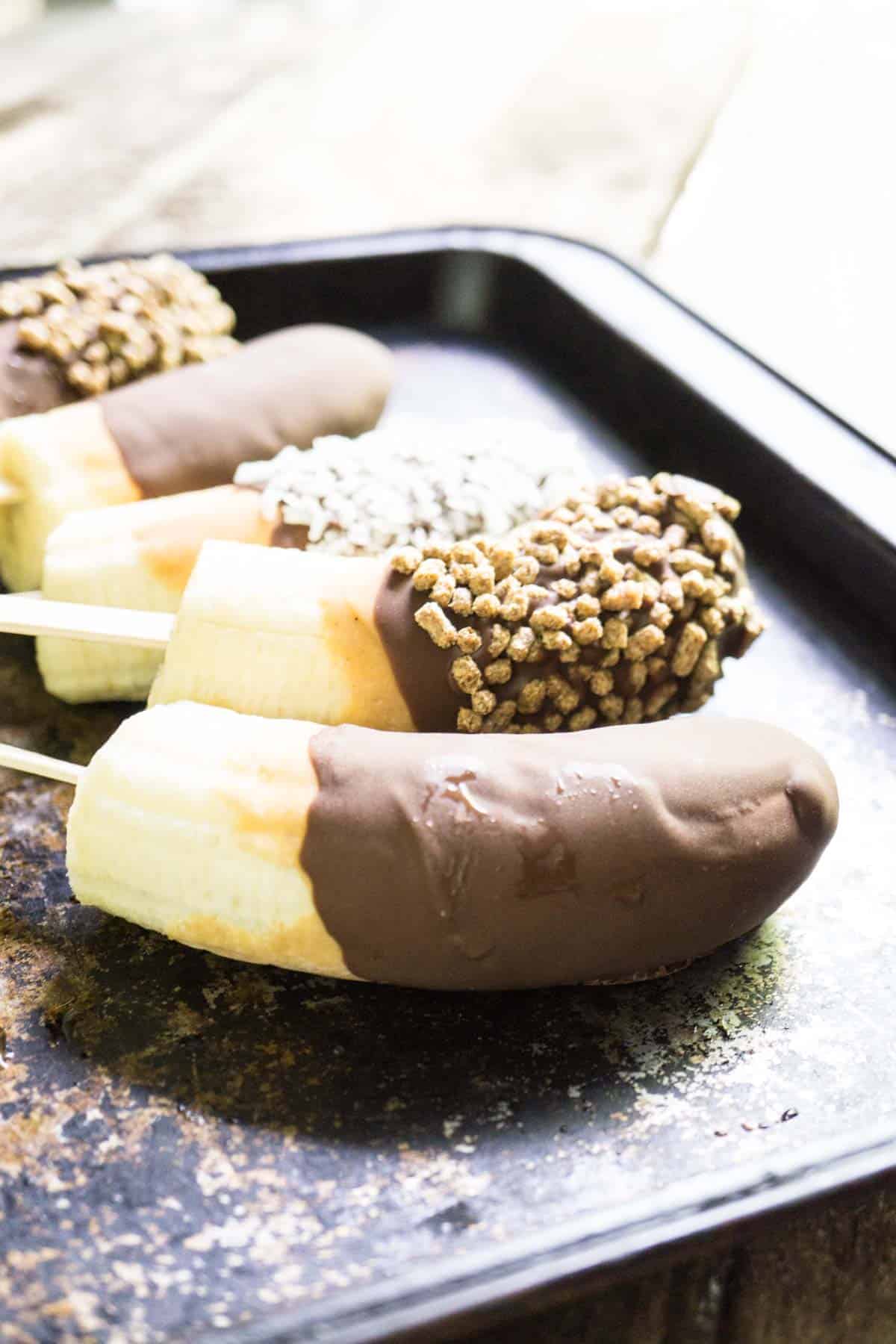 why these choco bananos are a smart choice
I'm a big fan of focusing largely on healthy nourishing food but leaving room to enjoy some indulgences as well. Basically, it's a way of keeping sane in this food-crazy, fear-mongering world we live in! You may have heard this approach to food as the 80/20 rule. 80% of the time, focus on the nourishing stuff while keeping 20% for less nourishing.
With this recipe, the bananas, peanut butter, and toppings are all the nourishing foods whereas the sugar content of the chocolate is the indulgent part!  The cocoa part contains healthy anti-oxidants and vital minerals!
If you give this recipe a go, let me know! Leave a comment, rate it, or snap a photo and tag it with #smartnutritionrecipes on Instagram!  I'd love to see your creations! Knowing someone has enjoyed one of my recipes always makes my day brighter.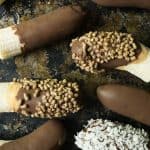 Choco Banano (chocolate-covered frozen banana "nice cream" revel
Print Recipe
A refreshing and healthy frozen treat!
Ingredients
3-4

ripe

but not over-ripe.. no brown spots! bananas

popsicle sticks
Chocolate Dipping Sauce
1

tbsp

coconut oil

1/2

cup

chocolate chips

I like to do half semi-sweet and half milk chocolate
Peanut Butter Dipping Sauce
1

tbsp

coconut oil

1/4

cup

smooth peanut butter
Toppings
Bran Buds

Chopped peanuts or nuts

Flaked coconut
Instructions
Line a baking sheet with wax or parchment paper.

Cut the bananas into 3-4 inch sections. Usually about 2 or 3 pieces per banana.

Insert a popsicle stick half way into each banana and place on the baking sheet.

Freeze bananas for a few hours. This step can be done days in advance, if you'd like.

Once the bananas are frozen, make your dipping sauces.

To make the chocolate sauce, place the chocolate chips and coconut oil in a mug. Microwave on low, stirring every 30 seconds, until the chocolate is all melted.

To make the peanut butter sauce, place the peanut butter and coconut oil in a mug. Microwave for 30-60 seconds (until all melted).

To dip, hold the mug on a slant so that the sauce covers the inside side of the mug. Dip a banana in and turn to coat. Allow the excess to drip off.

Hold the banana in the air until the glossiness starts to disappear. Replace on baking sheet and repeat with the others.

I like to first dip all the bananas in peanut butter and then go back and dip with the chocolate. Make sure to allow the dipping sauce to harden completely in between dips.

If you want toppings, roll the bananas in immediately after dipping, before hardening.
Notes
nutrition info doesn't include the toppings
Nutrition
Calories: 188  | Fat: 11g | Carbs: 21g | Fibre: 2g | Sugar: 14g | Protein: 4g
[share title="Share This Article" facebook="true" twitter="true" google_plus="true" linkedin="true" pinterest="true" reddit="true" email="true"]