Perfect Baked Fries Recipe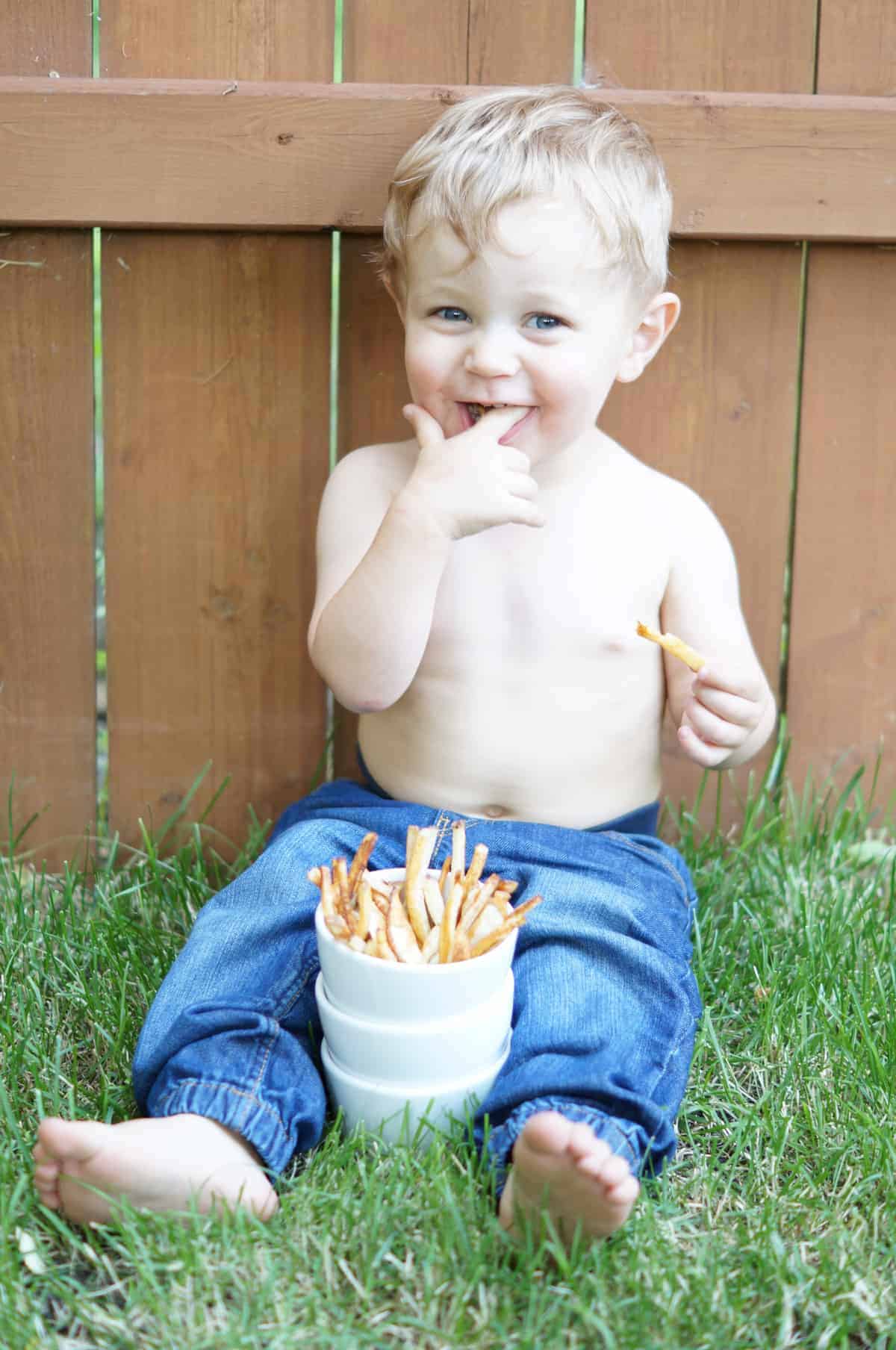 These baked fries are absolute fry perfection! They're fool-proof crispy and have the best seasoning on them! Don't sacrifice taste when opting for a healthier choice. 
I recently heard that sprinkling fries with vinegar is just a Manitoban thing. I sure hope this isn't correct because the rest of the world is missing out! But if it is true, then my mission with this post is to share the vinegar love with you all!
Now, you can't really put vinegar on all fries. If you go to McDonald's or some other chain with stripped down no-skin fries, it doesn't really work. You need the rustic, skin-on, big bag of fries at the beach type of fries. Douse those babies in vinegar and you're in heaven!
The best part? You're not adding any extra sugar or sodium (hello ketchup!) when you flavour your fries with vinegar. As a bonus, the vinegar may actually help your body to slow down the absorption of the carbs in the fries helping to keep your blood sugars stable.
And now, with this recipe for baked fries, you can have that soul-satisfying (satisFRYing?) fries experience at home… without all the grease. Yum!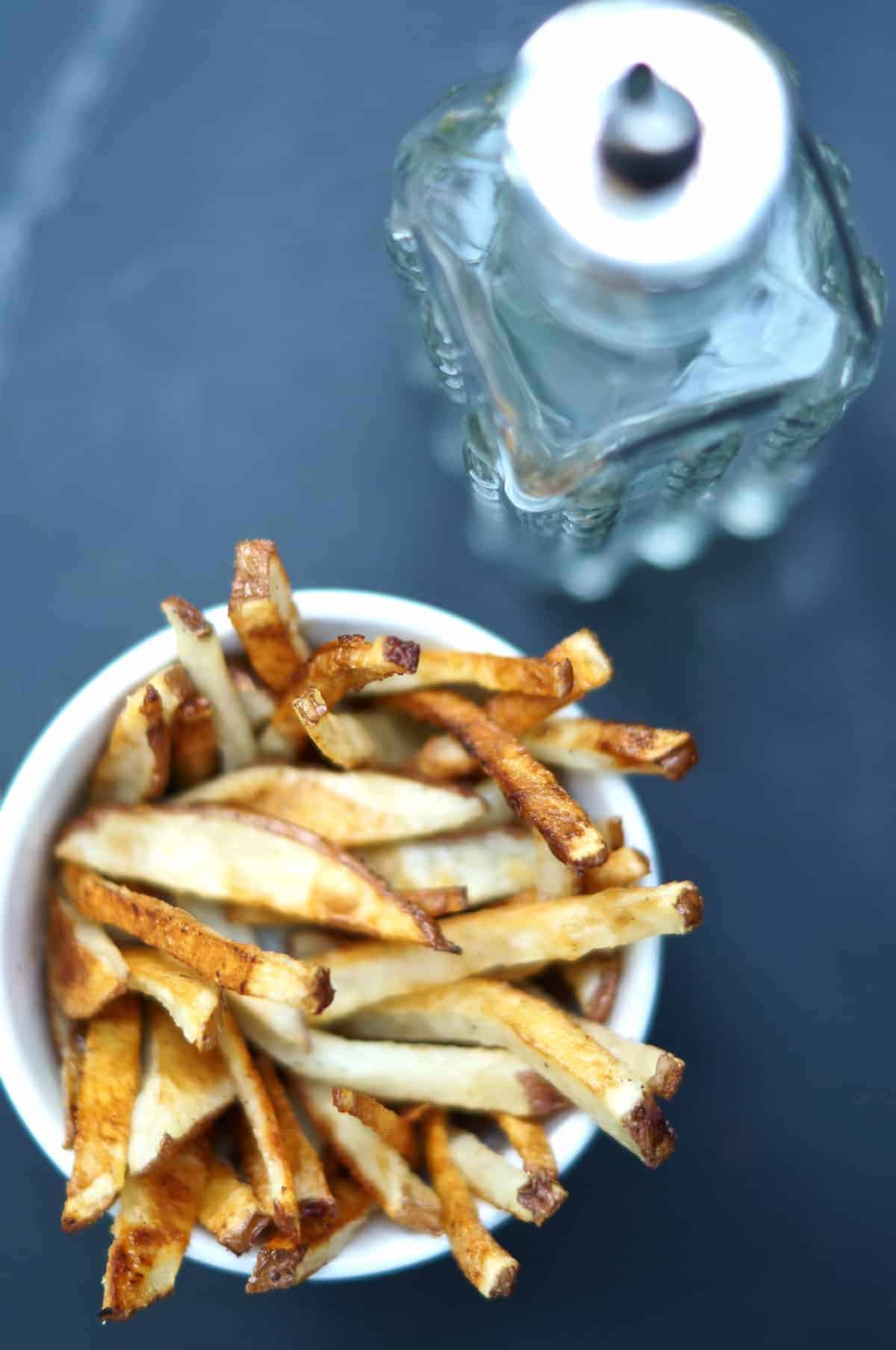 Why These Baked Fries are a Smart Choice
Potatoes are a great source of potassium, Vitamin C, and fibre… especially if you eat the skins! Keep those skins on! You'll save time, effort, and boost the health factor of potatoes!
And of course… these baked fries are not deep-fried so they won't leave you with that too-much-grease-in-the-stomach feeling.
If you give this recipe a go, let me know! Leave a comment, rate it, or snap a photo and tag it with #smartnutritionrecipes on Instagram!  I'd love to see your creations! Knowing someone has enjoyed one of my recipes always makes my day brighter.  
Perfect Baked Fries
Print Recipe
Baked not fried, these fries are crispy and soul-satisfying!
Ingredients
1

lb

potatoes

any variety but Russets work best due to their low moisture content

2

tbsp

olive oil

1/2

tsp

garlic powder

1/2

tsp

onion powder

1/2

tsp

salt
Instructions
Slice the potatoes into thin fries. Place in a large bowl. Cover with cold water.

Allow to soak for 30 minutes.

Preheat oven to 400 degrees Fahrenheit.

Drain the fries in a colander. Line the bowl with a clean tea towel.

Dump the fries into the bowl and pat to dry. Try to get as much moisture off the potatoes as possible. Use a second tea towel if necessary.

Remove the tea towel from the bowl and add in the olive oil, garlic powder, onion powder, and salt. Stir to combine.

Arrange in a single layer on a baking sheet. Bake for 20 minutes.

Then stir and bake another 10 minutes or until the fries are a nice golden brown.

Sprinkle with vinegar just before eating!
Notes
Open the oven door a few times while the fries are cooking. This allows the steam to escape and creates a crispier fry.
Nutrition
Calories: 141 | Fat:7 g | Carbs: 18g | Fibre: 3g | Sugar: 1g | Protein: 2g

[share title="Share This Article" facebook="true" twitter="true" google_plus="true" linkedin="true" pinterest="true" reddit="true" email="true"]