3 Ingredient Strawberry Nice Cream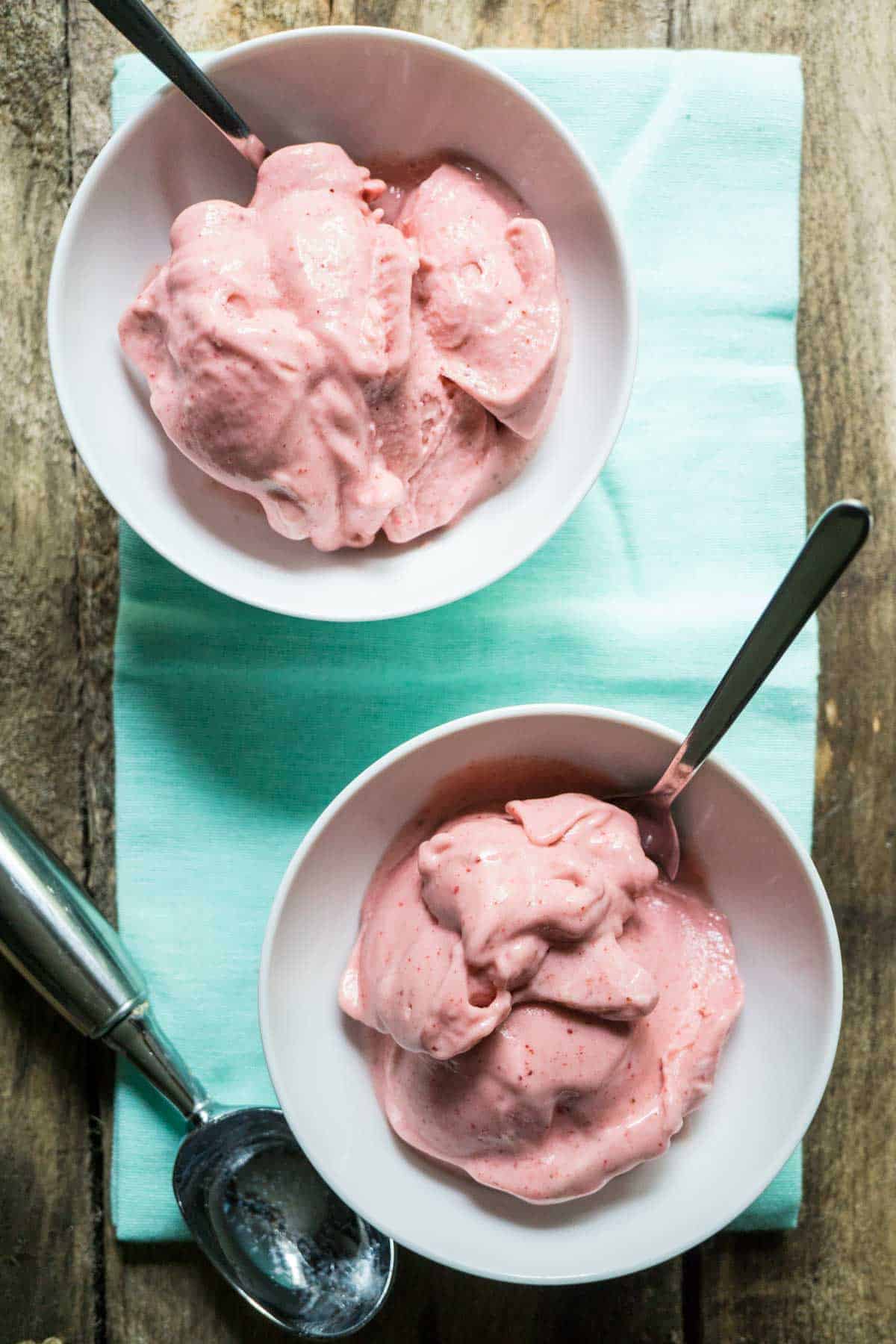 With only 3 ingredients and a blender you'll have strawberry nice cream made in 5 minutes! A perfect treat with half the calories of ice cream. 
I love "nice cream!" If you're like my husband and have no idea what nice cream is, it's like ice cream, but it's made with frozen bananas. When I told my husband this, he said "that sounds a lot like a good food vs. bad food mentality."
I hadn't thought about that. What makes "nice cream" nice? Is it because it's made with more fruit than regular ice cream? That makes it healthier, right? That means you can more of it without feeling guilty, right? And it also means that regular ice cream is not nice. It's one of those bad foods that you shouldn't eat.
No. I'm not down with any of that.
One of the many core concepts behind my dietetic counselling and overeating program is that there's no such thing as good food and bad food. When you view foods as "bad," it gives them a "forbidden fruit" allure. With that allure comes guilt and power, two things that mess up your relationship with those foods. This contributes to subconscious processes that mess up our eating habits.
For example, when you think of a food as bad, that means it's a food you shouldn't eat, right? But you want to eat those foods, as we all do, because they taste good. So, as soon as you start eating that food, you're already doing something that fills you with guilt. You know it, you do it anyways, and once you've started, there's nothing to hold you back. If you're like most people, including me, that means you eat TONS of that guilt-inducing food. This is otherwise known as a binge.
As a dietitian I've learned that all foods belong in a healthy balanced diet. When you take away the guilt that comes with eating forbidden foods, it's much easier to eat those foods appropriately. You don't feel guilty for eating ice cream (or nice cream), so your eating becomes much easier to control. This is one of the ways I said goodbye to binge eating!
So, suffice to say that while I'm in love with this delicious dessert that happens to have a slightly higher nutritional profile than regular ice cream, I'm not in love with calling it "nice cream." Unfortunately, that's what people are calling it, so I have to play along or else none of you net surfers would find it!
If you like this "nice cream" (and I guarantee you will), stay tuned to my blog (ie. subscribe here). I found a gigantic bag of bananas on sale for $1.50 last week, so I foresee a lot of recipe testing in our near future!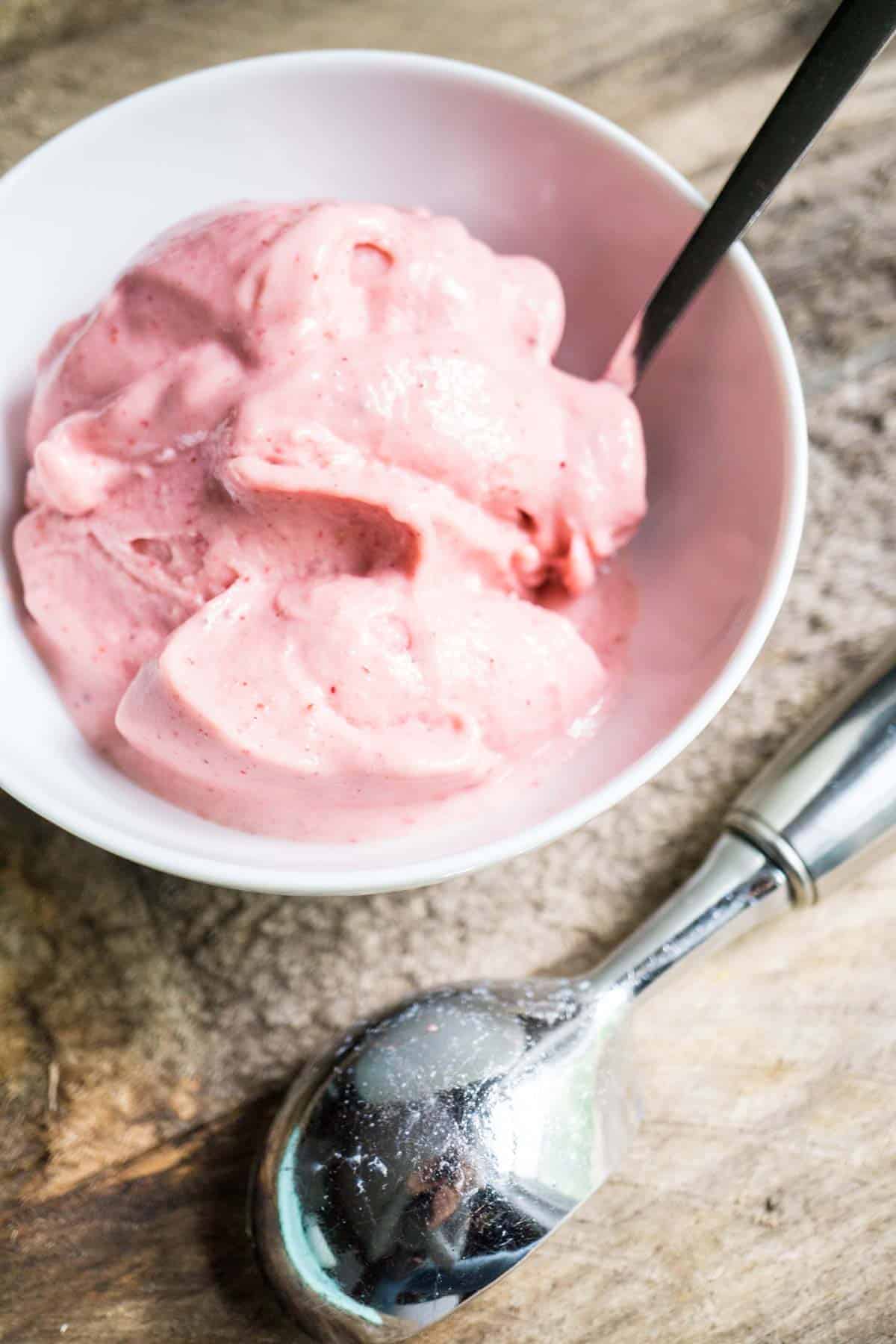 The consistency and flavour is very much like a soft serve frozen yogurt. You know those places that serve frozen yogurt out of the wall? Tutti-frutti, Menchi's, Fro-Yo, etc. etc.  Those frozen desserts have so much zing and flavour. This is exactly like that!
Why This 3 Ingredient Strawberry Nice Cream is a Smart Choice
In what other world can you enjoy the full flavour of ice cream while getting 3.5g of fibre and 5g of protein? Only in this nice cream world! If you use a high protein Greek yogurt, you'll get even more protein!
If you give this recipe a go, let me know! Leave a comment, rate it, or snap a photo and tag it with #smartnutritionrecipes on Instagram!  I'd love to see your creations! Knowing someone has enjoyed one of my recipes always makes my day brighter.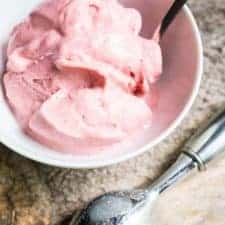 Strawberry Nice Cream Recipe
Print Recipe
A ligher, healthier, frozen treat!
Ingredients
2/3

cup

plain or flavoured yogurt

depending on how sweet you want it

2

small bananas

pre-frozen into smaller chunks

1

heaping cup of frozen strawberries
Instructions
Place all ingredients in high-powered blender or food processor. Process according to manufacturer's instructions.

With my Vitamix I turned it on low then slowly up to high speed. Then I used the tamper to press the frozen chunks into the blades. It quickly turned into ice cream!

I have heard with a food processor that it takes some time for it to turn into a smooth ice cream consistency.
Calories:  197| Fat: 2g | Carbs: 42g | Fibre: 3.5g | Sugar: 27g | Protein: 5g