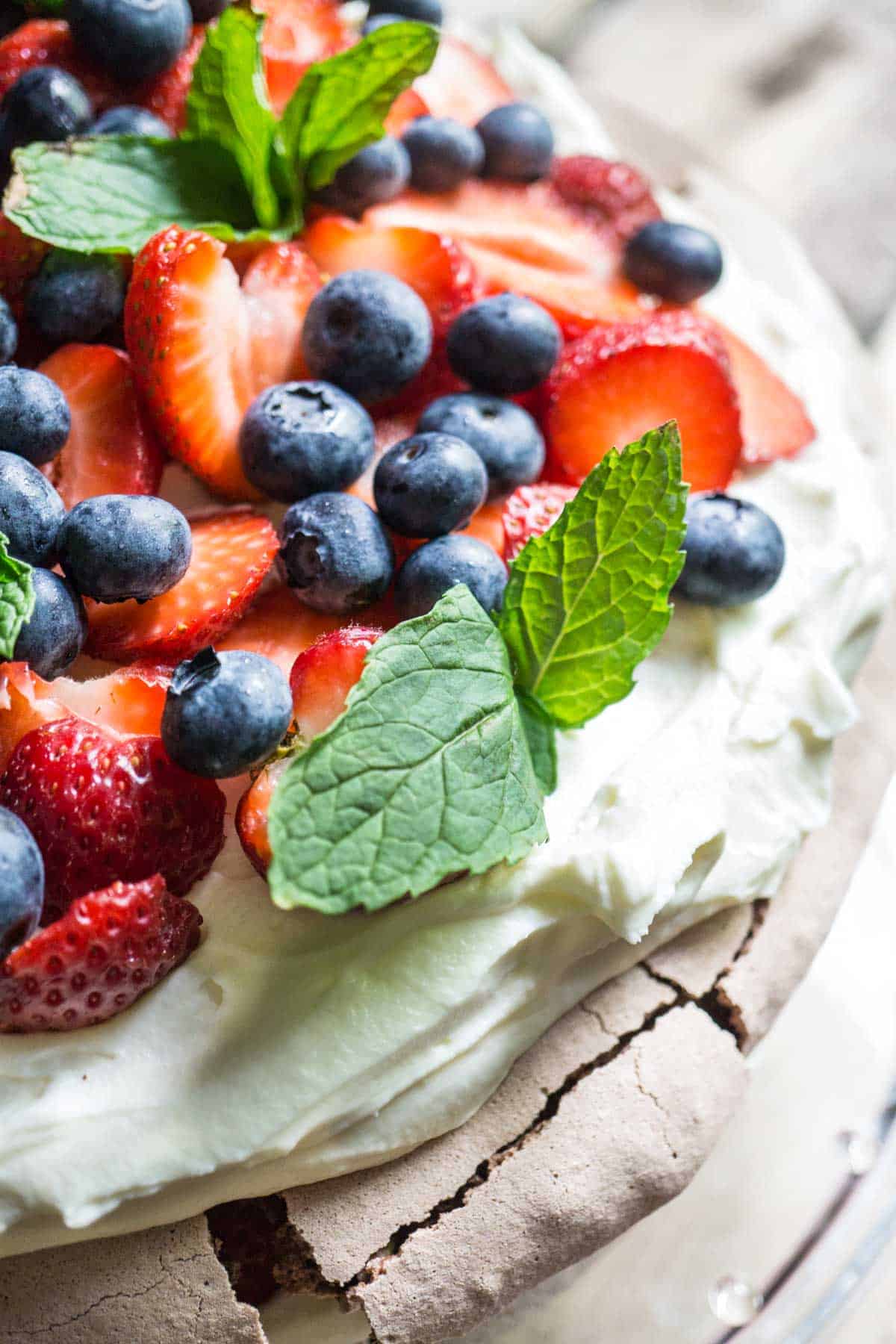 An Italian twist on the classic meringue dessert from New Zealand. This chocolate pavlova is one of the best desserts I've ever tasted!
I thought I loved dessert. And then I met this chocolate pavlova.
So far I've had two people tell me after tasting it that this is the BEST dessert they have ever ever tasted. Seriously… should I even bother experimenting with any other sweets when this recipe is just sooooo good?
Okay, there is one very good reason why I won't make this every time I'm asked to bring dessert. It's quite rich! One serving is 485 calories (about a whole meal's worth) so this chocolate pavlova is definitely one of those special occasion recipes in my books.
don't be intimidated!
Meringue (the base for the chocolate pavlova) has a reputation as being a difficult dessert to master. When you look at it the steps aren't all that complicated: Beat your egg whites with sugar until stiff. Then bake.
But in reality, things can seem to go desperately wrong and you're left wondering what to do with a soupy mess of egg whites and sugar.
I wrote "seem" because most meringues can be saved!
The first time I made this recipe I started out by using my hand mixer. The egg whites stiffened and then I started to add the sugar. Then it fell flat!
After much panic and googling, I diagnosed two problems:
It was a really humid day so the moisture was inhibiting the egg whites from stiffening
It needed more beating power
I switched to the stand mixer and after awhile, it finally came together!
So the moral of the story: if the recipe says that the meringue should stiffen in 5-10 minutes, don't fret if yours doesn't within this time frame. Due to the humidity mine probably ended up taking half an hour. Also… you'll need a stand mixer (again: especially if it's humid!). DON'T attempt to whisk this by hand. Unless you're Hercules and you have all day to whip the eggs. Then be my guest!
If you give this recipe a go, let me know! Leave a comment, rate it, or snap a photo and tag it with #smartnutritionrecipes on Instagram! I'd love to see your creations! Knowing someone has enjoyed one of my recipes always makes my day brighter.
Chocolate Pavlova with Mascarpone Cream and Fresh Berries
Print Recipe
A chocolatey/Italian twist on the classic meringue dessert.
Ingredients
9

egg whites

400

g

sugar

5

tbsp

cocoa

1 1/2

tsp

balsamic vinegar

75

g

chocolate chips

roughly chopped

500

g

mascarpone

2

cups

fluid whipping cream

2

tbsp

instant vanilla pudding powder

dry

3

tbsp

icing sugar

aka powdered or confectionary

2

cups

sliced strawberries

see note

1

cup

blueberries

see note

fresh mint leaves

optional
Instructions
Preheat oven to 350 degrees Fahrenheit.

In a stand mixer whip the egg whites until stiff peaks form. NOTE: make sure your bowl is very clean. Leftover grease spots can prevent the egg whites from stiffening.

One spoonful at a time, add the sugar. Then beat until stiff peaks return. This could take 5 minutes or 20 minutes. Or even longer depending on how humid it is in your place.

Once the egg whites and sugar are stiff, stir in the cocoa, balsamic vinegar, and chopped chocolate.

Line two baking sheets with parchment. Spoon the meringue mixture into two rounds on the parchment. Try to make them the same size as you'll be stacking them later.

Place in oven and immediately turn the temperature down to 300 degrees Fahrenheit.

Bake for 1 hour to 1 hour 15 minutes. It will be down when the edges are dry and the centre doesn't jiggle.

Remove from oven and allow to cool.

When the meringues are cool and you're ready to assemble, beat the whipping cream until stiff.

Add in the mascarpone, pudding powder and icing sugar.

Place one meringue on your serving plate. Spread 2/5 of the whipping cream mixture on top. Sprinkle with 2/5 of the berries.

Stack the next meringue on top. Spread the remaining whipping cream mixture on top. Sprinkle with remaining berries.

Garnish with mint leaves if so desired.
Notes
Any fresh berries are delicious with this recipe! Strawberries and blueberries are pictures but I've also made it with raspberries. I'm sure you can't go wrong with blackberries or cherries either 🙂
Calories: 485 | Fat: 32g | Carbs: 50g | Fibre: 2g | Sugar: 44g | Protein: 5g
[share title="Share This Article" facebook="true" twitter="true" google_plus="true" linkedin="true" pinterest="true" reddit="true" email="true"]