Watermelon Lemon Italian Ice (blender recipe)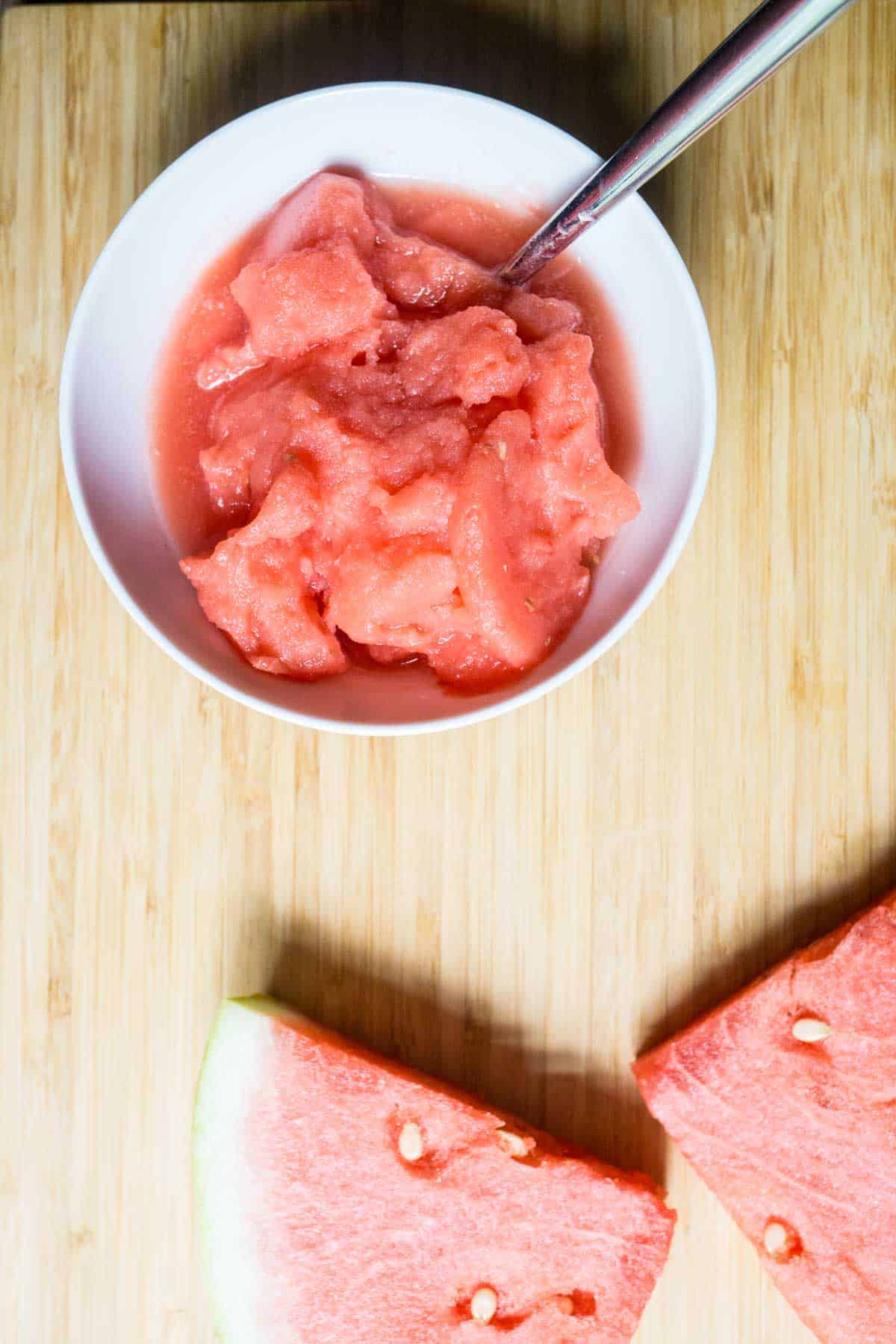 We had a bunch of watermelon leftover for Judah's birthday party so I diced and froze a bunch of it. Since then, just to use it up I had been throwing it in the blender with some fresh watermelon, lemon juice, and a touch of sweetener. Then it all of a sudden occurred to me that this was a legitimate recipe I could share with you.
I decided to ask my Instagram tribe if they would be interested in the recipe and the answer was a very exuberant "yes!"
So here it is!
Italian Ice?
What makes this an Italian ice? Well, I'm not 100% certain. When I first made this my initial reaction was that it was a granita. But when I looked up the qualifications of a granita, I discovered that those are actually made from crushed ice, syrup, and flavourings. That's not at all what this recipe is! Then I saw a listing for Italian ice that described it as frozen concoction of fruit juices and syrup. BOOM! That's exactly what this recipe is.
So I don't know for sure if I'm piggybacking on the right frozen dessert title but I'm just going to go with it. It was either that or Frozen Watermelon Lemonade. I thought Watermelon Lemon Italian Ice sounded a bit more legit.
Why It's A Smart Choice
Even though you can pick it up and eat it watermelon is about 92% water. I can just see it  scoffing at milk: "you think you're hydrating? You're *only* 88% water."
This makes watermelon and consequently, this watermelon ice, an extremely hydrating choice. To top it off, watermelon also contains potassium and sugar for replenishing electrolytes and energy during strenuous exercise. When I say strenuous, I'm talking major exertion for 90 minutes +. Anything less than that, a person doesn't generally need electrolyte replenishment. Unless the weather is really hot and you're sweating profusely despite low exertion. Wow, this rabbit trail is starting to get complicated. Anyhow, if you want to use it as an electrolyte replacer, add a pinch of salt! Better yet, contact a sports RD to ask if this recipe would meet your needs 🙂
For the rest of us, this is a great way to stay hydrated on a hot summer day. It's especially great for kids who are less than eager to sip on water all day long.
Anyhow, go get yourself a watermelon and make this recipe! It will be the most refreshing decision you'll make all summer long.
If you give this recipe a go, let me know! Leave a comment, rate it, or snap a photo and tag it with #smartnutritionrecipes on Instagram!  I'd love to see your creations! Knowing someone has enjoyed one of my recipes always makes my day brighter.  
Watermelon Lemon Italian Ice
Print Recipe
A refreshing and light frozen treat!
Ingredients
2

cups

frozen watermelon chunks

1 1/2

cups

fresh watermelon chunks

3

tbsp

lemon juice

1

tbsp

syrup

simple syrup, maple, agave, etc... you could even use a couple drops of stevia
Instructions
Place all ingredients in a blender.

Start on low then turn up to high power and blend until smooth.

If your blender is having trouble blending, add more fresh watermelon chunks. You might end up with more of a slurpee texture, but it will be equally delicious!
Nutrition
Calories:  77| Fat: 0g | Carbs: 20g | Fibre: 1g | Sugar: 16g | Protein: 1g
 </
[share title="Share This Article" facebook="true" twitter="true" google_plus="true" linkedin="true" pinterest="true" reddit="true" email="true"]