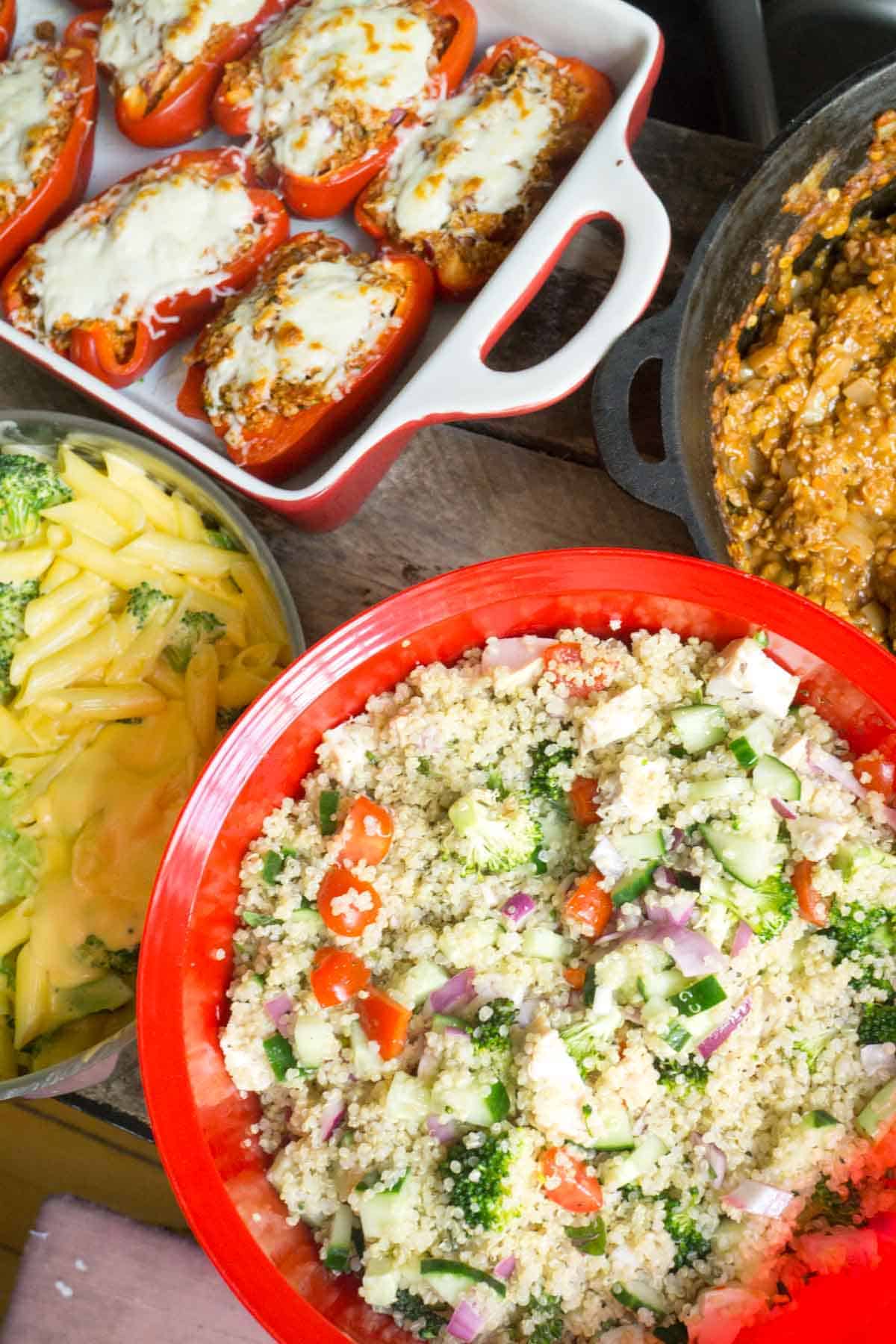 Obviously as a food blogger I love cooking but I also love having leftovers in the fridge waiting for dinner time. So I decided to see what it would be like to do most of my cooking on one day and then sit back and relax the rest of the week.
Introduce batch cooking!
The more I write and say batch, the stranger the word is looking to me! If you change the "a" for an "o" then you get botch. If you switch it for a "u" you get butch. If you switch it for an "i" you get….
Batch is kind of stuck in there with some less than flattering words to describe cooking. But it's the only word that really works. So stick with me here.
Back to the batch cooking.
What is batch cooking?
Essentially you set aside one day to do all the major cooking for the week. If you have Mondays free this is rather convenient because then you can tag all your photos on Instagram with #mealprepmondays! Seriously though, any day of the week works. Just save your photos to post on Monday.
In my first foray into batch cooking, I spent two hours in the kitchen. But this included writing out the instructions, taking photos, and keeping my toddler busy. So depending on your kitchen knowledge expect to spend 1 1/2 to 2 1/2 hours cooking.
One recipe often ends up taking 45-60 minutes of my day so this really is a time saver. I love finding ways of being more efficient.
why it's a smart choice
Batch cooking can save your sanity. Here's why:
no need to stress out and wonder "what's for dinner?" when you're done work and tired
less temptation to stop in at the drivethru or order takeout, making it easier to stick with your health goals
saves time cooking throughout the week
less dishes to wash (my favourite!)
easy way to incorporate more variety into your eating

how to get started
You can choose a few of your favourite meals, grocery shop for the ingredients, and make them all at once or you can choose the REALLY easy route and follow the guide I've created for these four meals:
In this handy printable you get:
grocery shopping list
master instructions for how to most efficiently make all the meals simultaneously
individual recipes if you want to make your favourites on their own
So set a date in your calendar, put on some good tunes, and get cooking!
Discover more batch cooking plans!
[ess_grid alias="batch cooking"]
[share title="Share This Article" facebook="true" twitter="true" google_plus="true" linkedin="true" pinterest="true" reddit="true" email="true"]