Greek Chicken Quinoa Salad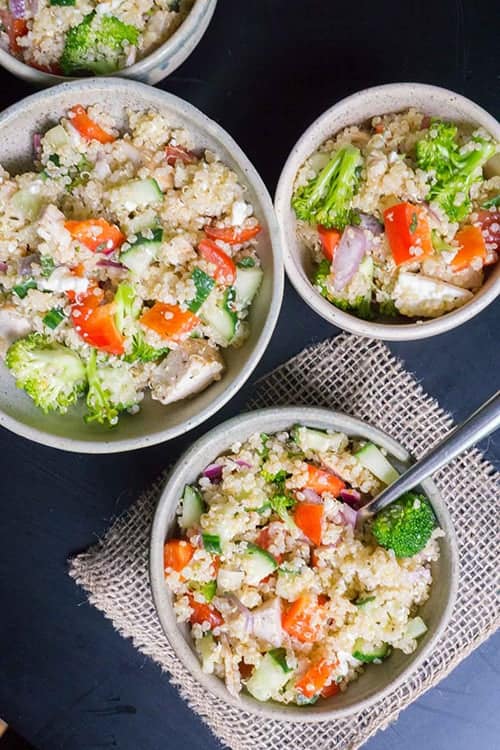 Why choose this Greek Chicken Quinoa salad? I know there are a lot of recipes for Greek salads out there… because I've made a lot of them. I've also tinkered with the basic ingredients a LOT.
We like Greek in this house, and I can tell you that this is the best Greek salad and dressing I've ever tasted. It's the best Greek salad dressing my husband has ever tasted.
Since I generally make really good food and I'm quite alright with patting myself on the back about it, my husband is quite alright with telling me when something isn't up to snuff or when he's had better. So in case you're thinking his opinion is biased, it's not.
Greek Chicken Quinoa Salad = as good as dessert!
This salad is so good that my husband told me he had to treat it like a dessert.
Let me explain: as he has journeyed through the I Quit Overeating program, he's discovered how to use mindful eating to enjoy his desserts more, and eat less of them. This really helped him with his major sweet tooth.
But, after tasting this salad he told me that he would need to slow down and eat it mindfully, since it was soooo delicious. He knew he would have a hard time not overeating it if he didn't!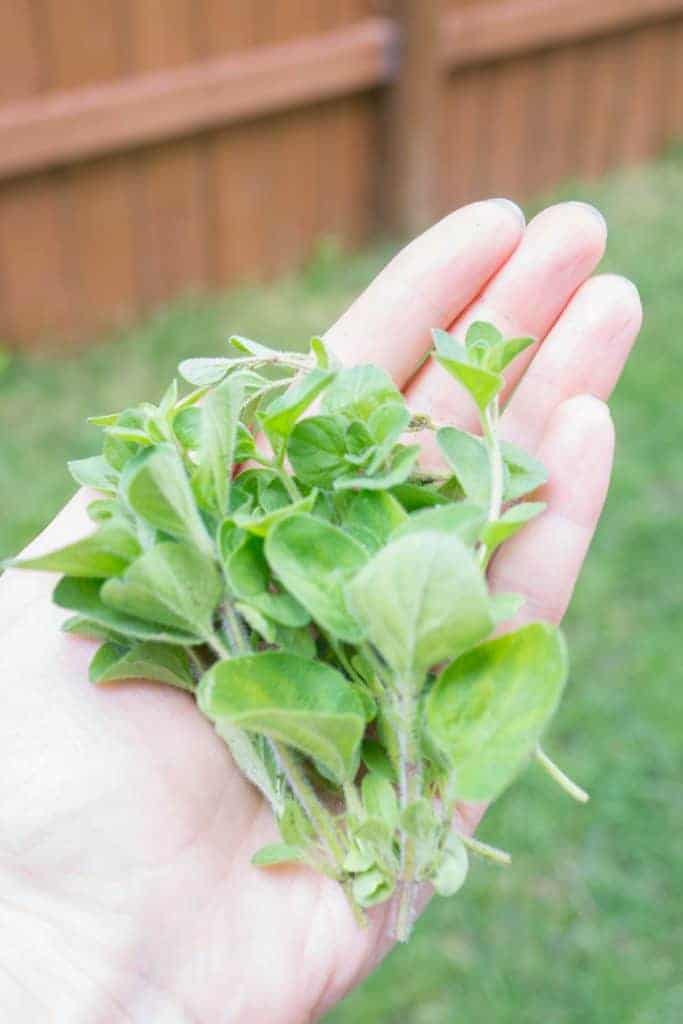 Broccoli in Greek Salad?
Do you think it's strange that there's broccoli in this Greek salad? Even I do, and I thought of it!
When I first made this salad, I was just using up fresh veggies I had sitting in the fridge, and broccoli happened to be one of them. I wasn't sure it would go with the Greek theme, but I don't like to waste food so I took a gamble and threw the broccoli in before it started to turn.
As it turns out, the broccoli is my favourite part! The florets did such a good job of holding onto the dressing that each bit is an explosion of flavour. So do yourself a favour and make sure to include the broccoli!

Why This Greek Chicken Quinoa Salad Is A Smart Choice
In general I don't recommend that people follow the food guide to a "t." It's useful for planning balanced meals: 1) focus on fruits and veggies 2) use meat and dairy more of an accent than the meal's feature. But I have to point out that this salad falls precisely in line for the ratio of food groups recommended for adult women!
Fruits & veggies: 0.8 servings (daily recommended: 7-8)
Grains: 0.6 servings (daily recommended: 6-7)
Dairy & alternatives: 0.2 servings (daily recommended: 2)
Meat & alternatives: 0.2 servings (daily recommended: 2)
So basically if you ate 10 servings of this salad in a day, you'd be eating the recommended amounts in each category!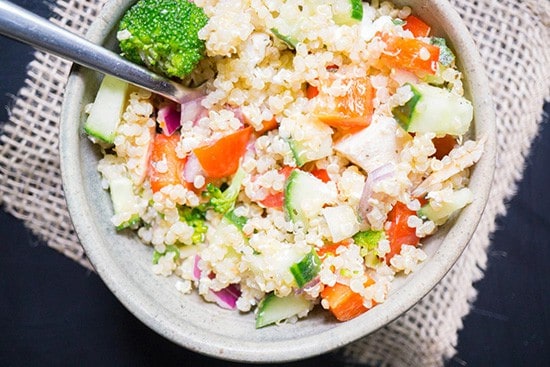 If you give this recipe a go, let me know! Leave a comment, rate it, or snap a photo and tag it with #smartnutritionrecipes on Instagram! I'd love to see your creations! Make sure your account is set to public so that I can see it.
Greek Chicken Quinoa Salad
Print Recipe
Each bite of this salad is bursting with flavour! You'll be sure to want more and more.
Ingredients
Dressing
½

cup

+ 2 tbsp olive oil

½

cup

lemon juice

5

tbsp

vinegar

2

tbsp

red wine vinegar

2

tsp

sugar

3

cloves

garlic

minced

1 ½

tsp

salt

½

tsp

dried basil

½

tsp

dried thyme
Salad
1 ½

cups

dried quinoa

2

chicken breasts

grilled and diced

1

red pepper

diced

1

cucumber

diced

2

cups

chopped broccoli

1

cup

chopped cherry tomatoes

1

small red onion

chopped

1

cup

crumbled feta cheese

1

handful fresh oregano

chopped (or 2 tbsp dried)
Instructions
Cook the quinoa according to the package directions.

Stir together the dressing in a mason jar or small bowl. Set aside.

Put the remaining ingredients in a large bowl.

Once the quinoa has cooked, add to the bowl and top with the dressing.

Stir well to combine.

Cool in fridge at least 30 minutes before serving.
Nutrition
Calories:
518
kcal
|
Carbohydrates:
39
g
|
Protein:
28
g
|
Fat:
28
g
|
Saturated Fat:
7
g
|
Trans Fat:
1
g
|
Cholesterol:
70
mg
|
Sodium:
967
mg
|
Potassium:
857
mg
|
Fiber:
5
g
|
Sugar:
6
g
|
Vitamin A:
1113
IU
|
Vitamin C:
70
mg
|
Calcium:
191
mg
|
Iron:
3
mg
Check it out! This recipe is part of a batch cooking meal plan I created. In this plan, you'll prep four meals in one session and have a fridge full of food to eat all week long!