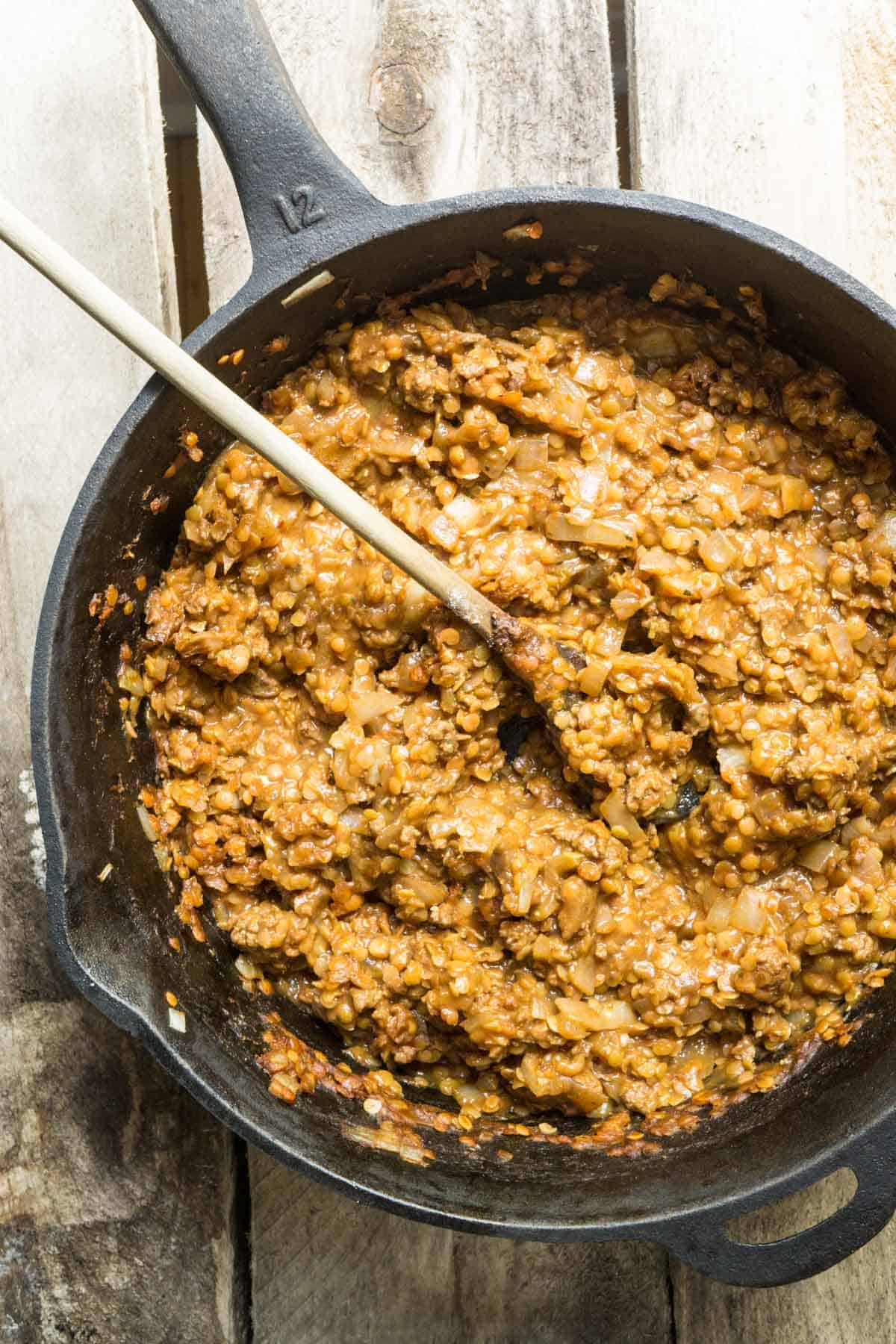 I'm feeling a little sheepish with this recipe. Not because of the recipe. It's a killer taco meat recipe. But because of what I decided to call it.
I used the word 'skinny.'
(blush, blush)
Once upon a time I proclaimed that 'skinny' was one of those words that ticked me off when it comes to food adjectives (I also have a problem with the term "clean eating". I would go out of my way to use terms like 'lightened up' to avoid saying 'skinny.'
But it hit me one day when I was looking through my closet that I had absolutely no qualms about using the term 'skinny jeans.' This made me stop and reflect on the word and why I was able to use it for jeans but not for food.
I realized that I had been thinking that the term, when used with food, was trying to insinuate that eating this food would cause a person to become skinny. When in reality there isn't one single food that will cause a person to lose or gain weight. But when it came to jeans, I viewed the term as simply describing the state of the jeans themselves. They aren't bell-bottomed, or flared, or straight-legged… they're skinny!
So I discovered that my viewpoint was all wrong and that 'skinny' when it came to food was simply describing the food! Skinny versions have fewer calories than their counterparts! They're simply 'lightened up!'
And now I am embracing the term. Because y'all know what I'm talking about when I use it.
Have you tried batch cooking?
This recipe is included in one of my batch cooking printables. If you want to spend a couple of hours in the kitchen and end up with a fridge full of food for the week, try this out! The recipes included in this printable are:
Here's what one reader had to say about the Smart Nutrition batch cooking printables:
"My hubby and I have done both your batch cooking plans. It feels like a big mess right in the middle of it and I wonder if it is worth it, but the reward IS worth it. We have a good 8 meals for our family of 4 (2 adults and 2 young kids), we have fun/couple time cooking together, I know exactly what I need to buy at the store each week and we don't waste as much food (as everything we buy has a plan for it's use), plus we have now tried out 8 new recipes!"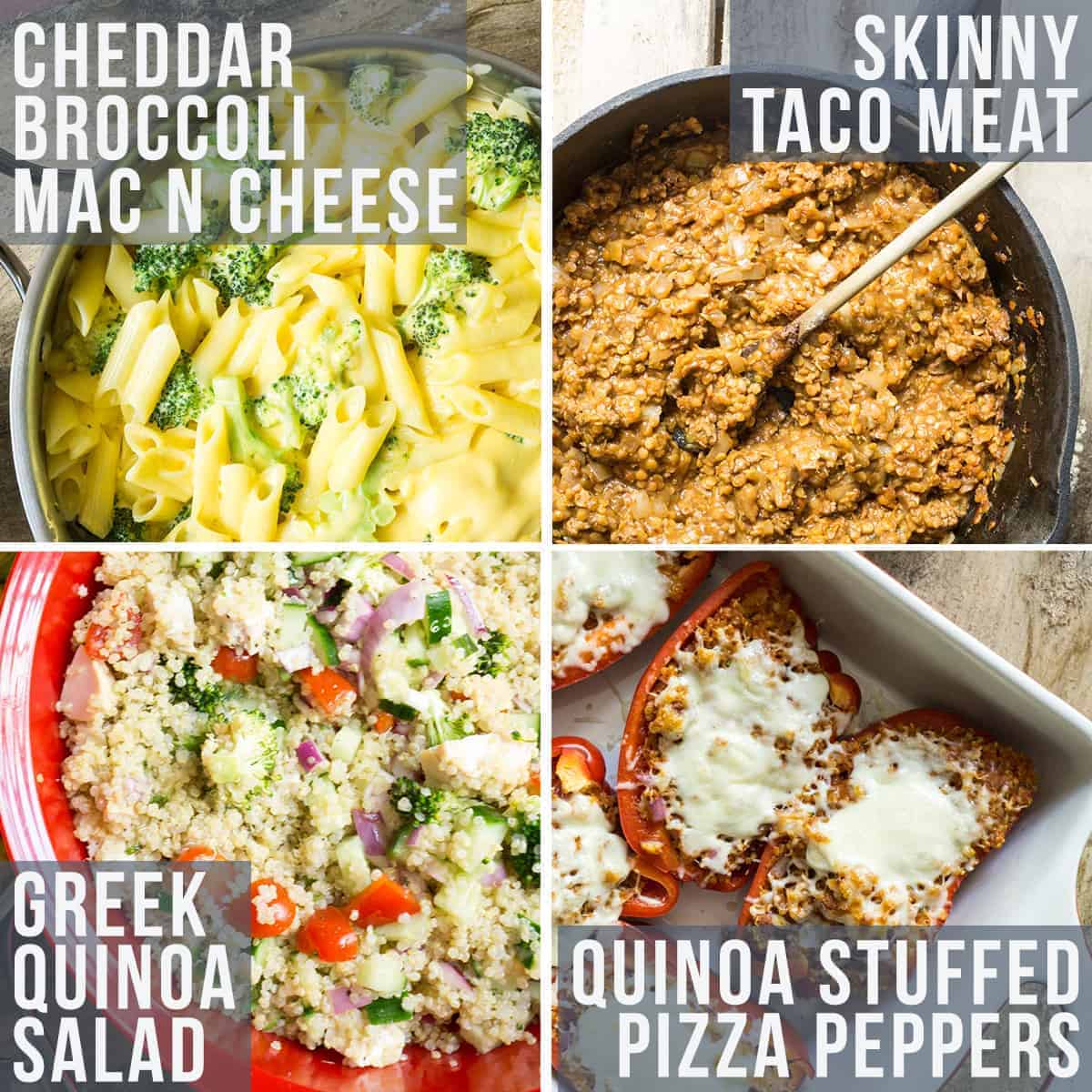 Why It's A Smart Choice
So what exactly makes this taco meat 'skinny?'
I've "diluted" (for lack of a better word) the meat with fibre-filled lentils and onions. You still get the full taco meat flavour but with the healthful addition of lentils and veggies.
Here are my top 5 reasons for eating lentils:
1) Source of iron. Since iron is the most common nutritional deficiency in the world, I'm fanatical about choosing foods that are high in iron. With this recipe the meat actually helps your body to absorb more iron from the lentils.
2) High in folate. Did you know that folate is a vitamin that can keep your heart healthy? Researchers aren't exactly sure why, but high folate intake through food is associated with lower risk of heart disease.
3) High in fibre. One serving of lentils (3/4 cup) has 6 grams of fibre! Fibre can regulate bowel movements, keep the colon healthy, lower cholesterol, control blood sugar, and help achieve a healthy weight.
4) High in potassium. Think of potassium as the antidote to sodium. When a person consumes more sodium than potassium, blood vessel health and blood pressure is compromised. Most North Americans' ratio of sodium to potassium is off. Lentils are naturally low in sodium and high in potassium.
5) Good source of other vital nutrients. Lentils contain a good dose of other nutrients such as magnesium, zinc, selenium, pantothenic acid, and niacin.
If you give this recipe a go, let me know! Leave a comment, rate it, or snap a photo and tag it with #smartnutritionrecipes on Instagram! I'd love to see your creations! Knowing someone has enjoyed one of my recipes always makes my day brighter.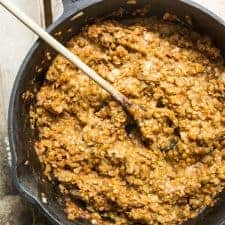 Skinny Taco Meat
Print Recipe
A healthier version of the classic taco meat!
Ingredients
1

onion

finely chopped

1

lb

lean ground beef
Taco Spice Mix
2

tbsp

corn starch

2

tsp

chili powder

1

tsp

oregano

1

tsp

onion powder

1

tsp

salt

1/2

tsp

garlic powder

1/2

tsp

cumin

1/4

tsp

chili flakes

1/8

tsp

pepper
Other Ingredients
1

cup

red lentils

1

cup

tomato sauce

3

cups

water
Instructions
In a large skillet crumble fry the ground beef and chopped onions.

Meanwhile stir together the taco spice mix in a small bowl.

Once the meat is cooked through, add in the taco spice mix, lentils, tomato sauce, and water. Stir to combine.

Heat until boiling then turn heat down to low. Simmer until lentils are soft.
Calories: 153 | Fat: 5.5g | Carbs: 14g | Fibre: 2.5g | Sugar: 2g | Protein: 12g