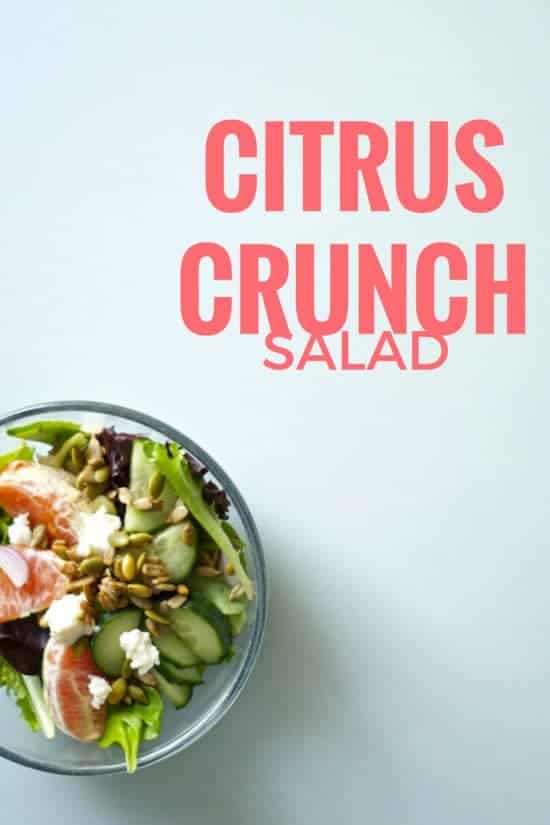 This is a salad with a dissected dressing. Usually a dressing contains:
something sweet
something salty
something sour
something fatty
Instead of keeping all those elements in the dressing, I split them up!
the seeds are sweet
the cheese is salty
the dressing is sour and fatty
Did you cringe when you read the word 'fatty'? The word has negative connotations because of our prior misconceptions about fat, and it's high time we change that. Our bodies need to eat fat!
We need fat for:
our brains to function properly
our nerves to conduct messages
building cell walls
preserving body heat
absorbing certain vitamins
If you give this recipe a go, let me know! Leave a comment, rate it, or snap a photo and tag it with #smartnutritionrecipes on Instagram! I'd love to see your creations! Knowing someone has enjoyed one of my recipes always makes my day brighter.
Citrus Crunch Salad
Print Recipe
Ingredients
Lettuce

leaf, romaine, spinach, arugula, baby kale, or whatever you like best!

Orange slices

Cucumber slices

Finely chopped red onion

Crumbled feta

1

tbsp

butter or coconut oil

2

tsp

brown sugar

1/4

cup

salted pumpkin seeds

pepitas

1/4

cup

shelled raw sunflower seeds

2

tbsp

lime juice

fresh or bottled

2

tbsp

canola or olive oil
Instructions
This salad works best to portion out into individual bowls instead of making one large bowl of salad. All the heavy ingredients will fall to the bottom and then someone will get all the good stuff while someone else just gets lettuce.

In a small frying pan, melt the butter and brown sugar over medium low. Add the seeds and stir to combine. Continue to cook and stir occasionally until the seeds start to turn a golden brown. Remove from heat.

Combine the lime juice and oil in a small bowl or mason jar.

In the individual bowls, layer the lettuce, orange slices, cucumber slices, red onion, feta, and toasted seeds.

Using a spoon, drizzle the dressing over top.
[share title="Share This Article" facebook="true" twitter="true" google_plus="true" linkedin="true" pinterest="true" reddit="true" email="true"]