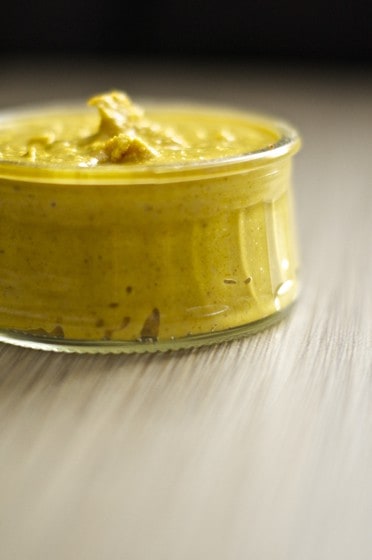 This is probably my toddler's all-time favourite food. The other day I gave him a nice little selection of foods at lunch that he typically enjoys: cheese, tofu, cucumbers, and sourdough seed bread topped with this curry butter. All he ate was the curry butter. He didn't even eat the bread, he just kept scooping the curry butter off the bread and asking for more. But I can't really blame him; this butter is so good even I might shun cheese its favour.
When you buy curry spice in the store, what you are actually buying is a blend of spices. So each brand will vary somewhat in taste depending on the recipe they use. But I've never seen a curry that isn't bright yellow. What this tells me is that turmeric is always one of the ingredients. This spice is a vibrant yellow and actually has several health benefits.
Why It's A Smart Choice
Turmeric belongs to the ginger family and if you're lucky, you might find fresh turmeric in your grocery or specialty stores. But it's most often sold in the dried and powdered form.
As for its health benefits, where do I begin? When someone asks me if X food actually lives up to its internet fame, I usually have to be the Debbie Downer and give the disappointing news that coconut oil, lemon water, bone broth, etc is not going to cure every ailment known to humankind. But when it comes to turmeric, this thing is actually quite the wonder.
Turmeric's main active compound, curcumin, has
With these main properties, turmeric may
Before you get too excited, talk to your doctor if you're currently taking any medication. Natural products can be powerful and turmeric is no exception. At therapeutic doses turmeric could interact with or increase the potency of certain medications.
If you give this recipe a go, let me know! Leave a comment, rate it, or snap a photo and tag it with #smartnutritionrecipes on Instagram!  I'd love to see your creations! Knowing someone has enjoyed one of my recipes always makes my day brighter.  
Curry Coconut Butter
Print Recipe
Ingredients
2

thumb-sized pieces of sweetened dried ginger pieces

1

cup

unsweetened flaked coconut

1

cup

unsalted cashews

1

tsp

curry powder

pinch

of salt
Instructions
Place the ginger pieces in a mug and cover with water. Microwave one minute to soften the discard the excess water.

Place the ginger, coconut, cashews, curry powder, and salt in a high-powered blender or food processor.

Process according to your manufacturer's instructions for peanut or other nut butter. Be careful not to overheat your machine!
Notes
If you don't have sweetened and dried ginger pieces, try substituting with 1 tbsp freshly grated ginger and 1 tbsp of melted honey. I haven't made this version but I think it would work.
[share title="Share This Article" facebook="true" twitter="true" google_plus="true" linkedin="true" pinterest="true" reddit="true" email="true"]