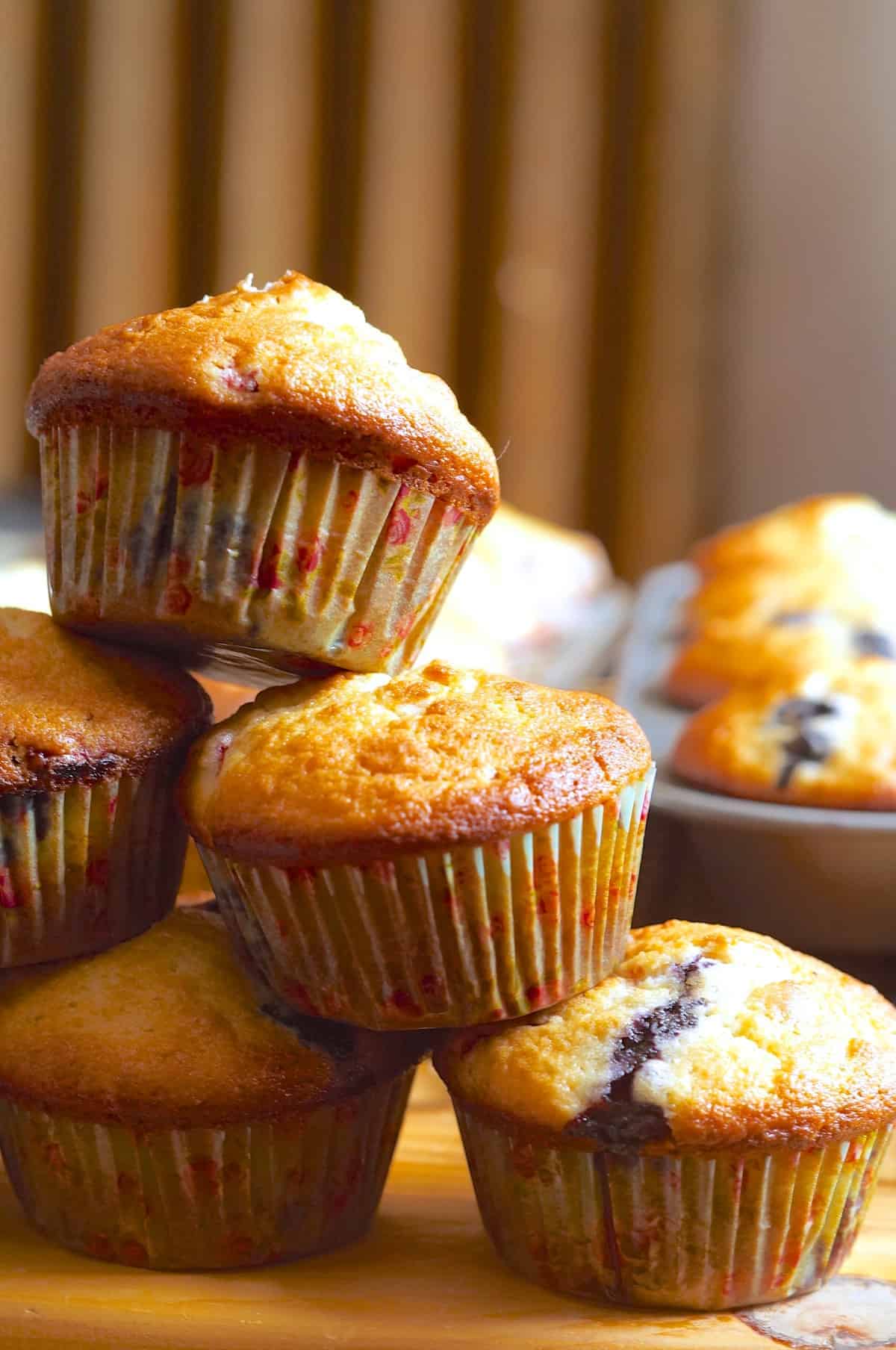 Sometimes you just want to bake with white flour. It happens.
I know, I've been there. Maybe you have company coming over and you want your muffins to be fluffy and gorgeous. Maybe you want to see that amazing contrast of the dark blue berries and the white muffin.
At the same time, you don't want to sacrifice the fibre that would come from using whole wheat and bran, because you know your body needs fibre.
[pullquote cite="" type="right"]You can have your white muffin… and fibre too![/pullquote]What if I told you that you could have your white muffin and your fibre too? It's shocking, but true, and it's all due to one of my favourite ingredients of all time: inulin fibre.
A few quick facts about inulin:
Inulin is a fibre extracted from vegetables, primarily Jerusalem artichoke and chicory root.
Inulin is a prebiotic. You've heard about probiotics (good bacteria in your gut that promotes health) but what about prebiotics? These are certain types of fibre that feed the good bacteria. When you feed the good bacteria, they grow stronger. If you're feeding the good bacteria, you're starving the bad bacteria.
Inulin may reduce the risk of colon cancer. Studies on animals and on cultured human colon cancer cells have shown promising results. Stay tuned for trials done on actual people!
Inulin may prevent osteoporosis. It can increase the amount of calcium your body absorbs, which in turn can increase your bone mineral density, which in turn can help keep osteoporosis at bay.
Should I Abandon Whole Grains?
No, inulin should not replace all of your whole grain foods. Whole foods promote health. We know this even if we don't fully understand why. The different components found in them might work together to provide health benefits. While nutrition scientists haven't yet discovered everything about how that works, we do know that if you isolate one part, like insulin, you miss out on that combined effect. The sum is greater than the parts, at least in this case.
Inulin Content in Food
Keeping in mind the fact that whole foods are better than extractions, here are some other sources of inulin:
Onion: 2-6%
Leek: 3-10%
Garlic: 9-16%
Artichoke: 3-10%
Dandelion leaves: 12-15%
Banana: 0.3-0.7%
Rye: 0.1-1%
Barley: 0.1-1.5%
Each muffin contains 3 grams of inulin, the minimal dose to have an effect on increasing the beneficial bacteria in the gut. Add up the fibre found in the blueberries and you get 4.1 g fibre per muffin! As a snack or part of a balanced breakfast, this muffin can help you on your way to a daily fibre goal of a minimum of 21-25g for women and 35-38g for men.
If you also choose to use whole wheat flour, you bump up the fibre 1 gram/muffin to a total of 5.1 g!
Sounds Good, But Where Can I Find Inulin?
If you give this recipe a go, let me know! Leave a comment, rate it, or snap a photo and tag it with #smartnutritionrecipes on Instagram! I'd love to see your creations! Knowing someone has enjoyed one of my recipes always makes my day brighter.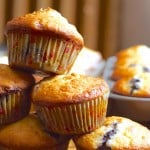 High Fibre White Flour Blueberry Muffins
Print Recipe
Does that seem like an oxymoron? high fibre and white flour in the same sentence? It's true with the addition of a secret ingredient!
Ingredients
2

eggs

3/4

cup

sugar

1/2

cup

canola oil

1

tsp

vanilla

1/4

cup

inulin fibre

1 3/4

cup

all-purpose flour

1/2

tsp

salt

1/2

tsp

baking soda

1

cup

plain yogurt

2

cups

blueberries

fresh or defrosted from frozen
Instructions
Preheat oven to 400 degrees Fahrenheit.

In a medium bowl, mix the eggs, sugar, oil, and vanilla until well combined.

In a large bowl, stir together the inulin, flour, salt, and baking soda.

Measure out the yogurt and blueberries and pour on top of the dry ingredients.

Gently fold the wet into the dry ingredients, incorporating the yogurt and blueberries.

Scoop out into a greased or lined muffin tin.

Bake in preheated oven for 18-20 minutes.
[share title="Share This Article" facebook="true" twitter="true" google_plus="true" linkedin="true" pinterest="true" reddit="true" email="true"]