How to Roast Nearly Any Vegetable [+video]
An easy tutorial for learning how to roast vegetables in the oven using my show stopping all-purpose seasoning!
(This post contains affiliate links)
If you read nearly any food blog post it inevitable starts with a lot of gushing about how the recipe is now this person's new all-time favourite food ever! And then you see the next post and it says the exact same thing. The cynic in you is probably doubting how every single recipe surpasses the one before.
Now that I'm a food blogger, I totally get it. When you create and test a recipe, it's hard not to get obsessed about it! You become so immersed in it for those days that you forget all about all other foods. It truly does become your all-time favourite food… in that moment 🙂 I guess that's kind of how fads work.
But this recipe? This one is fad-free! I keep coming back to it week after week because it's super simple, versatile, and extremely delicious!
And from a Dietitian-perspective? The best part is that we're eating sooo many more veggies!
There are two KEY factors that make this recipe phenomenal:
The all -purpose seasoning. It's so basic yet so amazing at the same time.
The char. You absolutely MUST roast your veggies to the point of charring them slightly! This is when the caramelization and complex flavours develop. If you pull them out of the oven before this you'll probably be disappointed. I take absolutely no responsibility for you not liking this recipe if you don't allow the veggies to char!
Which Veggies Should I Roast?
I've found that these veggies work well to roast using this method:
Bell peppers
Broccoli
Brussels Sprouts
Carrots
Cauliflower
Eggplant
Garlic
Mushrooms
Onions
Parsnips
Sweet Potatoes
Zucchini
Make sure to check out the video in the recipe card to see this method in action!
What can you do with roasted vegetables?
I like to roast a couple of trays of veggies when I meal prep so that they're ready to go throughout the week.
Roasted veggies are great to have on hand for:
Stir-fries: combine with a protein, rice/noodles, and a sauce
Curries: much the same as the stir fry but with a curry sauce
Nourish/buddha bowls: served cold with grains, protein, and a sauce or dressing
Salads: roasted veggies, cooled, and dressed with a vinaigrette and feta cheese make a great salad!
Side dishes: serve as is alongside any main dish
Soups: toss into a blender with herbs, spices, and broth
How to Roast Nearly Any Vegetable
Print Recipe
Ingredients
Instructions
Pre-heat oven to 400 degrees Fahrenheit

Prepare a rimmed

baking sheet by

pouring a bit of oil (I prefer canola, avocado, or olive) on. Cover the bottom by painting the oil across with a

pastry brush

.

Chop the veggies into roughly the same size pieces. Go for about 1/4 inch to 1 inch in thickness.

Lay the veggies in a single layer on the oiled sheet. Spread out as much as possible. If the veggies are crowded, use two baking sheets.

Sprinkle with all-purpose roasted veggie seasoning (see recipe below).

Bake for 15-30 minutes. Time will depend on which veggies you choose and how thick your veggies are.

Veggies are done when they start to char. It's VERY IMPORTANT to allow the veggies to char slightly for maximum flavour development.
Notes
Nutrition Information was calculated using asparagus.
Nutrition
Serving:
1
/4 recipes
|
Calories:
68
kcal
|
Carbohydrates:
4.5
g
|
Protein:
2.5
g
|
Fat:
5
g
|
Fiber:
2.5
g
|
Sugar:
2
g
All-Purpose Roasted Veggie Seasoning
Print Recipe
Instructions
Stir all ingredients until fully combined.

Sprinkle on your veggies before roasting!
Want more vegetable inspiration?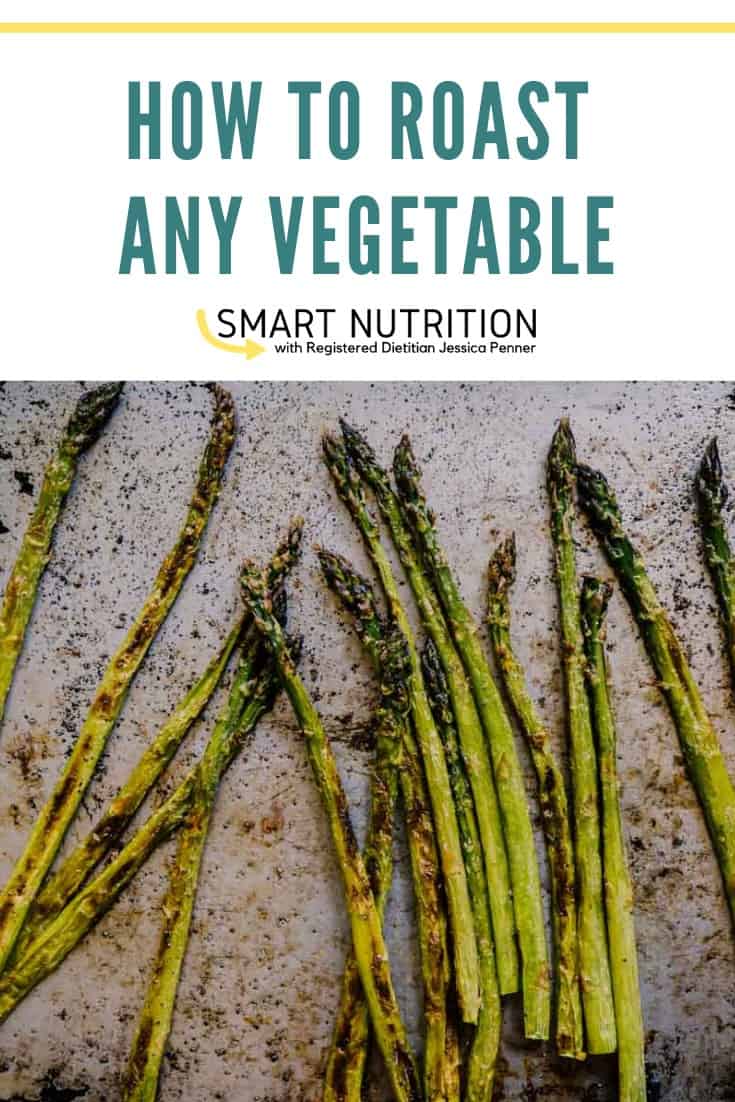 [share title="Share This Article" facebook="true" twitter="true" pinterest="true" reddit="true" email="true"]