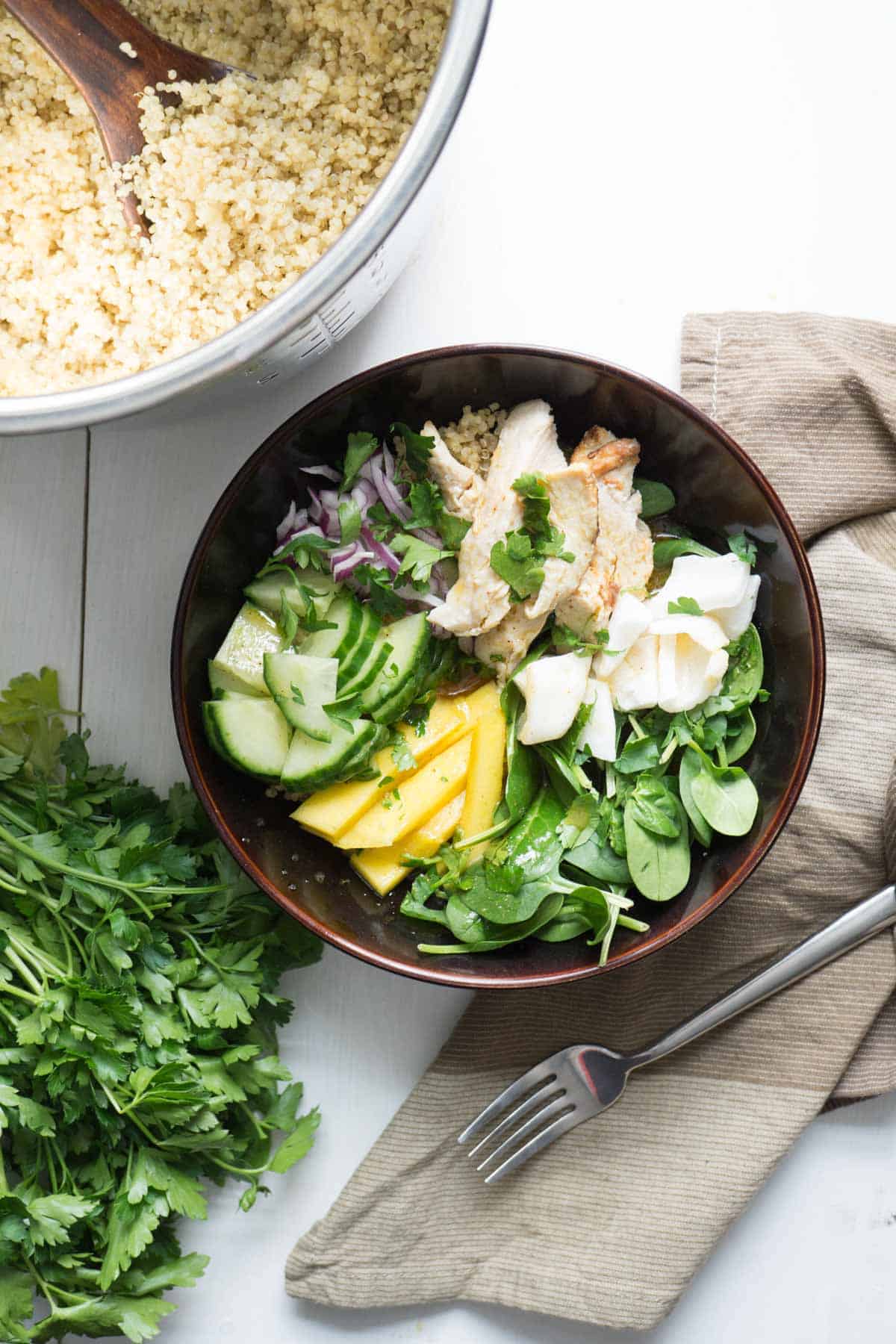 Nourish bowl. Macro bowl. Buddha bowl. Glory bowl. Lunch bowl. Power bowl. And my husband's personal favourite: the Glow bowl (takes him on a trip down memory lane to the glow bowling days of the 90s).
Whatever you want to call these things, they are delicious and nutritious! (#nutritiousisdelicious) Think of it as an amped up, balanced meal, kind of salad.
Mckee Hill, Registered Dietitian and blogger over at Nutrition Stripped breaks down the anatomy of a nourish bowl like this: greens, protein, healthy fats, veggies, carbs (including fruits), add-ons, and dressings.
The best thing about these bowls is their flexibility. It's the thing to make when you have a clean-out-the-fridge day. You could put leftover roasted veggies, leftover meat, chicken, tofu, or fish. And of course, it's a fantastic way to use up all your fresh veggies and fruit before they perish.
For this nourish bowl, I went with:
Greens: baby spinach
Protein: grilled chicken breast
Healthy fats: olive oil dressing
Veggies: cucumbers and red onions
Carbs: quinoa
Fruit: mango
Add-ons: dried young coconut and chopped parsley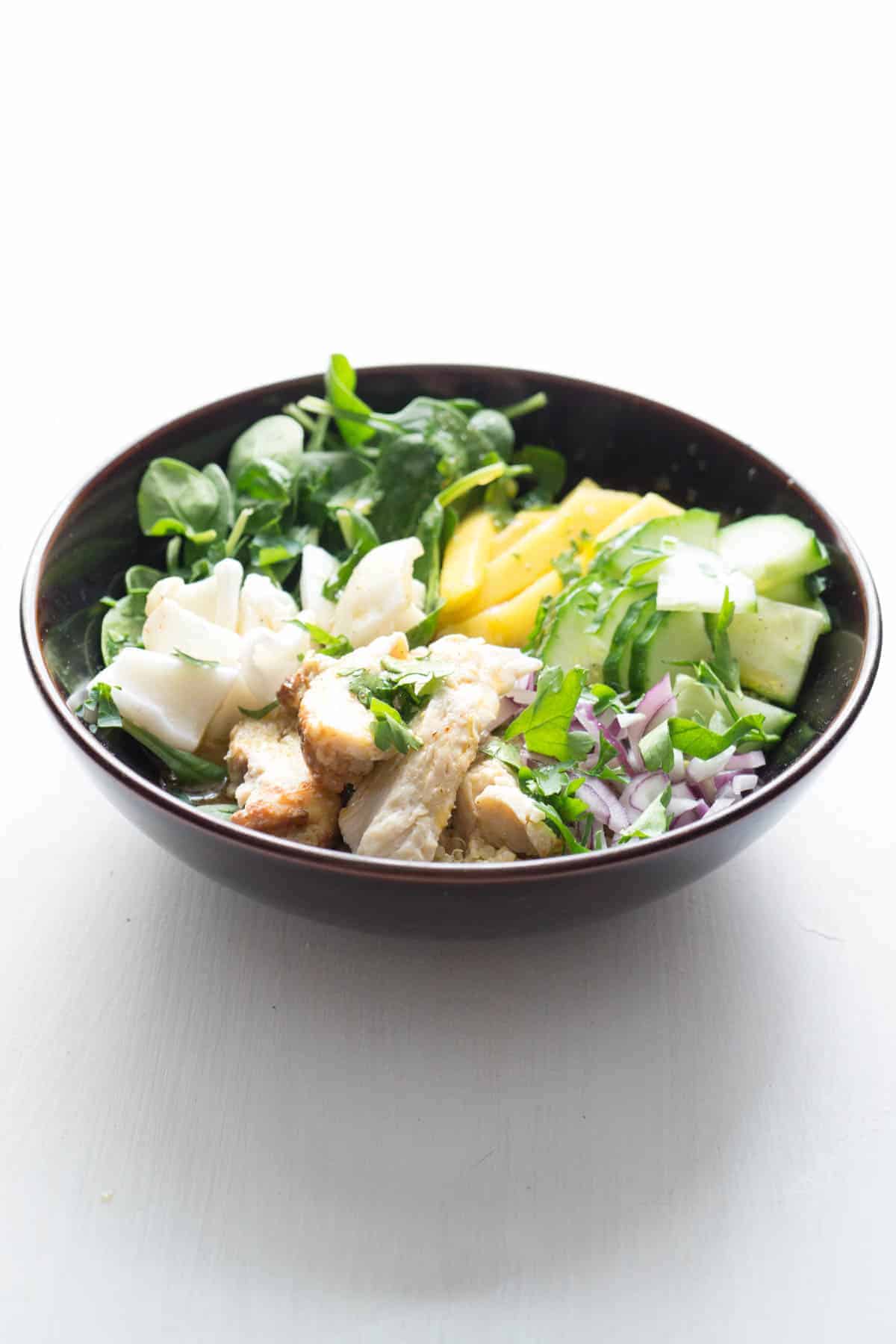 Why It's A Smart Choice
Did you see the young dried coconut in there? This is my new favourite snack. Each 42g serving of the Philippine Brand
has 14g of fibre! For women, this one serving gets you halfway to your daily recommended amount! For men, that's 37% of your recommended goal. Unfortunately, all that fibre comes with some added sugar. I'd like to find some unsweetened young dried coconut though. I love the soft, chewy texture of this stuff! It forces you to enjoy it at a slowed down pace as you chew on it.

If you give this recipe a go, let me know! Leave a comment, rate it, or snap a photo and tag it with #smartnutritionrecipes on Instagram! I'd love to see your creations! Knowing someone has enjoyed one of my recipes always makes my day brighter.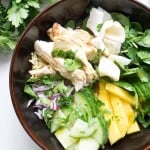 Mango Quinoa Nourish Bowl
Print Recipe
A nourishing, filling bowl featuring mango, chicken, coconut, and quinoa.
Ingredients
For the dressing
½

cup

orange juice

¼

cup

olive or canola oil

1

tbsp

vinegar

½

tsp

salt

¼

tsp

chili powder

¼

tsp

cumin
For the nourish bowl
Cooked quinoa

Fresh spinach

Sliced mango

Sliced cucumbers

Sliced red onion

Grilled and sliced chicken breast

rotisserie chicken would work well, too!

Dried young coconut

flaked coconut would also work

Dressing
Instructions
Whisk together the dressing ingredients.

Layer the nourish bowl ingredients in a personal size bowl.

Drizzle with dressing.

Mix together and enjoy!
[share title="Share This Article" facebook="true" twitter="true" google_plus="true" linkedin="true" pinterest="true" reddit="true" email="true"]