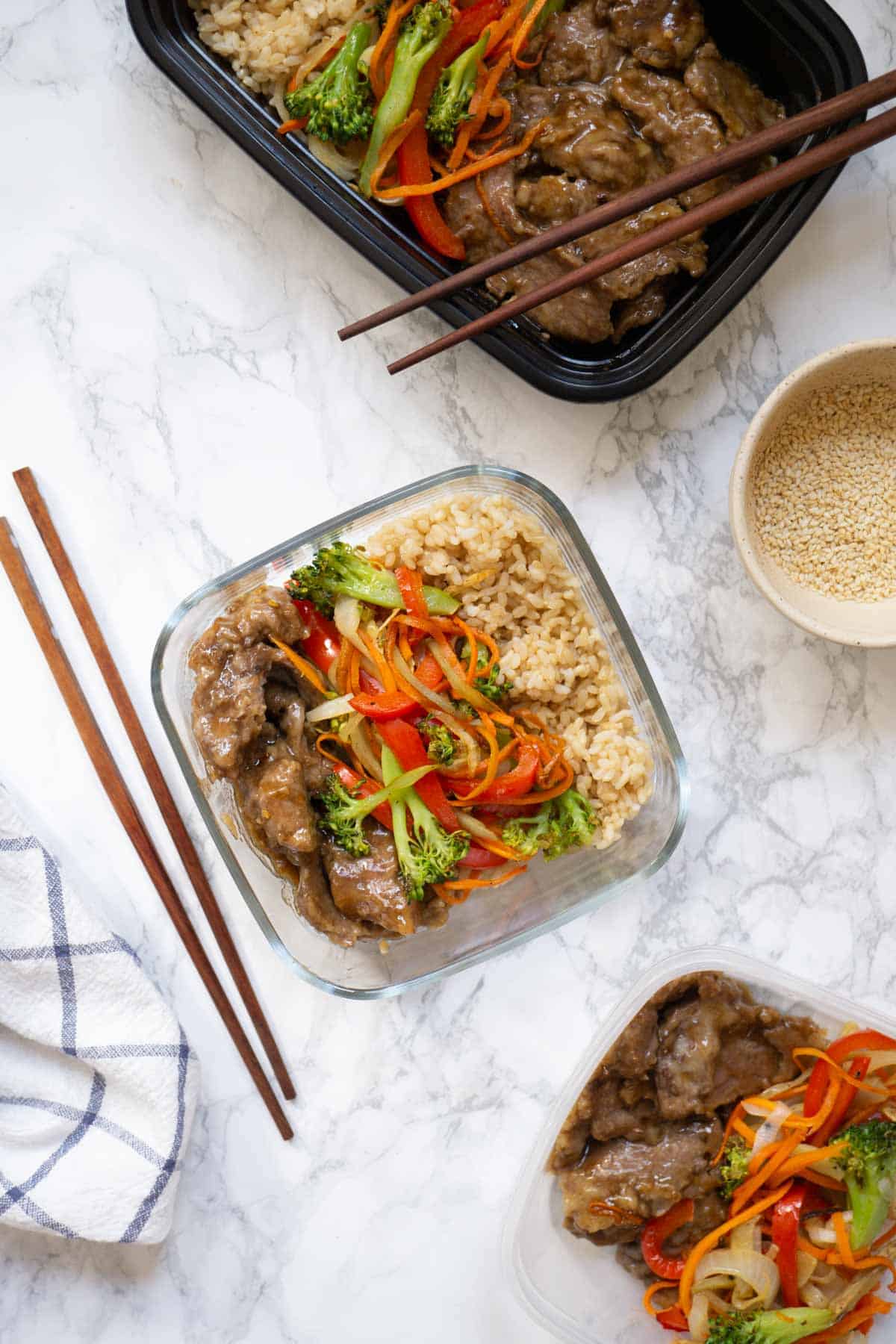 Ginger beef made easy by cooking everything on a sheetpan! Flavourful, delicious, & healthier, with a ton of veggies!
Ginger beef is my all-time favourite "Chinese" takeout dish. I put that in quotations because I know that the food we associate with Chinese restaurants in the Western world isn't commonly what's actually eaten in China.
In university I took a class where we learned all about cultural food traditions. We did group projects where we taught the rest of the class about one culture's food ways. A group of Chinese international students presented on cultural food from Northern China. Honestly, I don't think I recognized even one dish they presented!
I asked them if there were any restaurants in our city where you could find these foods. They said said "yes", there was one, but then chuckled and informed me that I wouldn't be able to order any of these dishes, because the restaurant had two separate menus: one in Mandarin and one in English. However… it wasn't only the languages that made the menus different:
Each menu had completely different dishes than the other one!
Ginger Beef: Uniquely Canadian
It wasn't until I started researching for this recipe that I discovered that ginger beef isn't common in the United States or other Western Chinese restaurants! Imagine my surprise to discover that my beloved ginger beef owes its start to a chef from Calgary in the 70s. Ginger beef was an instant hit and other restaurants started to make their own copycat versions to capitalize on its popularity.
And now you can enjoy your very own ginger beef at home with this easy, no deep-fryer needed, sheet pan recipe!
This ginger beef is DEFINITELY ginger-y. And garlick-y… And spice-y. If you're sensitive to heat, stick to the low end with the chili flakes.
Why Sheet Pan Ginger Beef is a Smart Choice
I think the fact that this dish is "baked, not fried" already speaks for itself in how it's more nutritious than deep-fried takeout. But I think it's also worth noting that this dish has:
less sodium
MORE veggies! One bowl has over 2.5 servings of veggies!
Just look at that pan full of veggies! My dietitian heart swoons with how vibrant, colourful, and tasty those vegetables look! (If you're not like me and veggies don't get your heart beating faster, check out this article to learn more about how to increase your love for vegetables)
Sheet Pan Meals to the Rescue!
Here are some more ideas for harnessing the power of the sheetpan + oven for easy, weeknight dinners!
And if you want to harness more power for getting homemade meals on the table, download my e-book that will teach you 10 of my favourite meal planning hacks!