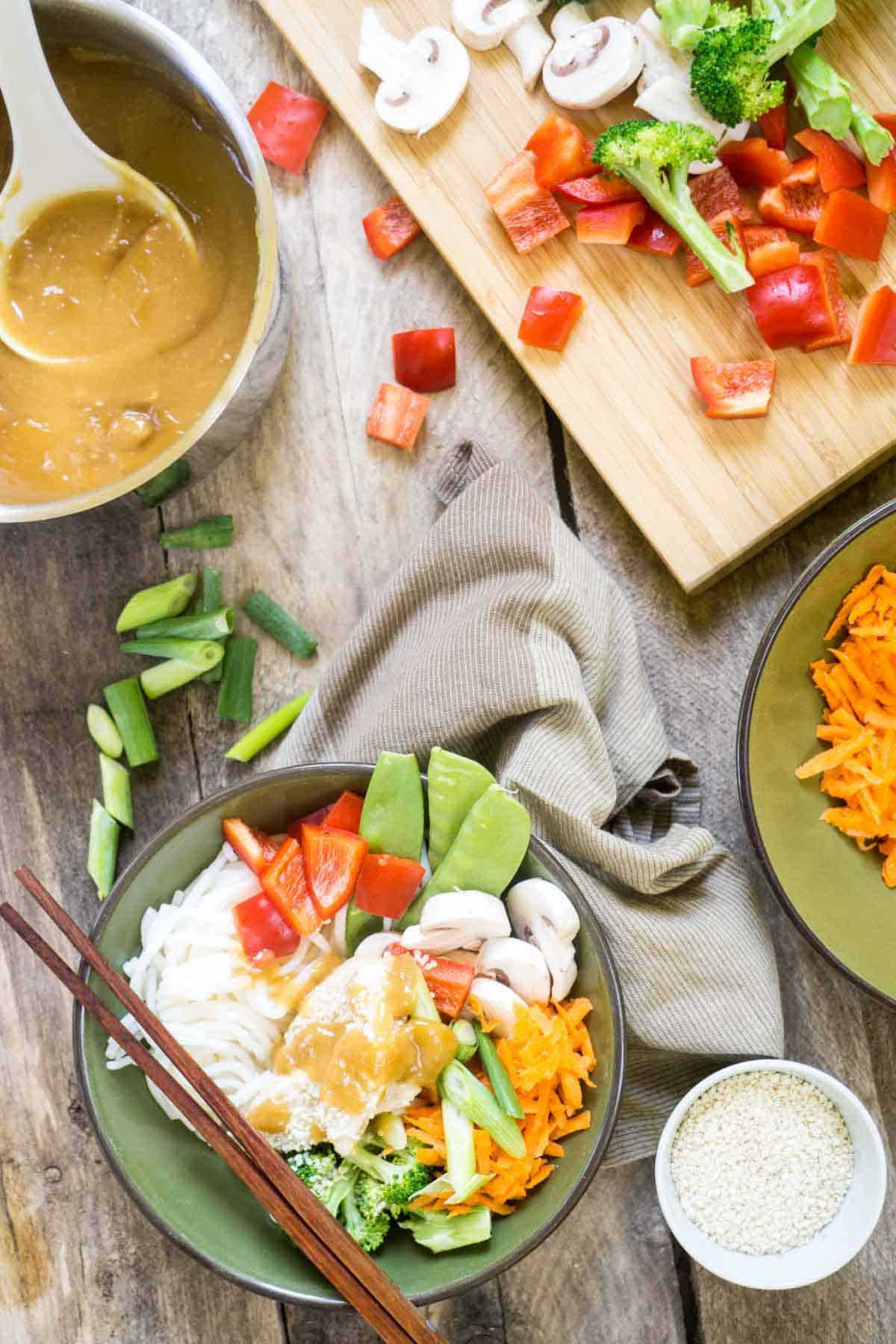 This post was developed through a sponsored collaboration with NuPasta. However, all opinions are mine!
Sometimes I overhear conversations like this in my home:
My four year old to my husband: "We're having teryi-YAK-i for supper!"
My husband: "Are you sure it isn't teri-ELEPHANT-i?"
Our family often rates dad jokes on a scale of 1-10. Despite being a groaner, I actually LOL'ed on this one, so I'd give it a 5.
teriyaki chicken special
Apparently "teriyaki" isn't really a name for a sauce, it's actually more a style of preparing meat. You prepare meat "teriyaki style" when you broil or grill meat that has been marinated in a sauce that contains soy sauce.
So, while this recipe uses a sauce that is not anything like the bottled teriyaki you're thinking of, it's technically still teriyaki!
Most teriyaki sauces are sticky, salty, and super sweet… they're more sugar than anything else. So in my quest to make your menu tastier and healthier, I've given teriyaki a complete makeover!
This sauce is sweetened with blended pineapple and a little bit of honey. It's definitely still sweet enough, without being overly sweet. I first tried it without the honey, and it needed the extra touch of sweetness!
why these teriyaki chicken noodle bowls are a smart choice
Barbara Rolls is a pioneer in the area of research she has coined "volumetric eating." Essentially, her research has shown that people tend to eat the same volume of food at a meal, regardless of calories.
So you can eat a plate full of rich creamy pasta, or a plate full of salad, and feel the same amount of satisfaction either way, despite taking in different amounts of calories. You'll be equally full after either meal, as long as they take up the same amount of space in your stomach.
If you're trying to limit your calorie intake, choosing a high volume food (sparsely caloric) tends to be more psychologically satisfying than sitting down to a tiny portion of low volume (densely caloric) food. The high volume foods make it an easier goal to consume less calories.
For this reason I am constantly helping clients make the switch to higher-volume foods.
This recipe makes that an easy switch, with nuPasta, a great higher-volume option. NuPasta is made primarily from the glucomannan fibre of the konjac plant, a root vegetable. There's very little starch in the plant (0 net carbs) so you are mainly eating fibre.
They've formulated the noodles with soybeans as well, so there's also a little bit of fat and protein. All in all there are only 25 calories per serving, while the same weight of wheat pasta would have 300 calories.
If you're following a gluten free diet, you may be particularly interested in NuPasta. One complication of eating gluten free is that you need to be careful to get enough fibre. Many gluten free products are mostly starch with very little fibre. Choosing high-fibre gluten-free foods like Nupasta (6g of fibre in one serving) can help a lot.
A word of caution though! Another way that glucommannan helps with weight management is that it holds a lot of water. This slows down digestion so you feel fuller for longer. The tricky thing is that it renders the water unavailable for your body to absorb… so make sure to drink plenty of water along with your noodle bowl!
As a bonus, NuPasta comes pre-cooked, so you don't have to spend the time and effort to boil, cook, & drain the noodles, or wash a pot and colander!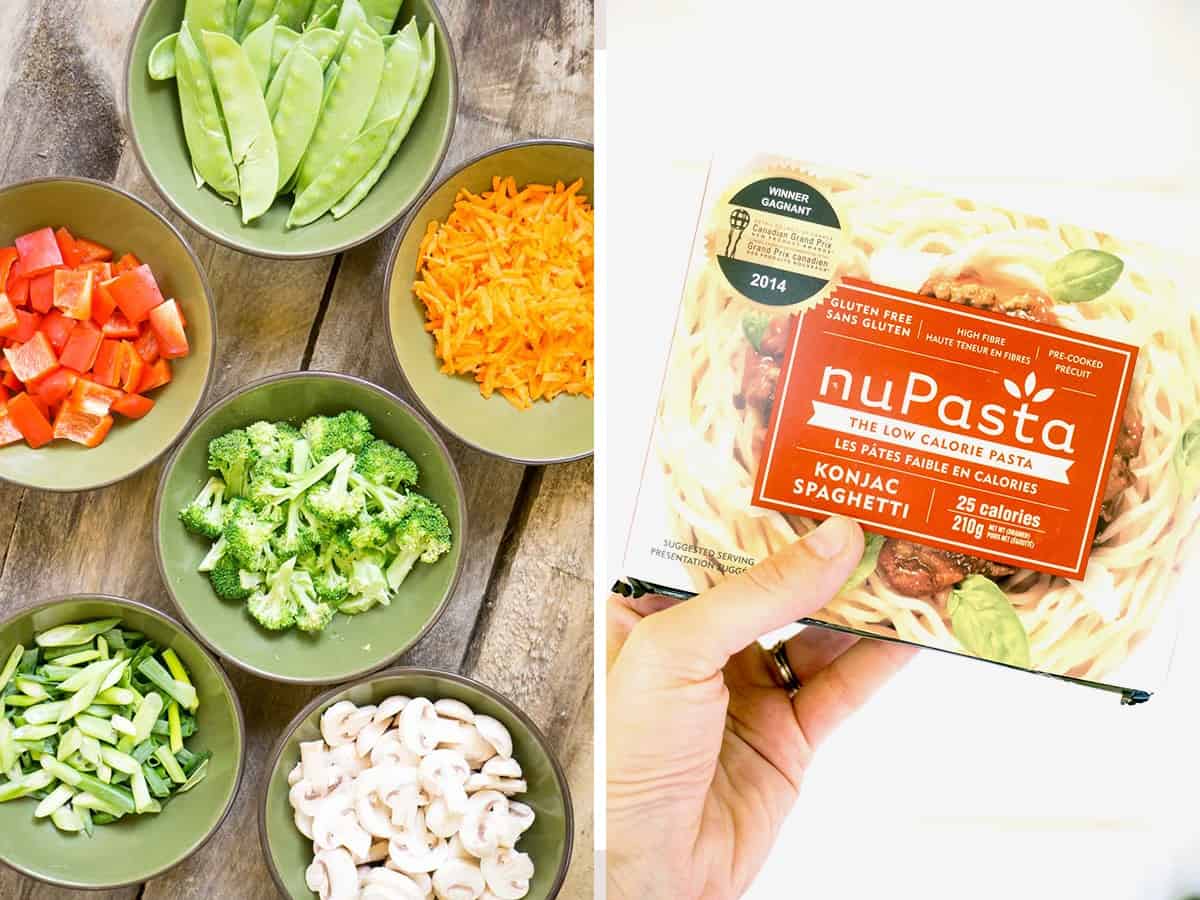 If you make this recipe, please let me know! Leave a comment, rate it, or snap a photo and tag it with #smartnutritionrecipes on Instagram! I'd love to see your creations!
Healthy Teriyaki Chicken Noodle Bowls
Print Recipe
A sweet and sour sauce, grilled chicken, spaghetti, and tons of fresh veggies!
Ingredients
Teriyaki marinade and sauce:
2

tbsp

sesame oil

4-6

garlic cloves

minced

¼

cup

soy sauce

¼

cup

mirin

1

cup

fresh or frozen pineapple chunks

2

tbsp

honey

-optional: 1 tsp fresh ginger

grated (NOT powdered ginger!)

¾

cup

cold water

2

tbsp

corn starch
For the bowls:
1 ½

lbs

raw chicken breasts

3

cups

chopped broccoli

3

cups

sliced mushrooms

1 ½

cups

sliced green onions

3

cups

shredded carrots

about 3 carrots

3

cups

roughly chopped bell peppers

3

cups

snap peas

6

packages

210g each of NuPasta spaghetti (or sub in 10 oz spaghetti noodles – dry weight – boiled and drained)

Sesame seeds

for topping
Instructions
To make the marinade and sauce:
Heat the sesame oil over medium heat in a small pot.

Once the oil is hot, add the minced garlic and cook for one minute, stirring often.

Add the soy sauce, mirin, pineapple, honey, and ginger (if using). Turn the heat off.

Pour the marinade into a blender. Blend until smooth.

Remove ⅓ cup marinade and add it to a plastic zip bag along with the chicken. Place in fridge to marinate. Marinate at least 30 minutes. This can be done up to one day in advance.

Pour the remaining marinade back into the pot. Whisk in the cold water and corn starch.

Heat over medium, stirring often, until the sauce thickens. Remove from heat.
To make the noodle bowls:
When you're ready to heat, grill the chicken on a BBQ, electric grill, or bake in a preheated 400 degree oven.

Steam the broccoli by placing in a microwave safe bowl with 1 tbsp of water. Microwave for 2-3 minutes or until softened but still crisp.

Layer your bowls with: 1 package of Nupasta Spaghetti, ½ cup each of the broccoli, mushrooms, shredded carrots, bell peppers, and snap peas, ¼ cup of green onions, ⅙ of the cooked chicken (sliced), ¼ cup teriyaki sauce, and sprinkle with sesame seeds.
Notes
This is a great "choose your own adventure" meal where you put all the ingredients in separate bowls and each person can decide what toppings they would like to serve themselves!
Calories: 334 | Fat: 8g | Carbs: 33g | Fibre: 11.5g | Sugar: 15.5g | Protein: 34g